---
Real University is an online and live licensing school that guides students through becoming well-qualified real estate professionals. While this school does offer coursework in multiple aspects of the real estate sector, this Real University review will focus on the pre-licensing offerings. Below you will find everything you need to know about studying at this real estate school.
---
UPDATED: November 2022
Our Overall Rating

---
Overview Of Real University
This real estate program is a real estate school based in Indiana. The school serves students of all backgrounds and aims to shape them into excellent real estate professionals. Unfortunately, the school does not provide an about page for students to consider before committing to the program. This means we don't have information on who instructs at the school, leads it, or what its origins are. Compared with competitors that do provide this information in abundance, it can be difficult to establish trust with someone you don't know.
Of the little information available on the website, the school asserts that it is committed to providing comprehensive education. Everything they do is in the quest of helping students pass their licensing exams and, more importantly, become the best agents they can be. In order to help students accomplish this, this real estate school offers flexible options to help students thrive in an environment that works best for them.
Though not available on the website, a bit of digging pointed to Raymond Modglin as the school's director. Raymond is an experienced realtor himself with extensive practice in the industry and is based in Indiana. It appears that the school was initiated back in 2003 and was built to accommodate the busiest of people who needed an effective real estate school. According to Raymond's LinkedIn, the school phases its classes every three weeks, making it so that a new enrollment period starts every so often.
Commitment to Teaching Practical Skills
Also stated on Raymond's LinkedIn page is that this school has the biggest selection of live continuing education classes, small business classes, and REALTOR development courses. While these don't necessarily pertain to pre-licensing, they speak to the school's ability to provide comprehensive options.
As such, Real University recognizes that becoming licensed is simply the first step in the process, and from there, much more comes into play to actually be successful and generate business. All of these concepts are navigated throughout the learning process so that every student can come out feeling confident and ready to take on the real estate industry.
The company is committed to maintaining its reputation, which holds integrity and reliability at its forefront. The company is also made better by the staff who are regarded as being professional and equipped with the skills necessary to aid students in their education and future job placement.
Before Raymond was owner and operator of Real University, he worked for many other brokerages and real estate companies that helped him to hone his skills. He brings this unique knowledge to Real University, helping to shape students into the type of professionals they want to be.
---
In-Depth Look At Real University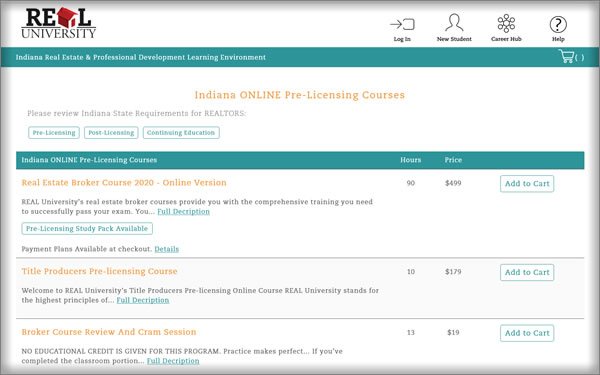 Real University offers classes in many formats and niches to help accommodate the many different pathways to becoming a well-qualified professional. This Real University review will focus solely on the pre-licensing option that the school provides. For pre-licensing coursework, Real University offers courses both live and online to accommodate all students. Though an Indiana-based company, all of the coursework is focused on individual state policies and laws. As such, the school is an approved pre-licensing school for brokers.
States that Real University serves include:
Indiana
Kentucky
Ohio
Florida
Illinois
Virginia
Each state will have different requirements and specifications, but for the purpose of this review, we will focus on Indiana's program as the school is based there. If a student is interested in other states' specifics, the Real University website outlines everything you need to know for state guidelines.
More On Online Courses
Online courses aim to keep students properly educated while providing an extra layer of accessibility and convenience. It's important to note that this class style is not livestreamed but rather a completely self-reliant option that can be navigated at the student's discretion. When studying in Indiana to become an agent, you will simultaneously be working toward your broker license as well.
As such, Real University's class is hefty but completely manageable. Included in the online course is the 20th Edition Modern Real Estate Practice to help guide your studies. Additionally, the course structure follows that of the live alternative. Ninety hours of classes required by the state are included in the course, along with three exams that require a 75% passing rate and a passed state exam.
More on Live Courses
Live classes at this school follow the required 90-hour course structure as required by Indiana. Within each course are three 100 point multiple-choice tests to gauge students' progress. Students are required to pass all tests with 75% averages in order to move forward with licensing requirements, including the final course exam and state licensing exam.
From there, students are able to take the state exam and must pass with a 75% within one year of completing their course. It's also important to note that schools are not required to submit reports of course completions by students.
Other important aspects of studies at Real University include that the course will expire within six months of the date of purchase. So, students will not have extended access built-in. Should an issue arise or a student needs an extension, they will need to reach out to school officials. Additionally, if a student fails to pass the course on the first try, they are eligible for re-enrollment at a 50% discount.
When a student completes their coursework, they will receive a certificate of completion. Students will have access to their certificate of completion for five years after they have completed the course.
This school's live session comes in two forms, in-person, and live streaming. While both are live options, they vary in convenience. One allows students to study from their place of choice so long as they have a computer. This means students can study from their homes, workplace, or their favorite coffee shop. The other option, live in-person courses, might require students to commute to the Real University classroom, but the benefits are immeasurable with an extra layer of morale, accountability, peer support, and more.
Classes are typically held between Monday and Friday from 9:00 am to 12:00 pm. Three hours per day per week equates to 15 hours a week, or six weeks of attendance in order to complete the 90 hours outlined by Indiana.
Online Study Pack
In addition to the course itself, students have the option to purchase an online study pack course. Included in this package are the following benefits:
State-specific real estate test practice questions, specifically general body
State-specific, real estate test practice questions, state law section
A Real University practice questions workbook with 58 pages of content
69-page workbook on real estate math
Online flashcards with real estate terms
240-page eBook on jump-starting a real estate career
One-on-one instructor support
---
Real University Pricing
Because of Real University's different package options, the prices range significantly based on the service. Below is a short breakdown of the school's prices for consideration (these are Indiana prices):
Live Courses
Both live streaming and in-person attendance are $499, including the 90 credit requirements and six-month course expiration. Classes are held Monday through Friday from 9:00 am to 12 pm.
Online Courses
The price of the online course is $499. It is the same price as the live course option because it offers the same curriculum, only in a different format.
Online Study Pack
At $59, this option provides a very valuable option for embellishing your studies without breaking the bank. However, this benefit is completely not necessary, and your stand-a-lone course enrollment will satisfy all course requirements.
---
Pros And Cons Of Using Real University
Pros
Locally Grown Company
As an Indiana-based company primarily focused on serving Indianans and surrounding states, it's excellent that the school is locally owned and operated. This allows students to gain local market info and passion that could not otherwise be learned at many other institutions on the national level.
Along with this notion is Raymond, who is a local real estate professional with decades of experience in the market. He brings a special outlook to the table, and when students learn from him, they inherently learn those skills.
Flexibility
This real estate school offers its courses in both online and live format. The live format can be further divided down to in-person and livestream, both of which have their own benefits. Allowing students to choose means more success as their learning styles and preferences are considered.
Positive Reviews
On every review platform, this real estate school scores particularly high. While there are many praises given more varying specifics, the fact remains that students are happy with their experiences at Real University.
Multiple Contact Modes
Students can access the Real team with questions in different ways. An online contact form, number, address, and email are all available for students to utilize as they wish. An improvement would be a live chat function, but overall, the school covers most bases.
Bonus Courses
If a student is looking to round out their career, Real University has them covered. With individual classes on specialty items, even some of which are free, make for great education add-ons. Examples include a title producers pre-licensing course, estimated net to seller, and cracking the mode on social media.
Sample Online Course
A great option to make sure the course works well for you, the online sample option is completely free and can provide many benefits for students still on the fence. This course option is led by Raymond Modglin and is designed to be a listen and learn option for students to get to know the school further.
Cons
Information on Website
Unfortunately, the website for this real estate school seems to be a bit incomplete as it doesn't seem to show all of the necessary information for students to glance over. Rather than supplying all information upfront and easily like competitors, it is oftentimes hard to find or missing entirely.
High Prices
Regardless of whether a student chooses to study online or live via livestream or in-person courses, the prices are the same. The problem with this is that the $499 price tag may be too high for some to have access to either of the two options. The price point is similar to some other online real estate schools, but for this price, it makes sense to go with a more well known name in real estate education.
No Exam Prep
There is no visible exam prep option for students when the time comes to take the state exam. Without the option, students are forced to look externally for assistance. When so many schools provide exam prep for free or an overall cheaper price than this school, the question of why a student should choose Real University is difficult. They do offer flash card and practice questions though.
Conclusion And Verdict
To round out this Real University review, it's important that we consider what others have said about the school, specifically alumni. To do so, we look to websites like Trustpilot and Indeed for more information.
When it comes to Trustpilot, the school scores well with an average of 4.2 stars. Some alumni in their reviews say that the course was one of the best they had ever taken. They also praise one of the instructors' ability to teach effectively in a way that is clear to understand and to engage. Other Trustpilot reviews also praised the effectiveness of the course both for long-term studying and cram sessions. Overall, the school is cited as being "direct, to-the-point, and useful."
Indeed exhibits similar high praise with an average of 4.3 stars. Alumni cite the school as being affordable and a good career preparation tool. Students loved the tools used to teach, including flexible on-the-go learning like audio lectures for online students.
On Facebook, alumni rated the school 4.8 out of 5 stars. Areas earning praise included the self-paced nature of the online learning options, which allowed for increased flexibility. Raymond is once again praised for his ability to teach effectively by relaying all important information in an easy-to-understand format.
Given the nature of these reviews across multiple platforms, this real estate school seems to be a crowd favorite amongst students. Alumni reviews are very important for determining what works and doesn't work in any situation, and in the case of this school, the results are overwhelmingly positive.
Final Verdict
Given the school's overwhelmingly positive reviews and the information we've gathered in surveying the website, Real University can be a great real estate school for students to study at. There are a few areas of concern that we would like to see addressed as time goes on, but as things stand right now, the school is a viable education option for any student.
Choosing a real estate school to commit to is a scary and tedious process. If students can afford the slightly higher-than-average price points in order to reap the benefits, we think using Real University as their pre-licensing choice may be a good option.
However, for those looking to become a real estate agent and who want the best real estate schools in Indiana, we suggest using Colibri Real Estate or The CE Shop.
---
---