---
Becoming an appraiser is a fantastic way to earn extra money or create a whole new career for yourself. In this McKissock Appraisal School review, we will go through all the ways they can help you get on that track. By understanding everything they have to offer, you can make the right decision about getting your license with them.
Unlike other reviews of McKissock, we have actually looked inside their course so that we could give you a true look at what you get when you use this school for your appraisal education.
---
UPDATED: October 2023
Our Overall Rating

---
Overview Of McKissock Appraisal School
History
In 1991, Richard and Matt McKissock founded McKissock Learning to help professionals get educated. They started with a single course available through what was, at the time, state of the art software technology. From there, they went on to create courses that would help thousands of people get licensed in different trades.
When, in 1993, legislation was passed that required appraisers to get licensed, McKissock Appraisal School was born. They were then able to offer their experience and knowledge on the subject to a wider audience. This led to the school in its current form, with its focus on property transactions.
In the year 2000, McKissock Appraisal School launched its online platform for distance learning. This opened up thousands of opportunities for people to get their appraiser's license through the internet. This made them one of the first online appraisal schools in the country, and gave them the opportunity to expand.
Since then, McKissock Appraisal School has been teaming up with online schools all over the country. They were now able to offer licensing education for other trades, but remained focused on appraising. Today, they are open to a wide variety of students from all over the country and from all different backgrounds.
Experience
You would be hard pressed to find a more experienced school than McKissock Appraisal School. They have been one of the pioneers of not only appraiser licensing, but online learning in general. Because of this, you can be confident in the delivery system of their courses, as well as the content.
Since they began, McKissock Appraisal School has helped over 2 million people get various trade licenses. Whether it is through their own brand or the sister brands they have teamed up with, they know property transactions. This makes them one of the biggest and most widespread professional development institutions in the country.
McKissock Appraisal School has made it their goal to be the best since the beginning. By working with real estate schools and surveyor schools, they have a wide range of knowledge. This comes through in their curriculum and can be felt in the way they present material.
It is always a good idea to get your education with an institution that understands the whole industry. By getting your appraiser's license with McKissock Appraisal School, you can be sure they come from a place of experience. Their longevity in the business alone is a good indicator of the quality of their education and classes.
Teaching Style of McKissock Appraisal School
The style of learning at McKissock Appraisal School is based on keeping things fresh. Since appraisers must take classes on a consistent basis in order to stay licensed, they understand the monotony. That is why they are constantly updating their curriculum and keeping classes as interesting as possible.
Due to this consistently changing curriculum, McKissock Appraisal School keeps the lessons clear and accessible. This is one of the things that sets them apart from other appraisal schools. No one wants to have to sit through the same courses year after year and learn the same material.
On top of that, the same material every year doesn't do anyone any good. McKissock Appraisal School understands that the industry is always changing and they tweak and tailor their classes to reflect this. Because of this, you will always be learning something new no matter how many times you work with them.
While they do keep things fresh, they also understand that most people need a refresher now and then. Because of this, they try to present the material in such a way that is new and interesting. By doing this, and also keeping the lessons relevant to your career, you can feel confident in your information retention.
---
In-Depth Look At McKissock Appraisal School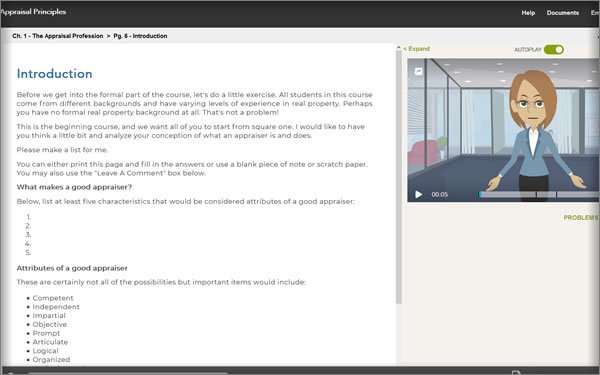 Instructors
Even though McKissock Appraisal School is based solely online, there are a wide variety of instructors. As a student, you will have the opportunity to interact with these experienced professionals regularly. Most of the education packages that they offer include regular Q&As and study sessions with them.
The instructors at McKissock Appraisal School come from all walks of life. However, the thing they all have in common is actual experience in the business of property appraisal. Some have been in the industry for decades, and you can benefit from their experience greatly as a student.
Many of the instructors at McKissock Appraisal School have been working with them since the beginning. Because of this, they have been able to grow and improve curriculum along with the school. Because of this, they could be a great choice if you want to get the best possible education from experienced professionals.
Many of them also sit on boards and professional governing bodies related to property appraisal. This means that you can learn from people who are directly involved with the administration of the appraisal business. Many students find this to be incredibly helpful and that it influenced them later in their careers.
Course Options
There are a few different options for getting your appraiser's license with McKissock Appraisal School. All of them will satisfy the minimum education requirements for your state as well as provide you with extra resources. Because of this, knowing how much you will need and how you learn could be an important step before enrolling.
The first option is McKissock Appraisal School's basic package. This package includes everything you need to get your appraisal license if you are just starting out. It only includes basic, online courses that can be taken at your own pace and on your own time. It could be a good choice for people who are self-motivated and have a good idea about the industry.
The second option is McKissock Appraisal School's advanced package. This package has everything the basic one does with a few extras like a Q&A with instructors and printed textbooks. If you feel like you could benefit from the expert knowledge of an instructor, this could be a great choice.
The third package is a little bit different. It is a subscription-based package that allows you to take courses throughout your career. A property appraiser must continue their education throughout the years and get their license renewed. This could be a good option if you want to keep all your classes within McKissock Appraisal School's format.
The benefit of the subscription package is that you don't have to sign up for classes over and over. You can pick and choose them as you go and can keep your education fresh over the years. It also makes it convenient for you to get your continued education in the same place.
Student Resources
McKissock Appraisal School offers many resources for appraisers at different points in their career. These resources are centered around professional development and advancements in the appraisal industry. Because of this, they have certified themselves as a one stop shop for property appraisers all over the country.
The resources that they offer include things like the pro-series webinars. These webinars are led by leading experts and cover topics that are trending in the business. They can be incredibly helpful for appraisers at any point in their professional career.
The webinars are geared toward practical applications in the industry. They want you to walk away from all of them feeling like you have a new tool in your belt. Because of this, they can be incredibly helpful to appraisers at all points in their careers.
The development webinars are also designed for career advancement. They want you to generate more income and attract a higher quality of client. This kind of focus on your career is invaluable to any new appraiser or experienced professional alike.
They also offer a Certified Luxury Home Appraiser program. This program helps you get certified to appraise homes that are in the upper echelon of the housing market. Getting this certification could mean a much higher income if it is taken seriously and effectively.
---
McKissock Appraisal School Pricing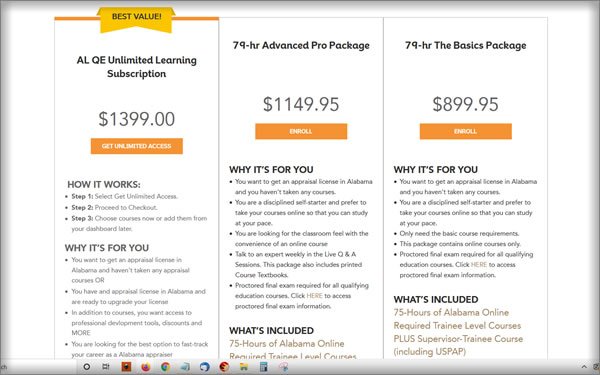 The pricing of the class packages at McKissock Appraisal School changes from state to state. This is because there are different education requirements for different areas of the country. Some of them require more hours, so the course packages are going to be more expensive.
However, they are all mostly in the same range. Always check with your individual state to make sure you are getting all the courses you need to get your license. This ensures that you don't waste time or money on courses you don't need, or miss out on ones you do.
Basics Package
The basics package at McKissock Appraisal School costs between $900 and $1500 to enroll.
This package includes things like trainee level courses in principles and procedures related to appraisal. It is designed to give you everything you need in order to become a certified appraiser.
With this package, you will receive all your courses as well as phone and email support 7 days a week. While you do not get some of the direct instructor help that you do with other packages, it is still helpful. You can be confident that you won't be left in the dark should a question come up.
The courses are delivered in a series of videos and other digital content. They can be taken at your own pace and on your own time. Because of this, they are highly recommended for people getting their appraiser's license in their spare time.
After completing these courses, you will get your completion certificates for your individual state. These will allow you to begin working as a trainee at an appraiser's office and begin your career. They are proof that you have completed your education and taken the course final exam.
Advanced Pro Package
The advanced pro package includes everything the basic one does with quite a few extras. It will satisfy the requirements of your state as well as give you some extra help to ensure your success. It is a good choice if you are not as confident of a student as some other people may be.
The extras you receive with this package include an instructor Q&A. This Q&A gives you the opportunity to work with the renowned instructors available at McKissock Learning. Benefiting from their experience could be one of the best things you do for your future career.
The advanced pro package comes in between $1200 and $1900 depending on your state. While this is on the slightly pricey side of the spectrum, it could be well worth the extra money. Getting to ask questions in a webinar setting could make the entire process easier and more accessible.
With this package you also receive printed textbooks. These could prove to be incredibly helpful not just during the courses but also throughout your career. Because they are hard copies, you can keep them as a reference and use them whenever questions come up.
Unlimited Learning Subscription
Because appraisers must consistently educate themselves, McKissock Appraisal School offers a subscription service. With this, you can sign up for courses and complete your required yearly courses at your convenience. This could be an incredibly helpful service since all your education will be done in the same place.
The subscription package comes in at between $1400 and $2000. Although it is more money up front, you could end up saving money in the long run with your continued education. You can take up to 300 hours of upgrade education with this package, which is good for your long term career.
---
Pros And Cons Of Using McKissock Appraisal School
In this section we will summarize our findings by looking at the pros and cons of using McKissock Appraisal School for your education.
Pros
Longevity – Since McKissock Appraisal School has been working in online courses a long time, they have experience. This can be incredibly valuable in the way that they organize their courses. They understand how people learn online no matter what type of learner they may be. They have also been the leader in online appraiser training and have been doing this for over 25 years.
Career Development – They are incredibly dedicated to your career as a student. This is rare when it comes to online learning and they offer a lot of opportunities for you to grow. As an appraiser, this could come in handy and make you more money in the long run.
Package Options – They offer a lot of different ways for you to take your courses. This could be incredibly helpful to anyone who wants to become an appraiser in their spare time. Many people are already working full time jobs while getting their license and this is a major plus.
Subscription Package – The subscription model is very helpful for people who are dedicated to their career. It makes it easy to sign up for your continuing education courses and can be very convenient. By keeping your education in one place, you can be sure that you are getting a consistent education.
Price – The packages available at McKissock Appraisal School are very comparable when compared to any other school. Most other appraiser schools do not offer complete bundle packages and sell courses individually and when you put them all together, they are about the same or higher than McKissock's packages. The courses offered by McKissock are a great deal when you consider everything that's offered.
Learning Platform – Of all the appraisal school providers, the McKissock Appraisal School by far has the best learning platform on the market. Their platform is modern, easy to use, and delivers the content perfectly and even keeps track of your progress!
Approved By Every State – As we did our research into the best real estate appraiser schools, McKissock Learning was approved by every state. This is a testament to their reputation and to the quality of their courses.
Cons
Not All Packages Have Instructors – All the packages do not come with instructor interaction. If you are someone who needs the face-to-face experience with an instructor, the basic package might not work so you will need the Advanced Pro or Unlimited packages.
Conclusion And Verdict
Many former students of McKissock Appraisal School found the content to be informative and helpful. They felt that they got their money's worth and that the classes were well organized and effective. This is an important thing to look for in any professional school and former students seem to be in agreement.
Students also liked the subscription based model. They felt that this was pertinent to their needs and liked the flexibility it offered. Because many of them do appraisal on the side, they like to have all their courses in one place.
We have looked at most of the real estate appraisal schools on the market. Most have outdated websites and their platforms are just not good. McKissock has one of the most advanced websites and learning platforms on the market and they are the leader in appraiser education.
The fact that McKissock Appraisal School has bundled packages makes the whole process so much easier. Most appraisal schools offer individual courses meaning you need to piece them together. Few offer easy to understand packages. McKissock's packages are complete bundled courses which give you everything you need to start and maintain your career as an appraiser.
In this McKissock Review, we have covered everything they have to offer you as a student. It can be difficult to find the right appraiser school since there are many available of varying quality. However, McKissock Appraisal School is one of the originals and their longevity speaks volumes.
You can see our list of best real estate appraiser schools to help you make the best choice.
By reading this McKissock Appraisal School review, you have a good idea of everything they offer.
We highly recommend McKissock Appraisal School and it's our top pick for online appraisal schools.
---
---