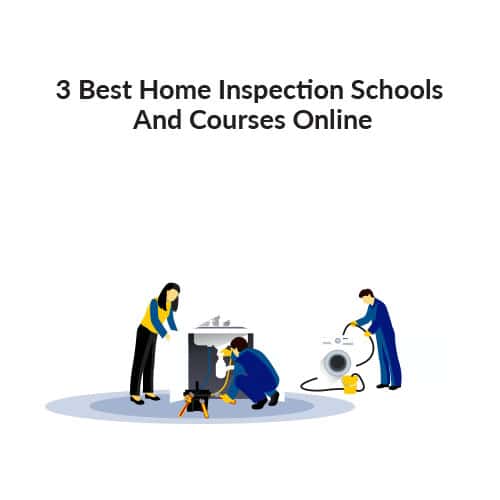 If you're looking for the best home inspection schools and want to learn about home inspection courses online, this guide is just what you need.
In this guide we will show you the very top home inspector training and which ones will work best to help you get licensed. We even list all of the top home inspector training courses in every state which you can find at the end of this guide.
Why Be A Home Inspector?
Is it a good idea to become a home inspector? Is it a good career choice? The national average for a home inspector's salary is $53,263 but they can earn much more than this. It all depends on whether you work for a home inspection company or start your own business.
What To Look For In Home Inspection Courses
Before you can become a home inspector, you must get educated and many states have strict requirements for your education. What we will show you here is the best home inspection schools to get your education.
But what should you look for in a good home inspection course and school? First, be sure that the school is approved by your state. You can see which courses and schools are approved by each state here.
The other thing to look for is whether the school offers online education on a modern easy to use learning platform. There is simply no reason to take your training with a provider who has a substandard platform.
Best Home Inspector Training Course Reviews
1. Inspection Certification Associates (ICA): Best Home Inspector Training Course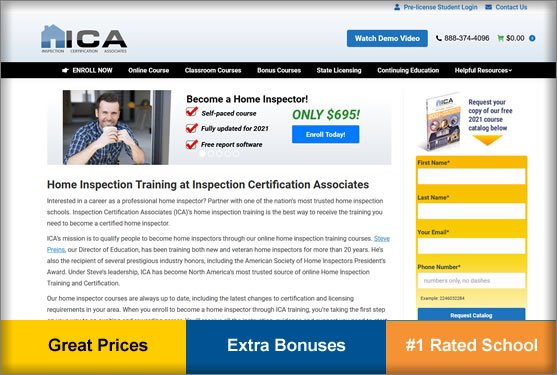 Inspection Certification Associates or ICA is a home inspection training course that is also approved by many state agencies.
The course offered by ICA is a self-paced online course meaning you can take it from the convenience of your home.
If you prefer a live classroom setting, they also offer classroom based courses but you must choose a date and attend at the times scheduled. Their classroom courses are also much more expensive than their online course.
Online Course Packages
ICA's courses for each state are all pretty much the same. It's the same course no matter what state you need to be licensed in.
The home inspection training cost for the online ICA course is also the same as American Home Inspectors Training (AHIT) by Mbition.
They do offer 700 exam prep questions that will be specific for your state so you will get some state specific education.
The main difference between the ICA course and others is that they have a number of bonuses that can be very valuable for home inspectors. These bonuses include 15 in-depth courses on important home inspection topics. Here is a list of the bonus courses:
Mold Inspection
Commercial Property Inspection
Mobile, Manufactured, Tiny, & Log Home Inspection
Radon Inspection
Wood Destroying Organisms
Well Water Testing and Inspection Course
Pool and Spa Inspection
Irrigation and Sprinkler System Inspection
Smart Home Inspection
Asbestos Inspection
Thermal Imaging
Lead Paint Inspection
Wind Mitigation Inspection
Four Point Inspection Certification
Building a Multi-Inspector Business
Septic Inspection
On top of this you even get access to home inspection report software free of charge. This is a great extra that we really like. Buying this software outright can cost over $700 and you get this for free to use in your career with ICA.
We feel that the ICA home inspection course is definitely the best that you can find and we highly recommend this program to anyone looking to become a home inspector.
They offer more for the money including bonus courses, home inspection software, and 700 exam prep questions for your state. You cannot go wrong with the ICA home inspection course.
2. CompuCram: Best Online Home Inspector Course

CompuCram is a website that provides training for high-skill trades in well-paying industries. Instead of a traditional classroom environment where one teacher instructs a room full of students, this course offers a modern alternative that may appeal to you.
Online Course Packages
This site only offers one home inspection training course, but it encompasses many different learning techniques and contains a large library of practice material.
Don't think of it as a limited catalog of content; instead, consider this an all-in-one resource that's been optimized to save you time and money while studying.
Some of the materials you get include:
Pre-assessment and performance tracking
100+ digital flashcards
Fill-in-the-blank vocabulary questions
Hundreds of multiple choice practice questions
Randomized simulated exams
16 end-of-module quizzes
For just under $100, you can access their course for six months. It's compatible on your desktop, laptop, Mac, PC, iPhone, or Android device.
Pros and Cons
Pro – Mobile Compatibility: One of the best features CompuCram offers is the ability to study on your mobile phone or tablet. This enables you to study outside of your home; for example, you can work through a few flashcards on break at work or take a practice quiz during a long commute.
Pro – Guaranteed Results: CompuCram offers a 100% money-back guarantee. If you consistently score well on their course but fail your home inspection exam, you'll receive a full refund. However, you shouldn't need to take advantage of this offer since it is an effective study course.
Con – Instructor: As an online self-study course, CompuCram doesn't have an instructor who works through the material with you. This may not be a big deal for you, but students who prefer working with a teacher or tutor may prefer a different course.
Bottom Line
CompuCram is a fantastic choice if you're interested in a quick and affordable exam prep course that takes full advantage of modern learning technology.
3. Kaplan Real Estate Education: Best Home Inspector Course

One of the most reputable companies for educational textbooks and courses is Kaplan. Virtually every student has heard of this company, since they fill a lot of shelves in most American college bookstores.
Online Course Packages
Kaplan offers home inspection training courses in these states:
Alabama
Alaska
California
Colorado
Delaware
Georgia
Hawaii
Idaho
Iowa
Kansas
Maine
Michigan
Minnesota
Mississippi
Missouri
Montana
Nebraska
New Hampshire
New Mexico
North Dakota
Oklahoma
Oregon
Pennsylvania
Rhode Island
South Carolina
Tennessee
Utah
Vermont
Washington DC
Wisconsin
Wyoming
That's nearly every state in the union!
Depending on the specific requirements for each state, Kaplan offers different versions of their course. Here are some common features included with each one:
Text passages with engaging visuals (also sold separately)
11+ hours of instructional videos and lectures
20+ interactive activities
10+ quizzes to track your progress
Access to a home inspection study group
Software training and free trial
State board approved credit hours (exclusive to some states)
By far the best deal is to choose one of their training courses that also provides the necessary credit hours to become certified in your state. However, you can also take advantage of their textbooks for a more affordable, albeit limited, study guide.
Pros and Cons
Pro – Community: Studying online can be lonely, but Kaplan includes an interactive study group so you won't feel left out. This allows you to collaborate and compare notes with your fellow students, which can be extremely effective for interpersonal learners.
Pro – Software Included: Many of Kaplan's online home inspection courses also provide training resources for home inspection software; additionally, a trial version of Horizon is included so you can get some hands-on practice!
Con – Availability: Unfortunately, Kaplan doesn't provide the same educational resources for each state. This is a better choice for a professional in Vermont than it is for one in Florida.
Bottom Line
If you want help from one of the most trustworthy and ubiquitous companies in education, check out Kaplan's real estate catalog and see if they offer a great course for your jurisdiction. Otherwise, you may be better off with AHIT.
4. McKissock Learning: Home Inspection Training Course For Continuing Education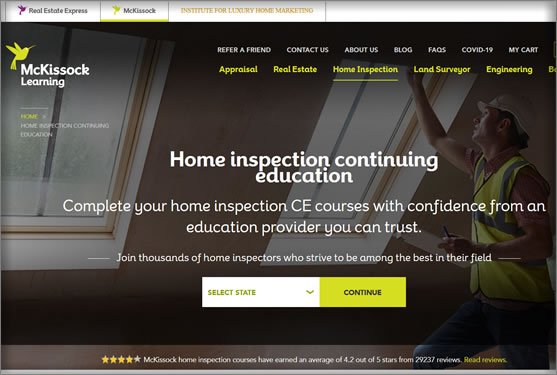 McKissock is a well known name as a top online appraisal school and has been around for over 30 years.
Besides their expertise in helping people learn how to become appraisers, they also have some of the best home inspection continuing education courses on the market. This is why we have chosen them as one of our top choices for home inspection training specifically for continuing education.
They are also listed as an approved provider on most state regulatory agency websites which means they meet the standards set by most government regulators.
We love them because we know McKissock is one of the most reputable names in the online education industry and over 29,000 very positive reviews.
Plus, the educational platform offered by McKissock is top notch and very few do it better.
If you need to get your continuing education as a home inspector, you can't go wrong with the McKissock home inspection training online platform.
5. AHIT – American Home Inspectors Training: Home Inspector Training School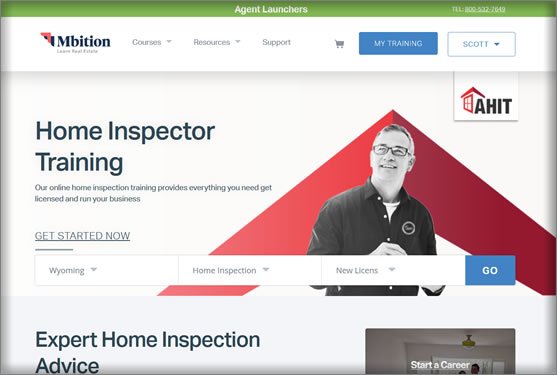 American Home Inspectors Training (AHIT) is the leading online home inspection school in the country. It's owned by Mbition education company which is a leader in the online educational industry.
Background
The American Home Inspectors Training (AHIT) has been helping people around the country become licensed home inspectors since 1993. This gives them an edge over everyone else in the industry because they have a track record that is second to none.
Since that time, they have become the largest home inspector training schools in the United States with over 50,000 students who have become home inspectors.
Affiliations and Accreditations
AHIT is affiliated with the most important home inspection associations such as ASHI and InterNACHI.
They are also an approved course provider by just about every state regulating agency which means they have a reputation for being one of the best home inspection training companies in the industry.
Look At Their Course Offerings
American Home Inspectors Training (AHIT) by Mbition offers home inspection training courses for every state in the United States.
All of their home inspector courses are online and can be done on your own schedule giving you ultimate flexibility.
New License Packages
For most states they offer new license packages and are for anyone looking to become a licensed home inspector and need licensing education.
Their new license package includes:
The specific state online home inspection course
Professional student kit that comes with NHIE
An intro to commercial property inspection
Sample report for standard home inspection
The new license course actually has live video of real inspections, small bite sized learning segments, and is the perfect course for anyone looking to get started in a home inspection career.
Unlike many other home inspection courses, we like the fact that American Home Inspectors Training by Mbition has specific state packages that are tailored for a specific state. Other course providers have just one course that covers the material needed but not necessarily specific for that state.
American Home Inspectors Training by Mbition also offers the best continuing education, exam preparation, and individual certification courses.
Pros and Cons
Pro – Experienced Instructors: The people who design and teach AHIT's curriculum have over 100 years of combined experience in the industry. This experience informs every aspect of their course, ensuring you reap the full benefits of their time spent as home inspectors.
Pro – Continuing Education: Even after earning your home inspection certification, you can still benefit from AHIT. They offer continuing education courses that can help you meet any state-specific requirements to maintain your credentials and continue working.
Pro – Varied Formats: Many online real estate educators only offer one or two courses to choose from, and they mostly come in a single format. This company offers a wider range of materials that can appeal to multiple learning styles, including field training, online tutoring, and professional development resources.
Bottom Line
AHIT should be your first choice when looking to become a home inspector. They have an appealing collection of study resources and can provide consistently high-quality instruction for the beginning and middle of your career!
Best Home Inspection Training Schools By State