---
Becoming a home inspector can be a lucrative undertaking no matter what the housing market is like. Going to American Home Inspectors Training could be a good way to get certified for this occupation. In this AHIT review, we will cover their classes, instructors and more to help you make the right decision.
NOTE: We actually went through the American Home Inspectors Training online course to see what they offer their students. You can see what we found in the content below and our complete walk-through video also located below.
---
UPDATED: December 2023
Our Overall Rating

---
Overview Of AHIT
History
Created in 1993, American Home Inspectors Training has been certifying students in the business of home inspection for years. They have a vast knowledge of what it takes to get your license and can help you get certified quickly. Their experience in the business has led them to be able to tailor classes to all kinds of students.
Since starting almost 30 years ago, American Home Inspectors Training has become the largest inspection training company in North America. They have seen all kinds of students through the training process and have helped them get certified. Because of this, they know everything there is to know about home inspection training and certification.
In the time they have been in business, they have been able to set up over 70 different locations. These locations are all over North America and have their roots in nearly every state. This has allowed them to become intimately familiar with the laws and regulations of every municipality regarding home inspection.
They have also worked with over 50,000 students in this time that they have been in business. This means that they have been able to work with people from all kinds of backgrounds. By doing this, AHIT has a vast knowledge of different learning styles and types of students.
AHIT Experience
Since the instructors at AHIT have so many years of experience, they can pass it on to you. Their expertise in the real world of home inspection allows them to give you that first hand knowledge. This enables them to pass on everything they have learned working in the home inspection industry.
Through their experience, they have become accredited and affiliated with a number of governing bodies. This allows them to stay up to date on everything that is happening in the industry. It also offers a system of checks and balances that ensures their efficacy as a school.
One of the governing body affiliations that AHIT maintains is with The American Society of Home Inspectors. This is a non profit association that sets standards for the home inspection industry and works with educational institutions. This experience with ASHI is integral to growing their experience and keeping their courses current.
They are also affiliated with the International Association of Certified Home Inspectors. This affiliation has given them experience with standards and practices all over North America. It allows them to give you the most up to date education and keep up with standards on a worldwide level. If you are interested in getting the most current information, this experience is essential.
Teaching Style
The teaching style at AHIT is based on real world examples and giving you an idea of what the job entails. The instructors' experience in the job allows them to show you what it is like to actually inspect a home. This kind of professional expertise is incredibly valuable and can make you a better inspector.
AHIT home inspection also includes things like instruction out in the field that is hands on. They will bring you on site to a home and show you what to look for and what is permissible. This allows you to bring that experience into your career right off the bat.
The main philosophy of AHIT home inspection is to give you something more than a conceptual understanding. They want you to go on site and look at real homes to understand what is needed to do the job. By showing you actual homes and examples, you get an idea of what to look for from your first client.
The instructors at AHIT also try to make the information as interesting as possible. Many of them have been teaching for many years, so they are experienced in this instruction. The fact that it is engaging and entertaining makes it much easier to retain and understand.
---
In-Depth Look At AHIT
Instructors
The instructors at AHIT have years of combined experience in the home inspection industry. Many of them have their own home inspection businesses where they deal with clients every day. This experience gives them a platform to teach you from and get you prepared for your career.
Many of the instructors at AHIT also hold certifications in many different states around the country. This means that they are not only certified in one area and have knowledge of the entire business. If you are interested in working in more than one state as an inspector, they could be a great option.
They are also mostly made up of actual graduates of the programs at AHIT. This means that they are familiar with what it's like to take the courses and bring their experience to it. By having former students teach the courses, they have a unique perspective on teaching and instruction.
Since so many of the instructors at AHIT are also working as inspectors, they are the best fit to teach it. AHIT is focused on hands on instruction instead of conceptual and this makes them perfect for new students. There is no better way to learn than from someone who does it for a living themselves.
Course Options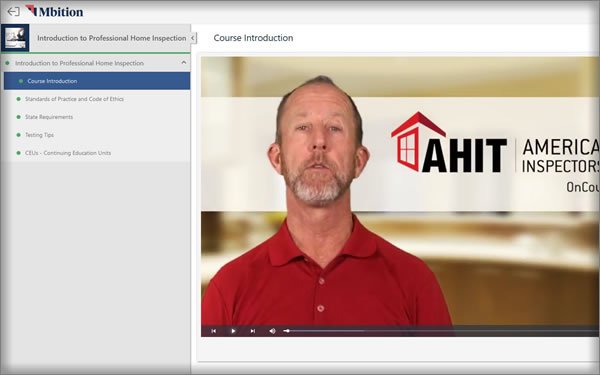 When getting certified for home inspection, you can take either online or live courses for your education hours. AHIT home inspections operates in many different states in the U.S., so they can offer a wide variety of options. With this kind of widespread coverage, there is sure to be a course that will work for you.
For their online courses, AHIT home inspections uses the Mbition online course platform. Mbition is one of the leaders in distance learning and online education in the United States. Because of this, their self guided online courses are accessible and easy to understand for a wide variety of people.
You can also take your classes in a live setting at one of AHIT's numerous locations throughout the country. They have in-person classes in over 70 different locations all over North America. This makes going to them for the in-person experience relatively easy no matter where you live.
If you would like to get the benefit of the instructors' experience and real world expertise, in-person could be best. Many people feel that they get the most out of their education working with instructors face-to-face. However, if you are a busy student, the self-guided online option might be your best option.
AHIT Student Resources
AHIT doesn't have as many student resources as other professional schools. However, they do offer a few extras that can help you in your career as it progresses. By taking advantage of these extras, you can get a leg up on the competition as soon as you are certified.
One of the extras they offer is web design for your inspection business. Having a professional, easy to navigate website is incredibly important for any business professional. AHIT can help you design the best possible website to get your business off the ground once you're certified.
They also offer printing services for all your marketing materials after you pass the certification exam. Business cards and other literature can be valuable things to any new home inspector. AHIT knows the design elements that should be included in order to make you marketing materials most effective.
One of the other resources they offer is copies of their AHIT Home Maintenance Manual for your clients. This can be effective as a free gift that you can leave for your clients, which is a great way to have them remember you. This is just one of the important things you can do with marketing that can help in your career.
---
AHIT Pricing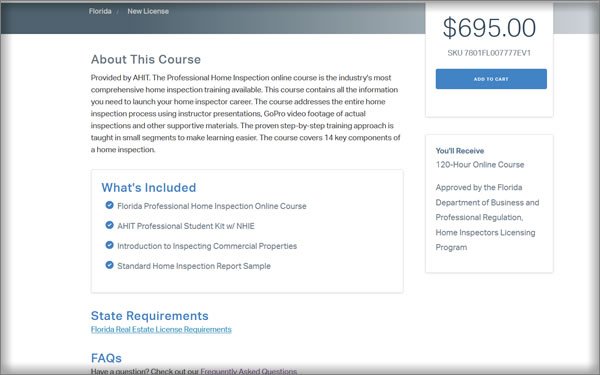 Because there are different requirements for different states, the prices for AHIT courses vary. Depending on how many education hours are required for you to take, the price of the courses will correspond. However, they are all within a relatively small range and will only vary by a few hundred dollars between states.
In-Person Classes
The in-person classes at AHIT can be taken at any one of their 70 locations throughout the country. Coming in at around $1,500, they are around the middle of the price spectrum for a home inspector's license. Because of this, they are accessible to anyone who has the money for a professional education.
The in-person classes are conducted over the course of a week at one of their locations. During this week, they will cover everything you need in order to get certified as a home inspector. Depending on your state, you may not need to get a certification, but it is highly recommended.
If you would like to benefit from the experience and knowledge of AHIT's instructor's, in-person is best. With these classes, you can get the field experience and first hand knowledge that is necessary. Many people find that they learn best in this hands-on way and that it is the easiest route in general.
For this price, you get those benefits and advantages that the online courses just can't provide. Getting to go out in the field with an instructor is a great way to learn and retain the information. However, if you can not work the in-person courses into your schedule, you do have other options.
Online Self-Guided Classes
The online, self-guided courses from AHIT are done on Mbition's online platform. Mbition has one of the most popular online distance learning systems in the world. Because of this, they are meant to be accessible and understandable for many different people.
The online distance learning courses for AHIT come in at $695. With this, you will receive videos and digital PDFs of the course materials and regular quizzes. They also include things like recorded lectures from the in-person courses with instructors.
If you can not make it to one of the locations, this option is one of your best bets. While you will not get the advantages of working with your fellow students, the courses are comprehensive. If you are self motivated and an independent learner, they will be very effective.
If you can not afford to take the in-person courses, the online ones will be a great option. At almost half the price, you get the same amount of education hours and the same material. As long as you are the kind of learner that can work on your own, this is a suitable option.
Since you get pre-recorded lectures along with the digital materials, this could be a best-of-both-worlds option. You get the benefit of entertaining material from knowledgeable instructors from the comfort of your own home. Many students have found that this is a great choice for people with busy lives.
---
Pros And Cons Of Using AHIT
Pros
Many Locations – In reading many student written AHIT reviews, we found that people enjoyed their many locations. Because there are classrooms all over the country, they are able to offer courses to people in many different places. Not every professional school has this capacity and it makes going to their in-person classes much easier.
Online Learning Platform – AHIT's online courses are delivered through an amazing learning platform that makes learning much easier. With most of the course being delivered through video content, retaining the information becomes a much easier task than text based courses.
Marketing Materials – AHIT offers many services that will help with your home inspection business. This is one of the most important things to consider when starting a new business in a new industry. Because they have experience in the industry, they know how to get you the right materials to promote your company.
Course Options – The fact that they offer different ways to take the courses is helpful to a lot of people. Many people start their home inspection business on the side while working at other jobs full time. Having the ability to take the courses online makes them more accessible to these types of people.
Experienced Instructors – Many professional schools hire people who are experienced with teaching the material. However, not all of them hire people who are working in the industry and know what it's like. AHIT reviews the work history of instructors and hires people who have been working in the field to teach courses.
Field Instruction – The fact that AHIT instructors will take you out into the field is a major benefit. Learning by looking at actual homes is a great way to fully understand concepts and ideas. It is a great way to supplement the lessons you will learn in the actual classroom.
Course Extras – As part of your tuition, AHIT sends you by mail a hard copy textbook, guide to marketing and operating a profitable home inspection business, guide to home inspection, home inspection report samples, professional home inspection course workbook and a home maintenance book. On top of this the also send you tools such as a telescopic round inspector's mirror, a line voltage tester, as well as a GFCI receptacle tester.
Cons
Somewhat Pricey Tuition For In-Person Classes – The cost of the in-person classes is around the middle of the spectrum for inspection training. However, this cost could be largely prohibitive for many different people. Since the online courses are half as much, they are a better option if you don't have as much money.
Not Many Resources – Aside from the marketing material service, AHIT does not have many student resources. Many professional schools will offer networking opportunities and other meetups to help you. Because of this, you may want to look elsewhere for making your connections in the business after you take the course.
Conclusion And Verdict
Many students felt that their experience at AHIT was well worth the time and effort it took to get it done. They felt like they learned everything they needed to know about home inspection and had a good experience. Because of this, the odds are good that you will feel the same way about it.
Students also enjoyed going out and working in the field with their instructors. By seeing what it's like to work in a home, they got a good idea of what the job is like. They found this aspect of the training to be effective and good for their retention of the information.
We like the fact that this is a video based course. This makes learning much easier and retention of the material is much better. The platform that the course is delivered on is one of the best. Learn at your own pace and the platform saves your progress making the process easy and fun.
AHIT has everything you will need to become a licensed home inspector. Since we went through their online course, we can say with confidence that they offer a solid home inspection education.
In this AHIT review, we covered all the options open to you by attending their school. Hopefully, it has given you a good idea of what they can offer you as a future home inspector. Not all home inspection schools are created equal, so it is important to know their system and philosophy.
By reading this review, you have the knowledge to make an informed decision on your education. This is the first step towards an exciting and possibly lucrative career in home inspection. The next step is to sign up for your courses and get to work.
---