In this guide we will show you the best real estate appraisal schools for you to get your education. Choosing the proper school to get your real estate appraiser training is critical which is why we think this guide will help you find the right real estate appraiser courses for you.
We will first show you our best overall choice for real estate appraisal schools in the United States. Then, we will list the best real estate appraiser schools for each state.
Being a Real Estate Appraiser Can Be Lucrative
The average income of a licensed real estate appraiser in 2023 is just over $57,606. A certified general real estate appraiser typically makes around $25,000 per year more than a licensed real estate appraiser. At higher levels, a certified residential real estate appraiser can make as much as $150,000 per year.
As you can see, becoming a real estate appraiser can be a great career choice. However, it will take time and dedication to make it happen and to get to the point where you can generate that kind of income.
Before you do, you will need to get real estate appraiser training to become a licensed appraiser. This will require taking an accredited course.
Below, you will find our picks for the best real estate appraisal courses on the market as of 2023.
Best Real Estate Appraisal Schools Online
---
2. VanEd: Best Real Estate Appraiser Classes
VanEd has a unique take on the traditional online learning model. They offer a variety of effective study tools, although they lack the availability in many states.
Course Features
Appraisal classes for WA, CO, TX, SD, IA, VA, and NJ
Continuing education courses for all 50 states
30-75 credit hours (meets USPAP requirements)
Discounts and free trials
Visual study aids and flashcards
Practice questions and exams
Exam proctoring
Pros and Cons
Pro – Requirements Met: VanEd offers a combined course package that covers all the necessary material and meets the education hour requirement to take the exam. Additionally, this company offers exam proctoring, which is extremely convenient.
Pro – Flexible Budget: If you only need a few more hours of education before sitting for the exam, VanEd offers smaller packages for a reduced price. They also have frequent discounts and promotions, so be sure to check back regularly to save some money!
Con – Limited Availability: As previously mentioned, VanEd only offers full real estate appraisal courses for 7 states; if you don't plan to work in one of theses states, you'll have to get help somewhere else. However, they offer continuing education for every state.
Bottom Line
Choose VanEd if they offer a full course in your area; it's a great way to learn from home and even get proctoring for the day of your exam.
---
3. McKissock: Best Real Estate Appraisal Schools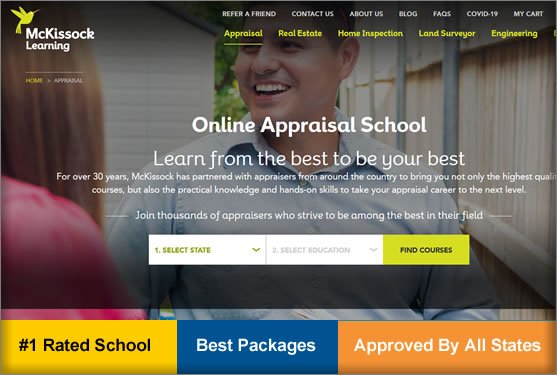 For over 30 years, McKissock appraisal school has been helping people start a lucrative career and become a real estate appraiser.
Through the years, McKissock has served close to 2 million real estate professionals across the United States to help them achieve success in real estate careers.
McKissock Learning is part of a very reputable network of educational sites such Colibri Real Estate and the Institute for Luxury Home Marketing.
Course Features
The courses offered by McKissock are really all encompassing for anyone looking to start or maintain their career as a professional appraiser.
Whether you're looking to get your appraisal license or upgrade your license, they have exactly what you need.
Here are the courses offered by McKissock:
Qualifying Education Course
Upgrading A License
Their Licensing Subscription
Exam Prep Package
USPAP
Continuing Education Package
Unlimited Learning Membership
Corporate Solutions
Luxury Home Certification
Professional Development
As you can see, they offer everything you will ever need to get your appraisal license, prep for your licensed residential or certified residential exam, upgrade your license, USPAP courses, and more.
Qualifying Education Course
The McKissock qualifying education course is your first step to becoming a licensed appraiser in your state.
They have qualifying education courses for every state in the United States which shows they are the leader in appraisal education. No other online appraisal school offers more than McKissock.
Their qualifying education course will give you the required 75 hours (Colorado, California, Florida, Kansas, Georgia, Kentucky, and Wisconsin require more than 75 hours) you will need to become a trainee.
The best part is all of their pre-license qualifying education courses are online meaning you can take the course at your own pace and never need to leave your home! It's so convenient.
Pre-License Qualifying Education Course Packages
The McKissock qualifying education course comes in three different packages so you can choose what works best for you:
Basic: The Basic package is for those who have never taken an appraisal course, are good self starters, and only want the basic requirements required to become an appraiser trainee. This is also the least expensive package of all the options typically falling in the range of $899.95 but depends on your state.
Advanced Pro: The Advanced Pro package is for those who have not taken an appraisal course but want extra help. You will get everything you get in the Basic package to help you become an appraisal trainee but you gain access to other upgrades such as weekly instructor questions and answers and other upgraded materials. The cost of this package typically falls in the range of $1,149.95 but depends on your state.
Unlimited Learning Subscription: The Unlimited Learning Subscription is by far the best overall package is it gives you so much more for your money. With this package you will get access to everything you get in the Basic and Advanced Pro packages but you will have up to 300 hours of the required licensing courses as well as upgrade education courses including USPAP.
You will also gain access to monthly webinars, online community, content library and much more.
The cost of this package at the time of this writing is $1,399 and depends on your state. Of course the price can change but it's normally within this range.
Continuing Education
Their continuing education courses have everything you will need to maintain and renew your appraisal license in every state. No other online appraisal school offers this but McKissock.
The CE course allows you to get the additional credit you may need as well.
The continuing education courses offered are fairly priced and by far the most update to date courses you will find on the market.
Just choose your state and renew your license. It's very easy and all online! You never have to leave your home.
Other Courses
As mentioned above, McKissock offers many more courses for those who already have an appraisal license, need to renew and so much more. Visit McKissock here to get a full view of what they offer.
Pros and Cons
Pro – Instructional Team: The team of instructors at this real estate appraisal school is really quite impressive. It consists of 23 instructors that all have extensive backgrounds in the real estate and appraisal industries.
Pro – Highly Reputable: The McKissock appraiser school has a solid reputation to back their course offerings. At the time of this writing, they have over 468,000 reviews from former students with a 4.3 out of 5 star rating.
Pro – National Approval: When you're looking for the best real estate appraiser school, you want to be sure the school you're considering is approved by your state. Unlike other appraisal schools, McKissock is approved in every state and is even listed on state appraisal board websites as a recommended school.
Bottom Line
Combine their 30 + year track record with their amazing amount of positive reviews, and it's clear that McKissock has an exemplary reputation. Check them out if you're interested in learning more!
4. Appraisal Institute: Real Estate Appraiser Classes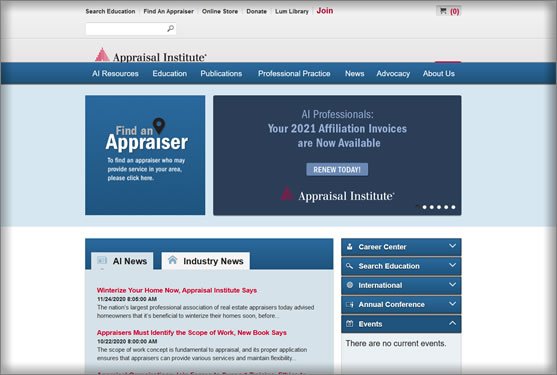 The Appraisal Institute is really not an appraisal school but a professional association of real estate appraisers. They have over 17,000 real estate appraisers throughout the world as part of their association.
We only included the Appraisal Institute on our list because they are a very reputable organization and well known in the appraisal industry.
Their appraisal courses are approved by many states so their material is good.
The only drawback to the Appraisal Institute is that it is so hard to understand their education portion of their website. You need to search for educational appraiser courses and most are individual continuing education and some qualifying education courses.
They do not have nice and easy packages as you see offered by CompuCram. Alternatively, McKissock's packages are easy to understand and you get everything you need to get licensed in one convenient package.
So while we know that the Appraisal Institute is a very good association, we only recommend their courses for continuing education because it's just too hard to understand what courses you should take to create packages to get your license.
Best Real Estate Appraiser Schools State By State List
Now let's look at the top real estate appraisal schools in each state. We will only list the top schools for each state because there are only a few good appraisal schools in the United States.