The biggest consideration in mortgage loan officer training is the school you attend to get licensed. There are mortgage loan officer schools all over the country and it can be difficult to find the right one. This list of the best mortgage loan officer schools, can help you find the institution that is the best fit.
1. OnCourse Learning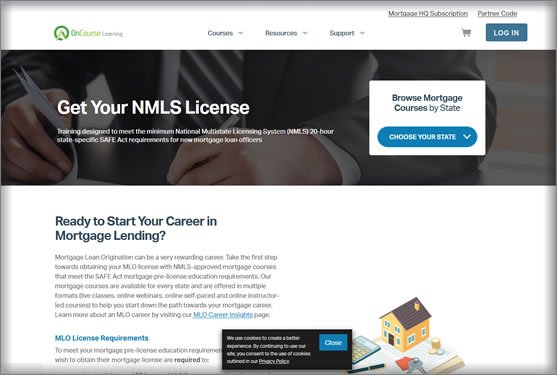 About
OnCourse Learning has been working with students in the distance learning field for over 40 years. Their experience in this type of education makes them a great choice for mortgage loan officer training. Having that kind of longevity in the business means they understand the needs of a wide variety of learners.
They have a policy of making sure that all of their students remain in compliance with the law. This is incredibly important for mortgage loan officer training as it is highly regulated. Being in compliance means that you can continue working in your career without worry about breaking any rules or regulations.
They are dedicated to ensuring that their students complete the required 20 hours of education in an accessible way. They understand that not all of their students will have the same amount of knowledge coming into the process. Because of this, they keep the material clear and concise and easy to understand for all levels of MLO students.
Course Options
OnCourse Learning offers many different options and formats for completing your mortgage loan officer training. This wide variety of course options is what makes them one of the best mortgage loan officer schools. Not everyone can complete their training in the same way and they make sure there is an option available to them.
You can take your mortgage loan officer training in a self-guided online format. This allows you to follow the curriculum in a digital format on your own time and at your own pace. This is a great choice for people who might not be able to dedicate their time to a webinar class.
20% Savings on OnCourse Learning Continuing Education Courses
40 uses today
Last Used: 8 days
They also offer live webinar style courses to those who prefer that type of format. By allowing students to interact with an instructor from home, they open up the courses to a wider student pool. Because of this, you can get the best of both worlds as far as course options go.
In a few states, they also offer in-person courses. These are a great option if you are the type of student who benefits from live interaction. If you happen to live near one of these locations, it is a highly recommended course format.
Student Resources
OnCourse Learning has a Career Insights section of their website that could prove very helpful. Here, they offer all kinds of valuable information on what it is like to work as a mortgage loan officer. If you are just getting started and are unfamiliar with how the industry works, this is a great resource.
They also have a blog that offers unique perspectives on the day to day job of a mortgage loan originator. Going through these posts can be very helpful and give you a good idea about things like client communications and industry updates.
They also have a section that lays out all the different requirements for every state in the U.S. This is a very important section to read and understand since each state differs. Knowing exactly what steps you need to take for your mortgage loan officer training in your state is essential.
Pros and Cons
Pro – In-Person Instruction: It's rare to find an online prep course that offers in-person classes, but OnCourse Learning is that rare exception. If you're in one of the states where this service is offered, I highly recommend checking it out!
Pro – Relatable Content: Aside from their excellent online prep course, OnCourse also provides a free blog that goes over several topics related to the day-to-day operations in the mortgage lending business. This includes articles on cybersecurity, sales opportunities, and tips to help you avoid burnout.
Pro – Webinars: If you're looking for more information on the current state of your industry, check out some of the webinars offered through this site. You're guaranteed to learn something interesting that applies to your profession out of their library of hundreds!
Bottom Line
OnCourse Learning is absolutely your best bet when preparing for your MLO career. I recommend trying one of their in-person classes if you can, but their online classes are also an excellent choice for your study needs.
2. Affinity MLO Training Academy
About
MLO Training Academy by Affinity is an effective and convenient resource to help you get started as an NMLS-licensed professional. It was founded by Artricia Woods, a self-made woman from a family of entrepreneurs. By helping support her family's business, she aced the MLO exam and starting working in real estate and mortgages. In order to adapt to the changing economy, she diversified into educating other ambitious people to achieve similar success to her on their licensing exams.
As a family-owned business, Affinity's online real estate courses offer a personalized experience that is extremely popular among aspiring realtors. Artricia is an excellent instructor who breaks down all the topics covered on the exam in plain language. She uses practical examples to illustrate her points; thanks to her own professional experience in the industry, she has a unique insight and many stories to share.
Course Options
Depending on where you plan to work and how much time you need to study, Affinity offers a few different options for NMLS exam prep courses and content. For starters, they provide a 20-hour online course that fulfills most state requirements, which you can choose to take over five days or ten days. Either option has the same cost under $400; the only difference is in how much time you'll need to devote every day to complete either one.
This course covers all the essential topics: Federal Lending Legislation, Ethics, Elective Topics, and Non-Traditional Mortgage Products. It devotes the appropriate amount of time to each topic in order to provide an appropriate amount of detail and meet most states' requirements. It's predominantly made up of video tutorials narrated by Artricia, but supplemental worksheets are also included.
Student Resources
If you just need help with passing the exam and don't need to earn any more hours to sit for it, Affinity also offers an Exam Mastery Course with extra content. This includes:
6 end-of-module quizzes
15 practice exams
375 audible flashcards
5 extra cram courses
You can choose to purchase this package separately or bundle it with the 10-day/5-day online course. I recommend getting the bundle, but your needs may vary.
Aside from this, Affinity has one more benefit for students in states with additional hour requirements. Check out their State-Specific Additional Requirements page to find extra hours of content needed for your specific jurisdiction. These range in price but are typically between $50 and $200.
Pros and Cons
Pro – Excellent Instructor: Artricia is relatable and engaging, and her video tutorials are a one-of-a-kind learning resource. If you have a tough time paying attention to dry lectures, give this course a shot.
Pro – Flexible Pricing: This is an affordable option for most aspiring professionals, but there are also ways to reduce your costs if your needs are more specific. You can save some money by skipping the 20-hour course, or you can only pay a fraction for the extra hours required to sit for state-specific exams.
Con – Mobile: Unfortunately, you cannot study this course on your mobile device. Affinity was designed for PC and Mac only, and you'll need a desktop or laptop computer to access all of its content.
Bottom Line
Affinity is a cure for the common online class and a convenient way for you to quickly achieve your entrepreneurial aspirations. Check them out and you won't regret it!
3. CompuCram
About
CompuCram is a full exam prep system that has been used to help over 500,000 students pass their exams and start careers in real estate, securities, and contracting work. This is a web-based online course that takes full advantage of the medium to provide a self-paced study guide.
By combining vocabulary building exercises with simulated practice exams, this is a highly structured approach that uses raw data to prepare students quickly and efficiently. You won't get the same experience as an instructor-led course like Affinity, but it offers an alternative that you may prefer if you have an individualistic learning style.
Course Options
Currently, CompuCram only offers one option for MLO training. The SAFE Mortgage Loan Originator Test Prep offers training in line with the national standard; however, it doesn't provide the necessary study hours to meet the exam requirement. What you do get is an innovative online platform that incorporates several different learning exercises to teach you important vocabulary, such as flashcards and fill-in-the-blank puzzles. These are supplemented by practice tests to ensure you know the definitions and applications of each term, as well as a full simulation of the exam to mentally prepare you for success.
Student Support
Unfortunately, student support from CompuCram is limited. You don't have an instructor you can speak with to get extra help, and the course doesn't meet the hour requirement for any NMLS exam. However, you can reach out to their support team via phone, email, mail, or Facebook for extra assistance if you encounter any issues.
Pros and Cons
Pro – Mobile Friendly: Unlike Affinity, CompuCram can be accessed on any modern device. This means you can easily do some studying on your computer, laptop, smartphone, or tablet without any interruptions or crashes.
Pro – Affordable: For less than $200, you have nine months to work through the entire online program from CompuCram. This is a very impressive data-driven course that takes advantage of cutting edge tech, so you're getting a great deal for this price!
Con – Instructor: Something that would really improve this MLO course is an instructor to walk you through each lesson. Although the materials included are impressive and effective, it's just not the same without someone to provide more context related to your future career.
Bottom Line
CompuCram is the best fit for a specific kind of student: the one who learns best at their own pace and by themselves. If you can see yourself doing this, then I recommend giving this course a shot!
4. Online Ed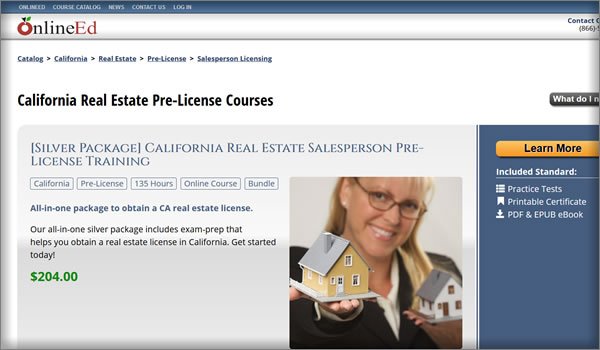 About
With a huge catalog of state-specific courses, Online Ed is a convenient and highly effective resource to help you adequately prepare for a rewarding career in mortgage loans. They offer a unique blend of live instruction and online study materials that provide a multi-faceted educational experience. Even better, these resources are affordably priced and cover all the necessary steps to go from a complete newcomer to a fully-certified mortgage loan operator in your jurisdiction of choice.
Course Options
Online Ed has a gigantic catalog of online prep course that cover 56 jurisdictions: all 50 states, DC, Puerto Rico, the Virgin Islands, the Mariana Islands, and Guam. Each jurisdiction includes all the necessary coursework to meet their respective licensing requirements, and you have some flexibility when deciding which courses you want to actually pay for. If you only need a few hours of education in a specific section, this is an excellent way to meet those requirements; alternatively, enrolling in a comprehensive bundle can provide you with a discounted start-to-finish program that's presented in a highly convenient package.
Student Support
Although Online Ed has a physical mailing address in Oregon, they don't offer any in-person services. Instead, you need to contact them via phone or online. Two different toll-free numbers are listed on their contact page and can be reached during normal business hours: no weekends or holidays. Alternatively, you can fill out a web form to contact them via email, or contact a support specialist through their website's chat feature.
Pros and Cons
Pro – Catalog: Unlike some of the options on this list, Online Ed covers every conceivable jurisdiction where you may want to practice as a mortgage loan professional.
Pro – Affordable: You're free to enroll in whatever course packages are necessary to meet your state-specific professional requirements; there's no need to pay any more for unnecessary features or waste your time with superfluous coursework.
Con – Guarantee: It would be easy for Online Ed to offer some kind of pass guarantee for their courses; after all, they're the ones who provide the certification exam at the end of each course. Unfortunately, this isn't the case, although it may change in the future.
Bottom Line
Online Ed is extremely convenient, highly affordable, and covers every conceivable part of the country. You owe it to yourself to check out their catalog, especially if you live somewhere out of the way and want to prepare for your career online.
5. Learn Mortgage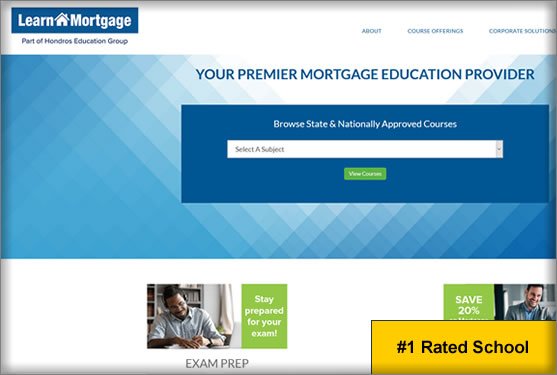 About
Learn Mortgage offers live and online mortgage loan officer training for people looking to become a mortgage loan officer. They have been working with students all over the country and helping them get the most up-to-date education. This is incredibly important since finding people the right loans requires a deep knowledge of the local housing market.
Learn Mortgage is paired with the Hondros Education Group. This group has been in business for over 50 years and is a leader in online and distance learning. Because of this, they are a great option for people who want the strongest possible education system for their training.
Course Options
Learn Mortgage offers courses in a webinar style format. This allows you to complete your mortgage loan officer training from the comfort of your own home. Not everyone is going to be able to make it to an in-person class, so this is a great feature.
With the webinar style courses, you get the benefit of working face-to-face with an instructor without having to commute. In fact, Learn Mortgage encourages you to participate and lists it as a requirement for the course. This interaction helps with information retention and gives you a leg up on the material.
Since you will be in the course with other students, you also have the benefit of learning with others. Many students feel that this group style of learning forces them to think about the material in different ways. Because of this, you will be much more likely to retain the complex curriculum of mortgage loan officer training.
Student Resources
Learn Mortgage offers a few different resources to their students. These include reporting completion of your courses to NMLS for you. Within seven days of completing the course, you will then be eligible to take the SAFE MLO-National test.
They also offer a CompuCram exam prep course for an extra fee. This course prepares you for the rigorous SAFE MLO-National test and ensures that you are ready. If you are someone who does not take tests well, this could be a great option for you.
Pros and Cons
Pro – Time Saver: Learn Mortgage offers a fast class that's designed to prepare you for your certification exam and career in as little time as possible. This makes for a great option if you don't have a lot of time to prepare for your test.
Pro – Skill-Based: In addition to helping you meet your NMLS requirements, Learn Mortgage provides content to evaluate your test-taking skills. You may consider it "teaching to the test," but the fact remains that it works!
Con – Compatibility: There's no indication that this course was designed with mobile devices in mind. It's possible that you can work through it using your phone or tablet's web browser, but there's a possibility that it won't work as well.
Bottom Line
Although this is a fine way to prepare for your exam, it's far from the best option currently available. You may want to try a higher-ranked course first, such as OnCourse Learning or Affinity.
6. Allied Schools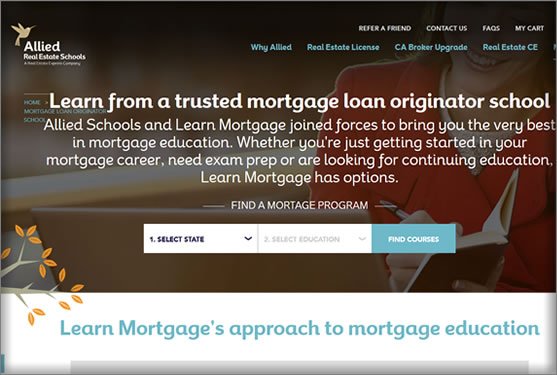 About
Allied Schools is an online mortgage loan officer training solution that is accessible to everyone. They are fully approved by all the state and national boards that certify educational institutions for mortgage loan officer training. This makes them a great choice if you want to work with the best mortgage loan officer schools.
The courses at Allied Schools are designed by industry professionals who specialize in mortgage loan originator training. They ensure that all the classes are completely up to date with the market and have the most current information. This professional upkeep is a great feature for people who want the most out of their mortgage loan originator training.
Course Options
Allied Schools offers webinar classes that will help you complete the education hours required to get licensed. These classes give you the same benefits that a live, in-person course would give you without the inconvenience. If you are getting your license in your free time, this is a great option for you.
These online webinar classes include everything you need in order to pass the SAFE MLO-National test. Most people are able to complete the training in as little as four days, which is a short time period. Because of this, it is incredibly important that you learn from professionals.
The instructors for the webinar classes are all people who have worked in the industry themselves. They have also helped to develop the curriculum and keep the material up to date with local laws. This dedication to the development of the material makes the courses helpful and accessible to all kinds of students.
Student Resources
Allied Schools offers round the clock support for all of their mortgage loan originator training. If you are having any difficulties with the technical aspects of the courses, you can call their toll-free number. Having this kind of support is very helpful for students who might not be used to online education.
They also offer pre-licensing textbooks that you will have continued access to in your career. Continued access to textbooks is not something that all mortgage loan officer schools offer. These textbooks will come in handy in your courses as well as moving forward in your career.
7. Loan Officer School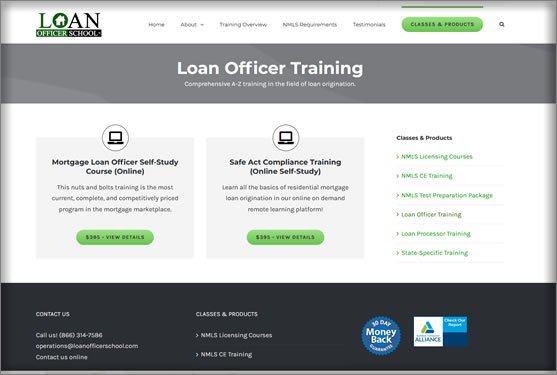 About
Loan Officer School was founded with the goal of helping as many people get their mortgage loan officer training as possible. This goal was met by making their courses accessible to all and available for all kinds of students. This was done through extensive research and development by industry professionals.
Their experience of over 20 years means that they have seen all kinds of trends and market fluctuations. As a mortgage loan officer, you will have to adapt to these changes to get people the best possible loan. Due to their longevity, they can impart this knowledge onto you and make sure you are successful.
Course Options
You can complete your 20 hours of required education in one of two ways with Loan Officer School. You can do a streamed format that is either led by an instructor or simply a stream of a live course. Both of these can be done in your own home and will satisfy the necessary requirements.
You can also attend one of their live courses in-person if you are so inclined. These in-person courses are not available in every state, however, so they will not work for everyone. If you are able, though, you can complete your mortgage loan officer training in just two days.
Student Resources
Loan Officer School does not have some of the same resources as the other mortgage loan officer schools. They are a much more bare bones type of school that is focused primarily on getting your required hours finished. If this is what you are looking for and don't need those extras, they could be a great option for you.
They do, however, offer a test preparation package that comes highly regarded by their previous students. This package comes with seven hours worth of test prep and also includes over 800 slides and practice questions. If you want to be as prepared as possible for the SAFE MLO-National test, this is a great option.
8. Capstone Institute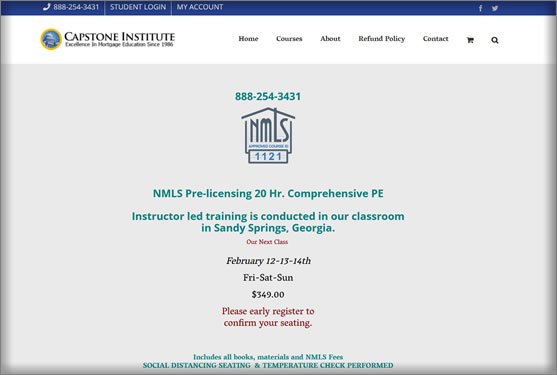 About
Capstone Institute was one of the first mortgage education institutions in the United States. This kind of experience has translated into a high quality education system that many different students have benefited from. This effectiveness is just one of the reasons they have remained at the top of the industry for all of these years.
Capstone Institute was started by Kathy Lewis, who has a long list of accomplishments in the mortgage education world. Since 1986, they have been working with students from nearly every state in the U.S. Kathy has even served on the Housing and Urban Development board for the federal government.
Course Options
Capstone Institute offers in-person classes in Georgia and believes that this is the best way to learn the business. If you are able to attend one of these courses, you get the full benefit of Kathy's experience. Being in-person is one of the most effective ways to retain complicated information.
Capstone Institute does not offer any sort of online option for taking their courses. They understand that it is convenient, but they do not feel that it is the proper way to learn. Because of this, if you are not in the Georgia area, they may not be the best choice for you.
Student Resources
One of the most important student resources that Capstone Institute offers is a payment plan. They will allow you to pay your tuition over the course of four payments. Many mortgage loan officer schools do not have this option.
Because all the classes are in person, they also act as a networking opportunity for students. If you are planning to work in the Georgia area, this is a great opportunity to meet contacts. The mortgage loan originator business is heavy on contacts, so this is an important resource.
Final Thoughts
By reading our list of the best mortgage loan officer schools, you hopefully have a good idea of what you need. Depending on your schedule, any one of these schools will be a good choice for you. If you are dedicated and curious, becoming a mortgage loan officer is well within the range of possibility for you.