---
If you have been considering getting your real estate license in California, you may be wondering where to get training. In this CA Realty Training review, we will cover all the ways they can help you on this path. By reading this article, you can get the information you need to know whether they will be your best choice.
---
UPDATED: October 2023
Our Overall Rating

---
Overview Of CA Realty Training
Owners
CA Realty Training has been helping students navigate the beginning of their real estate careers for years. They have a dialed-in system that is great for students and learners of all types. If you are interested in learning from the best agents and brokers in the business, they're a great choice.
The administration at CA Realty Training is incredibly experienced. The owner and CEO, Chase Milner, has teamed up with a group of individuals who are dedicated to the business. He has maintained a devotion to his students and an open line of communication for questions that is incredibly helpful.
The team of owners also includes the COO and CED team of Carolee and Robert Rico. The Rico team has experience not only in the real estate industry, but also in education. In fact, Robert Rico worked for the California school district for years before becoming a real estate educator.
This experience in both real estate and education is what really sets the team apart. They have a combination of experience that students find to be perfectly in tune with their goals. By combining their talents, they are able to give their students a well-rounded real estate education experience.
Administrators
Along with the owners, the administrators also have a wealth of experience in all aspects of the business. Many are California natives, which is one of the most important things to look for in an administration team. By having a good understanding of the housing market, they can pass that wisdom onto you as a student.
One of the benefits of an administration team that understands the market is that they tailor their classes to it. By taking classes that are based on the principles that work in California, you can feel more comfortable with them. They will be specifically geared toward the actual place that you will be working. Real estate is an incredibly localized industry and this is an important aspect.
Many of the administrators at CA Realty Training are also heavily involved in customer service. They have been working in CS for many years and understand meeting customer needs. This is not only important to you as a student, but will be important to you as a real estate agent.
By having an administration team that is dedicated to their craft, you can rest easy. Their experience and professionalism means that you will be well taken care of throughout the process. Real estate licensing can be complicated, so this is an important feature that CA Realty Training has focused on.
Instructors At CA Realty Training
The instructors at CA Realty Training are their bread and butter. They are the ones who are going to be helping you see your goals through and get you licensed. By having experienced and dedicated instructors, they have set a standard that will work for you as a student.
Many of the instructors at CA Realty Training have decades of experience in the field. Many have also held leadership roles in both brokerages and real estate governing bodies. This means that you are getting the best possible instruction from people who know the business inside and out.
Robert Rico, the head trainer at CA Realty Training has over 30 years of experience in real estate. On top of this, he was also a teacher in the California school system. This means that he knows how to communicate a topic clearly and with passion to all kinds of students.
The wealth of knowledge available from the instructors is one of the best things they have to offer. By having such a diverse team behind you, you can be sure you are getting a vast swath of information. No matter what type of learner or student you are, they have the know-how to help you retain the curriculum.
---
In-Depth Look At CA Realty Training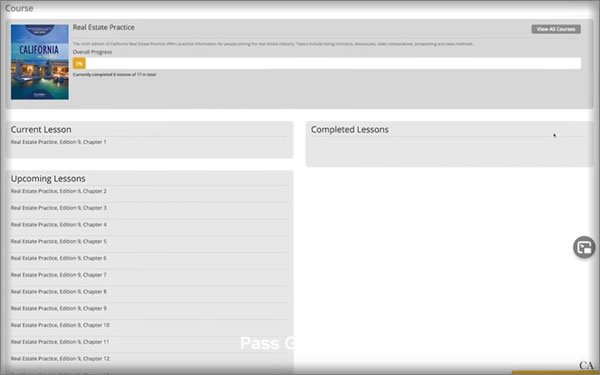 Teaching Style
Many former students of CA Realty Training have reported that the teaching style is in-depth and engaging. One of the main philosophies of the school is to present problems and challenges that come up in the field. They want you to think about issues that they have encountered in the business so you know how to make decisions.
This kind of experienced based education is incredibly important to students. It is one thing to throw information at a group of people and hope that it sticks with them enough to pass. It is quite another to actually present them with scenarios that will be relevant to their careers moving forward.
The teaching style at CA Realty Training is also based on their need to see their students succeed. Unlike some other real estate schools, they maintain a vested interest in the people they teach. If you do well as a student, they believe that they do well as a school.
They also want to make sure that you leave your classes feeling inspired to start your career. By having such dedicated instructors, they believe that you will be looking forward to it instead of dreading it. The whole reason people get into real estate is for the exciting prospects and they understand this about their students.
CA Realty Training Course Options
One of the nice things about CA Realty Training is that they offer different course options. This allows you as a student to find the best possible delivery system for your real estate education. If you are the type of learner who needs things a certain way, they have an option for you.
CA Realty Training offers an online license package that is delivered on-demand and on your own time. This is the perfect option for a student who is getting their license on the side. Not everyone has the ability to come to a class at a specified time and sit with other students.
If you do have room in your schedule for this, you can take their live webinar-style courses. These are done online, but in a live, classroom type environment instead of on-demand. If you are a student who learns better in this type of structure, this could be a great option.
The nice thing about getting to choose between these two options is that not everyone has the same schedule. Real estate is a unique industry that attracts people from all different walks of life. CA Realty Training understands this and allows you to choose the delivery system for your online courses.
Student Resources
On top of their regular courses, CA Realty Training also has student resources available. These resources are invaluable to new students who are just starting to dip their toe in the industry. By taking advantage of them, you could give yourself a head start on your real estate career as you train.
One of the resources they offer is a free introductory training session. Potential students have the option to audit an online course in order to test out the program before starting. This is a great way to find out whether or not CA Realty Training will be the best possible choice.
One of the other resources that they offer is a free career event that is open to all people. This event is sponsored by the Keller Williams brokerage and is designed to give you access to the industry. It's a great place to ask questions and network with people who are currently working and successful in the business.
By offering these resources, CA Realty Training is a one-stop-shop for people at all points in their career. Whether you are deciding on becoming an agent or want to network with other agents, they have something for you. This is incredibly valuable and can help you create and maintain lucrative relationships in your real estate career.
---
CA Realty Training Pricing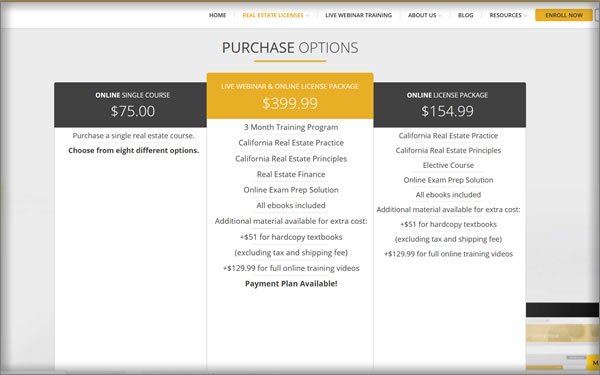 Live Webinar
The live webinar courses are the crown jewel of CA Realty Training and their philosophy. By getting to interact with their prestigious instructors, you can get the best possible training for your money. Many people find that live webinar is a bigger challenge that helps them prepare for the exam and their career.
The live webinar package costs just under $400. It is a three month program that covers things like real estate practice and principles as well as financing. For this price, you get the added benefit of the experienced instructors and other students as well.
This package also comes with a completely online exam prep solution on top of the training. This allows you to study for the state real estate exam on your own time and at your own pace. If you feel that you could use extra exam help, this could be a great supplement to the webinar.
The live webinar package also includes free ebooks that will be required for your courses. These ebooks will include all the material that you will have to learn for the required licensing classes. They can also be used as a reference later on in your career and are always good to keep around.
On-Demand
CA Realty Training also offers on-demand courses to satisfy California's real estate education requirements. These on-demand courses are delivered in the form of videos and instructional PDFs that you can study from. They are a great option if you are someone who is getting your license on the side.
The on-demand courses cost just over $150. For this price, they are affordable to just about anyone who is interested in getting their license. One of the great things about real estate education is that it is affordable. For less than $200, you could be licensed to sell properties in the state of California.
While the on-demand courses are cheaper, they come with some drawbacks. They are written by the instructor team, but you don't get the benefit of learning from the actual experienced instructors. This means that you can not ask questions in real time, which can be a major disadvantage for some students.
The benefit of these on-demand courses is that you can take them on your own time. If you are a student who already has a family or a full time job, webinars can be difficult to manage. By taking the on-demand courses, you get to make time when you have the ability.
Exam Prep Crash Course
CA Realty Training also offers an exam prep crash course for an extra fee. This crash course could be an ideal supplement for nervous test takers. If you want to make sure that you are as prepared as possible for the exam, this could be a good choice.
The exam prep crash course costs $150 for on-demand and $175 for live webinar. Because you have this option, you could choose to mix and match your required education hours with the exam prep. This is a great option to have if you want a best of both worlds with the on-demand and webinar deliveries.
The exam prep crash course includes things like test variations and flash cards. These supplemental materials are invaluable to someone who wants to do as well as possible. The exam is one of the things that students have the most anxiety about. Taking this prep course could help ease some of that and help you feel more prepared.
Books
While all the courses come with electronic versions of the textbooks, you also have the option to get hard copies. Many students feel that they learn much better if they have paper copies of the textbook available. Reading the material off a screen can be distracting and lead to less retention of the information.
You can order hard copies of the textbooks for $51 extra on top of the tuition cost. This does not include tax and shipping, but is still quite a bit cheaper than textbooks usually are. Because of this, getting the books shipped could be a good idea if you want the benefit of hard copies.
---
Pros And Cons Of Using CA Realty Training
Pros
Experienced Instructors – The instructors and administrators at CA Realty Training are incredibly experienced. They have expertise in both teaching and the real estate business. This allows you to get the best possible training from the right people.
Inexpensive Tuition – In the grand scheme of education, CA Realty Training is relatively inexpensive. This means that you can get started on a new career, even if you don't have a lot of money to begin with.
Networking Opportunities – The career events hosted by CA Realty Training can be very valuable. The real estate business is all about making connections and networking. By hosting these events, they are opening you up to a whole new world of business relationships.
Cons
No Guarantee – Many real estate schools offer some kind of guarantee for their courses. This allows the student to feel confident that they are getting the best education for their money. CA Realty Training does not have this sort of guarantee, which could be a downside for some.
No Delivery Mixing for Courses – Some real estate schools will allow you to mix the delivery methods for your classes. CA Realty Training only allows you to mix the licensure courses and exam prep deliveries. Because of this, many students may feel that they are stuck if they pick the wrong type of delivery package.
Conclusion And Verdict
There are a great deal of CA Realty Training reviews by former students. Many of them have expressed their satisfaction with the way that the classes were taught. One of the things that they rave about is the instructors.
Students felt that their instructors were passionate and interested in the material. In turn, they felt the same way about it and were able to do well on their exams. This is one of the things to look for in a real estate school and they were able to deliver in a big way.
We chose CA Realty Training as one of our top picks for best online real estate schools in California. They're not our top choice, but they're still good.
By reading this CA Realty Training review, we hope that you feel empowered to make an educated decision. If you would like to learn from experienced instructors who care about their students, they could be a fantastic choice. Now all you have to do is decide which package will best suit your needs, schedule and goals.
---