---
With multiple real estate school choices in Colorado, it may be challenging to choose the one best for you. American Real Estate College is one of the options for hopeful real estate agents in Colorado. This American Real Estate College review will give an in-depth look at the school.
---
UPDATED: December 2023
Our Overall Rating

---
Overview of American Real Estate College
Looking into American Real Estate College did prove difficult. There is information on them and a website, however, it is sparse.
Choosing to take courses from American Real Estate College, based on the website, maybe a risk. There isn't very much in the "about" section to give prospective students anything to base their choice on.
One piece of information we didn't find on the website was their established date. There is no indication of how long the American Real Estate College has been in the real estate education business.
They also don't talk about success rates or how many students they have served. That isn't unusual as many schools don't advertise those numbers.
However, it is usually very easy to find information on how long they have been educating real estate agents. They do give some information on the "about" page about the founder.
American Real Estate College Founder
Jim McCloskey is the founder and CEO of American Real Estate College. He does have four decades of experience in the field of real estate that he brings to the table.
In addition to that experience and knowledge, he also previously owned the largest appraisal company in Colorado. While the website may not be fleshed out, the experience of the founder/instructor is something that can give students confidence.
American Real Estate College Online Presence
American Real Estate College does have a Facebook page and we thought we would find more information there. However, it has not been updated since the summer of 2019.
While the Facebook page needs to be updated and refreshed, we did find some reviews on the page. All of the reviews are from past students and are glowing.
Social media reviews can be requested and there were less than a dozen reviews. While positive reviews are encouraging, they shouldn't be the deciding factor.
The website did not mention any awards or accolades but the founder is a Realtor and is part of the eProcessing Network.
---
In-depth Look at American Real Estate College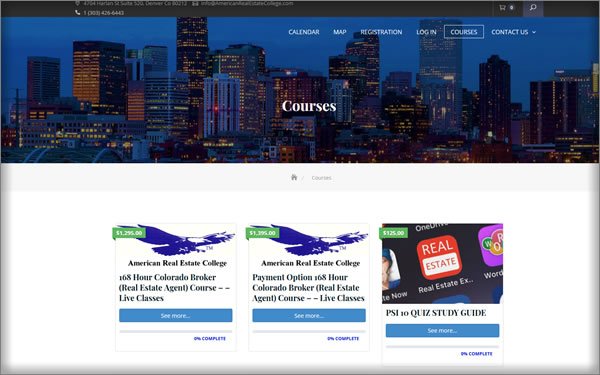 A general overview is a great place to start the American Real Estate College Review, however, a more in-depth look is required.
Looking into what the courses are and how they are formatted was not a simple task. While they look neatly laid out on the website, upon a closer look it was slightly difficult to determine which course was which.
It seems as though there are two of every course but that is not the case. There is the original listing that requires students to pay for the course in full and the duplicate course, which is a payment plan option.
This makes it look like there are eight different course packages offered when, in reality, there are only four.
In addition to the licensing courses, they also offer a quiz study guide as well as real estate flashcards.
Courses Offered
The only courses are pre-licensing courses. There are four different course packages for the pre-licensing classes and they all have benefits for the students, however, some of them do get expensive.
Live Pre-Licensing Option
The first-course package option is the live courses. For a course that is so expensive, we would have liked to see more information about it.
There is a very brief description of what is in the course. This particular live course package is complete with the seven required sections.
It does say that students can choose to start with any section. As soon as all of the sections are finished the student will be able to take the finals.
The website still says that these are live courses but it is unclear whether they are online or in-person. American Real Estate College also doesn't mention Covid protocols or how they are addressing safety concerns.
The live option, like all of the other package options, does have a payment plan. Those ready to enroll must make sure they have clicked the correct package link for the payment plan.
Online Pre-Licensing Option
American Real Estate College does have an online course and there are three different package levels to choose from. The Gold option is the highest level.
What distinguishes the levels from each other is enrollment time. The online gold option has everything the live option has as far as content.
It does come with instructor support, but it isn't 24/7 support and there is nothing mentioned about tech support. When taking a fully online course, tech support is imperative.
As far as the enrollment period, students have 12 months to complete the course on this level.
The online silver option is the next package available. This package is exactly the same as the gold package with one exception. The enrollment period.
Both packages offer on-demand courses, unlimited practice, and the ability to get help from an instructor through email.
While students get a full year to complete the coursework on the Gold level, they only get 8 months on the silver level. Students need to be more motivated and have greater time management with this package.
A positive is that there is a payment plan available, just like there is with the other packages.
The last package level offered by the American Real Estate College is the bronze level. Students choosing this level will get everything the other two levels have.
Students will have a shorter period of time to complete the course they will also not have access to instructor support.
With only 6 months to complete the course and no support available, this option may not be a good choice for most students. The most motivated and self-sufficient students would probably be okay.
However, for the price, we would like to see support on all of the package levels.
Available Resources
In addition to the course packages, American Real Estate School does have two other resources that students may find helpful.
One of those resources is a quiz study guide. We were surprised to see that for the price, this was simply ten practice quizzes for the PSI.
We expected to see a webinar or crash course for the price but it is just a bundle of quizzes. These are likely helpful to the students, but they would have to be very motivated to learn and practice on their own.
The other resource that is available for purchase on the website is real estate flashcards. Terms and definitions are imperative to passing the licensing exam.
American Real Estate College clearly recognizes that by offering this resource. It is reasonably priced and offers more than 700 definitions for students to practice.
States Courses are Offered
American Real Estate College, while the names suggest differently, is not a school that serves multiple states.
This real estate school is only licensed and accredited to teach prospective real estate agents in Colorado.
---
American Real Estate College Pricing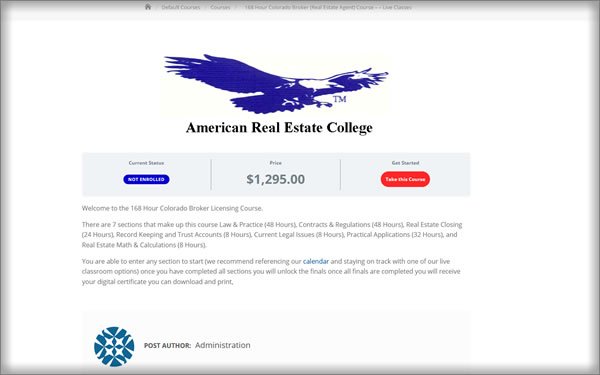 We would consider the pricing of the courses and packages at American Real Estate College a drawback. Most of the packages seem unaffordable to someone who is trying to change careers or launch their first career.
Affordability is a deciding factor for many real estate students. The most affordable package is the online bronze package but even without the payment plan fees, it is still $599.
It isn't unusual to see courses costing that much in Colorado, but usually, they will come with features and benefits for the student. The bronze course is the most basic package and doesn't even come with instructor support.
Getting any kind of support through your real estate education is reserved for the highest two packages and the live instruction.
The silver package does come with instructor support and a longer enrollment period which means it also comes with a higher price tag.
To get a few extra months and the benefit of having questions answered, students must pay $699.
The Gold level is the top online course package and the price clearly shows that. This is the longest enrollment period. For four extra months of course access students have to pay $799.
Even though these course packages seem expensive, they are affordable compared to the cost of the live classes. The live classes are almost $1300.
It is true that you have access to the instructors but that is a jump from $800 to $1300 for live classes.
Payment Plans
If students need a payment plan they will add $50 to the cost of the online courses and $100 to the cost of the live courses.
We assume that this is a processing fee but it isn't clear why there is a higher fee for the live courses payment plan.
With the cost of the courses, it is a plus that American Real Estate College offers payment plans but if you pay outright it will be more budget-friendly.
Refund Policy
There is a refund policy. The details of the policy are on the website under "terms and conditions." We almost missed this information because it is at the bottom of the page.
Students can get a refund within three days of enrolling in the class. They say it is a full refund but they keep $150 as a processing fee.
Before enrolling we suggest you read the terms and conditions. There is a lot of information and policies that should be understood before becoming a student at this real estate school.
---
Pros and Cons of Using American Real Estate College
This American Real Estate College Review has taken a deep look into the real estate school. There are pros and cons that we want to bring to your attention as we wrap up the review.
Pros
Online course options
Payment Plan
Various Package Levels
Good response times
Cons
Website is sparse
No guarantee
Very little support for online students
Expensive
Conclusion And Verdict
The first thing we noticed about American Real Estate College was the website. It seems to be unfinished.
There are sections that have nothing to offer visitors. The most notable section that needs work is the "about section."
Other than a bulleted list about the founder and what he has to offer students, there is nothing. No founding date, reasons for starting the school, or mission.
We thought we would find more on social media but besides some outdated posts and a handful of reviews, there wasn't much to find.
We also found that the courses were expensive and came with little more than the required course materials. The main difference in courses and pricing comes from the length of enrollment.
The thing that stood out the most was the lack of support for online students. Not only is instructor support reserved for the highest packages, but there also is not tech support mentioned on the website.
As a school that offers online courses, it is imperative to offer top-notch tech and instructor support.
While the American Real Estate College does not have a great online presence or website, it could be a good school. However, other than a small number of reviews, we really can't know.
Based on the website and the information we found there, coupled with pricing and benefits, we wouldn't call this a top real estate school.
In fact, we would be hesitant to recommend the school. There are positives such as payment plans, great response times and online options but the courses are somewhat cost-prohibitive.
If you are looking for a real estate school in Colorado, we would recommend that you closely compare this school with your other options before making your choice. It may end up being the best choice for you if you happen to be a self-motivated learner.
---