---
If you want to get your real estate license in Colorado, there are a number of online schools for that. Since there are so many options, you can pick whichever one is going to best suit your needs. With so many online real estate schools in Colorado to choose from, you're sure to find the right one for you. However, it's best if you choose one of the 7 best online real estate schools in Colorado covered in this article.
Many online real estate schools in Colorado offer a wide variety of courses to fit your schedule. This is one of the advantages of getting your real estate license online. Not everybody is able to attend in-person classes.
Real estate is a great industry if you are looking for a second career or a part-time side hustle. With such a flexible schedule, real estate agents have the ability to do their business on the side. The fact that you can get your license online makes it even better for those looking for a second income.
The real estate market in Colorado is almost perpetually booming. With so many desirable areas and markets, there are always opportunities available. Since home values have gone up 3.1% in the last year, now is as good a time as any. It is always best to strike while the iron is hot.
In this article we will review the 7 best online real estate schools in Colorado. We will cover everything you need to know to find the best one for your goals and schedule. The state of Colorado requires 168 hours of education, which is more than other states. Finding the right school to complete them at is crucial.
---
1. AceableAgent: Best Online Real Estate School In Colorado)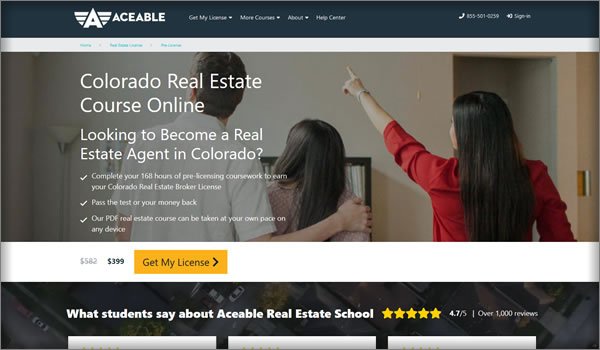 AceableAgent was one of the first real estate schools in Colorado to offer their classes on a mobile app. This innovation made them one of the most well-known schools for busy students. That legacy continues as they keep offering easily accessible real estate courses.
One of the best things about AceableAgents' system is that they have five-day-a-week support. What this means is that if you have questions or are having trouble, you can contact an instructor. This kind of face to face guidance is what helps set them apart.
Not all real estate schools in Colorado are able to offer this kind of personal touch. Some have in-person instructors, but their availability will vary. AceableAgents' instructors' accessibility is one of its strongest features.
There is no time limit to the courses that AceableAgent offers. This means that you can finish the course as quickly or as slowly as you need to. This kind of flexibility with the scheduling is exactly what online real estate schools are good for. Not everybody has the time to adhere to a strict schedule with schooling. This is where AceableAgent has the advantage.
One of the downsides of AceableAgents' coursework is that they only offer one package. This means that no matter what, you are getting the same education as everyone else. This can be good unless you are trying to have an extra advantage.
---
2. Real Estate Express: Colorado Real Estate Schools Review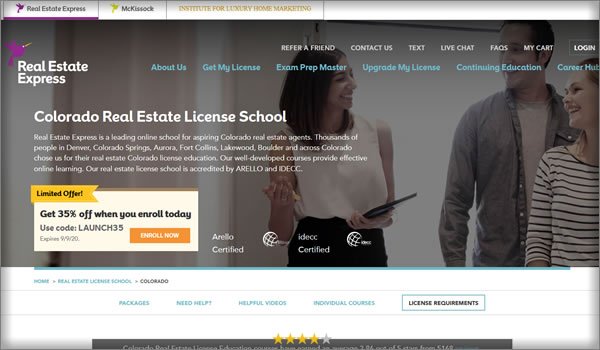 Real Estate Express is one of the leading online real estate schools in Colorado. They have courses available for every aspect of Colorado real estate. Because of this, they are a great option if you want to have the most thorough education.
Real Estate Express operates around the country. They have a network of real estate instructors on a national level that you can benefit from. This wide-ranging network makes them more versatile than some of the other schools.
There are a wide variety of packages that you can choose from for your Colorado pre-licensure classes. Some of them are more basic than others so they are on the lower end of the price spectrum. Their more premium packages include things like test prep and instructor Q&A.
One of the special features that Real Estate Express offers is their small, specialized courses. These courses cover everything from Colorado law to Colorado record keeping and trust accounts. These are great extras if you would like to have more specialization in one area.
One of the downsides of Real Estate Express is that their premium packages can be a little pricey. This could be an issue if you want the best education you can possibly get but are short on cash. Because of this, you might want to get the basic package and take a couple of the smaller, specialized courses.
---
3. The CE Shop: Top Online Real Estate Schools In Colorado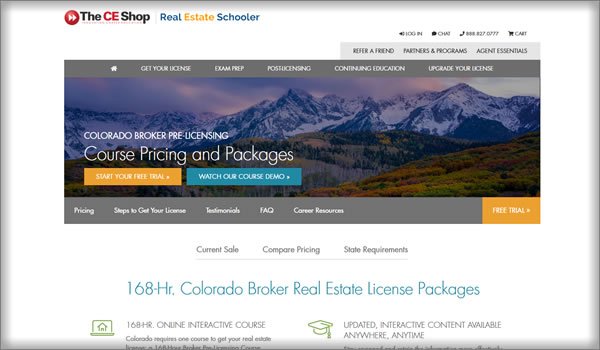 The CE shop is one of the premier real estate schools in Colorado. They have some of the most expansive education packages available. Of course, these premium packages also come with a price.
The CE shop makes sure that their curriculum is up-to-date with the most current trends in real estate. This is very important because real estate markets and trends can change quickly. Attending a real estate school in Colorado that does not keep up with these trends is not recommended.
The content of their lessons and courses is based on real life scenarios as an agent. This can be incredibly helpful if you are the type of person who learns best from real world experience. Understanding how information can help you in the field makes it much easier to learn.
The CE shop is slightly more expensive than some of the other real estate schools in Colorado. This could be a result of their pedigree as one of the best online real estate schools. Even the basic packages are fairly expensive.
One of the major downsides of The CE Shop is that they do not offer a pass or no pay guarantee. Many real estate schools in Colorado offer this guarantee, which can be a confidence booster. For the price of the premium package, it should probably include that guarantee.
---
4. Kaplan Real Estate School in Colorado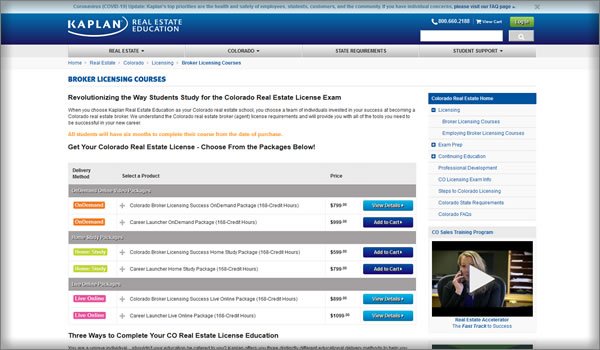 Kaplan offers real estate courses in Colorado for all kinds of learning styles. They are the most versatile when it comes to how you learn the material. Because of this, they could be a good option if you are well aware of how you learn best.
Kaplan offers on-demand video lessons, home learning lessons and live online classes. The on-demand video lessons are designed to be as much like a live experience as possible. The home learning coursework is also meant to cater to an individualistic learning style.
One of the benefits of Kaplan's system is that you can also choose how long you take to complete it. You have up to six months from the time of purchase to complete your coursework. This is ample time to complete the 168 hours needed at a pace that you're comfortable with.
Kaplan's courses are meant to work for all kinds of people with all kinds of learning needs. No matter how you prefer to engage with the material, you can find a format that works for you. This is a key feature for an industry like real estate that attracts all kinds of people.
One of the downsides of Kaplan's classes is that they are very expensive. The live online classes cost over $1,000 and even the basic packages are more expensive than others. Because of this, they may not be as accessible to some people.
---
5. Mbition Online Real Estate Classes in Colorado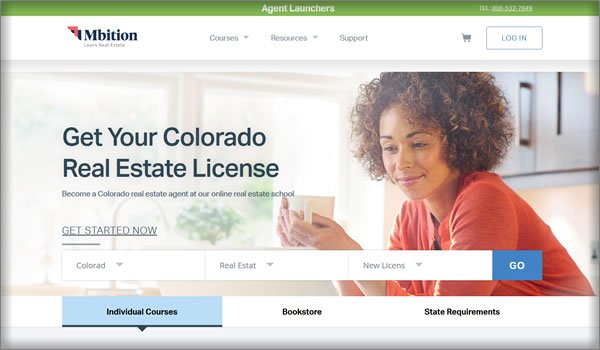 The online real estate school, Mbition, has some of the most comprehensive coursework of all. You can choose from a huge variety of classes to take, which cover all aspects of real estate. Of course, you can also just take the basic requirements to get your Colorado real estate license.
Some of these courses include things like home inspection and appraisal. These may not be classes that you need before you get your license. However, they could come in handy later on when you are trying to expand your business.
They also offer a few add-on courses for your pre-licensure education. This includes things like Colorado closings and real estate law. These could be valuable extras if you want to be as prepared as possible.
Mbition offers two different packages to choose from for doing your new license course work. Both of these packages are priced higher than some of the other real estate schools in Colorado. Depending on your budget, this could make them a less-than-ideal option.
---
6. Real Estate College of Colorado Review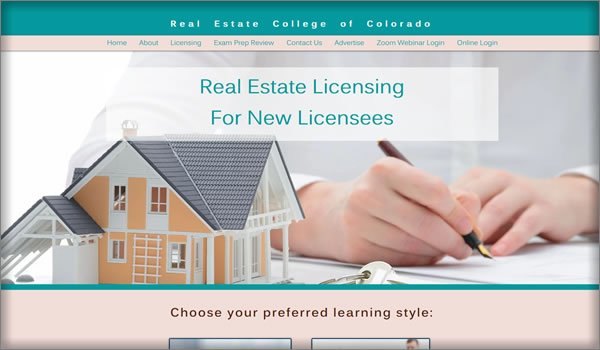 For online real estate classes in Colorado, there are many different options for schools. However, none have been around as long as Real Estate College of Colorado. For 42 years, they have been helping thousands of people get their real estate licenses.
Real Estate College of Colorado offers both self-learning and live online classes. They understand that not everyone thrives in a classroom environment. This is why they also offer self-guided lessons.
If you are a person who prefers a live classroom-type experience, this could be a good choice. Their Zoom webinars mimic the live classroom as much as possible. This type of "hands on" learning allows some people to thrive.
One of the interesting things about Real Estate College of Colorado is that they also offer in-person classes. If you are in the Colorado Springs area, you can attend classes face to face. This could be a great choice for someone who needs that personal touch.
---
7. American Real Estate College: Best Real Estate Schools In Colorado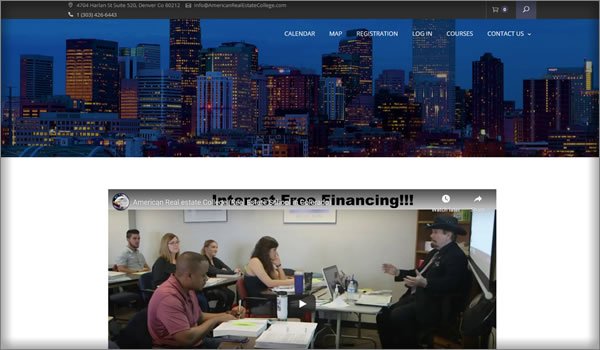 American Real Estate College offers real estate classes in Colorado online in a live environment. This type of learning is beneficial to some but not to others. If you know this is not how you like to learn, they might not be the best option.
One of the best things about American Real Estate College's course work is the speed. They offer an accelerated, 18 day education plan. This plan covers all 168 hours required to get your Colorado real estate license.
If you are trying to get your license as quickly as possible, they are your best choice. They are able to present the material on a bootcamp-style schedule. If this is how you like to learn, this could work perfectly for you.
One of the downsides of American Real Estate College is that they don't have other options for different learning styles. If you have plenty of time, you may want to look at other real estate courses in Colorado. These could have a pace that matches your goals more accurately.
---
How to Become a Real Estate Agent in Colorado
To become a real estate agent in Colorado, you must first be 18 years of age. Then, you need to complete 168 hours of education at an accredited real estate school. These hours can be completed at any of the above online schools.
The coursework involved in these 168 hours will cover all kinds of things. Real estate law, contracts and regulations, and practical applications are all included. You will learn everything you need to know as an agent working in the real world.
After you complete your education, you will have to consent to and complete a background check. This background check protects both you and any clients you may work with. This can take several weeks so be sure to do it before you take the exam.
After you complete the background check, you can take the Colorado real estate exam. You must receive a score of 75% or more to pass the exam. This is where Colorado is extra stringent in its regulations because other states only require 70%. Because of this, you will want to be as prepared as possible.
After you have completed and passed the exam, you will have to find a broker to sponsor you. A broker is a collection of real estate agents all working under the same umbrella. By working with a broker, you can get an introduction into the business and be protected while you are learning.
Once you have worked with the broker, you can start to branch out on your own. You can start your own brokerage by completing more education hours and post-licensure classes. Most online real estate schools offer these postgraduate courses.
(See our complete guide on getting a real estate license in Colorado)
---
Final Thoughts
Becoming a real estate agent is a rewarding and potentially lucrative endeavor. With so many different options for online real estate schools, you should be able to get a good start. By knowing what the best schools offer, you can choose one that has everything you need.
Starting any new venture can be exciting but scary. By getting the best possible education, you can be confident that you are prepared. Knowledge is powerful no matter what you are doing but especially when entering a new industry like real estate. Reading this review is a great first step, the only thing left to do is make your choice.