To get a student started learning everything about the Kaplan Real Estate School, we decided to explain what motivates Kaplan Real Estate School to provide the services they do. Kaplan is a leading innovator in educational facilities.
These services come in many forms like test preparation, student training, education programs, professional training, and certifications.
Now that we understand what Kaplan does, we will explain all about Kaplan Real Estate School. So, grab a seat, because you're about to get an in-depth review of how Kaplan Real Estate School does what they do best.
Kaplan Real Estate School offers courses that fulfill real estate license requirements. They also provide continuing education for real estate licensees who need to meet renewal requirements.
With Kaplan Real Estate School, students can start learning and immediately earn their path to a new career. Their courses are available at any time, always with up to date sources and material.
Kaplan is a leading school in real estate licensing and continuing education. Students appreciate that Kaplan Real Estate School's app tracks progress. This means no more losing your place or tracking down where you left off.
Kaplan Real Estate Schools' instructors are practiced real estate professors who genuinely understand the needs of students.
Kaplan Real Estate School is among the world's largest and most diverse providers of real estate education.
Helping students for over 80 years, Kaplan Real Estate School's highly innovative materials and education style are incredibly novel. This school has developed and refined core concepts on how students best learn.
UPDATED: December 2023
Our Overall Rating

---
Overview of Kaplan Real Estate School
Kaplan Real Estate School has been rated as one of the best real estate schools, it has a long history of teaching in an innovative style and offers courses that fulfill the real estate license requirements, these courses tend to vary from state to state.
At Kaplan Real Estate School, their instructors for these courses have real estate experience themselves, with years of experience in the field. Students may also get professional advice as well as educational instruction. This is truly a great deal.
In addition to great instructors, there have been many students who have enrolled in the course and completed it. Kaplan Real Estate School has a 76% pass rate with TREC.
This pass rate means that students have a high chance of passing the state's real estate licensing exam. Kaplan offers practice exams to make sure students are ready to take the real exam. It doesn't hurt to know how much more study time students need to put in before the actual exam.
---
In-Depth Look At Kaplan Real Estate School
These same ideas have gone on to help students in many industries. From high schoolers passing their SATs, to doctors studying in medical school, Kaplan's Real Estate School courses are proven over a long and rich history.
Kaplan Real Estate School has helped provide education and resources to students in over 30 countries. This translates to thousands of school districts and tens of thousands of corporations and businesses.
Kaplan Real Estate School's courses are designed to guide students through their careers. This means from studying for their exams until years later when they need to renew their license with continuing education.
Some resources that Kaplan offers also include information on the requirements of and how to get a license in many states.
This real estate school also offers FAQ guides about exams, licensing requirements, and more for many of the states in which it operates.
The courses can differ from state to state, because each state may have different requirements and course structure to suit their real estate market. Students will be taught the real estate principles of their state.
Each course should have about 30 units, with texts and videos depending on the course. Each unit has quizzes at the end, which students can retake as needed. This is just to make sure students comprehend what they just read- so no skipping pages!
There's an overall unit exam that students can retake as many times as possible. They must achieve a score of 90% to move on to the next module.
There is a live, weekly interactive study group. It's a classroom where students can ask instructors questions and also a bi-monthly career mentor course.
When a student is done with all their course work, they can keep on taking the practice licensing test. Once a student is sure they're ready, a good rule of thumb is to retake it, just to be extra sure.
The most inclusive bundle is named the Career Launcher package. As the name implies, it helps one kick start a business in real estate and is designed to help students do so.
The Career Launcher package also includes the other materials from previous tiers but also contains access to an 8-hour Real Estate Acceleration course. This provides access to a professional real estate instructor by email or live online sessions.
The Real Estate Acceleration course also gives students the ability to work with a professional coach. This coach will help them launch their career by helping to instill business building skills.
They will also learn how to utilize critical operations activities used by successful agents in the field. With the Career Launcher Package, students will become ready to own their own business and handle everything from marketing to income plans.
There are also some courses students can sign up for that have physical classrooms. Although, the more common approach is the online classes.
Especially in this day and age, physical classes may not be easy to attend. If a student has a fulltime job, they may want to opt for the online courses instead.
Kaplan also has an excellent support service that is always online to answer any question that students may have about the course. With their support, students can find out what the requirements are to get started and pick the best package to enroll.
With Kaplan Real Estate School, students can enroll in a continuing education course when the time comes to renew their licenses. This is a course with an hourly requirement that will guide students through mandatory courses in their state.
The first requirement to start studying with Kaplan is to be at least 18 years old. Kaplan offers three online formats for studying.
These three formats can fit the quiet read alone type, the interactive type, and the self-paced type. We will explain these program offers in detail so that students can pick the class that best suits them. Let's get started.
The Home Study: This structure allows users to download PDF files and textbooks to study at their own pace. Of course, there will be exams, but minimal interaction is needed. Although it is tagged as the home study method, with Kaplan's app, students can take their learning on the go wherever they may need.
Live Online: Live online courses have a fixed schedule for lectures; it is an e-learning class where students attend just like a classroom. With this package, students can interact with other students in the live class, ask questions, and answer them immediately. If students learn best when they can interact with their classmates, this could be a great choice.
OnDemand: This version of Kaplan's accredited courses lets students watch videos of pre-recorded classes. The best part is that the student can send emails to their instructor for clarification.
If a student is not interested in a live class, they can sit back, can go back and review later at their own pace. Self-pacing from the home study, and videos from the live class can be invaluable to those who have busy lives.
---
Kaplan Real Estate School Pricing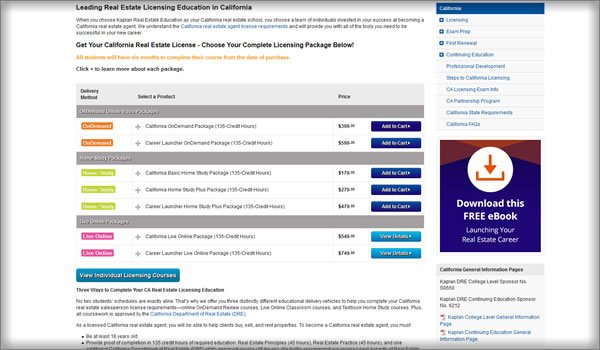 Unfortunately, there is no financial assistance offered to students at this time or payment plan. Tuition is expected to be paid in full.
So, when a student wants to sign up for a package, they need to have the money ready. Students can pay for Kaplan courses in installments, but one needs to pay promptly. If a student doesn't pay on time, they would be stopped from taking classes, and there is an additional bill for returned checks.
Another way of paying is the subscription method, where students are charged monthly for the bill. Kaplan has put all these methods in place to ensure that it is convenient for students to pay for the courses.
Kaplan Real Estate School offers real estate licensing course packages in 24 states, ranging from Alabama to Wisconsin. They offer several different packages which are available in many of these states:
OnDemand costs between $399 and $799
Home Study costs between $179 and $679
Live Online costs between $549 and $949, with some short supplementary courses below $100
Hybrid Packages cost between $489 and $689
For students pursuing a salesperson license in the states Kaplan Real Estate School operates in, there are generally three options. These are the Real Estate Principles course, the Real Estate Principles course with Master Exam Prep, and the Career Launcher package.
Basic Real Estate Principles Course
The basic Real Estate Principles course, which fulfills the base education requirements to apply for the state's license, is the smallest. It includes information about the fundamentals while ensuring that students learn everything they need about law, ownership, and brokerage.
This package will also cover the rights and interest laws in real estate property, as well as information about property records. The basic option also explains how the government can handle real estate laws and goes into the necessary mathematics.
Master Exam Prep
The intermediate option covers the basic principles included in the previous package, but while also offering what Kaplan calls Master Exam Prep. This allows students access to the National PSI Real Estate Drill and Practice QBank. Qbank is an online testing engine with hundreds of questions ready to help students understand from every angle possible.
The Master Exam Prep package also offers access to an interactive, live webinar study group. This enables students to ask questions to real estate industry experts and receive real-time feedback.
Live webinars help students stay on track, reinforce critical ideas, and interact with fellow students while learning valuable information from faculty.
Career Launcher Package
The most comprehensive bundle is the aptly named Career Launcher package. This option offers everything included in the others. It also provides access to an 8-hour Real Estate Acceleration course, and instructor access via email or live online sessions.
The Real Estate Acceleration course also gives students the ability to work with a professional coach. This coach will help them launch their career by helping to instill business building skills. They will also learn how to utilize critical operations activities used by successful agents in the field.
With the Career Launcher Package, students will become ready to own their own business and handle everything from marketing to income plans.
Kaplan Real Estate School offers exam prep courses individually for $99 each.
They also offer prep courses for brokerage students in select states.
Their continuing education courses help existing licensees to fulfill their requirements in that regard, with OnDemand video courses, or a more traditional online text-based format. Kaplan Real Estate Reviews praise the schools' continuing education just as much as the initial lessons.
---
Pros And Cons Of Using Kaplan Real Estate School
To give an honest Kaplan Real Estate School review, we have to list the good and bad sides of Kaplan Real Estate School.
PROS
Live, online and home study: with the live online classes, students can study in comfort wherever students are, and the study group feature is an advantage to people who would usually find it hard to join study groups in real life. The online course option is self paced. A home study option is also available.
Highly praised education: When it comes to excellent ratings and reviews, a student can't do much better than the Kaplan corporation. This high rated school may help give them an edge over competitors who did not study with Kaplan Real Estate School.
Flexible schedule: it takes six months to finish this course. It doesn't get more flexible than that. With Kaplan, a student can pick the package that suits them best to ensure that they can complete the course on time and completely.
Easy to understand: there have been several Kaplan Real Estate School reviews stating the student was utterly new to the world of real estate. When they started the Kaplan course, they had no prior knowledge, but they were still able to finish the course successfully.
High success rate: it says a lot when 76% of the students pass the licensing exam. This means that students are almost guaranteed to pass.
Step by step support: Kaplan doesn't only teach students about real estate; they provide career support and online classes on how students can start their own business. Kaplan takes it a step further by delivering continuing courses in the case of license renewal.
We have listed the various advantages of the Kaplan real estate course; let's find out the disadvantages.
Cons
Prices a bit higher: the price range may be a bit higher for some people to handle.
Less access to instructors with lower tiers: the different tiers of the packages clearly shows the extra courses that cost almost double the original price.
Outdated interface: this may seem like a small part, but in this age and time of technological innovations, the least students can do is get a user-friendly interface that looks so so that the students will feel that the website gets updated from time to time.
Conclusion And Verdict
Kaplan has had a long history of preparing students for impending exams. There would be an intensive preparation process in this industry.
To help ensure that one becomes a real estate broker or agent, there are even packages to help users kick-start their own real estate business and advice from professionals and authors.
Although there are long work hours, and it may take some time to get committed to the provided schedules, any student should be able to succeed by selecting a suitable course structure.
Kaplan Real Estate School reviews mostly praise the school. Although there have been some reports of technical malfunction and unfriendly user interface, the good far outweighs the bad.
We love that they offer many different formats for the courses. Everything from Online self study, OnDemand to Home Study formats. Many real estate schools do not offer this many course options.
The Kaplan Real Estate School is an excellent system of learning about real estate and also kick-starts students' careers in the right path. If a prospective student is thinking about starting real estate, we recommend learning from Kaplan Real Estate School.
---
---