---
With so many real estate institutions in Florida, it is important to take a close look at each of your options before committing to one school. To help narrow down your choices, we're reviewing one of the most popular Florida real estate schools, Florida Real Estate Institute. Below you will find an outline of what the school offers, their pros and cons, and whether we recommend it as a choice for Florida residents.
---
UPDATED: December 2023
Our Overall Rating

---
Overview Of Florida Real Estate Institute
Also known as FREI, Florida Real Estate Institute is over four decades old, initially created in 1977. Since then, they have educated over 100,000 Florida students and contributed significantly to the new wave of real estate agents. Dr. Ronald O. Boatright initially founded the school in the late 1900s and has continued to operate and own the school as well as acting as the chief executive officer.
Today, Boatright continues to instruct courses and writes most of the school's textbooks. He plays an integral role in the continuing quality of the school and leads a team of three other individuals who instruct. In addition to Boatright, there is Roy Brewer, Lee Graham, and Steven R. Walt. Each of these instructors brings a unique set of skills to the table helping to provide students with well-rounded real estate education.
FREI is deemed the premier school option in Northeast Florida and operates with high standards aimed at properly preparing hopeful agents to successfully enter the job market. The school boasts thousands of satisfied alumni who successfully finished their FREI coursework, passed the state licensing exam, and now practice real estate safely and effectively.
According to their comprehensive mission statement, this real estate school's primary mission is to be the best real estate school in all of Florida. To accomplish this modest quest, they focus on creating superior results, meaning high passing rates and high satisfaction rates through their courses.
They also aim to provide students with motivating instructors who are highly knowledgeable and experienced. As for the materials, FREI aims to make all supporting supplies easy to learn and easy to navigate.
Additional core mission statement factors include friendly and supportive faculty and staff. The courses are all encompassing with studies including real estate, appraisal, and mortgage broker's information. Lastly, this real estate school aims for convenience and accessibility. When enrolling at Florida Real Estate Institute, you can expect flexible course options ranging in day, evening, and weekend choices as well as easily accessible locations and updated classrooms.
With such a robust mission statement, it's easy to see how this school's teachings closely follow that set of standards.
---
In-Depth Look At Florida Real Estate Institute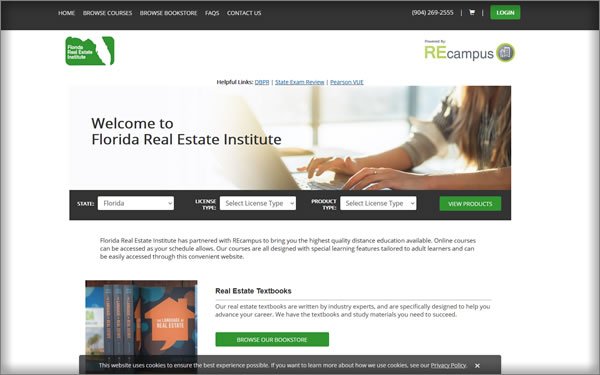 With the primary goal of being flexible and accessible, FREI offers both in-person live, classroom learning sessions as well as on-demand and online courses. That means there's an option for everyone's needs! It's also important to mention that Florida Real Estate Institute offers pre-licensing, post-licensing, and continuing education coursework, but for the sake of this review, we will be focusing on the pre-licensing coursework.
In each of the course formats, students can expect this real estate school to provide an education that is deemed appropriate by the state of Florida. This includes both Florida specific laws and policies as well as national ones. It also means that FREI is adhering to the state's hour and attendance requirements closely.
There are multiple locations that offer different specific times and ease of accessibility to those looking to study in person. Locations include Orange Park on Wells Road, Jacksonville on Baymeadows Road, St. Augustine on Lakeside Avenue, and Gainesville on Northwest 80th Boulevard. While the school is not in every Floridian city, the multiple locations are extremely helpful in providing more than one geographical area with the option.
Classroom courses
Classroom courses are offered with a flexible schedule to accommodate as many people as possible. Classes can be taken nearly every day at different predetermined times to provide flexibility for students with jobs, families, or other time constraints. At the time of writing this review, the course is offered in a unique one weekday class format and an eight-week evening class.
If students wish to treat their pre-licensing coursework like a typical forty-hour work week, then they will be able to do so in one week at this real estate school. Each day, students will be in class for over 8 hours to meet Florida's minimum hour requirements quickly and efficiently. If your time is a bit more limited and you can't dedicate seven days to nonstop learning, there are other options. Evening classes for a two-month period is another option with varying days and times depending on the location. The evening option will be a few hours a couple days a week, which is why it spans two months.
On-Demand Video Courses
On-demand courses allow for a mixed amount of flexibility, separate from being solely online or in-person. At this real estate institute, there are two courses offered in on-demand format, the sales associates state exam prep and sales associates course math tutorial.
So while there is not a solely on-demand option for the entire pre-licensing coursework, there are a couple of extra studying courses offered in the format. The exam prep includes a basic rundown of everything previously learned, and reviews extra practice tests, their answers, and rounds up the best tips for passing the state exam on your first try.
Online Courses
Online courses, also known as distance learning, aren't for everyone. However, online real estate schools can be great for those who need extra flexibility and don't necessarily desire interacting with peers or the instructor in a classroom setting.
Included in your online course is the 63-hour Florida Real Estate Principles requirement and a timed exam that must be passed before moving on to the official state exam. Aside from that, online course services are sold a la carte and will not be all encompassing like an in-person option will be. Instead, you will need to purchase each additional service needed separately.
Unfortunately, the full outline for online courses is not posted online, so the actual lessons are not known prior to purchasing your package. Based on Florida real estate curriculum, you can expect contracts, ethics, and policies like fair housing laws to be covered during your education.
When enrolling at this institution, specifically in the online program, you will benefit from ample support as you will have direct access to your instructor and peers constantly.
---
Florida Real Estate Institute Pricing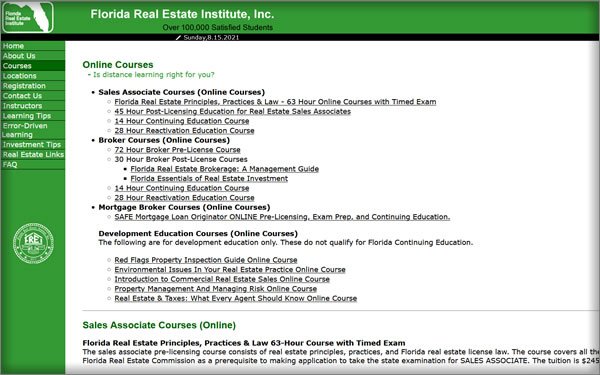 The pricing at FREI varies depending on the option you've selected. This school does not offer package tiers necessarily, but it does offer add-ons for online and in-demand learning that may help to embellish your education. Below is a snapshot at the prices at the time of this review.
On-Demand Exam Prep: $75 (included in tuition when purchasing in-person pre-licensing course)
On-Demand Sales Associates Course Math Tutorial: $29.95 (included in tuition when purchasing in-person pre-licensing course)
Online 63-hour Florida Real Estate Principles Course ONLY (does not include on-demand services): $245
Full In-Person Tuition (includes on-demand exam prep and on-demand math tutorial. Also includes necessary books and materials): $450
---
Pros And Cons Of Using Florida Real Estate Institute
Pros
Different Coursework Formats
This real estate school offers multiple course formats that can work with just about any schedule. While there are online offerings modeled around the original coursework, there are in-person classes that offer a different experience for unique learning styles. Whichever is best for your learning or schedule, you can find it at FREI.
Multiple Locations
In addition to varying learning formats, the school also has multiple locations to visit. From Orange Park to Jacksonville to Gainesville and St. Augustine, there is a location that is hopefully more accessible to you than another. Though this school doesn't exclusively do in-person coursework, it's great to know that there is more than one option if in-person learning is what you desire.
Course Add-Ons
When you pay for the in-person coursework, you will receive the exam prep and math tutorial on-demand complimentary. However, if you're selecting the online class, it is significantly reduced in price and does not include these package add-ons. Instead, you will need to manually add exam and math prep for the final exam if desired.
Knowledgeable Instructors
This real estate school was founded by Florida natives and continues to operate with a Florida-centric staff. Because of this, they can offer unique perspectives into what it is like to practice in Florida. The first-hand accounts of Florida real estate laws and experiences are something that national brands cannot replicate.
FREI's Affordable Pricing
Each package comes with a different price tag as they include different things. Overall, the prices are competitive when compared to other course offerings in Florida. If you're able to splurge a little extra for the in-person teachings which include the exam and math prep, we think that is the best value offered here. However, if you're looking to save money and are okay with a touch of what FREI has to offer via online learning, then that price is great as well.
100,000 Alumni
This school boasts thousands of alumni who successfully passed the course, going on to pass the state licensing exam and become agents. Few other schools can claim such high success rates.
Great Support System
This locally grown and operated school offers students a great support system to help them find success. When taking in-person classes you can expect consistent access to the professor for questions or concerns. Online, you can also reach out to the school with any questions or concerns via online contact on the learning platform.
One Week or Eight Week Evening Course Option
Depending on your schedule, FREI offers different in-person learning formats, great for most people. This will depend on the location, but in general, you can choose between one week of classes 8:30 and to 5:30 pm or eight weeks of classes two nights a week between 6:00 pm and 9:45 pm. So, if you're looking to cram all of the materials into one week, there is the option, and if you're in no rush and willing to spread the materials across multiple weeks, the eight-week option may be better.
Cons
No Pass Guarantee
With such successful schools, it's always a bonus when they implement some sort of pass or money-back guarantee so that students have a safety net if they fail their first exam. However, this real estate institution offers neither. As long as a program is thorough and well-built, most students will never utilize the pass guarantee clause, but for the few that need it, it can be a huge relief. We prefer schools with a pass guarantee such as Real Estate Express.
No Job Placement Services
Many locally owned and operated real estate schools offer their students job placement assistance. This can be through having brokerages visit the school for recruitment or simply pointing new agents in the right direction. Some even go as far as to guarantee you will find a brokerage upon course and state exam completion, but unfortunately this real estate school does not offer either.
Conclusion And Verdict
This Florida Real Estate Institute review wouldn't be complete without taking a look at what other students had to say about their experience at the school. We'll take a look at real alumni reviews and see where they feel the school exceeded expectations and where it fell far from them.
There are limited Yelp reviews, however, the few that are available for this real estate school are positive. The FREI is not Better Business Bureau accredited and is thus not one of the many BBB certified schools in Florida or across the country offering services.
On Indeed, reviewers praised the course's ability to prepare them for the state exam. They also overwhelmingly state that they would recommend the course to a friend. Alumni also praised the small class sizes, individual interaction, and attention, as well as the instructor's ability to bring in real life experiences to enhance lessons.
Given all of these first-hand Florida Real Estate Institute reviews and the wide breadth of course offerings, we are confident in this real estate institution's ability to help students and prepare them for the state exam testing. Beyond that, we are also confident in the school's ability to properly train and harvest the newest group of agents to act on behalf of themselves and anyone they represent.
Even though Florida Real Estate Institute may work, we prefer AceableAgent or Real Estate Express over all other Florida real estate schools. They are just the two best choices in the state.
---