---
In 2019, Pearson Vue reported that only 47% of first-time testers passed their exam to become a real estate sales associate in Florida. The Department of Business and Professional Regulation, and FREC, requires that students pass this exam with at least 75%. Using one of the online real estate schools in Florida can help you to pass the exam.
There are many online real estate schools ready and happy to help students pass this exam with flying colors. You just have to seek them out. Read on to find out more about what traits make up the best online real estate schools.
---
7 Best Online Real Estate Schools In Florida
There are some things that students just need when looking for online Florida real estate courses. Some things to look for and/or consider include whether a course is FREC approved or not.
FREC is the Florida Real Estate Commission. They regulate the exams and requirements to become a real estate agent in Florida.
Other things a student may want to consider when looking for a school include whether the institution is online, or not. This also might determine if the classes happen live, in real-time, or if students just view pre-recorded videos. If it has a physical location that a student will be attending, they might want to look into the city and area the school is in.
Does the school have good pass rates? Do other schools have comparable offerings for a cheaper final cost? Other features, tools, or resources, such as quizzes, or class format, can be extremely useful, especially for a self-guided class.
---
Real Estate Express (#1 Best Online Real Estate Schools In Florida)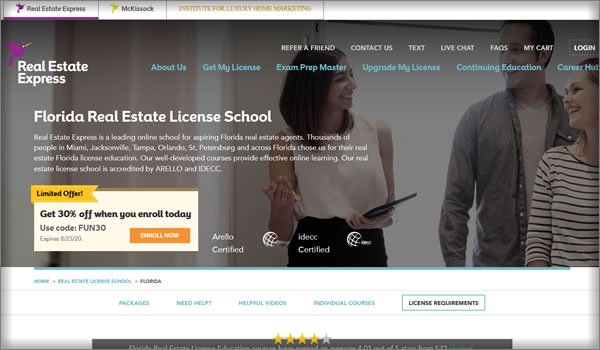 Real Estate Express offers many options for the discerning student considering online real estate schools in Florida.
They have multiple course bundles ranging from $81.90 up to $279.30. All packages include the required 63-hour course, instructor support, and 3 supplemental e-books about Real Estate.
The higher tiers include services such as exam prep, a dictionary, or specialized instructor question and answer time. The highest tiers include further tools like a print textbook. A course to guide students through the 45-hour post-licensing test is another example of one.
Other online Florida real estate courses don't offer some services Real Estate Express does. Their courses include important adaptations for today's modern real estate. They can help you be sure of many easily overlooked aspects of your career.
Creating and maintaining a curated and professional social media presence, and offering weekly insights. Helping you become a true expert in this field. This school offers live support anytime you need it. Just like a professor in a traditional setting, the team at Real Estate Express is there to help you succeed.
Speaking of professors, it's also impressive that their team has a humbling 80 years of experience. These leaders are the same ones available for questions from students. This school has helped over 350,000 professionals move forward in their careers to become realtors in Florida.
Real Estate Express's higher tiers also offer memberships. Their basic Prep for Success program is for beginning realtors just starting. They also offer the 1-year "Professional Development" membership for those who are further along.
Does it seem like this school has possibly too many options to choose from? Not to worry. The team at Real Estate Express has put together handy videos on their site to help students pick the right course bundle for them.
They also offer individual courses alone without the extra materials and guidance of the other packages. Students looking for a very hands-off, self-motivated learning experience may wish to utilize these.
---
Aceable Agent (#2 Best Online Real Estate Schools In Florida)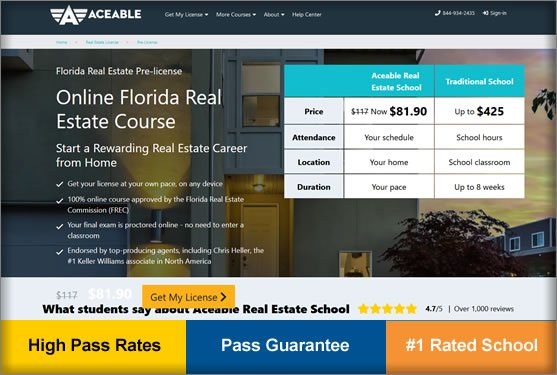 The first of the online real estate schools in Florida we're going to discuss is Aceable Agent. This school offers a basic pre-licensing real estate course for $81.90.
This is a huge deal in comparison to competitors whose classes can often push upwards of $400 per course. Aceable's impressive score of 4.7 out of 5 stars shows how valuable this school is at this price.
Aceable's basic package includes the required FREC approved courses. All the class material and the final exam are taken online.
Endorsed by Chris Heller, the former Chief of Operations of both Mello Home and Keller Williams. The accomplished businessman praised Aceable's course as the "Only pre-license course that's developed by Harvard Education experts,".
Basic, simple, and among the cheaper options, Aceable is a great program. It stands out among the competition of real estate schools in Florida
The freedom of online classes makes it easy for students to take the program at their own pace. While this means that the class can be finished in as little as a few weeks, it doesn't have to be.
Aceable Agent offers many tools to users to help make learning easy and accessible. An extensive prep guide offers test tips and tricks. Many customers laud Aceable's mobile app for making it easy to access on both mobile and PC seamlessly.
Some other features Aceable offers include the special interactivity of their classes. Pop quizzes, games, and study guides are integrated into the material to help students learn the components fully.
On-staff mentors help students through the licensing process step-by-step. Meanwhile, realty instructors and other professionals in the industry are available for more in-depth questions during the learning process.
Testing preparation includes assessments throughout the course. With thorough material that includes vital mathematics skills and comprehensive study guides, it's clear that this school has high standards.
Aceable also boasts experienced support teams available Monday-Friday for help via email. They also have a student concierge available 7 days a week. Aceable is always available for extra help.
Aceable goes the extra mile for you. This is why it is a top choice as an online real estate school in Florida.
---
The CE Shop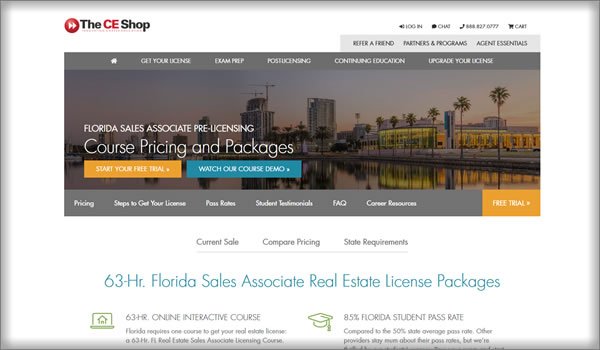 The CE Shop is the best of real estate schools in Florida for those in the industry looking to continue their education. As their motto says, they truly do "Innovate Career Education. With their core values at heart, the CE Shop offers 3 different course tiers for those looking to get their license.
The CE Shop has a free trial to help students make the most informed decision about where to start in their education. Tier 1 includes the basic course, practice exams, and a prep guide that they claim gives students a competitive edge.
Tier 2 includes several unique features. A course focusing on building your business and one for building a real estate business specifically. This also covers materials to help students decide if they should venture into commercial real estate as well.
The CE Shop's highest tier adds a course for the required 45-hour post-licensing exam.
The CE Shop is confident that students will benefit from their online Florida real estate courses and experienced staff. So much so that all of their courses include a money-back guarantee.
For post licensees, The CE Shop also has resources for the post-licensing course and other continued education needs. They can also help those looking to upgrade their license.
---
Mbition (Formerly On Course Learning)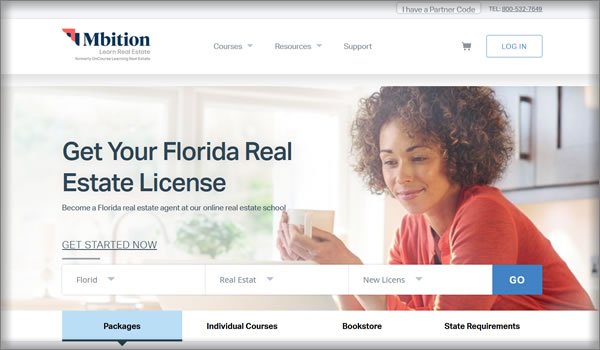 Mbition is one of the best online real estate schools in Florida for any stage of one's career. Their packages help you pass the required test like all the rest of course.
However, they also offer many materials for those looking to become realty appraisers or home inspectors. They even have resources for students looking to continue their Florida real estate education.
Some other opportunities include exam prep for License Broker students, post-licensing needs, and other professional development.
The basic package includes math courses, instant support, and tech support. Their intermediate package also adds exam prep and their "Pass First Time Guarantee." For $199, the highest tier scores you a physical textbook on the course.
Like some previous schools on this list, Mbition also offers the FREC 1 course on its own for $99. All of Mbitions' classes are Arello approved, which means they're compliant with the state and contemporary.
Mbition's staff have helped over 750,000 students in many stages of their careers begin and advance in the world of real estate. With their 40+ years of combined experience, they strive to guarantee their students' success.
Mbition's site has a comprehensive list of the state requirements to become a licensed realtor in Florida. They also have other advice about license renewal and requirements for that. You'll find more information about these requirements at the end of this article.
---
360 Training (Agent Campus)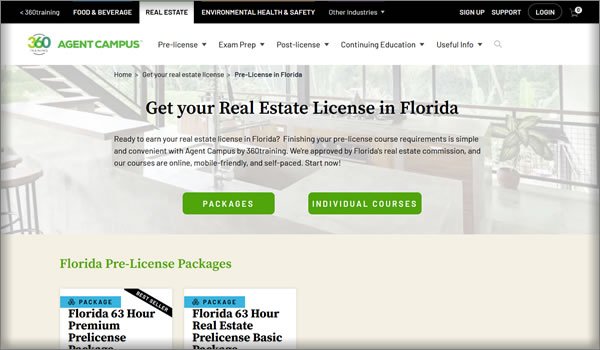 360 Training is another one of the real estate schools in Florida that offers a basic approach to the concept entirely online.
They have a basic course for $79 that offers the required course, and math practice. Their premium bundle adds pre-licensing credits approved by rec. They also offer the pre-licensing course standalone.
Their courses come with quizzes to help ascertain comprehension of each module. Upon passing, the students earn a completion certificate.
360 Training has a great list of the current curriculum required in the state of Florida.
---
AYPORealEstate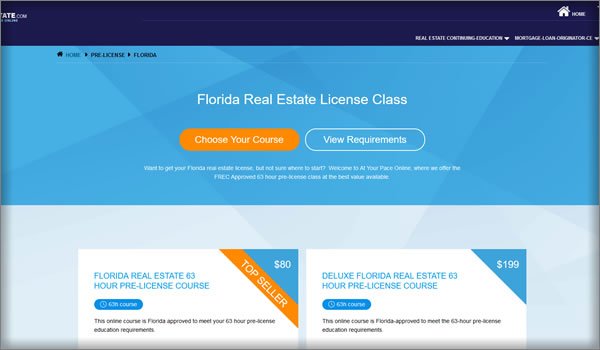 "At Your Pace Online" Real Estate, or AYPO Real Estate, has a similar fare. Their basic package has 4.4 out of 5 stars, while the deluxe wins out at 4.8.
The latter includes practice exams, as well as a downloadable PDF file of the entire course. This can be a very handy thing to have. AYPO may be one of the more simple online real estate schools in Florida, but that shouldn't make it any less enticing.
---
Bob Hogue School of Real Estate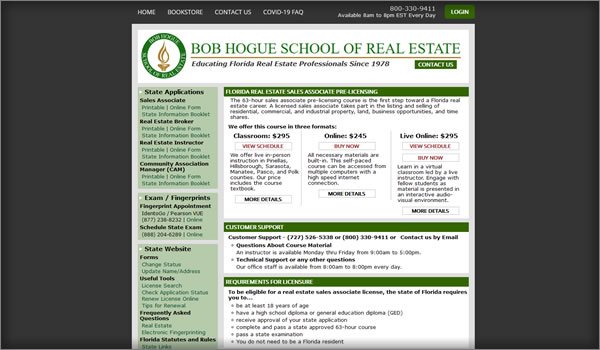 The Bob Hogue School of Real Estate is among the most expensive best online real estate schools in Florida. This school's website provides some amazing resources for real estate students worldwide, however.
They only have 3 class options for pre-license learners. The least expensive is $245 for online classes, while a "Live Online," or "Classroom" package is $295. (The classroom option is for students able to attend in person at the school.) All options have customer and IT support.
What makes this school impressive is that its site has a plethora of useful links all collected on its homepage. Below we will explore some of this vital information for Florida realty students.
The Bob Hogue School of Real Estate's site has direct links to the state applications to become a sales associate, broker, instructor, or "CAM". There are also links to find the forms for updating names and addresses or update your status as a realtor.
It also offers the phone numbers, links, and even directions to many other useful organizations for students of real estate schools in Florida. This encompasses things where and how to get required fingerprinting, FAQs, and other guides.
Even more, tools are linked to on their page, including the state license search. The page to check state application status, and to renew a pre-existing license online are found there, too.
There are also links to information like an official list of Florida real estate associations, and information about mutual recognition. Some of this information can be tricky to find without help, so it is extremely useful that Bob Hogue compiles it all in one place.
Bob Hogue also has a bookstore built into the site. Essentially anyone looking for more information on real estate in Florida should have this page bookmarked. If you need a resource, they probably have it or can direct you to it.
---
More Real Estate Schools In Florida
The list below contains all of the real estate schools that are located in Florida and that we believe deserve a place on our list. While not our top choices which are listed above, each of these schools has aspects that we like. Plus, we contacted each real estate school in Florida and these are the ones that had good response times:
A Plus Schools of Real Estate
Bert Rodgers Schools
Bob Fritze School-Real Estate
Climer School of Real Estate Orlando Main Campus
Cooke Real Estate School
Demetree School of Real Estate
First Coast School of Real Estate
Fitzpatrick Real Estate School
Florida Real Estate Learning Center
Gold Coast Schools
Hallmark School of Real Estate
Larson Educational Services
Magnolia School of Real Estate
Naples School of Real Estate
National Real Estate School
OneBlue Real Estate School
Online Florida School of Real Estate Licensing Course
PERT Consulting – Florida Real Estate School
Real Estate Academy of Orlando
Real Estate School of Florida
Realty School 101
Rowlett Real Estate School
Sonia Galarza School of Real Estate & Appraisal Corp.
Southwest Florida School of Real Estate
Tampa School of Real Estate
TEAM Hughes Real Estate School
Tony Mesa Real Estate School Inc.
Top Choice Real Estate School
Top Producer School of Real Estate
Zenith Real Estate School
---
Requirements to Become a Real Estate Licensee In Florida
The base requirements to obtain a real estate license in Florida are fairly simple. To be approved a candidate must have the following qualities:
Be 18 years of age or older, with a high school diploma or equivalent, and a US social security number.
Sign up for and complete the 63-hour required course, and pass the final exam (the Florida Real Estate Salesperson Exam) with a score of 75% or higher.
Get fingerprinted and pass a background check. (Please see the Bob Hogue schools site for more on where and how to achieve this.)
Submit the application for the sales associate license. (The licensee's broker will activate it once it is approved.)
Upon being approved, a licensee just has to complete the 45-hour post-licensing course and exam to begin working legally. The application has a fee of $83.75, and on average takes about 4-6 weeks to be approved.
The website for the Bob Hogue School includes links to submit this app via post by downloading and printing it, or online. They also provide locations and contact information for getting fingerprints done with Pearson Vue. They cite this as costing $57.25
Becoming a real estate broker requires a bit more time in the classroom. A broker has to pass a 72-hour pre-licensing course, followed by a 60-hour post-license course and exam.
The exam for a sales associate licensee can be retaken as many times as needed, at a cost of $36.75 per retake. The exam itself consists of 100 multi-choice questions and is scheduled with Pearson Vue. To take the test, students must bring the course completion slip from their school with them.
Interestingly, one does not need to be a Florida resident to become a Florida real estate agent. Due to a policy known as reciprocity, Floridian agents can become licensed in other states.
If another state has a mutual recognition agreement, then out-of-state licensees can apply without re-doing their pre-licensing course.
FREC Curriculum
FREC requires real estate schools in Florida to include core concepts in its curriculum. This curriculum covers many subjects. A taste of what this entails includes:
An overview of the business and current state of Real Estate, Information about Real Estate, and License Law, as well as qualifications for becoming licensed.
Violations of these, or other Federal or State laws. This also means familiarity with what happens when these laws are violated and the procedures for dealing with this.
Rules on how to properly commission and manage one's authorized relationships, duties, and disclosure.
Proper procedures for real estate and/or investment brokerage. Business opportunity, brokerage property rights, and knowledge on how to use contracts accurately and correctly.
Legal descriptions of property, including titles, deeds, ownership, and the related restrictions of these documents. Similarly, taxes that affect real estate.
Full comprehension of mortgages, various types of mortgages, and other sources of financing like loans. This also includes math skills and other training required to close transactions.
Planning and Zoning Laws and, how to analyze and appraise the current real estate market.
Continued Education and License Renewal
Every 2 years, a licensee must renew. This occurs either on March 31st or September 30th depending on when the licensee got their license originally. It will say on the license.
To renew, one just has to take a 14 hour CE requirement class. This consists of 3 core aspects and can be done in a traditional classroom environment or via a distance education provider.
This class includes 8 hours of specialty credit and a 3-hour update on Florida laws. It also means a 3-hour class on ethics and business practices.