---
A Plus Schools of Real Estate is one of many real estate schools serving Florida. Locally owned and operated, this school offers a unique experience for its students. However, you will want to analyze all aspects of a school before making a decision. The A Plus Schools of Real Estate review found below is everything you need to know about A Plus before you decide which Florida real Estate school to study at.
---
UPDATED: February 2023
Our Overall Rating

---
Overview Of A Plus Schools of Real Estate
A Plus has been in operation since 2013, when Don DeLucas founded the school. He had been teaching long before that, originally teaching since 1985. Before opening A Plus, Don taught for Century 21's real estate academy in Miami. After years of teaching for Century 21, Don decided to open this real estate school in hopes of developing a quality licensing education further.
In addition to his years as a Century 21 instructor, Don also brings a master's degree in education and, of course, his own real estate broker's license to the table. With those, he has garnered quite the list of accomplishments and experience teaching thousands of kids.
Don's specialty is small residential investment opportunities and 1031 exchanges. He also serves as the Owner and Broker of S & D Realty Exchange. Other achievements of Don's include his serving on the Florida Supreme Court as a Civil Mediator and helping homeowners across the state with foreclosure mediations and contract disputes.
All of this to say that Don brings all of this unique knowledge to the school and his teachings. Students can expect their time at A Plus Schools to feature many first-hand accounts of real estate operations.
When founding this real estate school, Don did so with the intent of providing education that was interactive and that was individually catered to students. As such, the school is flexible and equipped to handle student's unique needs.
The school itself may be run by Don, but the team also consists of an administrator and multiple faculty members qualified to educate and guide students. Their overall goal is to provide students with an education full of the staff's expertise that allows for an abundance of success in the student's professional career.
The school faculty consists of Kymberly Lietzow, a broker, and licensed law instructor, Ricardo Lopez Alonso, a Spanish instructor, Liz Logan, a broker and licensed law instructor, and Cindy S DeLucas, a broker-associate.
Kymberly Lietzow – Kymberly has extensive experience teaching law classes since 2012 at the A Plus Schools of Real Estate. In addition to her educational services, Kymberly also is the owner and broker at YourPropertyPros, LLC and Lietzow Realty LLC. She has over 40 years of unique experience she brings to the table for students to soak up. Not to mention, she was born and raised in Florida and maintains unique ties and insight into the state.
Ricardo Lopez Alonso – Ricardo plays a special role in the A Plus team and just so happens to be the newest addition. Alonso is responsible for Spanish instruction and brings a unique perspective from the point of view as an investor and broker associate serving in Brevard County.
Liz Logan is a licensed real estate instructor, and she provides well-qualified teachings to students looking to capitalize on her thirty years of real estate experience. She specializes in leasing and recruiting and training as she has done both extensively.
Cindy S. DeLucas – Cindy operates more on the administrative side of things, acting as the school's registrar and administrator. She has been involved in real estate since 1993 and has experience as an office manager and personal assistant, all within the real estate space.
All of these instructors and school officials help to provide a well-rounded experience for students to learn from. Especially unique is that it is all based in Florida. While many national brands offer skimmed versions of state-specific education to their students, Florida-focused knowledge is completely integrated into the educational process at A Plus.
---
In-Depth Look At A Plus Schools of Real Estate
When it comes to the real estate courses offered by this real estate school, there are two options, live or online courses. From there, the unique offerings and packages can be broken down further, but at a glance, students have the flexibility to choose between either online or live instruction.
Unfortunately, the school does not offer a breakdown of course topics and outlines like competitors. However, it guarantees that it covers all necessary Florida-mandated topic points.
Live In-Person Course Break Down
The live course option is modeled after Florida's extensive list of required real estate principles, practices, and laws. In total, there are 63 hours of instruction via a live classroom format. Students can expect interactive and instructor-led teachings that explore the theoretical, practical, and legal portions of Florida real estate.
According to the A Plus website, it appears there is only one-course level or packages to choose from. However, it is intended to be comprehensive. Students will need to choose when and where they attend classes based on their needs. Currently, the school has course options in West Melbourne, Rockledge, and Cocoa.
Live Streaming Course Breakdown
In addition to the live courses, students can attend in real-time as the school also offers live streaming for courses. This format is perfect for those that desire something in-between commutes to the school and completely self-reliant online learning.
Similar to in-person courses, students will need to choose the class session that works best for their needs as it will be a time commitment just as in-person attendance is. Live Streaming differs from online course options as it is simply videoing the class in real-time and will have no recorded or edited functions. Students will watch the live video presentation, and you are able to interact just as traditional in-person students can. Students can ask questions, speak with others, and interact as needed.
In addition to the licensing coursework, an exam prep cram and post-licensing course are also available for live streaming. All of which are approved methods of learning by the state of Florida.
Online Learning Breakdown
This online licensing course allows for easy remote learning that won't require a nightly commitment. Students can pick when and where they study, so that is flexible based on their needs. This course option still covers all required lessons by the state but in a different format.
A Plus updates its online courses every year to avoid stale, outdated content. Instead, students will have access to the newest information just as those in live options do. This method of learning includes all 63 hours as mandated by the state, as well as quizzes, activities, and a practice exam.
Exam Preparation Add-ons
If a student wishes to round out their education further, they will have access to extensive exam prep at A Plus Schools of Real Estate. There are multiple options, including:
Florida Real Estate Sales Associate Drill and Practice Qbank
Florida Sales Associate Prelicensing Key Point Review Audio
Post-Licensing Education for Florida Real Estate Sales Associates
Support
Support is available via an online contact form or phone. If a student chooses to study in one of the live formats, they will also have direct communication with the professor for easy questions and answers. Those that are studying online may find it difficult to get assistance if they choose to study outside of business hours.
---
A Plus Schools of Real Estate Pricing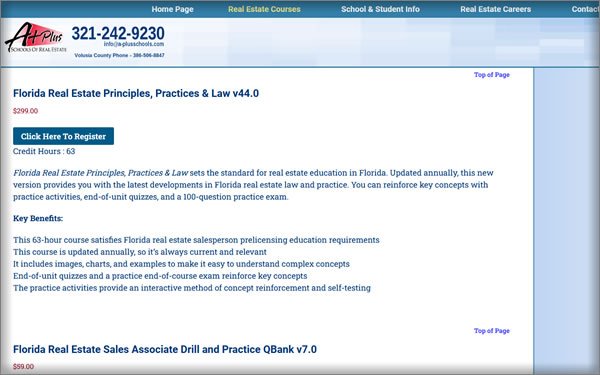 Within each learning, format is only one package option, though there are exam prep add-ons that can be purchased separately. Pricing is as follows:
Live In-Person Courses – $385
Live Streamed Courses – $385 (same price as live)
Online Self-Paced Courses – $299
Florida Real Estate Sales Associate Drill and Practice Qbank – $59
Florida Sales Associate Prelicensing Key Point Review Audio – $34.50
Post-Licensing Education for Florida Real Estate Sales Associates – $199
---
Pros And Cons Of Using A Plus Schools of Real Estate
Pros
Online Course Demo
This real estate school offers students the option of an online course demo video in which they can get a glimpse into the course layout and what to expect. This is a great benefit as it allows students to make sure the interface and all related features are ones that support their education and won't cause an issue for them.
Multiple Course Layouts
Between the in-person, livestream, and online learning options, this school caters to all learning types and allows students to choose what works best for them. This is a great benefit to have as a student so that courses work with you rather than against you.
Average Prices
The average prices at A Plus Schools of Real Estate are neither something to rave about or a detractor. They fall in the middle, and for that reason, it is a positive rather than a detriment in this case. However, the exam prep options seem to be among the best value, and for that, prices are a pro at A Plus.
Many Exam Prep Options
There are multiple different options for exam prep at A Plus, which means there is something for everyone. Students have the freedom to decide based on how much assistance they need or what they can afford.
Flexible Live Timing
If you choose to study live, either in-person or via livestream, there are multiple dates and time frames available. Whether you have a job and need night or weekend studying, A Plus accommodates those needs with multiple time blocks.
Florida-based Instruction
Smaller schools that are locally owned and operated offer an in-depth perspective into the local market that national brands cannot. This is evident in A Plus' extensive team of local professionals and thus is infused into the school's teachings.
Cons
Outdated Site
Unfortunately, this A Plus Schools of Real Estate website was outdated and hard to follow in places. When so many other real estate schools offer intuitive and modern designs, it was easy to see how this one left much to be desired.
No Course Layout
Schools that list all of their lesson plans online, or at least a glimpse into them, are doing a great service to students who are interested in the curriculum itself. However, A Plus doesn't list their lesson plans, instead only providing that insight to enrolled students. Similar to making sure a site's interface works well for a student, it's nice to make sure the course outline does as well.
Limited Refund Policy
Refunds are permissible so long as it has been less than five days from the time of payment or until the first class has been attended. There is a $25 fee for cancellation. In situations where cancellations are not allowed, you may be able to put credits and amounts paid toward a class at a later date, but only up to six months away.
None of the exam prep classes are refundable, and it is important to note that no online class is eligible for a refund. Only live and livestream courses are eligible for refunds.
No Live Chat Options
When in the thick of an issue regarding technical or course-specific, it is always ideal to have a live chat option. Unfortunately, in the case of A Plus, this benefit does not exist. Students will need to submit questions and concerns via an online contact form, or they can try and call the school, but there is no guarantee for a speedy return.
Conclusion And Verdict
To better measure A Plus Schools, it's important to see what previous students have said about the school via online A Plus Schools of Real Estate reviews. These can be found on multiple sites, including Yelp, Facebook, and the Better Business Bureau.
The school does not have many reviews outside of its own webpage, unfortunately. Of the few that are out there, such as on Indeed or Facebook, they are high with nearly perfect 5-star ratings. Students especially praise the school's teachers, flexible class hours, and a positive environment.
Alumni also states that the school has a well-versed team in real estate and particularly real estate education. Complaints include needing more time to learn versus a cramped feeling that the live course option seemed to have.
Testimonials and A Plus Schools of Real Estate reviews on the website also speak highly of the question bank exam prep, leading to passing on the first try. While pre-licensing coursework is a requirement of the state and necessary to becoming an agent, it is still important to pass the state exam efficiently, and it seems as though A Plus helps students to do just that.
Other testimonial praises include that the course was modeled into an easy schedule, had small class sizes and great interaction, as well as real-world examples that prompted learning.
Final Verdict
When it comes to this real estate school, we are happy to recommend it to students looking to be licensed in Florida, though with caution. Before making the commitment, we recommend students shuffle through the website to get a feel for its offerings and layout to ensure they are comfortable with navigation.
Given A Plus' limited online reviews, the best option would be for hopeful students to check out the website and make sure it is something that works for them.
If we were looking for the best Florida real estate school, we would recommend Colibri Real Estate over A Plus Schools of Real Estate. Colibri Real Estate offers so much more for the money and they have thousands of great reviews to prove it.
---
---