Real Estate Express is now Colibri Real Estate, a national education company that is building the future of real estate education. Colibri has served millions of aspiring real estate professionals and they will continue to serve millions more under their new name.
This in-depth Colibri Real Estate review (formerly Real Estate Express)will help you decide if this online real estate course is right for you. It's very important that you read this review before you join, as it contains important information that you should know before you sign up.
A career in real estate can be gratifying. Real estate agents help people find the home of their dreams and enjoy the flexibility of working from home and scheduling their hours. Real estate is a flexible career that allows you to be the boss or become part of a larger team with various career path options. To earn a high income with unlimited growth potential, you need a solid foundation of skills and knowledge of state laws.
Whether it's getting a real estate license in California or real estate license in Texas, each state has a separate set of licensing requirements for becoming a real estate agent. The most common conditions include age, education, background checks and fingerprinting, completion of a certain number of hours of pre-licensing courses, and sitting for the state real estate licensing exam.
The amount of time you are required to spend in these courses and their content varies from state to state. Prospective real estate agents can take the real estate pre-licensing course live and in person or they can use a state accredited real estate licensing school like Colibri Real Estate.
UPDATED: October 2023
Our Overall Rating of
Colibri Real Estate

Colibri Real Estate: $205 Off Ultimate Learning Course
39 uses today
Last Used: 2 days
Colibri Real Estate: $182 Off Ultimate Learning Course
33 uses today
Last Used: 6 days
---
Who is Colibri Real Estate?
Colibri Real Estate is a leading company in real estate online education and training. They are the largest company that provides courses to prepare for the real estate exam, study guides, and exam prep tests in the U.S.
Started in 1996, Colibri Real Estate claims to have helped over 400,000 professionals in real estate start a career. Colibri Real Estate has a learning platform that is nationally accredited and offers pre and post licensing courses, and exam test prep for the real estate profession.
Colibri Real Estate was the first group of real estate education, online providers, to go through the ARELLO certification process. ARELLO, also known as The Association of Real Estate License Law Officials, maintains exacting standards for distance education courses offered worldwide. Real estate online course providers who meet ARELLO's standards are approved for distance education certification.
---
Colibri Real Estate Review: In-Depth Look at Their Courses
Colibri Real Estate courses are offered 100% online. Getting your real estate license online offers provides many advantages for busy people.
Online real estate schools permit you to complete lessons and coursework whenever you have time as long as you meet the posted deadlines.
Obtaining your license in real estate online can make it easier to balance work and school.
Online classes can be less expensive than in-person courses, making a real estate license more affordable.
---
How Colibri Real Estate Courses Work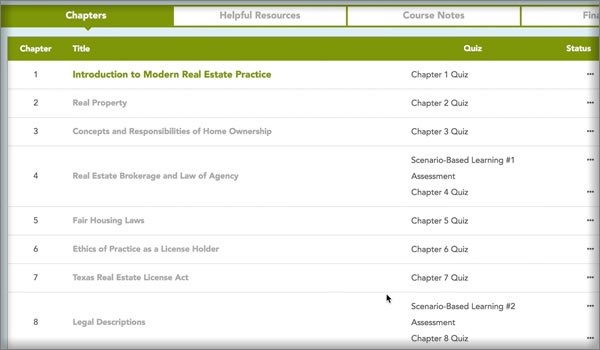 Colibri Real Estate courses are designed for students to learn the material easily, prepare for students for a career in real estate, provide practical skills and knowledge. No programs need to be downloaded to your computer. Everything works in your web browser.
Each student sets up a Colibri Real Estate online account after enrolling in the course. Your account is where you will manage your profile, payments, access your online courses, and receive your course completion certificates. You can even receive Career Support from your account.
Once you access your online course, you can navigate any part of the course at your own pace using the navigation menu on the left on the page. The top menu bar provides immediate access to email your instructor, use the help menu, take notes, or contact customer service.
Courses are laid out online, similar to most online courses, with a text page that you read through. The course's progress checker at the bottom of the text page shows you a continuous update of how much of the lesson you have completed and how much more is left to complete.
At each chapter's conclusion, you will complete a multiple-choice quiz over the material you have just learned. Questions and answers are designed to ensure that students do not have any surprises on the real estate exam date.
If you don't pass the quiz, you can reread sections of the chapter and retake it. As you are working online, Colibri Real Estate course progress checker tracks the number of hours you are logged in and your course progress.
Colibri Real Estate learning management system delivers the course content at your own pace combined with tools such as a progress checker and goal-setting to enhance productivity and help students stay on track. It's like having a personalized mentor helping you prepare to pass your real estate license exam.
Colibri Real Estate uses a unique learning methodology to improve comprehension and retention of critical information known as Smart Bites. Smart Bites breaks down content into smaller chunks, then repeats them periodically as a review and to reinforce the concepts.
Courses are designed to help students stay on schedule with goal setting, progress tracking, and pacing prompts. Their software will automatically track your progress and requirements, so you know how close you are to completing your required number of hours of pre-license real estate classes. Their progress dashboard will alert you to what topics you have completed and what items you still need to finish.
Colibri Real Estate offers many extras, like in-course note taking and free downloads, to give students the tools to prepare for the licensing exam. After completing the pre-licensing course, you can take the Exam Prep Master Program, a package of 1,000+ practice questions, practice exams, tips, and tricks to understand the exam questions and complete them. You can also create custom exams to focus on topics you struggle to master.
After you have completed a Colibri Real Estate course, you will be emailed a link to your student homepage and certificate of completion.
---
What Type of Support Does Colibri Real Estate Offer?
Customer Service support is available 24/7 via email and phone.
The level of Course support that is available to you is dependent on the type of course package that you purchase. The Basic Course offers only email support. The Exam Preparation Plus package and the Ultimate Learning package offer live webinar support at prescribed times daily Monday to Friday. The schedule of Webinar times and days and topics or open sessions are emailed to you.
Course support is available via your mobile device and email. You can ask experts. Join student forum sessions led by Academic Advisors to learn from other classmates and ask relevant questions.
---
Colibri Real Estate Pass or You Don't Pay Guarantee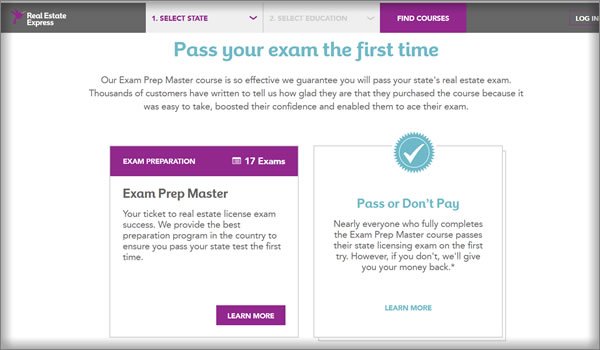 Very few online real estate education providers offer a money-back guarantee. Colibri Real Estate goal is to provide the best learning experience and make sure you get everything you are looking for from their courses. This goal is why they stand behind every purchase with a satisfaction guarantee. If their curriculum doesn't feel work for you after one week, you can request a total refund. If you did not begin the course, you have one month from the date of purchase to make a request.
Colibri Real Estate also offers a Pass or you don't pay guarantee. The Real Estate licensing exams in most states are challenging, and the failure rate can be as high as 30%. Suppose you have completed a Colibri Real Estate Exam Preparation, Exam Preparation Plus, or Ultimate Learning Course package and do not pass the state real estate exam. In that case, you have 150 days to use Colibri Real Estate practice exams to help prep to retake the exam.
If you still don't pass the exam, you email your failure notice from the state, and they'll refund your money. The Pass or don't pay is not available with the Basic Course package.
---
Colibri Real Estate Pricing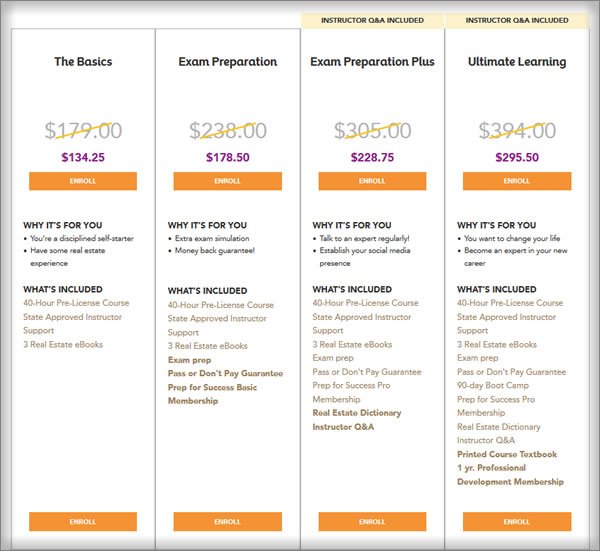 Colibri Real Estate offers four real estate pre-licensing course packages in 27 different states.
Prices vary depending on the state because each state has different licensing requirements.
Course packages fall within the following price ranges:
The Basic Package pricing is between $81.90 and $420.00, with an average price of $209.00.
The Exam Preparation Package pricing is between $157.50 and $460.00, with an average price of $250.00.
The Exam Preparation Plus Package pricing is between $202.30 and $507.50, with an average price of $320.00.
The Ultimate Learning Package pricing is between $275.80 and $569.80, with an average price of $349.30.
The Exam Prep Master Program is offered at a flat fee of $99 in every state.
Colibri Real Estate periodically offers discounts on course package offerings, so you will want to check the website to get the most up-to-date pricing.
Course Package Offerings
Colibri Real Estate offers four original online real estate pre-licensing course packages tailored to each of 27 states.
The Pre License Course will provide the basic foundation for your real estate career. Topics included are contract law, real estate finance, closings, listing agreements, and state laws. This course fully prepares you for the state exam.
Basics Package includes:
All state-required courses
Instructor support via email
3 Real Estate Ebooks: The Principles of Real Estate Practice, The Real Estate Math Handbook, and the Quick-Start Guide, and
Free Online Proctoring of Final Exams
The three Ebooks included are The Principles of Real Estate Practice, the Real Estate Math Handbook., and the Quick-Start Guide.
The Principles of Real Estate Practice is a comprehensive learning book for students preparing to become a licensed real estate agent. This Ebook contains real estate law essentials, principles, and practices that are taught in most real estate schools and colleges. It also includes all the fundamental knowledge elements that real estate practicing professionals, testing services, and licensing officials know are necessary for a competent real estate salesperson.
The Real Estate Math Handbook provides real world answers and solves problems faced by real estate professionals.
The Quick- Start Guide is a condensed version of both books in an easier to digest format.
The Exam Prep Courses will provide more intense preparation for the state real estate exam via practice questions, practice quizzes, tips on how to save time, understand and address the items in each section, memorization tools, and a simulation of the final exam.
One of the toughest parts of passing state real estate licensing exams is understanding what the questions ask you to do. The Exam Prep features allow you to get practice seeing the different types of questions that are asked on the exam, and understanding the wording in the questions.
Exam Preparation Package includes everything in the Basics package plus:
The Exam Prep tool which includes ten progress exams, five practice final exams, and flashcards
The Pass or Don't Pay Guarantee
The Weekly Express newsletter with tips and tricks, and
Access to their Social Express platform to network with other professionals.
Exam Preparation Plus package includes everything in the Exam Prep package plus:
Ninety hours of state-mandated SAE courses
The Real Estate digital Dictionary, and
Forty hours per month of live Q & A with renowned instructors.
The Ultimate Learning Package includes everything in the Exam Prep Plus package plus:
A Printed Course textbook and
90-day boot camp video course led by a renowned real estate coach walking you through how to close your first real estate transaction within 90 days of getting your license.
A 1-year membership to training content such as job-aids, webinars, professional development discussion forums, and discounted courses to meet required continuing education courses.
---
Colibri Real Estate Course Pros and Cons
Let's summarize our findings by looking at the pros and cons of using Colibri Real Estate.
PROS
Very Good Track Record – Colibri Real Estate has been in the online real estate education business for 24 years.
Great Rating – The Better Business Bureau rates the company A+.
Online – All Courses are 100% online, so you can take them from home, on the job, or anywhere at your convenience. If you have a job and a family, an online course makes it much easier to work around your schedule.
Course material is separated into two specific sections: Real Estate Licensing and Exam PrepMaster to Teach the state-mandated course material and Master the state exam material.
State-Approved Instructors – Online video tutorials are taught by state-approved instructors and supplemented with notes, helpful graphics, and practice questions to keep learners engaged in the content.
Amazing Platform – The learning management system that is the foundation for all Colibri Real Estate courses includes a web portal connecting students to live instructors by appointment.
Academic Advisor – When you enroll in a course from Colibri Real Estate, you are assigned to an academic advisor that guides you via email through the course, so you don't miss important points.
Pacing Prompts– Each real estate course module has built-in pacing prompts to make sure you don't fall behind.
Best Guarantee – Colibri Real Estate offers a Pass or You Don't Pay guarantee.
Best Pricing – Course packages fall within an affordable $200 to $500 range.
Many Packages – Colibri Real Estate offers four different packages depending on your budget, real estate knowledge level, and need for additional support.
Self-Paced – Course material is delivered online, so you can take the course at your own pace 24/7 access.
Continuing Education Offered – Colibri Real Estate offers real estate salesperson pre-licensing education. Continuing education courses are offered through McKissock, Colibri Real Estate parent company. This means you have access to everything you need to get a real estate license and as you continue your career without having to go elsewhere.
Easy To Contact – You can easily contact support at anytime by calling the phone number listed on the contact page of their website.
CONS
You Must Motivate Yourself – Like any online course, you must remain motivated and disciplined to do the work to complete your required hours.
Weekly Training On Fixed Schedule – Colibri Real Estate offers a live weekly training session, however, it is provided at the same time and same day every week and isn't recorded for you to watch later. If you aren't available for the live training sessions, you can't take advantage of this added benefit.
Little Forum Participation – While Colibri Real Estate does provide a student forum, few students seem to participate in it, which makes it difficult to network and learn from other students.
Not Good On All Devices – The courses are not very mobile-friendly.
Mainly Text Based – Course is mainly text based meaning it's more like reading a course textbook. There are other online real estate courses like The CE Shop or AceableAgent that deliver the content in bite-sized segments making the learning a bit easier. The material with Colibri Real Estate is good, but not quite as interactive as other courses.
The real test of whether an online real estate school is reputable and worth the money is from student's written reviews. There are over 50,000 reviews of Colibri Real Estate and most are very positive. That is a lot of user reviews and with that many positive, it's clear that this real estate school is one of the best on the market.

Final Thoughts: Is Real Estate Express Legit?
Real Estate Express (acquired by Colibri Real Estate) gets a great score in our book because it offers good content in an online real estate learning method to complete your state's mandated pre-licensing course requirements.
Materials are well made and taught by knowledgeable instructors that can hold your attention through complicated topics. Online real estate courses are priced affordably, and you can take them anytime and anywhere.
It's also one of the oldest online real estate schools on the market so it has a long track record.
Like any online course, if you're someone who has trouble staying focused or lack the discipline necessary to complete the courses on your own, you may require the accountability and face-to-face- interaction provided in a physical classroom or a live online class.
Colibri Real Estate is mainly text based which means it may be harder to stay focused for some. However, the information is great and it can help you pass your state exam which is what all students are trying to achieve so it can help you do that.
Support is easy to contact by calling the phone number they have on their website or by emailing your instructor right from your account.
They also have an amazing online platform that works seamlessly.
The best thing about Colibri Real Estate is they do offer a pass or don't pay guarantee. This means you have nothing to lose by signing up and taking the course. If you don't pass the state exam they will refund your money!
If you want a course from a very reputable online real estate school, that has courses for a wide variety of states, offers a pass or don't pay guarantee, and has some of the best prices in the industry, then we highly recommend Colibri Real Estate as one of the best real estate training courses online.
---
---