---
Becoming a home inspector is an exciting and rewarding career change but getting started can be difficult. There are many options out there which makes choosing the right program difficult. ATI Home Inspector Training is one of the programs that help prepare future inspectors. To help with the decision-making process, we are writing this in-depth ATI Home Inspector review.
---
UPDATED: October 2023
Our Overall Rating

---
Overview of ATI Home Inspector Training
ATI Home Inspector Training was developed as a way to properly train future home inspectors. When Scott Newcomer made the decision to sell his own home inspection business it was to start ATI Home Inspector Training.
He saw the need for inspectors who were not just certified but also well qualified. The biggest piece he saw missing was the hands-on training.
The founder wanted to create a well-rounded program that would not only prepare the students for the exam but also for their careers.
One thing we would like to see on the website is more information about when the program started. It would also be nice to see how many students they have helped.
They have a lot of information about the reasons behind starting the program as well as the benefits. However, the history behind the program as well as some more in-depth "about" information would be good to see.
Does ATI Home Inspector Training Offer Price Breaks?
Not many of the home inspectors training programs offer price breaks, financing, or discounts for students. The programs can be expensive so having the possibility of financial help would be appealing.
ATI Home Inspector Training is different in this way from some of the other programs. They value the service that first responders and veterans have given us and want to give something back.
That is why they offer a pretty significant discount. Veterans and first responders could get a discount of 40% off of their tuition.
Also if a veteran has the GI Bill, it could cover tuition as well as a place to live during your training and education. There are also options for people enrolled in Vocational Rehabilitation and Education programs.
ATI does offer financing options for qualified students. Offering so many discounts, options, and financing removes barriers for so many students. That is a positive attribute of ATI Home Inspector Training.
ATI Home Inspector Training Team
ATI has a rather large staff to help students in all aspects of their training. From organizing the classrooms to managing the business and office affairs, there is a team member that is dedicated.
They have field trainers, instructors, and technical instructors that handle the hands-on training of the students. There are also a few Texas-specific trainers.
One of the things that ATI Home Inspector Training prides themselves on is the accessibility of their team. Each student has a mentor inspector who has been in the business for years. One place on the website claimed mentors must have 25 years of experience to be a mentor.
These mentors are expected to give their phone number and personal email out to their students. The idea is that students can contact the mentor with real-world questions as they are working in the field.
This is something that is unlike many of the other training programs out there. Often there isn't even any field training or test prep. Because the requirements for each state vary and many of them don't even have education requirements, ATI aims to produce qualified inspectors regardless of state requirements.
The website has a bio as well as contact information for each of their staff members. This gives prospective students the ability to get to know information about each staff member before they commit to the program.
ATI Home Inspections Website
The website looks great and has a functional feel but it has a large amount of information. While it is better to have a website that is filled out and informative, it can also be overwhelming for students or anyone just trying to get information about the program.
They not only have information about their program, but they also have information about the home inspection career. The ATI Home Inspections website also has a section for each state outlining their requirements, if any.
It seems to be a one-stop home inspection information shop. However, it is a lot of information to wade through. The course information is the third in line on the menu rather than first.
And even then to find out the actual cost of the live classes you have to go to another page, not the page that talks about the live classes. Then once you click it there is still no information on the price of the live classes.
After all of that clicking, you have to contact your specific state ATI school to get the final cost of the live program. The online program is straightforward when it comes to price and it was very easy to find.
We did like that there was information about the overall process of becoming a home inspector. With that being said, we would like to see the information that is about their specific education program come first. The website, overall, could be cleaner and more user friendly.
A website that is too busy and full of information that is not easy to scan is just as bad as a website that is sparsely populated.
---
In-Depth Look at ATI Home Inspections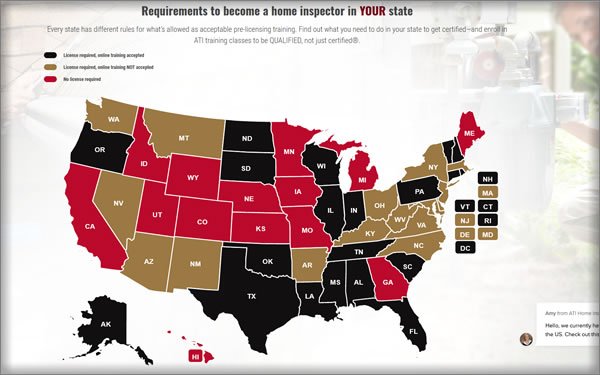 Part of this ATI Home Inspections review is to take a more detailed look into the program. We are going to be checking into how their courses work, how they are offered, and where they are offered.
States ATI Home Inspector Training Serves
ATI is a home inspections education program that has a broad reach. They can work with students from any state to prepare them for their exam and career as a home inspector. However, it will depend on the course the student chooses.
The online program is by far the more flexible program with the most state options. If a student chooses to go the online route then they can be from any state.
This isn't true for the online courses. The accessibility of these classes depends upon the location of the student and the class.
Not every state has an ATI Home Inspections campus that has live courses. But the states that do have live courses a couple of times a year. The current year's schedule for the various states has not been released yet.
ATI Home Inspector Training Course Types
In addition to online and live home inspection education courses, ATI also offers two other types of courses.
ATI Home Inspections offers continuing education courses for current home inspectors to help them stay up on their skills. Most states don't require any type of continuing education, but it is encouraged for home inspectors to stay educated.
The best thing about ATI continuing education is that it is free. If you are a current home inspector and work in a state that requires continuing education to be state certified then ATI will help keep you certified for free.
The website has a great interactive map to help the process. All students have to do is click on their state to pull up the continuing education requirements, if there are any. If there is CE needed then they can click "get started" to get underway.
The continuing education program through ATI makes the CE process much smoother and less expensive. It is also a plus that they stay up to date on what the states require.
The other class they offer is a radon certification. This is an optional yet helpful certification that is needed if a home inspector will need to measure radon levels.
There are two courses in this certification. Both of the courses are online and on demand giving students more control over their schedules.
Once a student completes both courses in the certification, they will need to take an exam. This is how they get the official certification.
We mentioned above that the website was full of information, but the radon certification section of the site is the one place we wish we had more information. This page is bare bones and only gives very minimal information about the two courses but no overall information.
ATI Home Inspection Online Course
ATI only has one online course package available. The self-paced master online course package has everything a student needs to prepare for their career and exam. However, there are some states that can't take advantage of this.
The online course is not available for certain states. 12 states are not eligible for the ATI online program. This has to do with the state requirements and not the program.
Arkansas
Delaware
Kentucky
Maryland
Maine
New York
New Jersey
Nevada
North Carolina
Virginia
Washington
West Virginia
Students in any of these states are not able to get their education requirements met through ATI's online program.
The online program does come with great features for the students who live in states that can use the online course. There are features like their pass guarantee, free software for report writing in their new career.
The program boasts thousands of questions to help students practice as well as an inspection video library. The online course comes with NHIE test prep, all of the books that are needed, and instructor support that exceeds the support of other programs.
There are also resources available such as courses of mold, radon, and drones, in addition to commercial inspection. In line with ATI's commitment to prepare students for their careers, they also offer all of their online students free marketing resources.
Marketing and landing clients can be a daunting task and ATI wants to set students up for success in all of the areas of business, including marketing.
Association support for the new home inspectors is also included.
How is the Online Program Structured?
We would have liked to have been able to see what the online course is actually like. Or at least what the interface looks like and whether or not it is user friendly. But there are no videos or demos for prospective students to look at.
The website doesn't give us any indication of what the program looks like or how it is structured.
ATI Home Inspections Live Courses
The live courses are more limited than the online courses. For most states that offer these in person courses they are in one specific city and one for a few times a year.
For example, in Alabama last year they had live classes in Birmingham. The dates for the courses were July 27th-August 3rd, August 13th-17th, and September 12th-19th.
These live courses are a five full day commitment that must be built into the student's schedule. Students can do a combination of the online and in person courses.
If a student wants to get started now but there isn't a live course for several months, they can start with the online class. The student can then enroll in a hands on training course when one is available. ATI has designed their courses to work in this way.
We would have liked to see more information about the way a live course is set up. It would be helpful to have a sample schedule or agenda for the week for students to see what to expect.
---
ATI Home Inspection Pricing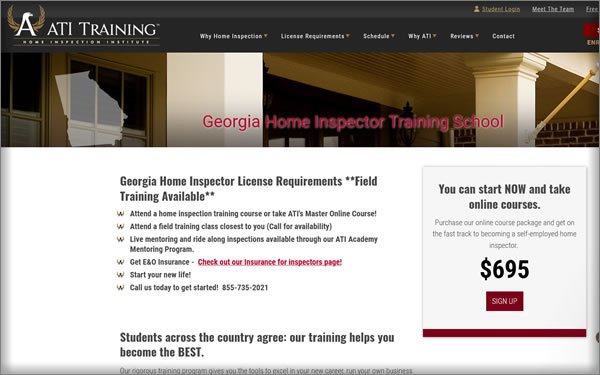 The ATI website does give some pricing information for the radon certification and the online course but there is no pricing available for the in-person course. Each state prices the in-person courses themselves so the prices vary.
But for students looking at starting with the online portion, they will still need to make a large investment. There are discount and financing options available.
The online courses for all of the eligible states are $695. Even though the website doesn't say what the in-person prices are, they do say that it will be under $1000.
For the radon certification course, each class section costs money. For the two separate sections needed for the certification, a student will need to pay $299 per class.
ATI Home Inspection doesn't offer different packages that we saw. Each type of class has one way to take the course and pay. No package deals other than the online course master package that we talked about earlier.
---
Pros and Cons of Using ATI
Part of this ATI Home Inspections review boils down the research to a pros and cons list for prospective students.
Pros
Informative Website
Great Instructor Support
Financing and Discount Options
Two Different Course Options
Can Serve all 50 States
Instructors Have Real World Experience
Cons
Website is Busy and Overcrowded
No Pricing Information on In-Person Courses
They Don't offer a Demo or Look at the Online Program
Did not answer our emails
Conclusion And Verdict
With years of experience behind their school and their instructors students will benefit during their education as well as their career. We appreciate several things about this school.
Such as the first responder and veterans discounts, financing options, and flexibility of course type. It was also helpful to have the requirements for each state listed on the website. We do think that information could have been less in the spotlight.
We have to wade through a lot of information to get to the course information. We would have also liked to see a demo as well as more information about the structure of the course. A small glimpse inside the course to give students an idea of what to expect is needed on the website.
Another piece of information we would want to see is pricing information for the in-person courses. Even if it was a range based on previous years or previous courses.
We contacted the school twice to see if we could get a response and we never heard back. Now this does not mean their support is bad. It does mean that we could not get help prior to signing up which was not a good sign to us.
However, the instructor support, experience, and success rate override all of the cons. The reviews from past students are also glowing and show that the course design and instructor support is a successful formula.
Based on this ATI Home Inspections review, this school would most likely help most students become qualified and successful home inspectors.
---
---