---
Are you looking to find out if the 360training program is good to help you get a real estate license? After our in-depth research into this course, this 360training Real Estate School review will give you what you need to know.
Getting a real estate license is a big step in anyone's life. It is something that requires focus, energy and commitment. However, it can be made easier by picking the right real estate school at which to take your pre-licensure classes.
In this 360training Real Estate School review, we will cover everything they have to offer. By understanding their process and how their courses work, you can choose whether they'll be right for you. Not everybody learns the same way and it is important to find a real estate school that understands this.
---
UPDATED: October 2023
Our Overall Rating

---
Overview Of 360training Real Estate School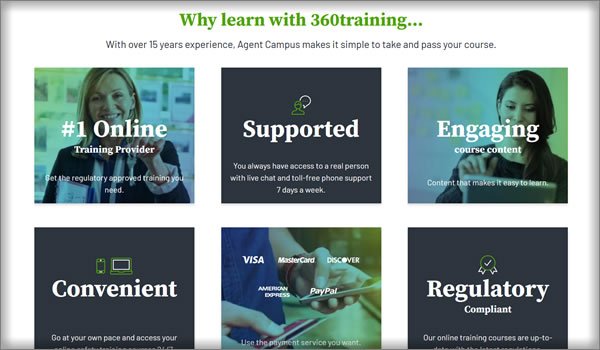 Since 1997, 360training Real Estate School has been helping students all over the country get licensed. That kind of experience has allowed them to cater to all kinds of people. This is a very important characteristic for a real estate school to have.
One of the most telling testaments to 360training Real Estate School's success is that many of their employees are former students. This benefits both the school and any potential students. The staff's experience with the courses and knowledge of the business is beneficial to everyone.
360training Real Estate School has taught over 4 million people since its inception. With that broad customer base, they have been able to hone their courses to be as accessible as possible.
While their main focus is in real estate, 360training also offers education in other industries. Because of this, they have over 6000 courses available to take online. This makes them one of the leaders in online training and education in the world.
By expanding their reach into other industries, they have been able to tailor the education experience to an individual's needs. They have a comprehensive understanding of what the average student needs and expects. The more they teach, the more you can benefit from their years of experience.
Instructors
One of the best things that 360training Real Estate School offers is access to instructors. While their courses are offered exclusively online, you always have the option to contact an instructor. This can be done either online or over-the-phone, depending on how comfortable you feel engaging with the instructor.
As stated above, many of the instructors at 360training Real Estate School are former students themselves. Because of this, you can be certain that they will understand any questions that you might have. This is very important since many people find online, self-guided learning to be a little bit impersonal.
Approach
360training Real Estate School takes an easy-to-understand approach to online education. Because they have taught so many different people with such different learning styles, they have made the courses accessible to all kinds of learners.
Since 360training offers many different courses in many different fields, they have called their real estate school Agent Campus. Agent Campus is heavy on information retention and focused repetition. They understand that this is how they can impart the most information to the widest variety of people.
This kind of focused repetition has shown to improve scores on the state real estate exam. Since this is the most nerve-wracking aspect of licensing for most people, they have worked to make it easy. By developing this approach, you can be certain that their courses will be easy to grasp and retain.
---
In-Depth Look At 360training Real Estate School Course
All of the courses offered by 360training and Agent Campus are approved and accredited by their governing bodies. This is incredibly important to look for in a real estate school. You do not want to go through all of your education hours just to find out they are not valid.
360training Real Estate School as a special emphasis on practicing real estate legally and ethically. This is an important aspect of being an agent that is often overlooked. By knowing your rights and restrictions, you can be certain that you are operating in compliance.
All of the courses offered are completely online. Because they do not have any brick-and-mortar locations, they are able to focus completely on their students. This also helps keep the general cost down for their classes.
Depending on your state, you may be able to complete the classes as fast as you want. However, some states have a requirement for the minimum amount of time you must take. You also want to make sure that you are not rushing through the courses.
One of the things that can help you along the way is 360training Real Estate School's access to instructors. By being able to check in with an instructor, you can make sure you are not rushing the process. This can also help with any specific, individual questions you may have that might not be answerable online.
They have also developed their courses to be as easy to understand as possible. Many people report that they have issues with online learning and ease-of-use. 360training has developed their courses to be as easy as possible while still helping you retain the information.
You can also access the courses on any device you choose. 360training Real Estate School has mobile apps and desktop software that you can use to access the lessons. This is a great feature for people who are trying to get their license on the go.
Another great feature of 360training's courses is that they are always up-to-date. Real estate law and codes tend to change over time. Because of this, they make sure that they are always updating their curriculum to reflect the latest laws.
---
360training Real Estate School Pricing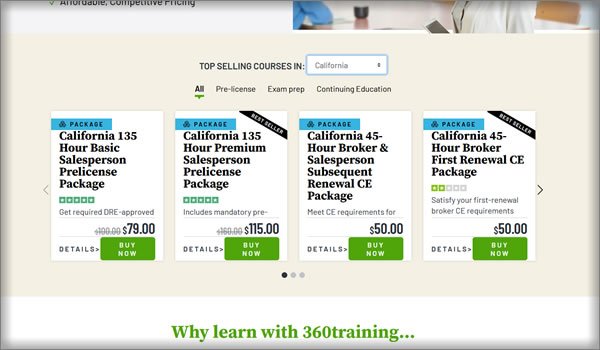 360training Real Estate School is unique in that they only offer two different education packages. This makes it easy to decide which might be best for your learning style. Depending on what that learning style is, you may be fine taking either of them.
The prices of the packages change depending on which state you are in. However, most of them run from $80 to $300. Because of this low price of entry, they make real estate licensing available to people from all kinds of backgrounds.
Both of the packages will fulfill the requirements for real estate pre-licensure for all states. The difference lies in some of the extras. Things like test prep might be more important to some people than others. For those who are just looking to complete the required education hours, the basic package may work just fine.
Basic Salesperson Prelicense Package
This basic salesperson package is the cheaper of the two packages. It includes four different courses that cover real estate law and best practices. These sections can be taken separately or at the same time depending on your needs. However, it is cheaper to get them as a bundle.
The real estate finance course will teach you everything you need to know about helping your clients get financing. This will cover things like loans, ethical practices and more. Financing tends to be one of the more complicated aspects of real estate and it is important that you understand it.
The 360training Real Estate School real estate practices course covers the nuts and bolts of the business. This will include things like agency relationships and how agencies are governed. These are crucial things for a real estate agent to have a deep knowledge of.
Premium Salesperson Prelicense Package
The courses offered in the premium package are a little more comprehensive. Depending on how prepared you need to be, this may be worth the extra money. It not only contains preparation for the exam, it also includes courses that will help with your career.
Many people think that all you have to do to become a real estate agent is pass the exam. In fact, in order to be a good real estate agent you must understand people. The premium package includes a customer relations course to help you with this very issue.
The premium package also includes a math refresher course. Math is one of the most important skills for a real estate agent to have and many people are intimidated by it. By taking this math refresher course, you can have the confidence required to effectively do the job.
The difference in price between the premium and basic package is usually less than $100. Because of this, it may be worth it to take the premium package no matter what you think your needs are. It never hurts to have a refresher and with so little difference in price, there's no reason not to do it.
---
Pros And Cons Of Using 360training Real Estate School
Pros
Ease of Use – All of the courses that you can take with 360training Real Estate School are as easy as they can possibly be. Because they service so many different types of students, they want to make the classes understandable. This is beneficial for all students no matter how well versed they might be.
Price – As far as online real estate schools go, 360training Real Estate School is relatively inexpensive. The price varies depending on the state but for the most part, their courses are affordable. This makes them a great choice for people who just want to try their hand at real estate.
Accessible Instructors – Many online real estate schools do not offer in person help with their online courses. 360training Real Estate School allows you to be in contact with an instructor 24 hours a day. This is incredibly helpful if you feel like you might need that little extra bit of attention.
Cheaper Premium Packages – Many times, the premium packages for online real estate schools are much more expensive than the basic ones. However, 360training does not have much of a price difference. This means that most people can afford to get the more comprehensive education.
Mobile Learning – The mobile app that is available is incredibly convenient. By being able to access your courses through your mobile phone, you can be studying or learning anywhere. Since many people get their real estate license in their spare time, this is a valuable feature to have access to.
Cons
Not Available in All States – Unfortunately, 360traning Real Estate School's pre-license courses are only available in 10 different states. Other real estate schools offer courses in many more states. Because of this, they will not be a good choice for everyone.
No Package Variety – Many times, real estate schools will allow you to mix and match courses to create a customized experience. Since 360training Real Estate School does not offer individual courses, you are stuck adhering to their curriculum. If having choices when it comes to content is important to you, you may want to look elsewhere.
No Guarantee – Unlike other real estate schools, they do not offer any kind of guarantee. Many times, you can find real estate schools that offer a pass or no pay guarantee. This means that if you do not pass the school's final exam, you do not have to pay your tuition. 360training does not offer this option.
No Financing – One of the downsides of having just two education packages available is that you have to pay upfront. Some schools will allow you to pay a deposit and the rest of the tuition later in the course. Because of this, not everyone will be able to pay the tuition up front right away.
Conclusion And Verdict
For the most part, students have been happy with their experience with 360training and Agent Campus. Some of these former students have even ended up working for the company. That is a fantastic testament to how they train their students and treat their staff.
If you are looking for a straightforward real estate education experience , 360training Real Estate School could be your best bet. Since they only offer two different packages, they make the choice easy for you. If you want an all-inclusive education experience, they are a great option.
However, if you are nervous about spending the money and not confident in your abilities as a student, you may want a guarantee. If not having that guarantee is a deal-breaker, you are going to want to look elsewhere. At 360training Real Estate School, you are responsible for your own success in the class.
Overall, the courses offered are accessible, easy to understand and ideal for most learning styles. They have a mix of independent study and instructor based education. This mix makes them a good choice for almost any kind of student.
By reading this 360training Real Estate School review, you have a good idea of whether they will be a good fit for you. Only you can fully know what you require in an education setting. If you think 360 training Real Estate School has what you need, you are already on your way to becoming an agent.
---