---
REMI School of Real Estate is a real estate school serving multiple states across the country. This school is one of many and has its own set of unique detriments and benefits to consider before committing. We've broken down everything you need to know in this REMI School of Real Estate review so that you can make the best decision for your real estate education.
---
UPDATED: December 2023
Our Overall Rating

---
Overview Of REMI School of Real Estate
REMI School of Real Estate was first founded in 2005, though it took a few years to expand across the country. However, the school first set down roots in Kailua, Hawaii, and calls the area home. Today, the school serves Georgia, Guam, Hawaii, Iowa, Kansas, Missouri, Oklahoma, Oregon, Tennessee, Virginia, Washington, and West Virginia.
The school is committed to using its experience as a course developer and technological innovator to progress online education development. Additionally, the school is committed to providing quality narrated courses and customer services to make online learning easier.
REMI School of Real Estate's leader is David Catanzaro, who serves as an instructor and is the school's founder. He is commonly well-regarded by the community, thanks to his expansive experience and teaching style. The industry praises David's forty years of experience in the real estate industry and his ability to teach everyday information that can be used.
Additionally, David has been certified as an International Distance Educator. His course has been approved by the Association of Real Estate License Law Officials. Also, the individual states in which REMI School of Real Estate serves have been accredited and deemed appropriate courses by the state.
As the school's lead instructor, it is important that David is well-qualified and engaging to help model coursework that is truly effective. As described by people in the industry and alumni, David has a teaching style that is "enjoyable and down-to-earth."
With a genuine passion for real estate and over forty years participating in the industry, David has an infectious passion for the industry. All of this information about David says that the school is closely modeled after it and emulates that heart for real estate and drive.
To date and since the school's opening in 2005, they have served over 10,000 customers and bring fifteen years of business operations to the table.
The school's mission statement, according to their website, is, "…to use innovative methods of teaching to offer professional pre and post-licensing development courses to students at a teaching level they can understand and afford."
---
In-Depth Look At REMI School of Real Estate
REMI offers schools in nearly a dozen states, including the Guam territory. With that being said, Hawaii is the only state to have pre-licensing courses, while the others have continuing education and elective options. Regardless, these courses are taught online in an innovative virtual format that promotes learning without compromising value.
At a glance, course benefits include 24/7 access so that you can learn when and where you want. Students are also able to access the course across all devices with an adaptable format, including phone, tablet, and computer.
As for teaching methods, the course relies on narrated presentations that students can listen to anywhere, anytime. Students can also benefit from customer support, informative and relative information, and fast processing upon course completion.
For exact course layout and offerings, students will need to check the state in which they hope to be licensed on the REMI website. For this guide, we'll check out the Hawaii program to better understand the course layout.
The Hawaii courses feature continuing education, pre-licensing, exam prep, and elective options. When it comes to the pre-licensing course, it includes all of the required hours of instruction, which is 60 hours in Hawaii.
The course has been state-approved and then features all mandatory information that will lead to passing the state exam. Information includes both national and state-specific data. It is also advertised as being written by an instructor with over 40 years, owner and operator David Catanzaro.
Students can navigate the course at their pace at any time of day and anywhere that makes sense for them. This also means there will be no instructor that is leading the discussion or interacting with students like livestream or classroom options might include. This course is entirely self-reliant.
Expect not only content-filled lectures but also quizzes and presentations that help to round out learning objections. While there is only one learning format and one package option, students might also enjoy adding on electives to round out their education, catering it to what they're looking for.
Electives offered by REMI School of Real Estate in Hawaii include:
Fair Play in Fair Housing
Pathways to Professionalism
Protecting Clients and Licensees During COVID-19
Using Home Inspections to Protect Your Clients
1031 Exchange for Real Estate Practitioners
About Fair Housing for Real Estate Practitioners
Applied Ethics in Practice: Case Studies
Basic Steps to Analyze Investment Property
Basics of Investment Property
Being Honest Is the Code We Live By
BPO and CMA: How to Value Residential Property
Disclosures in Residential Transactions
Listing and Buyer Representation Agreements
Policies to Reduce Risks
Property Management
Real Estate Math Made Easy
Real Estate Valuation
Risk Management: Protecting Your Clients
Social Media for Real Estate Practitioners, What's New
Time for Timeshares in Hawaii
Trends and Topics in Hawaii Real Estate
Understanding Green Homes
Valuation of Commercial Property
Violations – Learning from Others
These courses are great representatives of how diverse the curriculum is and what students can expect from the school, even if studying in another state. While there is not a specific course layout for the course itself available online, students can expect it to follow state mandates. Those guidelines include ethics, laws and regulations, and similar topics.
A Bit More on How the Courses Work
Courses are easy to follow as guided by the online platform. After purchasing, students will be able to access their first chapter and lesson. There, instructors walk students through the topics via narrated guidance. To help link the text and concepts to the reader, the instructor narrates and provides real-world examples that reflect on four decades of actions.
From there, students will be able to take notes, review previous materials, take quizzes to reflect on each chapter, all at their own rate. With that, students can stop and go as needed with their progress being saved throughout.
In order to receive credit for your course efforts, you must complete all lessons and tests as required by your state real estate department. From there, your completion will be submitted to the state by REMI, and then you can register for your exam. Guidelines vary from state to state, so it's important you follow your state's guidelines closely.
---
REMI School of Real Estate Pricing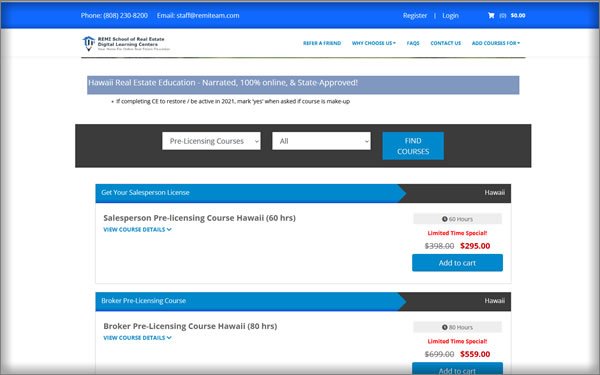 Pricing will vary depending on the state you're hoping to be licensed in and the course package you select. However, there is only an online learning option for REMI, so the price differences will be whether you're selecting a complete package, electives, and add-ons.
The Hawaiian salesperson pre-licensing course, which includes all 60 hours for $296.00.
Hawaiian Electives vary in time and, as such, reflect the price charged. The cheapest and electives are the three-hour sessions for $39.95. The longer sessions totaling six hours range upward of $79.95.
---
Pros And Cons Of Using REMI School of Real Estate
Pros
Pricing
The price for REMI's pre-licensing real estate course for Hawaii is considered affordable given the benefits of the program.
Multi-device Learning
Students won't have to wait until they're at home in front of their computers to study. REMI's course layout allows for learning online via tablets, mobiles, and laptops. This means that you can study when and wherever necessary.
Flexible Timeline
Because the course is self-reliant, students can navigate it at their own convenience. If you work a day job and can only dedicate nights and weekends to progressing your real estate career, you're in luck. REMI makes it as easy to study as you can.
Course Accessibility
Students can access their courses for up to six months. While the longer the access, the better, this is a great entry point, nonetheless. If you require further flexibility, you can reach out to REMI for more options. However, six months is the standard at this time.
Owned and Authored Courses
While many online real estate schools offer online learning through third-party platforms, REMI owns and authors its own courses. Rest assured, they're completely unique to the school and written by leader David Catanzaro.
Attentive Online Chat
Outside of technical support, students will have access to an online chat on the website that is available to answer any questions you might have. If you have questions about courses prior to buying, this is a great option, particularly because there is no refund policy.
Locally Grown Hawaii Option
When you opt to study in Hawaii, you are supporting a school that was built in and operated out of the state. Additionally, the school's creator is familiar with the Hawaii market and can offer unique insight into the marketplace. Being as this is the only state to currently offer pre-licensing courses, it's a perfect way to gain valuable insight.
Multiple Elective Options
While these add-ons are not necessary to complete pre-licensing coursework, it's an important benefit to mention. The electives hone in on different specific aspects of real estate and give students a more well-rounded perspective. This is especially useful if there is a specific area a new agent hopes to be focused on—for example, risk management in environmentally unstable areas.
Accreditation
The school is a certified option by ARELLO (Association of Real Estate License Law Officials) and IDECC (International Distance Education Certification Center). Additionally, every state REMI offers courses in, whether pre-licensing or continuing education, has approved the coursework.
Cons
Online Only
For students who want an in-person, or even livestream course that offers interaction and flexibility, REMI is not the best choice. Currently, the school only offers the online and self-paced alternative, making it hard for those that rely on interaction.
Refund Policy
Unfortunately, REMI offers no refund policy for students. If a student begins their learning with REMI and later realizes it's not for them, they're out of luck. Instead, REMI offers assistance if there is something blatantly wrong with the course, such as technical difficulties. This isn't quite flexible enough for students that change their minds on this course after subscription or if something happens preventing them from studying. It certainly is no match for institutions that offer money-back guarantees with no restrictions.
Limited Technology Support
Tech support is only available for students during traditional business hours every week. As such, students who are studying after hours and on weekends will not have access to tech support immediately. Oftentimes, this means waiting days to properly access your course again.
Conclusion And Verdict
When it comes to this REMI School of Real Estate review, it is important that we consider what other students had to say about their time with the school, both the good and bad. To do so, we usually look to websites like Indeed, Facebook, and the Better Business Bureau for more information. However, the school has very few reviews across the internet for students to check before purchase.
In fact, the only place to find third-party reviews for REMI is on Indeed, and unfortunately, they are not completely positive. Students praise the flexible class hours and affordability but do not necessarily praise the instructors or career preparation efforts.
One REMI School of Real Estate review said that the online program had typos and that the recorded videos were bland.
The school is not Better Business Bureau accredited, and thus, there is no information that attests to the school's business practices when it comes to complaints.
REMI's website itself has plenty of testimonials on its website from past students. Though, these are not objective and will be exclusively positive rather than showing the good and bad.
Some of the positive reviews include that the course was informative, convenient and that the instructive videos were more engaging than even some classroom alternatives. One commenter says,
"I was very impressed by the online course. Going into it I was very apprehensive, but after a couple of courses, there was a steady flow. It was very user friendly. I actually really enjoyed it and expanded my knowledge more than I expected. It was informative, challenging, but most of all convenient- with work, family, and other outside commitments- IT WAS GREAT…this course was on my schedule and I really appreciated that factor. Thank you for making my hectic life a little easier."
With all of this being said, the reviews are pretty mixed between the school's website and the third-party sites. While there is an overwhelming majority of positive reviews on REMI's site, the few that fall outside of the site are not all that positive, though that is very few.
Final Verdict
REMI School of Real Estate can be a great option for your pre-licensing needs. While reviews are limited, the positive ones fall in the majority here, and we choose to believe those best reflect the school's offerings versus a handful of complaints. There are a few areas for improvement, but overall, REMI offers a value and experience that few other institutions offer on the market.
That being said, we would choose Colibri Real Estate over REMI School of Real Estate. Colibri Real Estate has a longer track record and has proven themselves with many more students. Colibri Real Estate offers a passing guarantee and so much for the price. You simply can't beat them to get your real estate education.
---
---