---
Choosing a real estate school in California affords you many options which can make the choice difficult. This ADHI Schools review will focus on everything ADHI Schools has to offer to help you make an informed choice.
---
UPDATED: October 2023
Our Overall Rating

---
Overview of ADHI Schools
With so many real estate schools in California, the competition is around every corner. But ADHI Schools has not only survived the competition, but they have also grown and thrived.
The founder of ADHI Schools is competitive but also passionate about educating new real estate agents. As one of the top schools in the state of California, they have a great reputation for preparing prospective real estate agents.
The instructors they hire are all active agents or brokers. ADHI Schools has a generous compensation plan that draws in high-level instructors to prepare their students for the real world of real estate.
They have nearly two decades under their belt as a school. Founded in 2003 by Kartik Subramaniam with one idea in mind. He wanted to engage the students with interesting material that included experience and stories from real life.
He concluded that this was the best way to teach real estate. Keeping the students actively engaged with dynamic lecturers has led to the growth of the business and the success of the students.
It would be a monumental task to count the number of students that have gone through ADHI Schools in the previous 17 years but it is a large number. With so many locations throughout California, ADHI is accessible to a large population of potential agents.
---
In-Depth Look at ADHI Schools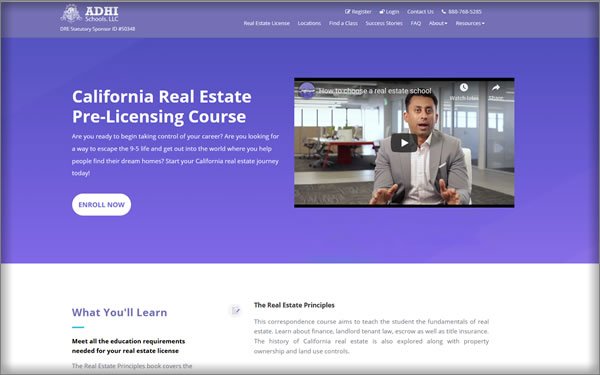 In this ADHI Schools Review, an in-depth look is imperative to understand what the school has to offer.
ADHI Schools Basic Course Offering
ADHI is a school that only offers pre-licensure courses. There is nothing on the website to indicate that they offer brokerage courses or post-licensure course options.
They do offer two ways to take the Pre-licensure course however, it should be noted that the school recommends that students take live courses.
The first, and most recommended option, has moved to Zoom for safety until in-person meetings can happen safely again. However, these are set up in a similar fashion to the in-person option.
Many schools that have a live option will tell you when and where to take your course. And while the live courses are scheduled at ADHI Schools, there are many options and students get to choose.
When the courses are in-person students can take their courses at any location they want for added flexibility. They can also take up to a year to complete the coursework. There won't be whole weekends spent on real estate education with this school unless the student wants to.
This also means that the students can go as quickly as they want as well. They do need to still follow the rule of 18 days between registering and taking the licensing exam.
The zoom options do give the students access to their instructors for any questions they may have. Interacting with a live person does have its advantages when it comes to exam preparation.
ADHI Schools is accredited in both the live classes and the online options. It has been determined that these courses meet all of the requirements to prepare students to get a California real estate license.
Online Course Options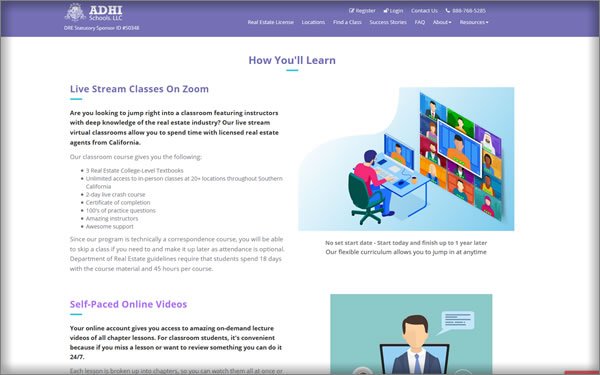 ADHI Schools does have an online self-paced option for students. However, they don't recommend that students take these over live courses.
They believe that the students benefit more from interactive courses with a live instructor and other students. They typically advise students to register for the live classes. Those students do get unlimited access to the on demand videos as well.
They act more as a supplement and a review for those students. The students who register for the self-paced online real estate courses do not get access to the live courses. They do get the required materials.
The textbook does not line up with the online modules so it will take some effort from the students to match the book section with the module.
It is small details like this that send the message to students that they don't want self-paced online students. That is one negative for this school.
They are premier and elite but they don't put as much value on online learning as other schools do. The course does cover real estate principles, practices, and one elective like the live courses but students will not get as much support.
The self-paced option does come with more than 100 practice questions to aid in exam preparation. The final is also online. This is a plus. Often the final exam will need to be in person with other online schools.
Live Class Options
The live classes are typically in person at one of the many California locations. However, the at the moment, things have changed a bit.
All of the live classes are on Zoom for the time being with hopes that in-person classes can start back up in the spring or summer. The live option does have more perks for students and definitely more support.
While the live and self-paced courses do cover the same materials and have the same books, the live course has better support. It also comes with a two day crash course for exam prep.
They also get access to all of the videos the self-paced course has for better review. There are a range of times to choose from for the different online classes. This gives the flexibility that students usually get when they register for in person classes.
When the in person courses are offered students can take the classes at any of the locations.
Trial Options
One thing we like about ADHI Schools is the fact that students can try it out for free. You can sign up for one free Zoom class to see if you like the format and the school. When the in-person classes are going, prospective students can attend one of those for free also.
This is a great way for students to see if ADHI Schools are a good fit for them. Not all real estate schools offer trials so this is a benefit for those wanting to start real estate school.
For the self-paced online version there is a trial option for that as well. To get the free trial future students can sign up for a seven day trial. This gives a good look into the platform and how the class is structured.
It would be wise to do both free trials. Take an online Zoom class for free and do the self-paced free trial to see which one is the best fit.
Since ADHI Schools do not offer any type of guarantee, taking advantage of the trial classes will give students confidence in their choices and abilities if they enroll. They claim that the key is keeping the students interested and are confident if students try the courses first, they will be hooked.
Locations
ADHI Schools do have multiple locations throughout the state of California. This is convenient for students when the in-person courses resume.
In fact, there are 17 locations. They are mostly found throughout Southern California.
Even though there are so many locations, ADHI schools only serve California residents wishing to work in the California real estate market.
---
ADHI Schools Pricing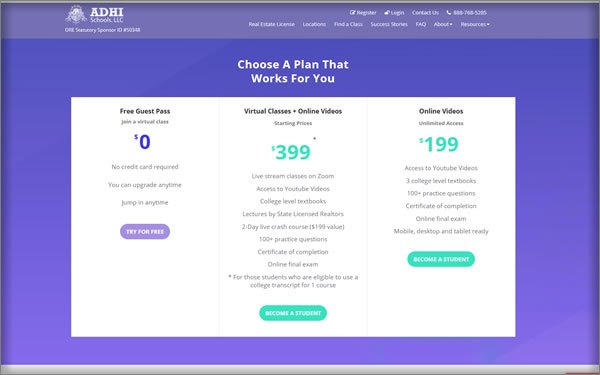 The pricing does vary between class platforms and structures. They really only offer two different types of packages. One is for the live course and one is for the self-paced course.
The online self-paced courses are less expensive than the live courses. This is due to less overhead and not paying live instructors.
While it is more budget friendly, it is clear that you will need to be self-motivated, organized, and willing to dig in the textbook for the correct information to match the module.
If that is something you are willing and able to do then the $199 for the self-paced option is a great value. This does include the cost of the textbooks.
If students choose the live option on Zoom it is more expensive but definitely has more benefits for the students. It has more support, the crash course, unlimited access to the videos from the self-paced options, and practice questions.
For $399, if it is in your budget, it is worth the extra money.
There is a refund policy if the class isn't what you thought or you decide not to pursue real estate after all. However, you only have seven days to request a refund. You will receive all of your money except $25.
They keep this for a processing fee.
If you want to join ADHI Schools but money is tight, they do have a payment plan option for qualified students. This requires a call to the office for the details.
The website does not say what the cost for in-person courses are when they resume. If you want to wait for those courses, keep an eye on their website. They update it regularly.
---
Pros and Cons of Using ADHI Schools
Even the most well put together real estate schools will have both good and bad things about it. It is up to the student to decide what they can look past and what they can't.
We have compiled a list of pros and cons from our research into ADHI Schools.
Pros
Multiple locations throughout California
17 years of experience
Self-paced online option
Free trial class and online trial
Payment plan option
One year enrollment
Cons
Negative about Self-paced course
Little support with self-paced online course
No guarantee
Bad response times to questions
Conclusion And Verdict
Throughout this ADHI Schools review we have looked in-depth at what the school has to offer both good and bad. There are things we think students will appreciate while there are other things that ADHI could do better or add to their program.
We do like that they have multiple locations. While it isn't helpful right now with the world in change, it is helpful when in-person classes start back up.
Students can take their courses at any location they want. This adds to the convenience and flexibility for students.
The number of years they have been in business is also a plus. They have had many years of experience to bring to the students.
This is confirmed by the lack of support students get when they enroll in this option. But they do offer a free trial for both the live and self-paced courses.
Not every school offers this so that is beneficial and appealing for students. Enrolled students have a year to take their courses. This allows for emergencies or other busy times to happen without derailing the student's real estate education.
We were not impressed with response times from this real estate school. We contacted them two times but never received a response.
Verdict
ADHI Schools have glowing reviews from past students. Most people were happy they chose this school. However, they are mostly live or in-person students.
We would recommend this school for the live options but it may not be a good option for self-paced online learning. This is simply due to the lack of support.
The fact that we could not get a response from them is not a good sign. We simply cannot recommend them at this time.
The fact is, there are better options for online real estate schools in California.
---