The state of California is famous for a lot of things. Movies, national parks and the beach are all synonymous with the Golden State. One of its most prominent qualities, though, is its incredibly lucrative real estate market.
With housing and commercial space at an all time premium, there has never been a better time to start selling. So many opportunities are popping up through development and building upwards. The market is flush with products and needs real estate agents to represent the properties.
If you are wondering how to become a real estate agent in California, the process is not that difficult. With a few steps and a little bit of dedication, you could be working at your new career fairly quickly. The real estate license requirements in California are numerous but certainly not impossible.
One of the top reasons to get a real estate license in California is the high ceiling of income. California is an expensive state, and having no cap on your income could be the thing that helps you thrive. There is no limit to what you could be able to make as a real estate agent.
In this article, we will discuss how to become a real estate agent in California. We will cover each step and offer ways to make the process somewhat easier. By following the steps and doing the work, you could be selling homes in California in no time.
---
Why Become a Real Estate Agent?
There are many reasons why a real estate agent is an attractive career. With so many options for self employment or side hustles, it can be hard to choose the right one. Finding a good balance between a workable schedule and a big paycheck can be difficult.
One of the best reasons to get a real estate license in California is the work schedule. Setting your own hours can be absolutely invaluable and could be a major factor in your decision. If a good work/life balance is important to you, real estate could be something you want to look into.
Another reason to get a real estate license in California is the relatively low cost of entry. There are other ways of getting into the real estate game, such as investing, but they are high risk. By working as an agent, you can get a foot into the business without putting up too much money.
Something to consider if you want to get a real estate license in California, though, is the time. Many people don't sell their first house for at least six months into their career. It is important to have enough money set aside to cover those first months.
As with any business venture, there are going to be a few risks associated with starting up. However, as far as businesses go, becoming a real estate agent might carry one of the lowest risks. This alone could be a reason to get licensed and give the industry a shot.
---
Before You Begin To Get A Real Estate License In California
Before you start your journey to become a real estate agent in California, there are factors you should consider. By having a realistic idea of the amount of time and money you can spend, you can set reasonable goals. Many people getting their licenses are also working full time day jobs at the same time.
Another thing to consider before figuring out how to get a real estate license in California is the cost. Even though it can be cheaper than investing in a property and flipping it, the cost of courses can add up. It is important to figure out whether or not you can front those start up costs.
Taking a look at the real estate market in your area is another good idea. Since new agents almost always start working under a broker, you are going to want to research them. Knowing ahead of time what broker you want to work with can save time and headaches later on.
Being a real estate agent is a competitive career. It is not the type of industry that is low pressure and can be done without much effort. It requires a lot of thought and foresight into how you like to work and what environment works for you.
If you have considered every angle of whether real estate is right for you, you are ready to get started. Being armed with what you are comfortable with will set you up for success. Knowing your own limitations can be a powerful asset.
---
Step One To Get A Real Estate License In California: Take the Courses
There are many, many options for taking online California real estate courses that satisfy the real estate license requirements in California. You can choose to take classes in person or online, depending on your situation and scheduling availability. If you are getting your license on the side, online courses could be a good choice.
One of the first requirements to get a real estate license in California is completing 135 hours of coursework. This work will cover things like real estate law, principles and best practices. This will help prepare you to meet all the needs of your clients going forward.
One of the benefits of taking the courses in person is having the one on one learning experience. By being in an actual classroom with others, some people are more likely to thrive. Depending on your learning style, you might consider a class in person.
For people who are more independently minded, online courses could be a good option. If you are getting into real estate for the independence and open schedule, this could be a good option. Knowing how you learn best will help you decide which types of classes are best for you.
If you are planning to get a real estate license in California, it's important that the classes are valid there. There are different classes and requirements for each state. Knowing for sure that your online courses will count before you start is imperative.
---
Step Two: Take the Course Final Exam
To get a real estate license in California, you must pass the final exam of your courses. This is different from the actual licensing exam. This will determine your eligibility for graduating from the courses, not getting your license.
The final course exam will consist of all the material you have covered in your courses. It will be a cumulative review of everything and you must pass with a 70 percent of higher. This final course exam will be a good prep for the actual state licensing exam.
If you are taking the courses online, it used to be that you had to take the exam with an official proctor. This means someone from the testing board would administer the exam in person. However, if you have applied after 9/25/19, a proctor is not necessary.
Many of the course final exams in California are timed. This means that you will usually have sixty seconds to complete each question on the test. Practicing on mock-up tests beforehand will allow you to be prepared for the timed aspect.
Taking the final exam is just one step when you become a real estate agent in California. Once this step is done, you have officially completed the training. In the next steps, you will use that training to get your career started.
---
Step Three To Get A Real Estate License In California: The License Exam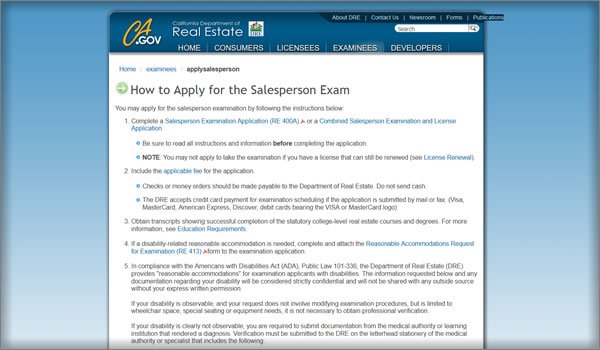 The real estate salesperson's exam is a big step when you get your real estate license in California. In this exam, you will take everything you learned in your courses and apply it to the real world. Like the final course exam, you must score at least 70 percent to pass.
There is a wealth of information on this exam that is readily available. Going over it before you sit down to do it can help your chances of passing the first time. Preparation is always key when it comes to test taking.
This exam consists of 150 questions total and you are given three and a half hours to finish it. Taking a practice test can help take some of the pressure off of the timed aspect and get you comfortable. If you are confident that you understand the questions, you will be more confident the day of the test.
To apply for the test, you must register with the California Department of Real Estate. You must obtain your transcript from the classes and pay the fee to the DRE. Processing for the applications can take up to six weeks before you get an exam date.
These wait times are why it is important to apply for the exam as soon as you finish the course. If you let too much time pass, there could be significant wait times for you to get your exam date. It is best to take it while the information is still fresh in your mind.
---
Step Four: Find a Sponsor
One of the more unique real estate license requirements in California is that you must be sponsored by a broker. Unfortunately, you can't just pass your test and start selling independently. You must find an agency to work for.
Brokers and agencies are going to vary from situation to situation. Sometimes, you will have independence right away. Other times, you will have to shadow an agent for a while to get a feel for how they do business.
This process can benefit greatly from a little bit of research. If you interview or talk with brokers while you are taking the courses, you can plan ahead. Working for a broker that aligns with your work ethic is essential.
The nice thing about being sponsored to start selling real estate in California is it gives you a leg up. You will have the benefit of the broker's branding, reputation and advertising to help get you started. This type of basic startup package makes the transition easier and makes sure you have what you need.
You are also not required to stay with the broker for any period of time. If, down the line, you decide to go out on your own or move agencies, you can do so. You are not locked into a contract with them outside of their own policies. This is where research and preparation can be the most essential.
---
Step Five: Apply for Your License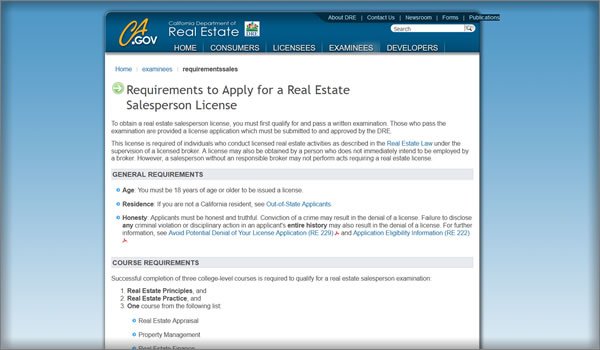 Another unique step in learning how to get a real estate agent in California is applying for your license. In California, after you pass the exam, you must apply for your official real estate license. You must do this within the first 12 months of taking the exam to make sure you get it in time.
The process of this application has many purposes. One is to obtain your fingerprints and do a background check. This must be completed in order for your license to be issued.
The Salesperson's License Application is to ensure that all agents working in the state are certified. This helps to protect you from fraudulent claims and other things that could come up in the course of work. Having your information readily available and on file is essential to running an ethical business.
There is an application fee that goes along with the Salesperson's License Application. It is nominal and just one of the things required to get your real estate license in California. Fees and hidden costs can add up, so it is important to prepare and save before you begin.
The oversight of real estate agents in California is fairly rigid. Luckily, the Salesperson's License Application is the last step of the entire process. Once your license is issued, you will only be responsible for renewals and continuing education courses in California.
---
Final Thoughts
If you want to become a real estate agent in California, there are a lot of things to consider. Whether or not you want, or are able, to put the work in should be the first one. You could end up losing money if you get halfway through the process and find it's not for you.
Understanding what the requirements are and having everything in order is also necessary. Selling homes requires a huge amount of organization so the exams and courses are good practice for that. They will help prepare you for whatever might be thrown your way out in the field.
If you are able to complete all of the requirements and pass all of the tests, you will be prepared. The exams and courses are designed for all kinds of learning styles. If you are dedicated and put in the work, you will be able to get to the finish line.
It is fairly time consuming figuring out how to become a real estate agent in California. The state has some of the strictest regulations in the country. However, it is still not as risky or expensive as real estate investing.
The beauty of being able to sell real estate is that you can make your own schedule. This makes it ideal for people who work part time or want a little bit of extra income. You get to decide how much money you could potentially make. There are not many jobs that can offer that kind of autonomy.
As with all business, there are a few risks involved with becoming a real estate agent in California. However, if you are able to thrive and the work environment is right for you, it could be ideal for you. By doing a bit of research, you can decide whether your skills and personality would be suited for the job. Helping people make a big purchase like a home can be incredibly rewarding for the right person.