To become a real estate appraiser can lead to a lucrative career that can allow you to work for yourself. Finding clients or working for a company will afford you a work life balance that many people strive for.
The appraiser is the one who determines the value of the property. It is typical to have a close working relationship with real estate agents. If you have been wondering how to become a real estate appraiser we have put together a general guide to help you.
---
Required Education to Become a Certified Appraiser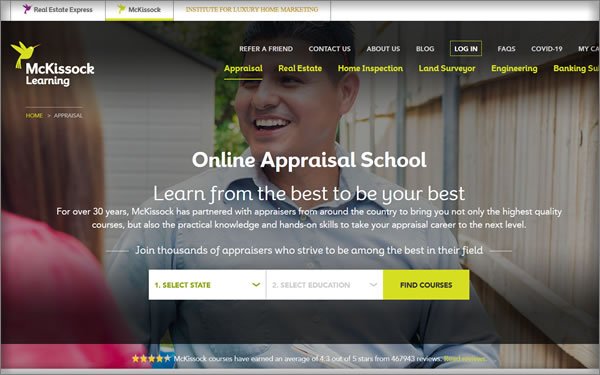 As with becoming a real estate agent, there is required education that a future appraiser will have to go through. These classes need to be taken through an accredited school that offers an appraiser course. (see the best real estate appraiser schools)
Typically students studying for the appraiser certifications will have to take a course of 79 hours total course work to start the process.
Many states are similar and require the basic appraisals procedure course as well as the appraisals principles course. This is in addition to the universal standards of professional appraisal practice and supervisory and trainee class.
All of these courses add up to the 79 hours of required education. The pricing will vary depending on the state and the school.
There are some states that vary as each state can make their own requirements. With some states there will be a greater number of education hours required before students are able to move on to the trainee part of the program.
A small portion of the state does have an appraiser trainee exam that is needed before moving on. However, this is not a common requirement for many states. Check with your particular state to find out what they require before moving forward.
Longer Process Than Real Estate Agents
To become an appraiser is a longer process than becoming a real estate agent. There are many hours of education before becoming a trainee and then more coursework after students become a trainee.
There is an additional 75 hours of course work required for appraiser trainees. This must be completed during the trainee process before the certification can be issued.
These courses are all residential focused and cover topics such as analysis, site value, report writing, and income approach just to highlight a few. Many of these courses can be taken online depending on the school students choose.
There may be package deals that will allow for a more streamlined and budget friendly approach. However, they can also be taken individually if that is what the student desires.
The pre-trainee coursework is just the first step when it comes to becoming a real estate appraiser.
Keep in mind that there are a few states that may require some college coursework. There are states that may even require an associate's degree to proceed with an appraisal license.
However, this is above and beyond the minimum standards and most states don't have this requirement to become an appraiser. It is wise to check before starting the program in your state.
---
Required Experience and Exams to Become a Real Estate Appraiser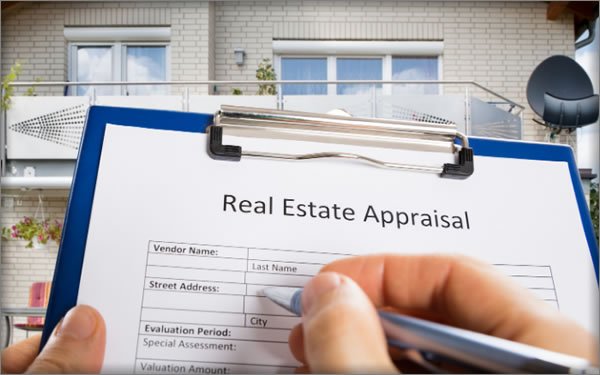 Along with the required coursework pre and post becoming a real estate appraisal trainee there are other requirements. To get an appraisal license in any state students must have a certain amount of experience.
The students must also pass examinations to become a certified appraiser. The examinations will go by state and can be different. This is where it is important to have accurate information for your home state.
The training and experience part of the process is the longest part. Most states require trainees to log 1,000 hours of experience. This can be difficult unless students find a small appraisal firm or a mentor willing to hire them without a certification.
Finding a place to complete your training hours will take some leg work on your part. This could mean finding all of the appraisal offices in your area and calling them. Students should expect the training hours to take a minimum of six months.
The requirements require that the trainee part of the process must take at least six months. However, make sure you check with your state program. They do have the ability to add to the requirements.
Meeting all of the requirements to become a real estate appraiser can take time but once it is done students are able to sit for the examination. This is called the real property appraiser examination.
Passing this exam will license you in your state and is one of the final steps regarding how to get an appraiser license. The exam is a thorough exam that will cover everything from the legal aspect to appraisal math.
There are preparation courses offered for this exam and sometimes a prep course may even be included in an education package. How to become a real estate appraiser hinges on passing this exam.
Without passing the exam, students will not be eligible to apply for their appraiser license. Students are able to take the exam more than once, however, they will need to pay the testing fee again.
Upon passing the licensing exam to become a real estate appraiser students can apply for their license. Once the license is received students are no longer students. They are appraisers who can work on their own.
However, there are stipulations. The appraiser can only appraise residential properties that are valued up to $1,000,000. These need to be 1-4-unit residences.
Depending on the state and their own requirements some appraisers will only be able to appraise home up to $250,000 in value.
How to get an appraiser license for homes over these values is straightforward. It does require more course work. It also requires appraisers to be certified rather than just licensed.
The certification process isn't difficult but it can be time consuming.
---
Becoming a Certified Real Estate Appraiser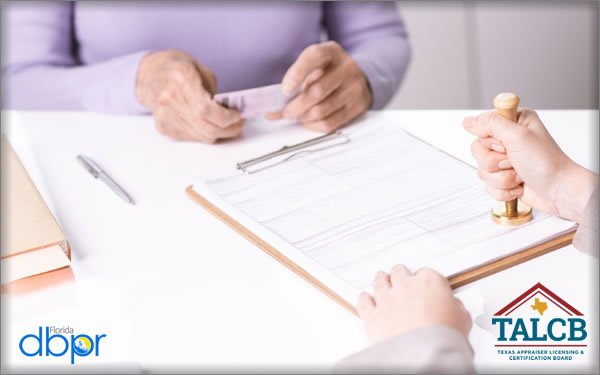 How to become a real estate appraiser can be a daunting process. To become a real estate appraiser with a license is a long process and can take a year or more depending on how quickly students get their experience.
But there is another level to the appraisal career. Becoming a certified appraiser is a way to increase your career prospects as a real estate appraiser and even make more money. (see the appraiser income guide to learn current income trends of general appraisers)
The process to become certified is not quite as long as the initial licensing but it does require additional coursework and training. However, choosing to become a real estate appraiser who is certified rather than just licensed will give you better marketability.
There are clients who do prefer to work with certified, rather than licensed, appraisers. Banks are one of these clients.
It is possible to be hired by a bank with just a license however, they typically prefer the certified appraisers for their jobs.
There are three requirements which must be met before becoming a certified appraiser.
200 hours of required coursework. This may seem like a lot of coursework but the education licensed appraisers have does go towards this total.
There is also a training requirement. This needs to be 1500 hours spread over one year. The license trainee experience does count towards these hours.
To be certified as an appraiser a bachelor's or associate's degree is required. Appraisers can also have 30-hours of completed college credits.
It is important to remember that each state can set their own requirements. Make sure you know how to become a real estate appraiser in your state.
Once the certification is obtained, appraisers can appraise 1-4-unit properties as well as vacant land of all sizes. This will increase the appraiser's workload and increase their financial freedom.
Within the certification levels there is one final level of certification that will allow the appraiser to work for anyone regardless of property type. Becoming a certified general appraiser will allow the appraiser to value commercial and residential properties of all sizes.
They can also appraise agricultural properties as well. This type of certification will open up opportunities for the appraiser.
There are additional requirements to become a real estate appraiser who is also a certified general appraiser.
They will need an additional 300 hours of approved coursework.
They will need a minimum college education at a bachelor's degree level. Since certified appraisers must have an Associate's, it could be a matter of just finishing a four year degree.
They will need 3,000 hours of appraisals in the field done in 30 months or more. 1500 hours of this experience will need to be property that is not for residential purposes.
If a certified appraiser does meet all of these requirements then they are eligible to apply to become a certified general appraiser. Applications are often rejected if the requirements are met perfectly.
Double check your experience hours as well as your coursework before submitting your application. A rejected application will make the process go slower for students.
---
Possible Issues to Become a Real Estate Appraiser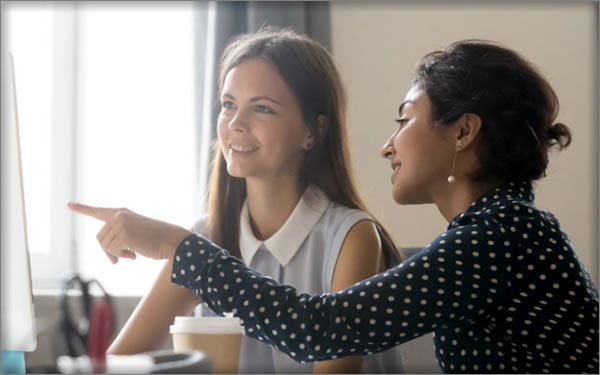 With all of the different levels of appraisal licensing and certification there are going to be issues that can arise. These issues can make the process to become a real estate appraiser difficult. Students must be dedicated and persistent to make it through the education and training process.
There are three big issues that are common when trying to obtain a real estate appraiser license or certification. Knowing these ahead of time can prepare students for the issues so they can be prepared to deal with them.
1. Finding Someone to Be Your Mentor
To become a real estate appraiser there are required field training hours. To make this happen the student will need to find a mentor to work with. This is a difficult part of the process.
Finding a working appraiser who isn't afraid to train the competition is not easy. If students do find a mentor there is a chance that they will make the process difficult.
There are a few ways they could make the training process hard for students. The appraiser could make it difficult, if not impossible, to get the hours required.
Often appraisers will only take the student on short jobs, or will fail to explain or let the student work so they don't actually learn anything. Unfortunately, this is not uncommon.
However, it is a problem that may not be avoidable. A training mentor is essential to the licensing process. A way to try to make sure you get a good mentor is to do some research.
Find out if the appraiser has mentored before, if they have, try to find past students and ask about their experience. You could also ask a relatively new appraiser how they got their hours.
Just keep in mind that you are excited to start a new career but other appraisers won't be excited to have more competition. Be understanding of the appraisers who have been working if they don't want to take on a trainee.
2. Time Required for Experience
Typically when people want to change careers they want to make it happen as quickly as possible. But with the time that is required to gain field experience, becoming a licensed or certified appraiser can take a long time.
Just to be licensed an appraiser has to have 1,000 hours of experience. This is a lot of hours and it has to take students at least six months to complete. The hours of required experience used to be higher.
The appraisal board decided to change the training hours requirement because logging 2,000 hours over a one year period was resulting in less licensed appraisers. Even so, 1,000 hours of training is a lot of training.
There are ways to make the training part go as quickly as possible. Regardless it has to take six months but if that is all of the time you want to take follow these tips.
Choose an office that is constantly busy. Choosing an office or mentor appraiser who doesn't work much will only drag the process out. It is important to make sure there is plenty of work for your training.
Office hours don't count towards the training hours. The hours have to be in the field so make sure the office or appraiser you choose is in the field doing appraisals most of the day.
3. Often Jobs Require a Certification
One of the most frustrating things students run into to become an appraiser is most jobs require certifications. When trying to get licensed or even get certified there are a large number of jobs that won't hire an appraiser unless they are certified.
It can become disheartening for the students because until they get hired they can't continue the process to become an appraiser. But they have to work to become an appraiser.
Choosing a busy office is great but if they won't hire a trainee then you might have to settle for a smaller office that isn't as busy. It will take you longer to get your license but in the end you will have a license or certification.
Being persistent will pay off when trying to find a mentor or office to hire you for your training hours. Calling, asking around, and going into offices to find a place to hire you are some of the best ways to find a mentor or office.
---
Conclusion
Becoming a real estate appraiser can be an exciting career change but there are many things to know about how to become a licensed, certified, or certified general appraiser. This guide will serve as a starting point to become a real estate appraiser.
These are the general steps and requirements but each state can do things differently. When researching how to become a real estate appraiser make sure you look at your own state's requirements.
This will ensure that you are not doing something that is not needed and slowing the process down. There is a guide following this which will give an overview of each state's requirements.
---
State By State Requirements To Become a Real Estate Appraiser
Below you will find the requirements to become a real estate appraiser in each state. Just find your state in the list below to see the requirements for your location: