---
If you have been considering loan signing as a career, you're probably looking for the best notary signing agent courses. Searching for notary signing agent training can be difficult. That's why we have put together this guide to help you make the right decision.
---
1. Loan Signing System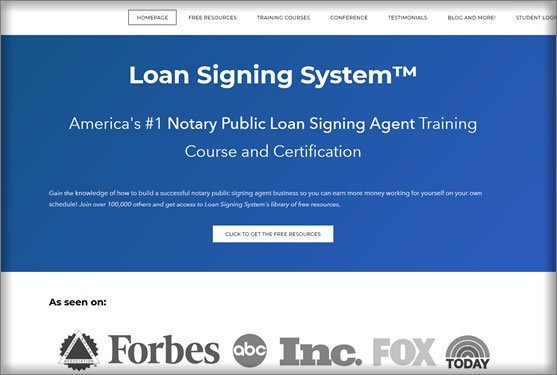 About
Loan Signing System offers notary signing agent training for all kinds of needs. They have three different courses available to you depending on what you want to do with your career. Everyone from casual signing agents to dedicated professionals will find what they need to succeed.
Loan Signing System was formed by Mark Willis, a professional loan signing agent. Mark has developed his notary signing agent courses to be as informative and accessible as possible to all kinds of students. Because of this, he is able to offer tailored courses that appeal to a wide variety of people.
Loan Signing System has a specific focus on your career after you have become licensed. This is incredibly important since that is half the battle of being a successful loan signing agent. By having this interest in your success, they are able to provide exceptional education.
Price
Loan Signing System offers a notary signing agent course for every type of student. Their packages are all designed differently to cater to the ambitions of each person. Because of this, you can choose how you want to move forward depending on your needs.
They offer notary signing agent training in three different packages. These packages range between $200 and $500 for each one. This is a relatively affordable price for anyone who is interested in becoming a notary signing agent.
Some of these packages include things like one on one training with the founder himself. The most comprehensive one even includes a six month mentorship to guide you in your career. For these prices, it is difficult to think that they aren't worth the price of admission.
Resources
Loan Signing System also offers many resources along with their training. These resources can be a major help to you, especially if you are just getting started in the business. Getting licensed is one thing, but becoming a success is quite another all together.
One of the resources they offer on top of their notary signing agent course is a blog. This blog has many helpful tips to get you informed before you even begin your training. By reading through their articles, you can get a good idea of what you are signing up for.
They also offer an annual conference where you can meet and network with other signing agents. This industry is very heavy on relationships, and it can be tough to nurture those when starting out. By attending this conference, you can get to know people and start building those relationships.
Pros and Cons
Pro – Financing: Loan Signing System has three affordable training packages for students to choose. However, you also have the option to pay for their Professional and Six Figure courses in installments of 4 or 6 payments, which makes budgeting even easier.
Pro – Career Advice: In addition to helping you train to become a notary, this course will provide you with tips on how to be successful in your new career. For example, their Professional course offers tips on how to earn repeat customers by packaging multiple documents.
Pro – Direct Assistance: By signing up for the Six Figure course, you'll be able to contact instructor Mark directly if you have any questions. This is truly a resource worth six figures, since it means you get to benefit from the insight of an experienced professional.
Bottom Line
This is our top pick for aspiring notary signing agents because it goes the distance to provide you with the knowledge to not only perform your professional duties correctly, but to also use your new skillset to build a successful career.
---
2. Notary.net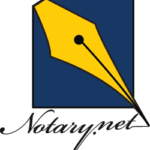 About
Notary.net offers state-specific training resources for most of the US. For over 15 years, the company Notary Rotary, Inc., provides training that has helped countless professionals become licensed notaries all over the country.
Price
Prices for online courses vary depending on the state, but you can access most of them for less than $100. Additionally, these study courses frequently go on sale. Seminars are typically priced the same as the online courses, although promotional discounts or sales for these are rare. Finally, notary supplies through this site are priced identically to their cost at any online or physical retailer, with state-specific shipping and taxes added to your total.
Resources
Most of their educational content is provided through online courses that heavily incorporate video instruction. However, you're also able to contact instructors and fellow students for additional insight into the training process, and you'll earn a certificate of completion specifically tailored to the state in which you plan to work as a notary public.
In addition to their online courses, Notary.net also hosts live in-person seminars at physical locations across the country. These seminars will meet the hour requirement for each jurisdiction and includes an exam at the end; essentially, it covers the entire notary certification process from start to finish!
On top of this, Notary.net also sells office supplies specific to the profession, such as stamps, bonds, and journals.
Pros and Cons
Pro – State Specific: By offering specific online courses for 46 different states, Notary.net is able to provide a personalized and relevant experience for all enrolled students.
Pro – Seminars: It's rare to find online courses that also offer in-person instruction, but Notary.net offers exactly that with their live seminars. Since these cost about the same as an online course, it's a great idea to try one if they're available in your area.
Con – Limited Availability. Unfortunately, this website doesn't offer full coverage for all 50 states. If you're in Florida, Nevada, or North Carolina, there's nothing here that can help you.
Bottom Line
This is the best option for anyone who wants to attend an in-person class to become certified as a notary public. But even if you're only interested in online education or some office supplies, this is still a fantastic choice.
---
3. Notaries.com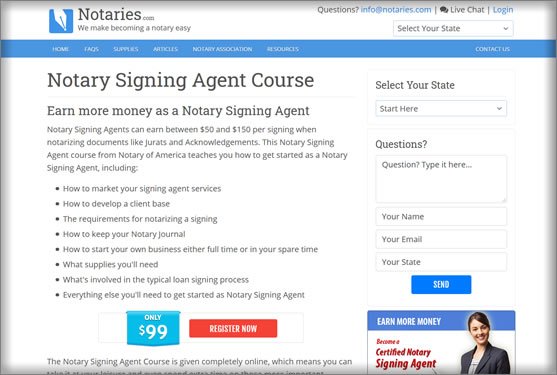 About
Notaries.com (not to be confused with the previous website, Notary.net) offers a notary signing agent course on top of all their regular notary services. This is one of the reasons they are one of the most comprehensive courses available. They are a one-stop-shop for anyone who is looking to get into the notary industry.
Notaries.com has been around in some form or another since 1965. In this time, they have learned everything there is to know about the industry. This kind of longevity is a great reason to use them for your notary signing agent course.
They have a standard of excellence that is a way of life for them. Because they are one of the oldest notary resources in the U.S., they have seen all the different changes come and go. This makes them a great choice for people who want the best possible training for their career.
Price
The notary signing agent course offered by Notaries.com is on the very low end of the spectrum. For just $99, you can get everything you need to pass the NNA exam in your state. For this price, it is a good idea for anyone looking to get into this business.
Because notary signing agents are in such high demand, the fact that the price is low is a major plus. You will receive everything you need, such as ways to market your business and a notary journal. All of these features will come in handy as you move forward and start your career as a signing agent.
This notary signing agent course is taken completely online. Because of this, you have up to 90 days to complete it. This is a great feature for people who might be getting their license in their spare time.
Resources
Notaries.com offers a wide range of resources for their students and for people looking to take the course. On their website, they have the Notary Handbook for every state that you can take a look at. This is highly recommended, since the rules and regulations are different for every state.
They also offer a 12 Step Notary Checklist that is a great resource if you don't know where to start. Having this checklist handy will give you a good idea of all the different steps you need to take. If you are just starting out in the industry, having this handy could be a big help as you move forward.
They also offer things like order forms for notary stamps and other supplies that you will need. This makes them a one-stop-shop for notaries and a great place to go for anyone in the industry. On top of their training, they can help you throughout your entire career.
Pros and Cons
Pro – Checklist: Having a checklist to work off of when progressing through this course will help you stay focused and remember the end goal of your efforts. This kind of structured approach to career planning is essential, and everyone who enrolls in this course can benefit from its inclusion.
Pro – Free Documents: Once you become an established notary in your district, you can still benefit from the free resources offered on this site. For example, several blank documents for state-specific procedures are available for you to print and distribute to your clients.
Con – Availability: Despite its name implying that this is a ubiquitous resource for all aspiring notaries, Notaries.com only offers certification services for 14 states. But if you're trying to become a licensed notary in another state, you can still consult some of the free resources on this site.
Bottom Line
Although they don't offer the same amenities in every state, Notaries.com has enough free resources to benefit any current or aspiring notary signing agent. You should definitely visit this site just in case, since they most likely offer some kind of resource or service that can benefit you in your career.
---
4. Notary of America
About
Notary of America is a company that offers all kinds of resources for those in the notary business. They are operated by the Insurance Division of the American Safety Council. Because of this, you can be sure that they have everything you need for your training.
Notary of America not only offers training, but they also offer things like supplies for notaries. They are another example of a company that wants to provide you with everything for your business. This is a great option for people who don't want to spread out their business dealings.
Because they are operated by a national governing body, you can be confident in their training. They are going to be in compliance with all the laws and regulations of your state. This is incredibly important in the notary business and something you should be cognizant of.
Price
The notary signing agent course offered by Notary of America is just $99. For this price, you will get training in things like what each signing requires. You will also get training developing a stable of clients and marketing your business.
Because marketing is one of the things new agents struggle with, getting it in your training is a major plus. Learning this all important step from an experienced group can be incredibly helpful. They will know the tried and true ways to get your base of customers up and running.
You can also take this course online and at your own pace. Many people get their notary signing agent license in their spare time. The fact that you can take up to three months to get it is an important bonus.
Resources
One of the best resources that Notary of America offers is membership to the Notary Association of America. The NAA is the number one association for people working in this industry. Having a connection to other notaries has many important benefits.
One of the best things about joining the NAA is getting access to notary professionals. With a membership, you can call their team and ask questions any time you have them. This is not something that everyone can do and should be taken advantage of if you can.
You also get access to training courses that can help you throughout your career. Any professional will tell you that development depends on your ability to learn. By enrolling in these extra courses, you can stay sharp on your skills as a notary signing agent.
Pros and Cons
Pro – Fast and Cheap: It's hard to find convenient and affordable resources these days; fortunately, this is one of the few online exceptions. Without paying an exorbitant fee, you can go from start to finish in your notary application process within the same day!
Pro – Specialized Supplies: If you want to avoid yet another trip to Staples, check out some of the supplies available through this site. You can pick up specialized tools that are perfect for your new career, such as an acknowledgement stamp or finger printer.
Con – Even More Limited: Although our #2 pick is only available in 14 states, Notary of America only offers 12. This is concerning if you're not located in one of the chosen areas, especially since this site doesn't offer as many convenient free resources as Notaries.com.
Bottom Line
This is a great site if you need to special order some office supplies related to your notary services, but it's not the best at helping you actually become a notary signing agent unless you're in one of the 12 states they cover.
---
5. National Notary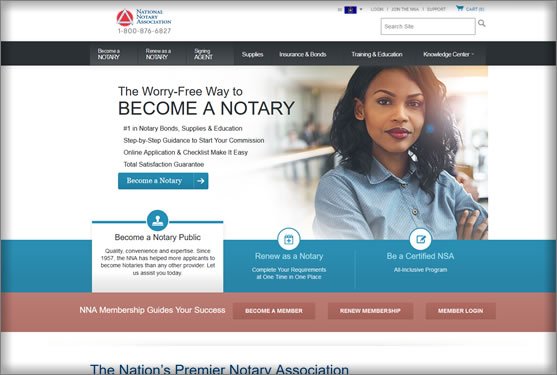 About
National Notary is a notary signing agent education course run by the National Notary Association. This is one of the leading associations in the industry and they know everything a notary needs. Because of this, they are a great option for those looking for the best notary signing agent course.
The NNA is incredibly experienced in helping new agents get their bearings in the industry. They have been helping people get the clients and connections they need. This is incredibly important to people who might not know how to get started.
By getting your education with such an established association, you would be starting off on the right foot. Associating yourself with the NNA is a great way to attract clients and escrow agents alike. They are a known name in the business and have the cache that goes with that.
Price
National Notary offers different options for their training courses. The option that you choose will depend on what kind of signing agent you plan to be. Not everyone has the same needs and so not every course will be right for them.
Their basic certification comes in at $189. This will give you everything you need to pass the exam and get working as a signing agent. However, it does not include some of the extras that they can offer that can help you get started.
Their complete certification is a little more pricey at $259. One of the benefits of this package is that you will also receive 20 percent off of notary supplies. This can be one of the things that adds up as you move forward in your career. Having that discount could be a major money saver down the line.
With this package, you also receive things like loan signing prep sheets and a study guide for the exam. These extras are all things that not only help you get ready for the exam, but for your career as well.
Since the complete certification is only $70 more than the basic one, it might be worth it. If you are just getting started in the business, having access to these extras is a big help. It's not something that you will want to miss out on as a novice.
Resources
One of the best resources that National Notary offers is their client match-ups. They can actually help you land your first clients as a notary signing agent. This is not something that every signing agent school can offer to new agents.
Since getting clients is one of the things that people tend to struggle with the most, this is very helpful. When you are just starting out, it can be hard to build your customer base. Getting these first clients matched with you can give you a head start on your career.
They also offer a background screening for just $70. Since the background check is an essential step of the process, it is good to get it through your school. You can be sure that you are getting the proper check done and that it will be valid and thorough.
Pros and Cons
Pro – Availability: Unlike some of the courses on this list, National Notary offers resources to help professionals become certified notaries in all 50 states and D.C. This is extremely convenient and eliminates the need for you to visit any other sites when planning your career.
Pro – Full Supplies: Like our #3 pick, National Notary sells specific office supplies that you'll need as a professional notary. However, they make it even more convenient by bundling them into a package that also includes loan documents and references for other situations.
Con – Professional Support: Although you can purchase insurance for any errors or omissions, this online resource lacks the personalized support provided by our top pick. Without guidance from an experienced professional, you'll be left on your own after earning your cert and obtaining your supplies.
Bottom Line
The National Notary Association has put together a fantastic collection of resources for notaries all over the country. However, you won't have the kind of instruction that ensures your new career is a success, which means it may take longer for you to see the results you desire.
---
Final Thoughts
Becoming a notary signing agent can be an incredibly lucrative undertaking. For not much money or effort, you can be working as an agent in a short period of time. There is also a high demand for signing agents in areas that have a lot of real estate transactions.
By looking for the best notary signing agent course, you are already off to a good start. High quality training will give you the leg up you need and get the ball rolling early.