---
Bert Rodgers Schools is a Florida-based real estate schooling option for real estate professionals. The school offers a variety of options for Florida natives and is one of many options in the state. We've rounded up everything you need to know about the school in our Bert Rodgers Schools review below, including if we recommend it as your licensing school choice.
---
UPDATED: December 2023
Our Overall Rating

---
Overview Of Bert Rodgers Schools
This real estate school has quite the list of accolades and offers a robust history online for potential students to consider. Originally beginning services in 1958, this school has been around for over half a decade and continues to operate proudly in Florida. Though nationally known, the school maintains a small operating team as it is family-owned.
Here, you can choose multiple pathways, including pre-licensing, post-licensing, and continuing education, as well as mortgage and appraisal. While there are many opportunities for students in all aspects and stages in a real estate career, this review will focus on the pre-licensing options.
Upon opening, the school has served as many as 2 million students! Being as this is a Florida-centered option, the number of alumni at Bert Rodgers is a major accomplishment. The school is designed for those that require flexibility in an affordable and quality format.
The staff at Bert Rodgers consists of well-qualified individuals who bring unique experiences to create a well-rounded education for students. While the professionals and their bios are not directly available on the website, they are very open to contact and discuss further.
The school is Better Business Bureau accredited, a licensed service provider in Florida. Bert Rodgers Schools also claims to be the leading provider of Florida online real estate courses.
---
In-Depth Look At Bert Rodgers Schools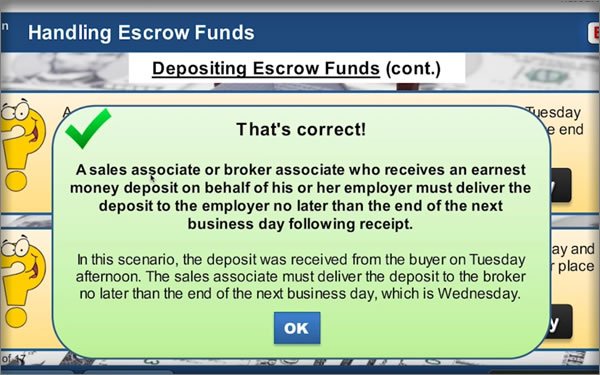 When it comes to the pre-licensing courses, Bert Rodgers Schools is extremely flexible with its offerings and encourages hopeful students to contact the school so that they can help create a custom plan for students.
However, students can find everything regarding courses online, including a breakdown of the 63-hour state-mandated pre-licensing course. The course formats come in both online and livestream format.
Students can choose between the two options and select what works best for them and their needs. Both choices will maintain the same high level of quality, and a student will not need to format a thorough education if they decide to choose the online over live streaming option.
The Online Course
This course is completely self-paced, and students are able to navigate at the pace they feel is best for them. Modes of teaching include video modules, progress check-ins, and interactive exercises.
While self-guided, the course does still maintain a solid structure that will guide students along. If there is a question or concern, students will still have access to instructors and the Bert Rodgers staff.
Online Course Breakdown and Inclusions
When purchasing the online course, you will have two options to choose between, the Career Starter Package and the License to Success Package.
Career Starter Package: this package includes the basics and is considered the least comprehensive package of the two options. It includes the interactive online real estate course, which includes six-month access and a Language of Florida Real Estate Guide.
The package also includes a State Exam Prep Review Course with two state exam practice tests, each with 100$. The course also includes a PASS Audio Program with highlights of the most important aspects of education so students can study on the go.
The License to Success Package: this package includes all that the Career Starter Package does and a bit more. Deemed the best values, this package includes an extra six months of access for a total of one-year tuition validity. It also includes a hard copy of a textbook to complement and help guide you through the online coursework.
The package also includes a hard copy of 1000 practice questions and answers for studying, additional online practice questions, a State Exam Prep Review Course with an additional 200 questions.
Bert Rodgers Schools Livestream Course Option
This course is similar in teaching tools to the online course, except instructors are leading the course the entire time. Rather than interacting with the online layout the entire time, students can interact with professors and other students as if they were in a live classroom. Another benefit of the livestream course option is answers and feedback in real-time rather than waiting for an email or contact form response.
While this course option is online, it aims to be as interactive and similar to an in-person course option while still being flexible. Students won't need to worry about commutes or accessibility issues. Instead, it is the best of both worlds.
Livestream Course Breakdown and Inclusions
The livestream learning option only has one package option. Though a bit more expensive than the completely online self-guided option, it has many more benefits for those that prosper in live learning formats.
The Livestream Course Package includes the 63-hour pre-licensing livestream course and includes one year of valid tuition. This means if something happens, you have an entire 12 months to complete your education.
The package also includes Weekend Livestream CRAM Review Courses in which students can answer questions that focus on the most important aspects of the state licensing exam. Similar to the solely online course option, you'll have access to online practice exams and an additional State Exam Online Prep Review Course with two one-hundred question state exam questions.
Additionally, you will receive a hard copy of the course textbook to help embellish your education and work to navigate the course along with your instructor. Lastly, students will have access to the PASS Audio Program and Language of Florida Real Estate Guide, which includes summaries of big definitions and things to know throughout your career.
Bert Rodgers Schools Exam Prep Options
In addition to traditional licensing options, there are also exam prep options for students to consider. The school offers three of them: Sales Associate Online Practice Exams, Broker Online Practice Exams, Mutual Recognition Online Practice Exams.
Full Prep for Success
This course is designed solely to help you pass the real estate exam on your first attempt. Course content includes a state exam prep course, online practice questions, state exam simulator, pass audio reviews, and language of Florida real estate. Many of these features, including the general exam prep add-on, will be included in the course if you choose to study at the school.
Mutual Recognition Online Practice Exams
If you are a student from another state hoping to be licensed in the state of Florida, this is a great option to prepare for the real estate exam. In Florida, you can obtain reciprocity if you are able to pass the law portion of the exam, and this crash course can help you get there. States eligible for reciprocity include Alabama, Arkansas, Connecticut, Georgia, Illinois, Mississippi, Nebraska, and Rhode Island.
Included in this exam prep are seven chapters of information. To help aid in easy studying, each chapter includes video overviews of chapters, self-assessments, a main menu dashboard, law text, on-demand learning, printable/PDF chapters for on-the-go studying, online review quizzes, and law review questions.
Bert Rodgers Schools Support
For both options, support is easily accessible. The layout that works best for you may depend on how fast you would like to have feedback and answers. For example, if you will be studying late nights and weekends in the online program, answers may come the following week. The livestream option may offer answers immediately, but only during class hours. If you choose to do extra studying on your own, you will need to email questions just like online self-guided learners.
Prospective students can find support during business hours. The school has an extensive list of contact methods, including phone, live chat, support tickets, email, and mail. If you require assistance with technical issues, students can call a separate phone number, email or submit a support ticket.
Other Important Things to know
This school only serves Florida students. At this time, Bert Rodgers is not available for students outside of the state. Additionally, there is no in-person learning option. There is only the completely online solo-learning option or livestream instructor-led learning option.
---
Bert Rodgers Schools Pricing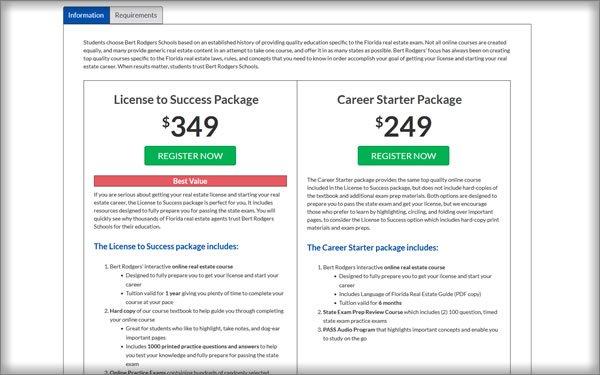 Because Bert Rodgers has multiple course options, there are also multiple prices. The online course ranges between $249 and $349, depending on whether you select the basic or upgraded option. The Career Starter package will be the cheaper of the two. The Instructor-Led Live Stream Course is $469.
The school also offers state exam prep that can be purchased separately. This option is best for people who studied at another institution that didn't offer an exam prep option or for those that need refreshers.
Mutual Recognition Exam Prep Course – $99.00
Full Prep for Success Package – $59.99
---
Pros And Cons Of Using Bert Rodgers Schools
Pros
Pricing
The pricing is slightly cheaper than other options in Florida, and therefore, the price is considered a pro here. Additionally, this is a small school with intimate offerings and instructors with firsthand knowledge of the local market, and that makes it even more valuable.
Package Tiers
While there are not as many package options as competitors, Bert Rodgers School does offer a couple for each learning pathway. Multiple choices are great for students who may require little or no assistance, and they can model their education after that. The multiple options also allow for different budget restrictions to study at this school.
Bert Rodgers Schools Support
The support options are extensive at this real estate school. Regardless of the mode you choose for studying, you will have access to support online, over the phone, and by mailing. If you do so happen to choose the live instructor-led studying option, then you will have easier access to on-demand questions and answers.
Extended Access
As the packages scale upwards, the benefit of extended access increases. However, the basest level option does include six months of access. Since Florida only requires 63 hours of coursework, which can be completed in as little as weeks, this multi-month cushion is great in case of emergency.
Excellent Exam Prep
This school offers thorough exam prep that will help students navigate the state exam when it is time. There are multiple options, meaning your exam prep can be catered to a certain degree. Furthermore, all options are intended to help you pass on the first time.
Unique Market Insight
While national options or strictly online brands might have more experience in the education department, nothing quite beats the unique insight instructors can provide. Being as Bert Rodgers is family-owned and operated on a smaller scale solely in Florida, this means a well-rounded team ready to provide students with an in-depth learning experience.
Cons
No Physical Course Options
While many will appreciate that all courses are online and flexible, some may wish for an in-person option. Unfortunately, that is not available at Bert Rodgers at this time. Instead, students will need to settle for the instructor-led livestream or choose a different school.
Support Catered to Traditional Work Week
The school's support options are great as they come in multiple formats, but the access day-to-day is during business hours. So, if you're an after-hours studier, you will be out of luck for speedy answers. Instead, your solutions may come the next day or at the discretion of the school.
Conclusion And Verdict
To round out this Bert Rodgers Schools Review, it's important to take a look at reviews left by alumni on sites like Indeed, Better Business Bureau, and similar. Students' firsthand accounts speak volumes to what a school has to offer.
According to Facebook, the school has a five-star rating across nearly 600 alumni votes. Students cite the school's learning format as being easy to follow, having excellent training, and helping students to pass on the first go.
Many students also say that the school has unmatched customer service and that they will return to Bert Rodgers for continuing education needs as well.
Yelp and Indeed offer similar high praises with a 5 star average on Yelp and 4.8 on Indeed. The reviews are similar in praising the instructors and course layout for easy learning. As for the BBB, one of the most important indicators of how a school conducts business, the school has maintained A+ since accreditation in 2017.
Final Verdict
Given all of the information gathered in surveying Bert Rodgers Schools reviews and website features, we can recommend this school as a Florida learning option for real estate professionals.
Between comprehensive learning, excellent exam prep, and materials, students should have everything they need to find success while studying at this real estate school. Anything they require extra assistance for can be found via staff and customer support or in their well-designed online learning tools.
However, we prefer Colibri Real Estate since they offer so much more and they are our top pick for best real estate schools in Florida.
---
---