---
Key Realty School is a school in Nevada that helps license students in various sections of the real estate industry. This Key Realty School review is designed to help students make an informed choice about where they get their real estate education.
This review will take an in-depth look at the school and what they have to offer students.
---
UPDATED: October 2023
Our Overall Rating

---
Overview of Key Realty School
The Key Realty School is located in Las Vegas Nevada and has been helping students launch their new real estate careers for decades. They were founded in 1991 and took off with the boom in the Las Vegas valley.
This is not only a real estate school. They have classes that will help people wanting to join a number of real estate industries.
These industries include the timeshare industry as well as association management and brokerage. This does not conclude the list of industries. Appraisal, mortgage lending, and property management are also part of the Key Realty School offerings.
The school is a private organization and is not corporately owned or franchised. This is the original school and has expanded its reach by becoming accredited for states other than Nevada.
Number of Students Served
During the 25 years Key Realty School has been in business, there have been thousands of students served. Key Realty School has a variety of programs.
Some of these programs are post-secondary while others are considered non-post-secondary. Between these two programs across the state of Nevada and the other accredited states, 50,000 students have been in attendance over the years.
The website does not state its success rate with exams or their career. It only mentions the number of students in attendance.
Awards and Endorsements
The website doesn't mention any awards the Key Realty School has received. However, they are endorsed by a number of real estate agents and agencies in Nevada.
These endorsements come from agencies the Key Realty School has placed agents in. There are over 50 agencies with Key Realty School real estate agents currently working. The list would be long for this review but here are a few of the agencies that endorse Key Realty School.
Keller Williams
Brodkin Group
Ticor Title
Easy Street Realty
This is not an exhaustive list. Key Realty School is so prevalent in Nevada that they have actually licensed more than half of the licensees taking part in the real estate industry.
They seem to be the go-to name in real estate industry education.
In addition to the endorsements from real estate firms and other agencies in the real estate industry, we were looking into student reviews as well.
The reviews from students are mostly positive, however, they did not come from the link on the website. When you click on the review link it says the business can't be found.
That is when we did a quick internet search and found more than a hundred Yelp reviews. Many of them talked about how great the program was but there were some unfavorable reviews.
Most of the poor reviews were aimed at the owner. A guy named Teddy. There were also poor reviews about conflicting information.
It was said that one teacher will say one thing and another will contradict them and say it is wrong. The students end up frustrated and confused. The online program got the best reviews over the in-person classes.
---
In-Depth Look at Key Realty School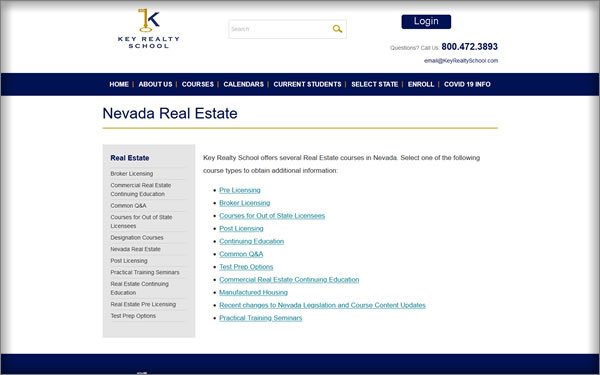 We will start our in-depth look at Key Realty School with the Nevada Real Estate program. They offer pre-licensing, post-licensing, continuing education, and some out of state courses.
There are also exam prep courses students can enroll in for extra exam help.
Key Realty School Pre-licensing Course
The real estate pre-licensing program offers three different modes for taking the course. There is an online option, a home study option, and an in-person option. All of these programs meet the standard 90-hour requirements the state of Nevada has laid down.
Online Course
The Key Realty School online course works in a similar fashion as other online real estate programs. It is on-demand and accessible as soon as you register and pay your fee.
Everything about this program is online. There are no physical materials provided with the online option and the exams are also taken online.
As soon as students pass the final exam they will receive a certificate of completion. This allows students to proceed to the state exam location to complete the licensing requirements.
The website does offer a video that talks in-depth about this option. It is not a long video and actually only lasts for less than two minutes. However, it does give valuable information about the online course.
There are two packages available for the online course. Both of these courses have the same basic features.
Online access to all course materials
More than 2000 test questions and the answers
Access to online practice tests
Recorded teaching sessions
Glossary of more than 500 real estate terms
Online completion with certificate
Printable flashcards
The basic package only includes these things with no extra features. The work package does add one helpful bonus for students. This package gives students the live test prep seminar along with the basic features.
Classroom Course
Traditionally the classroom course is held live and in-person at the school locations. However, currently, the classroom courses are live-streaming classes due to the pandemic.
Even with this format change, the class will have the same setup and materials. Like the online course, the classroom course covers four topics. These topics are what will be found on the Nevada state licensing exam for real estate.
The topics include agency, law (specifically for the state of Nevada), finance, and realty. The classroom option lasts for a duration of four weeks. Each week covers one of the four topics in detail.
There is a specific schedule that is followed for the classroom option even though it is currently online. Students must log on Monday through Friday for either a morning or evening class.
The morning option runs from 9 AM to 1:30 PM while the evening option starts at 6 PM and ends at 10:30 PM. These options are flexible and are designed to fit a wide range of work and life schedules.
Unlike many live classes, attendance is actually not mandatory. Though it is recommended for the best outcome. There are even other time frame options if a student wants to complete the course faster or slower.
There is a two-week option, a one week option, and an extended option. The philosophy of the school is that it is the licensing exam that matters. If a student passes the exam it won't matter if they actually attend a class.
There is also not a limit to how much the student can access the course and their materials. This is available until the student passes the licensing exam for Nevada.
The live class has many of the same things as the online option. But the live course does have physical materials provided and live instructor support. This is a full list of what students can expect with the live classes.
Unlimited classes until licensed
Instructor communication and support
Workbooks
National and Nevada reference guides
2000 test questions with answers
Audio summaries
Online tests and course study
Glossary
Printable flashcards
The live classes have three package options just like the online option. The basic package only has the basic course materials and features while the works packages add the test prep seminar.
The third option is the deluxe package and adds an exam prep software guide.
Home Study Course Option
Key Realty School has a third option that some students find agreeable for their schedules and needs. This option has the same information on the Home Study program as the other courses. In fact, it has the exact same features as the classroom option except for the live instructors.
This course can take as little as 11 days or as long as the student needs. Students are provided with physical materials with this option but will also have audio and online access as well.
There is also a basic and works package for home study courses. This is set up the same way as the other course options. The basic package does not come with the test prep seminar while the works package does.
Brokerage Courses
Key Realty School also has brokerage courses for agents ready to take their careers to the next level.
While they offer qualifying courses to help students complete the Nevada state requirements, they do not have a full qualifying program. There are many requirements for a broker salesperson and a full broker.
The website is informative about these requirements but this section of the school is not set up like the salesperson licensing program. Students may need to go to another program for a more comprehensive brokerage program.
Exam Prep
In addition to the pre-licensing course, Key Realty School has exam prep to offer the students who might need a little bit of extra help. This is not a full course but is more of a seminar.
If students get the works package then this is included. However, other students will have to purchase the one-day cram session separately. Space is limited so reservations are required.
States Served
Key Realty School is based in Nevada and serves mostly Nevada residents. However, they do have an online real estate program for other select states.
There are six other states that Key Realty School is accredited in.
California
Arizona
Utah
Alaska
Hawaii
Oklahoma
They do partner with other schools throughout the country so it is possible that they have something for your state. The website has a way for prospective students to see what is offered in their state for Key Realty School programming.
---
Key Realty School Pricing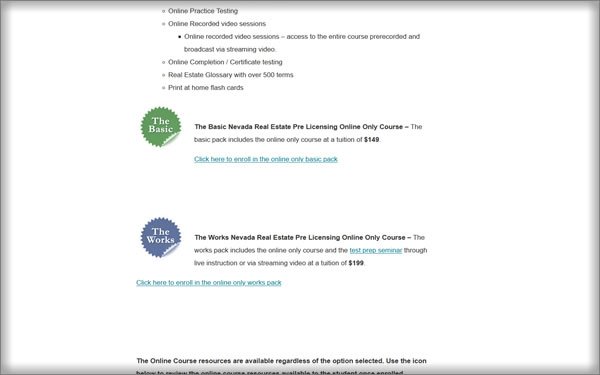 The pricing for Key Realty School varies based on the program or course that is taken. However, the online portions are affordable.
Live Courses
The live courses do cost more because they are sending students physical materials and paying instructors.
The Basic Package: $389
The Works Package: $440
The Deluxe Package: $499
Online Course
The online courses are more budget-friendly because there is less overhead for the school.
The Basic Package: $149
The Works Package: $199
Home Study Course
Key Realty School home study courses are a middle of the road approach when it comes to pricing.
The Basic Package: $249
The Works Package: $295
The brokerage courses are priced by course. Most of the courses are priced at $150 with no package options. This is just for the three-credit hour course.
For the one-day cram session, exam-prep seminar students will pay $100 if they didn't get the works or deluxe package.
---
Pros and Cons of Using Key Realty School
As part of the Key Realty School review, we add a concise pros and cons list. This sums up all of our findings for prospective Key Realty School students.
Pros
Decades of experience
Physical locations
Variety of package options
Affordable
Endorsed by real estate firms
Offer programs for other select states
Great response times
Cons
A number of negative reviews
Limited support
No guarantee
The refund policy is not clear
Conclusion And Verdict
Key Realty School does have years of experience under its belt. They are also one of the main education sources for the real estate industry in Nevada.
With all of this time, they have built a business that is in the business of educating real estate agents and other real estate professionals. They do have multiple physical locations through the state of Nevada.
But currently, students are taking live classes online due to the pandemic. They have Covid procedures and policies, which we appreciate.
We couldn't find a refund policy on the website and that needs to be noted.
One of the things we like about this school is the variety of ways students can take their courses. They have three different options that we discussed in the review. With this many options, they can offer flexibility to students that other schools may not be able to offer.
However, we did read some negative reviews from students on Yelp. They have a link for reviews on their website but it goes nowhere. So we did our own digging.
Most of the bad reviews were aimed towards the receptionist and the owner. There were also reviews that mentioned an inconsistency among information coming from instructors as well as the curriculum. We are not saying this is true, but that's what some former students have said.
Some reviewers were unimpressed with the curriculum Key Realty School provided while other students thought it was very good. It does need to be said that the positive reviews did outweigh the negative reviews on Yelp.
The programs are affordable, even the live option. But there does seem to be limited support. This refers to instructor support as well as tech support.
Tech support is not even mentioned on the website, which is strange for a program that offers a fully online option.
We would say that you look for another option for a real estate school in Nevada with all things considered. We say this especially if you're looking for an online-only option. Support is imperative for online programs.
---