(Updated For 2021)
---
Covid-19 has impacted nearly every aspect of our lives and real estate is not exempt. The real estate market has seen fluctuations during this pandemic. We want to look at the data and the facts to see how Covid-19 has really impacted the real estate market.
You can use this Hi-Resolution Infographic on your site. Click Here to see the full size infographic.
We just ask that you link back to the study using this url:
https://www.realestateschooler.com/covid-19-impact-real-estate-market/
Or you can copy and paste this code into your website:
---
How Has Covid-19 Impacted the Real Estate Market?
It is not a simple answer to the question "how has Covid-19 impacted the real estate market?" There are many facets of the real estate market that have been affected or will be in the near future.
When talking about how the market has been impacted it is more than listings and overall sales. We are also talking about things such as commercial real estate, foreclosures, and how real estate agents can do their jobs.
Covid-19 has had its say in every part of real estate but as real estate agents have become creative, they have found ways to continue making sales and helping sellers and buyers.
Has Covid-19 Increased Foreclosures?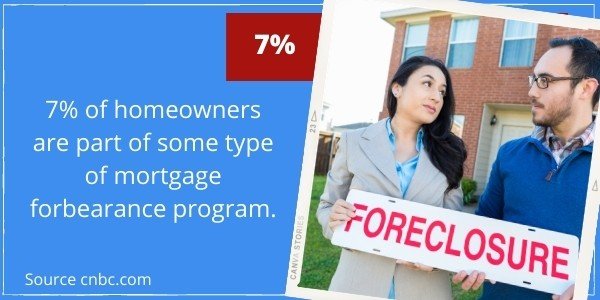 The government and mortgage lenders have had programs in place to help homeowners stay in their homes. However, those programs are coming to an end.
As of September, there were more than three million homeowners who were part of some type of mortgage forbearance program. In percentages, that is 7% of mortgages.
As these programs are ending, the number of homeowners who are more than three months behind on their payments is increasing. The projection is an upturn in the number of foreclosures.
There are many homeowners who will list their homes on the market if they are in danger of going into foreclosure. This will protect the equity and give them a leg to stand on rather than being evicted from their home.
The number of homeowners delinquent on their mortgage is expected to continue rising through 2021 and 2022. While foreclosures may not be high currently, there is a foreclosure boom on the horizon if things don't change.
As of July, it was reported that around 10 million Americans had already been foreclosed on. This number is expected to rise as forbearance programs end. Especially if the economy doesn't recover quickly.
Has Covid-19 Affected Commercial Real Estate?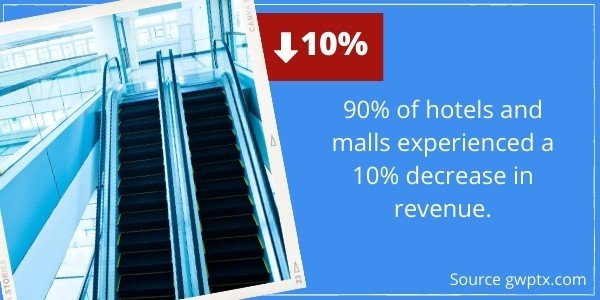 Commercial real estate was quickly affected by the Covid-19 pandemic and the effects continue to be felt by business owners and employees alike.
One survey that was conducted to gauge the effect of the Covid-19 pandemic on businesses and commercial real estate came back with troubling numbers.
It showed that a soaring 90% of hotels and malls experienced a 10% decrease in revenue. While 10% may not seem like much, this adds up and is the main reason for lay-offs. The main reason these commercial entities are suffering is due to social distancing.
Because of remote work, the commercial real estate market is in a sharp downturn. Many companies are not paying their rent or the rent has been greatly reduced. Leaving building owners in a lurch.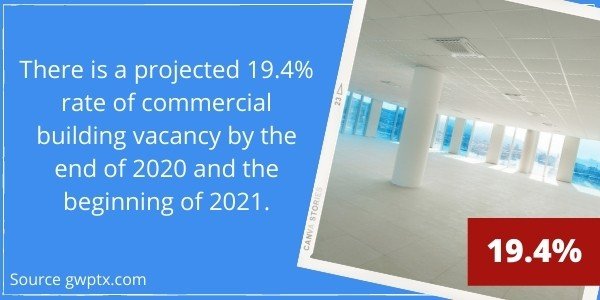 There is a projected 19.4% rate of commercial building vacancy by the end of 2020 and the beginning of 2021. While meeting in person is allowed under restriction, businesses have realized how cost-effective it is to keep the workforce remote.
Has Covid-19 Affected the Number of Home Listings?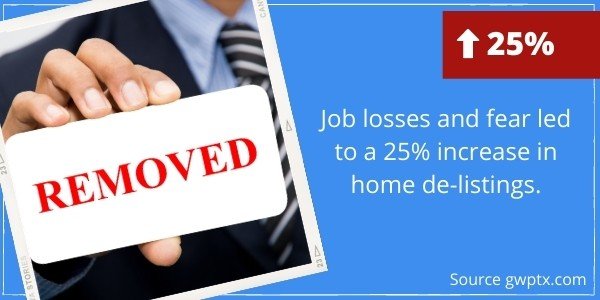 When Covid-19 first hit the United States and we were subjected to all of the stay at home orders, the real estate market took a hit. While it is trying to come back and has been somewhat successful, what was seen in April and May was a reminder of 2007.
April and May Listings
The real estate and housing crisis of 2007 was still fresh on the minds of some real estate agents and homeowners. The pandemic produced job losses and fear which led to a 25% increase in home de-listings.
Many of the homeowners who had listed their home removed them from the market. Leaving buyers looking for a home unable to find homes suitable for their needs. This has also driven up the prices of the homes that are listed.
There are several factors that have played into the rise in delisting and the decrease in home sales. The market was slow, at best, especially in the beginning.
Not only were sellers not willing to show their homes and buyers unwilling to go look at homes, but lenders were also concerned about the pandemic.
In April and May, the showings for listings in many states were down because this was considered non-essential activity. In fact, one state reported that their showings were down an incredible 40%.
It was even higher in states that were hit the hardest by the pandemic. New York had a decrease of 56% in showings in April and May.
The sluggish nature of the showings caused many sellers to reconsider selling during this time. Many homes were removed from the market.
Current Market Listings
Even though the beginning of the shutdown made the real estate market uncertain, when things began opening back up, the real estate market made a strong come back.
With real estate agents still not able to show houses very often in person, they used the internet and smartphones to offer virtual tours. This is not ideal but it worked.
By July there was a renewed sense of security across the board and most states saw a record increase in sales. There weren't listings but not because of the pandemic, it was because of how quickly houses were selling.
There was a 14.6% increase in sales in Illinois and many states shared in this boom. The market has also enjoyed the benefit of lower interest rates encouraging the buying and selling of residential real estate.
The low-interest rates combined with fewer listings have the market in a rare condition. It is not only a buyer or a seller's market, it is good for both right now.
Has Covid-19 Affected the Number of Real Estate Agents Entering the Field?
Covid-19 has affected the number of real estate agents entering the field but not in the way you would expect. Like everything else, we would expect Covid-19 to have a negative effect on the real estate workforce.
But that simply isn't true. Because so many real estate agents fail in the first five years due to lack of time and dedication, a stay at home order is the best time to start. Since the failure rate of real estate agents is 87% in five years, Covid-19 has opened up the time necessary to change this percentage.
Because of the high percentage of failure, it shouldn't be taken lightly. Only those who have been putting off this career change due to lack of time should pursue it.
Even though the market has been shaky, it is always a secure career. There is never going to be a time when people won't need a place to live. Even though the market could be slow at times, it will never completely stop.
Hopeful agents have recognized this and take their stay-at-home time to make the change to a more pandemic proof job.
It didn't always look promising for new agents. In March and April, there was a decline in new licenses of 59% to 97% in various states. In Florida, it was nearly at a complete standstill.
Current Real Estate Agents Entering the Field
As the world started opening back up in the late spring and early summer, listings started to boom and all of those people who worked on their licensing during lockdown were ready to enter the field.
This led to an increase in new real estate agents by 1.9% from the same time in 2019. With the sharp decline in the spring to an increase over the previous, pre-pandemic year, the real estate market was starting to take off again.
Is a Pandemic a Good Time to Enter the Real Estate Field?
That is a resounding yes. With layoffs, free time, and a real estate boom in the works, there is not a better time to become a real estate agent.
One real estate broker put a listing on Indeed looking for real estate agents who just recently got their license. Just one ad received 340 responses.
Keller Williams brokerage firms have enjoyed the addition of 3,000-3,500 every month since the country re-opened. There is plenty of work to go around with listings increasing and the projected foreclosure boom.
How Has Covid-19 Changed How Real Estate Agents Work?
There is no way around it, Covid-19 has changed the way the world works. This includes the way real estate agents can do their jobs effectively.
Because of fear caused by the pandemic as well as social distancing protocols it has been nearly impossible for real estate agents to function the way they used to. Because of the early shutdowns and the inability to show homes, the real estate market came to a screeching halt.
Lenders didn't want to lend, sellers decided to pull their homes from the market, and buyers didn't have many choices. This led to a full stop in home sales.
However, real estate agents who persisted through the shutdown got their creative juices flowing. They figured out how to leverage technology to their advantage.
This meant that home tours weren't in person anymore but were virtual. Whether this was a pre-recorded video or the real estate agent walking through the home alone while Facetiming the potential buyers, agents were getting back to work.
Open houses have always been something agents do to encourage more people to come and see a listing. Often when the home is viewed in person, it is more likely that it will sell.
However, open houses are not something that will be happening often anymore, especially in states highly impacted by Covid-19. That means virtual open houses. This could be done in a variety of ways.
If there are many people who want to see the house then a Zoom showing is possible but more often it will be something different. Instagram live or other social media platforms are a great way to get exposure for a property.
There are a large number of real estate agents who have made sales simply from a social media video or listing.
Agents are doing more and more 3D tours and even virtual reality tours. In the late spring of 2020, the online viewings for homes in smaller towns and rural areas were up by 115%. That is just compared to 2019.
The market did see a decline in viewings of any kind for homes in larger cities by 10%.
Closings
Another aspect of how real estate agents work has changed. Closings are done differently now to reduce the amount of contact between buyers, sellers, agents, and closing agents.
It seems that drive-ups are the way to handle many different types of business. This is also true of closings. Both closing agents and real estate agents had to get creative with closings.
Typically these happen in small conference rooms that have poor circulation and don't allow for proper social distancing. That made closing a deal impossible. Unless you do a drive up closing.
The way a drive-up closing is executed can vary but the basic framework includes sellers and buyers staying in their car. They bring the paperwork to the buyers and sellers while masked and have them sign the forms in the car.
Working Remotely
Working as a real estate agent has always been a flexible career. Real estate agents were able to work from home, the office, the coffee shop, or their car. However, now it isn't a choice.
Agents who worked from the office all of the time now can't do that. Unless it is a small office, the shutdown required everyone to work from home all of the time.
This was an adjustment for some agents while others always worked from home and didn't miss a beat.