---
Getting your New York real estate license can be an exciting thing. With so much upward mobility, becoming a licensed agent can be a major investment in your future. It can also be difficult to navigate the ins and outs of getting that license. Finding real estate schools in New York is easy enough, but finding one that will fit your schedule and budget? That's a little bit harder. Unfortunately, not all online real estate schools in New York are created equal.
If you like houses and people, becoming a real estate agent might be a great career option for you. It could also be good for people who are looking for a reliable side business. With the explosion of the housing market, there is an open playing field.
It can be helpful to have a list of your needs before looking for real estate schools in New York. This can help to narrow down some of the requirements like scheduling, cost and quality. Having these things in mind will make the process much easier and less overwhelming.
In this article, we will cover the five best online real estate schools in New York. We will cover the pros and cons of each, as well as aspects like price and availability. By seeing what each one has to offer, you should be able to find a good option for you.
---
1. Colibri Real Estate: Best Online Real Estate Schools In New York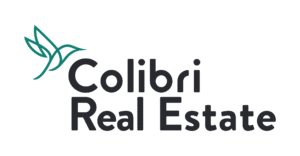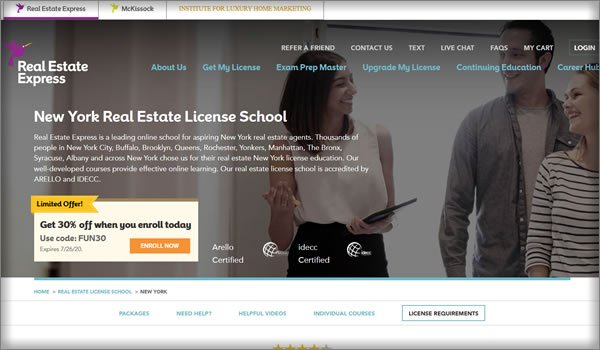 Colibri Real Estate boasts that they have helped over 350,000 real estate professionals obtain their licenses. They have been around since 1996 and were one of the pioneers of online real estate classes in New York. This longevity is something to consider when choosing the right courses for yourself.
Colibri Real Estate offers more than real estate courses that will help you to pass the required exam. They also offer specifically catered exam prep master classes for your specific state. Most real estate schools in New York will not break things down into specialized courses like that.
Because of how they break down classes, it can be difficult to assess where they stand on the price spectrum. Depending on what you are looking for, you may not need all the classes to satisfy your education requirements. Because of this, it might be a good option for someone who has a little more experience with the process.
They also offer a unique feature called the Career Hub which is a resource center for post-exam. There, you can connect and network with other agents to get the most out of the experience. This could be especially helpful for navigating the continued requirements of a New York real estate license.
If you have a little experience with the many requirements for obtaining a license, this might be a good choice. Colibri Real Estate offers a customized experience for people who know what they need. That could save both time and money when searching for online real estate classes in New York.
(READ OUR COLIBRI REAL ESTATE REVIEW)
Colibri Real Estate: $137 Off Ultimate Learning Course
35 uses today
Last Used: 9 hours
---
2. The CE Shop: Online Real Estate Course In New York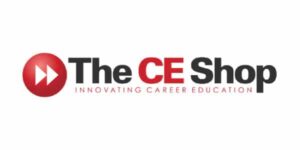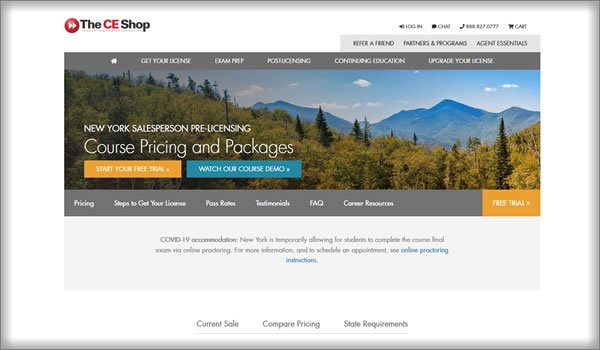 The CE Shop boasts industry leading pass rates for their students. According to their completed student surveys from 2015 to 2020, 97% of their students went on to pass the exam. This means it could be a good option for those who want a thorough curriculum.
Most real estate schools in New York offer some sort of exam prep module in their course designs. The CE Shop offers a specific exam prep course that is designed to cover all aspects of the actual test. They also offer a free assessment for whether or not you could use the extra push for exam day.
The CE Shop is priced around the same as the other real estate schools in New York. Because they offer individual lessons on different aspects of the real estate exam, you can mix and match. This makes it a good choice for continuing education or refreshers.
In the state of New York, you must renew your license every two years by taking a continued education course. The CE Shop offers a relatively inexpensive, online course, making this process really easy. The last thing you are going to want is an interruption to your new career two years in.
Unlike a lot of the real estate schools in New York, The CE Shop has a specific exam syllabus. They use this to help you get to know the exam and feel more prepared going into it. This is a unique perk to this school and might be a good choice for those who want more prep.
Save $100 on The CE Shop Pre-Licensing Education
39 uses today
Last Used: 22 hours
---
3. AceableAgent: NY Online Real Estate School Training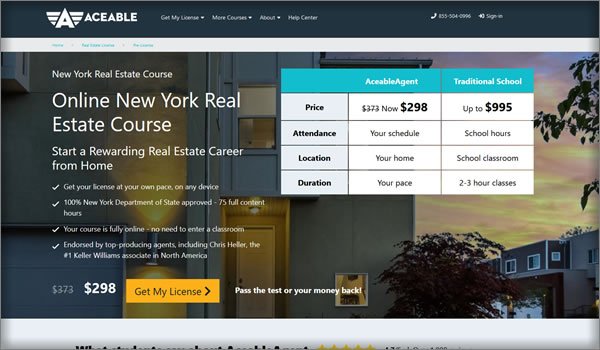 Developed by Harvard education experts, AceableAgent's courses are at the top of the quality spectrum. The pre-license courses are designed to be as comprehensive and understandable as possible. With this extra care, they have created an incredibly user friendly approach to online real estate classes in New York.
They offer an exam prep experience that is meant to be as effective as is accessible. Because of their confidence in this approach, they offer an Ace the Test Guarantee. With this, they guarantee that you will pass the test within three tries or you get your money back.
AceableAgent, however, does have one of the pricier tuitions of the various real estate schools in New York. Because of this, you should be very sure that it is something you are interested in before you move forward. This is true in more than just real estate, but in this instance it can save a lot of headaches.
AceableAgent also features an incredibly informative Career Center on their website. There, they post frequent blogs on a wide range of topics related to the real estate business. They also offer tips by state which can help get you started after you pass the exam.
Another interesting perk that AceableAgent offers is its scheduling. They allow you to complete the courses on your own schedule with any device, including iPads. Some online real estate schools in New York only allow you to work on the desktop.
Up to 30% Savings on Aceable Agent Premium Exam
37 uses today
Last Used: 17 hours
---
4. Mbition: New York Real Estate Course Review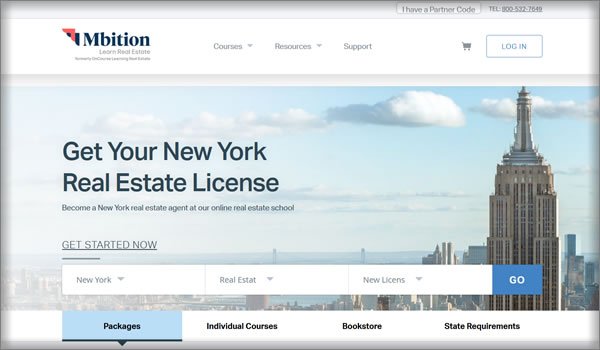 Mbition's online real estate courses in New York are comprehensive and all-encompassing. They offer packages that cover the wide gamut of things that come up in the world of selling real estate. This could be a good option for someone who wants to have a lot of prep before they start working.
If you want to make sure that you pass the test the first time, they might have options for you. Mbition's New York Real Estate Pre-Licensing Platinum Solution comes complete with a Pass the First Time Guarantee. With this, you can walk into the exam the first time with a little more confidence.
Because they offer different packages, you can find the one that will best suit your needs. The lowest price package comes with technical support and instructor support. However, it doesn't come with specific exam prep like some of the other, pricier packages.
Mbition's online real estate courses in New York don't come with some of the post-exam perks that the others do. They offer a lot in the way of preparation for the exam itself, but not much for getting work afterwards. This could make them a good option for people who already have a few connections out of the gate.
One of the unique things about Mbition's (formerly OnCourse Learning) courses is that they come with a comprehensive reading list. This list alone is worth the price of admission as it contains some incredibly valuable resources. The 6th edition of New York Real Estate for Salespersons comes with the platinum package of courses as well.
---
5. 360Training: Real Estate Course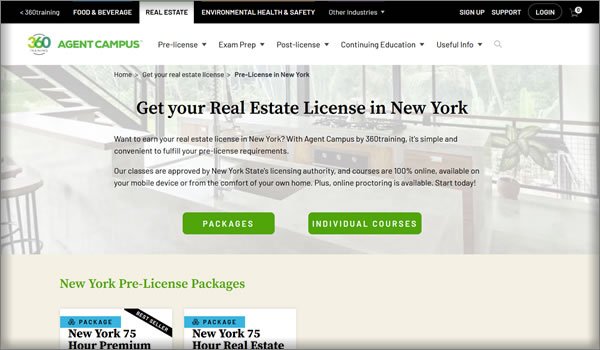 Of all the online real estate courses in New York, the packages offered by Agent Campus are the most affordable. Running on the 360 Training platform, they are able to offer individual classes and total pre-license packages that are inexpensive. Because of this, they might be a good option for someone wanting to sell real estate on the side.
Another good option for people getting their license on the side is Agent Campus' online proctored exams. Most exams are done with a proctor to make sure no one cheats, so they are typically done in person. Agent Campus, however, offers online proctored exams so you don't have to go anywhere to take them.
This real estate school in New York is designed specifically for people who have other things happening in their life. Even though you still get the required coursework, it is about a third as expensive as others. They also offer cheaper individual classes if you are just looking for a refresher.
They also offer a continuing education package that is incredibly affordable. New York state allows you to take the exam up to eight years after completing your coursework. With this package, you will be able catch up on things you may have missed the first time around.
Because it is so inexpensive, Agent Campus is one of the most bare bones real estate schools in New York. If you want to make real estate sales your full-time career this might not be the best option for you. It might be better for you to look at the more expensive, comprehensive options.
---
Other New York Real Estate Schools With Online Courses
The New York real estate schools listed below all have some type of online classes and some have in classroom teaching. While our top choices are listed above, these made it to our list because these schools are located in New York and do offer live classrooms.
Bayonne School of Real Estate
Cape School
Career Path Academy
Friedberg Real Estate School
iTraining Real Estate School
Montclair School of Real Estate
Signature Real Estate School
Terrie O'Connor Realtors Real Estate School
Weichert Real Estate School
---
Overview of Real Estate Agent Requirements in New York
In the state of New York there are two distinct types of real estate agents. A real estate salesperson is someone who either works individually or at a firm selling real estate. A real estate broker is someone who is the head of a firm or managing other agents.
If you are interested in just becoming a salesperson, the process is a little bit easier. You have to complete 75 hours of education at a real estate school in New York and pass the exam. After that, you are able to start working right away.
If you want to become a broker, it is a little more complicated. You must complete all of the requirements that a salesman has to. Also, you must have been licensed for three years and have completed an additional 45 hours of training.
You must renew your real estate license every two years. To do this, you have to complete 22.5 hours of continued education from a school. Online real estate schools in New York are a great option for this since they don't require much time.
There are exemptions for some people from taking the courses to obtain their licenses. If you have a bachelor's degree in real estate you could qualify for a waiver from completing the courses. This might be a time saver for someone who is looking to get their bachelor's anyway.
---
Why Become a Real Estate Agent in New York?
There are many advantages to attending an online real estate school in New York. Becoming a licensed agent has perks for all kinds of people in all kinds of industries. It is an incredibly flexible work schedule that can be catered to your needs.
There is no cap to the kind of income you can make as a real estate agent. Many graduates of real estate schools in New York say that they were making $100,000 in their first year. There are not a lot of other careers that can promise that kind of earning potential.
If you are the kind of person who enjoys helping others, this could also be a good career for you. Buying a home is one of the biggest moments in a person's life. Helping them through it can be incredibly rewarding.
Another advantage to getting your license through an online real estate school in New York is it is relatively easy. There is, of course, a barrier to entry with the education and exams. However, unlike a lot of industries, you can get into it rather quickly without much time invested.
If you want to start a new career or just a side hustle, real estate could be a good choice. Due to the flexibility, it is easy to dip your toe in. A good education at an online real estate school in New York is a great start.
---
Becoming Licensed for Investing in New York Real Estate
One reason that people get their licenses to sell real estate is for investment purposes. While you don't need your license to invest in real estate, there are some perks. Seeing as it is such a competitive industry, having an edge is a good idea.
One advantage of getting your license from a real estate school is access to the MLS. The MLS, or Multiple Listing Service, is a system that shows active, withdrawn and expired deals. Having access to this lets you analyze the market and get comps for an area.
Another advantage to having your license is that you can start to collect commission. As an investor, you don't make commission on a sale, just profit. If you can broker your own deals, you can make a commission on your own investments.
In real estate, networking is key. By attending a real estate school in New York, you will have access to networking opportunities. Conferences and industry meetups are a great place to find market deals and other industry advantages.
Getting a license to sell real estate also has more benefits than financial. By handling your own deals as an investor, you have more control. This allows you to move quicker than other investors going through a third party to broker their deals.
---
Final Thoughts
By knowing what kind of expectations you have, you can get a lot out of getting your real estate license. The housing market is rich with opportunity and there are new customers every single day. With that kind of demand, it can be a great career choice.
The flexibility of a real estate salesperson's schedule also offers a lot. A lucrative side hustle can be a life saver in uncertain times, and real estate can check that box. With such a low time investment required to get started, there is relatively little to lose.
Depending on how you are going to use your real estate license, you have quite a few different choices for education hours. By looking at the best online real estate schools in New York, you have already started on your journey. There is a lot of opportunity going forward from here.
There are real estate schools in New York to fit all kinds of budgets and schedules. The career is ripe for the picking for anyone who is willing to put the work in. With so many options, there is no better time to start than now.