This in-depth The CE Shop review will provide you with what you need to know to see if this online real estate school is the right school for you.
Many people have considered making a career change to become real estate agents because they like the idea of setting their hours and controlling their income. A real estate career can be very lucrative if you are willing to put in the time and effort and have a knack for communicating with people.
Before you can sell properties, you need to build a strong foundation in the real estate industry and pass the licensing exam required by your State. No matter where you plan to get your real estate license whether you want a real estate license in New York or you want to become a real estate agent in Florida, you will have to take some sort of pre-licensing courses before you can sit for the real estate Salesperson licensing exam.
To be prepared to earn your real estate license, you need to enroll in a physical or online real estate education program from a recognized, accredited provider. Over 35,000 people have chosen to use The CE Shop each month to complete their real estate education.
UPDATED: October 2023
Our Overall Rating

---
Overview Of The CE Shop
The CE Shop is a leading online provider of distance real estate education, offering pre-license courses, exam prep courses, and continuing education courses. Michael McAllister founded the company in Greenwood, CO, in 2005 because he felt the real estate industry was behind in real estate education and technology.
He grew up in a family where real estate was the family business, Michael saw an opportunity to blend education and technology to reinvent real estate education from an outdated textbook-based classroom environment to a contextual based online content delivered through distance learning. The CE Shop has expanded its course network over the past fourteen years to provide pre-licensing courses online in 29 states and Washington, D.C. Additionally, they offer continuing education courses in all 50 states and Washington, D.C.
Organizations and students have recognized The CE Shop for their courses.
In 2017, The CE Shop's 180-HR TX Salesperson Pre-Licensing Program was voted Online Education Program of the Year by REEA.
The Better Business Bureau has rated the CE Shop A+. (at the time of this writing and is subject to change)
The CE Shop conducted student surveys at the end of each course and claimed to have the highest pass rate of 91%.
The CE Shop website states that their commitment to continuously rethink the real estate education process to provide the absolute best educational opportunities sets them apart from their competitors.
---
In-Depth Look At The CE Shop Course
The video below will give you a complete walk-through of The CE Shop course.
According to the CE Shop philosophy, their goal is for you to learn, grow, and succeed through the most revolutionary ideas and approaches in education.
Good content is essential to quality education.
The best education is a mix of text, images, and videos continuously updated.
The beauty of online education is that you can take it when the time is right for you.
Course structure
Courses are offered online and are optimized for a smartphone, tablet, or computer.
You can complete as many lessons as you want whenever possible but the units are designed sequentially.
The CE Shop's Inquiry-based learning model starts with what you should know and what you want to know.
The proprietary LEAP 2.0 learning platform delivers the content in short in-depth lessons designed to cover the mandatory real estate topic requirements of the state you will receive your license through.
Course Content
Many online real estate education providers deliver monotonous text-only courses that don't engage students and haven't been updated for years. The CE Shop Course content is an interactive mix of text, images, and videos continuously updated for changes in the law and the real estate market. The material is further brought to life through the use of revolutionary practice exercises. Real-life scenarios are included in the course content to help prepare you for on-the-job success.
Intuitive tracking allows you to follow your course progress showing what lessons you have completed and the cumulative hours you have spent in the course. A real-time dashboard gauges your competencies as you move through the course, so you know which topics have been mastered and which ones still need more work.
The main focus of their courses is to teach you everything you need to know to pass your exam and begin your career.
---
How The CE Shop courses work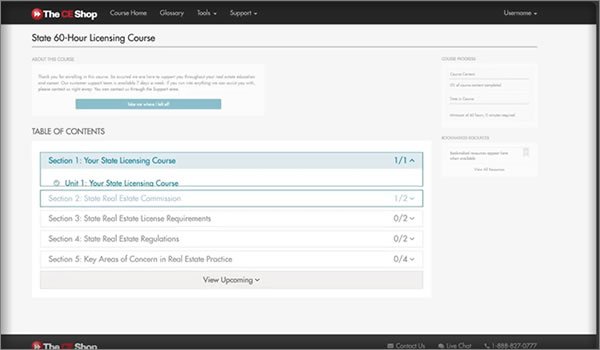 When you enroll in The CE Shop course, you are given an online account that serves as a dashboard to access your online courses, study plan, study resources, eBooks, and profile. You can also use your dashboard to contact your instructor, contact customer service, and follow your progress.
Courses are available 24/7 online, and you have six months to one year as specified by the state within which to complete the prelicensing course. The exception is Washington, D.C., which requires that you complete the course within three months.
Courses are delivered in sequential Units that build on the knowledge gained in the previous unit. This learning method design is additional support for the student to ensure content mastery and knowledge retention.
When you complete a course unit, you will take a Unit exam to demonstrate mastery of the until content. You cannot move on to the next learning unit until you have received a passing score of 75% on the Unit exam. You can retake the Unit Exam an unlimited number of times until you pass.
Exam Prep Edge courses are to provide extra support for the Real Estate Licensing Exam.
The exam Prep Edge includes:
Initial Assessment test knowledge to show areas you have mastered and weak areas
Review Lessons
Topic Exams
Unlimited Practice Exams
The Final Course Exam
Upon completing the pre-licensing course and the Exam Prep, you will take your final course exam online. Some states require that the final course exam be proctored. The CE Shop can arrange for their partner, PSI, to remote electronically proctor your final exam via video and screen sharing as you take it from your home.
Specific states such as Arizona, Minnesota, New York, and South Carolina require that your final exam be taken physically in that State and proctored by a live proctor. In such cases, when you complete your course with the CE Shop, Customer Service will identify a location and proctor in that state with which you will take your final exam.
The Final Course Exam varies depending on the state from which you are seeking your real estate license. Each state's required content is different, and the required passing score and the number of times you may retake the exam to achieve a passing score will vary and are stated in each state's course catalog. For example, Florida requires a passing score of at least 75% and allows only one retake of the exam, but South Carolina has a minimum passing score of 70% and two retakes of the exam.
Certificate of Completion
Upon completion of the real estate course, the Certificate of Completion is sent to your email or can be downloaded from within your account online. Certificates of completion can be stored in the student's online account for a minimum of five years unless otherwise stated.
Continuing Education
You don't stop learning when you receive your real estate license. The CE Shop can provide continuing education for every stage of your real estate career. They are known for providing the most extensive variety of continuing education courses of any online provider.
---
Does the CE Shop offer support?
The CE Shop offers 24/7 support via chat, email or phone. They state that they want to be as accessible as their online courses are.
---
Does the CE Shop offer any guarantee?
Some real estate schools do not provide a refund for any reason. The CE Shop is so sure that you will succeed and be successful with their courses, that they offer a risk-free trial and two money-back guarantees for their pre-licensing courses. No guarantee or refund is provided for continuing education courses.
Five-day risk-free trial
The CE Shop offers a 5-day, risk-free trial with unlimited access to all of their content so you can sample their course material and decide whether it is the right option for you. The company believes you should not have to pay for something that isn't right for you.
30-day money-back guarantee
Additionally, the CE Shop offers a 30-day money-back guarantee. Within 30 days of course purchase (excluding the Exam Prep Edge), if you are not satisfied with the course and you have not completed more than 50% of the course, you can submit a request of a refund of the course price.
If you purchased the Exam Prep Edge as a standalone product and are not satisfied with the product and have not completed the initial assessment, you can request a refund for the Exam Prep Edge purchase price.
Exam Licensing Exam Pass Guarantee
The CE Shop provides a guarantee that you will pass the state licensing exam if you purchased the CE Shop pre-licensure program that included Exam Edge Prep OR they'll refund the cost of the initial licensing exam.
Suppose you purchased the standalone Exam Prep Edge product and demonstrated that you mastered the content. In that case, the CE Shop guarantees that you will pass the state licensing exam or refund the Exam Prep Edge product's cost.
Some states such as Alabama, Florida, Hawaii, Kansas, Louisiana, Michigan, Mississippi, Missouri, Pennsylvania, and Tennessee do not permit the refund of the initial licensing exam fee.
---
The CE Shop Pricing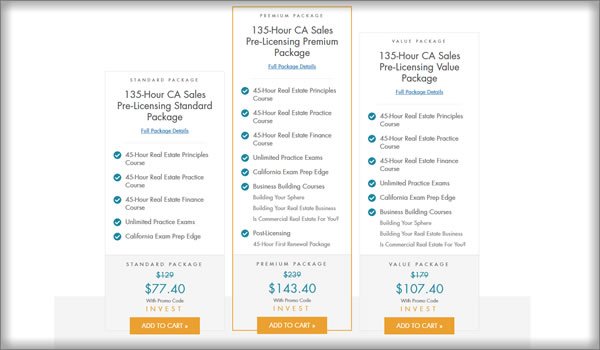 The CE Shop offers Salesperson Pre-licensing, Continuing Education Courses, and Broker Prelicensing Courses. Prelicensing Courses for Salesperson and Broker are priced in packages to provide a one-stop start to finish certification. Continuing Education Courses are priced individually. Pricing varies depending on the state in which you are planning to be licensed.
Standard Pre-licensing Package includes Salesperson pre-licensing courses, unlimited practice exams, and a state-specific Exam Prep Edge. Packages are priced in a range of $129 to $649, with the average price being $324.
Pre-licensing Value Package includes everything in the Standard package plus Business Building Courses. Packages are priced in a range of $179 to $699, with the average price being $355.
Pre-licensing Premium Package includes everything in the Value Package plus a 10-15 HR renewal package. Packages are priced in a range of $279 to $769, with the average price being $390.
Continuing Education Courses are priced individually in a range of $9 to $59, with the average price being $29.
Continuing Education Course Packages include 10-25 hours of required continuing education for active license renewals. Packages are priced in a range of $19 to $139, with the average being $59.
---
Pros And Cons Of Using The CE Shop
Prelicensing courses are an essential step to prepare you for the state real estate licensing process. Courses are an investment of valuable time and money. You want to be sure that you choose the real estate education that is accredited, offers course material aligned with your state's pre-licensing exam, and has excellent reviews from past students.
PROS
The CE Shop is an accredited provider of distance education real estate education courses, ARELLO certified, and a BBB rating of A+. (at the time of this writing and is subject to change)
The CE Shop has a national pass rate average of 91% based on an internal survey of all students that have completed their pre-licensing curriculum since January 2015. (at the time of this writing and is subject to change)
Based on 5,928 student reviews filed with Trustpilot, The CE Shop earned 4.7 out of 5-star rating. 96% of students recommend their courses. (at the time of this writing and is subject to change)
The CE Shop offers a 5-Day risk-free trial and two guarantees that you will pass your state pre-licensing exam.
Courses are clear, concise, and easy to navigate on a desktop computer or smartphone, tablet, or another mobile device.
Progress tracking bars tell you the total amount of time spent in the course and how much of it has been completed.
The CE Shop's proprietary learning platform, LEAP 2.0, delivers a streamlined interactive course that makes student learning simple and straightforward.
Customer support is available via phone, live chat, and email, and phone seven days a week.
Lessons broken down into bite sized segments which makes learning easy.
Some former students left glowing reviews saying that The CE Shop had amazing learning material and a lot of great quizzing which helped them to absorb the material.
CONS
For states that require proctoring of final course exams, the CE shop outsources the proctoring to PSI, a third party company. Some students have had difficulty working with PSI's systems and proctors.
Conclusion And Verdict
After completing the CE Shop review, we are impressed with their innovative, flexible real estate courses. Courses are priced competitively, and some pre-licensing courses are priced a bit more toward the higher end but it's worth the little extra cost with the amazing education you can get.
The VAST majority of student reviews are positive, citing easy to follow content sprinkled with real-world applications and examples. Negative reviews seemed to center around the inability to ask specific questions of instructors and difficulties with end-of-course exam proctors.
Overall though, this is in our top three choices of online real estate schools and we highly recommend it.
Enjoy $117 Off on The CE Shop Real Estate
38 uses today
Last Used: 6 days
Save 40% on The CE Shop Real Estate Courses
33 uses today
Last Used: 9 hours
---
---