---
Chamberlin Real Estate School has a long history but prospective students want to know the reasons why they should choose this school. This comprehensive Chamberlin Real Estate School review will answer the questions potential students may have.
---
UPDATED: October 2023
Our Overall Rating

---
Overview of Chamberlin Real Estate School
Chamberlin Real Estate School has a long and rich history in the real estate industry. It has developed and evolved with the times keeping the third-generation business strong.
Chamberlin Real Estate School is in the business of helping prepare students for the real estate industry. This has been their passion and mission since the founding in 1949.
Carol Chamberlin
Developed out of the need created by the economic upswing that followed the second world war, the founder Carol Chamberlin, wanted to equip potential agents to pass the state exams.
She was a pioneer both in creating the school but also as one of the few female real estate agents of the time. This school has been passed down through three generations. They have gone from a small, in-person school to being the first California school accredited to offer online courses.
It would be difficult, if not impossible, to calculate the number of students the Chamberlin Real Estate School has served since 1949. Especially with the rapid growth that happened with the creation of the internet.
---
In-Depth Look at Chamberlin Real Estate School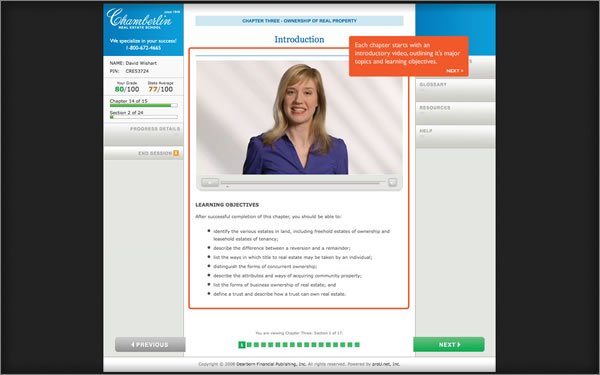 Chamberlin Real Estate School has mastered the ability to change and adapt with the times. They have gone to a fully online and home study method for their real estate education program.
The owners realized that accommodating and working with the busy lives of their students was the best path to success for the students and the business. That is why in the late 1990s when the Internet was becoming a part of everyday life, they added an online option.
As the online program became more and more successful and the need for a more flexible real estate school option started to become more prevalent, the owners began phasing out the in-person classes.
The way the Chamberlin Real Estate School is not set up is completely online. This doesn't change how committed they are to the students they serve. The customer service has not suffered and the students still get technical support as well.
The Chamberlin Real Estate School is a school that specializes in one state. Often when a school is strictly online they will branch out to other states and areas. Chamberlin has stayed committed to the real estate students and market in California.
The courses that are offered are in-depth and prepare the students for a career in the real world of real estate. With a finger on the pulse of the California real estate market, they can tailor their courses as well keep them updated.
Individual Classes
There are several different options when it comes to class offerings and packages. Most schools do offer the classes separately but others will only offer different package levels.
Chamberlin Real Estate School offers both individual courses as well as a package deal that adds value to the coursework. The individual courses that are offered are all found in the package. However, students who need to work with a smaller budget or a longer time frame can take one course at a time.
The individual courses that are available through the Chamberlin online program are the following.
Real Estate Practice
Real Estate Principles
Escrow
Property Management
Real Estate Economics
Real Estate Finance
Real Estate Appraisal
Legal Aspects of Real Estate
Real Estate Office Administration
All of these courses are available for individual enrollment. They come with the e-book that is needed to complete the course. However, if students would rather have a printed textbook that is available for purchase at check out.
The individual courses can be finished by a motivated student within two and a half weeks. But it can be done at the pace of the student as well.
Prep Courses
Along with the real estate courses that are available for individual purchase there are also great prep resources and courses available for added preparation. Students can purchase online practice questions for the state licensing exam.
This is a great tool that is fully online and allows students to create their own exams. They can do this based on the subject but they can also choose how many questions are on their practice exam.
The practice questions tool is a great way to simulate the real exam for effective practice. This program does have an automatic grading tool. This will give the answers and the explanations so students can address the content weaknesses they have.
Crash Course
Their live one-day zoom webinar crash course is also available for individual purchase. The crash course is traditionally done live on a weekend. Students can take it right before the exams to make sure everything is fresh on their minds.
However, due to the current health situation they have adapted and changed it to a one-day live webinar. It still has all of the features and benefits of the in-person crash course but it is more convenient for students.
There are certain things that are covered in the crash course. The instructor will cover terms that are important to remember as well as giving memorization tips. There is also a section dedicated to exam tips that will help specifically with the state licensing exam.
Hot Questions Handout
Students also walk away with a hot questions handout. This handout gives students a glimpse at some of the most common and most difficult questions on the exam.
The school also offers brokerage courses. There is no package but there is a price break for enrolling in multiple classes at once. Students can choose which courses to take from a designated list.
As well as the initial licensing courses for both salesperson and broker Chamberlin also offers renewal packages. These packages will be needed both as a salesperson and a broker. They are affordable as well.
Chamberlin Real Estate School Packages
Chamberlin Real Estate School only offers one package deal to the students. However, it is a good value and offers many benefits to the students of the school.
The package offers two courses and prep courses that can be purchased separately but by enrolling in the courses as a package students do save money.
The package has the qualifying online courses, the live crash course webinar, and the practice questions. Students can choose an elective that will go with their course but it must be from an approved list.
The two courses that must be taken are the Real Estate Principles and Real Estate Practice. Students have a choice for their final class. All of the online courses, including the package deal have instructor support.
The support is online through email. Sometimes a phone call can be scheduled with an appointment.
How the Chamberlin Real Estate School Program Works
The online program that has been developed by Chamberlin Real Estate School is a unique program. They didn't develop the program on their own but joined forces with two big names in test prep.
By joining with proU.net and Dearborn Real Estate Education (this is a subset of Kaplan), Chamberlin was able to build a program that is dynamic, easy to use, and intuitive. While the ease of use is great, it is also a beneficial program.
Many of the students using this unique online learning platform thrive and end up passing the exam the first time. There are so many features that students don't even need to think about where they left off or worry about losing their work.
Some of the more notable features are a progress tracker and the ability to bring the program back up to where you left off. There is no more searching through modules to find your last spot.
Students are able to immediately start the program as soon as they enroll. There is no lag time or technical issues to worry about.
This online program does have quizzes and work that will be graded, as well as a final exam. The program will automatically grade your work so you don't have to wonder how well you did. And speaking of the final exam, it is online which means it is open-book.
The online program comes with other resources to help with the learning as well. There is a glossary of terms that is available not only in text but in audio as well. They also provide a reference page with links to other real estate websites that can be useful both during learning and their career.
There are no e-books with the program. All of the material is in the online program and will be conveyed in an understandable yet high-quality way. But if students want to order a print text book they are able to do that online.
If students aren't sure if this program will be something they can use, Chamberlin has set up a demo video to walk interested parties through the program. This video gives students an inside look before they commit to the course.
Many online real estate schools, and even in-person schools, offer a passing guarantee of some kind. This is not necessary but can be the deciding factor for some students.
Chamberlin Real Estate School is one of the schools that does not offer a guarantee. They offer so many help and resources that many of their students do pass the first time, however, if they don't then they have to pay the test fee again.
---
Chamberlin Real Estate School Pricing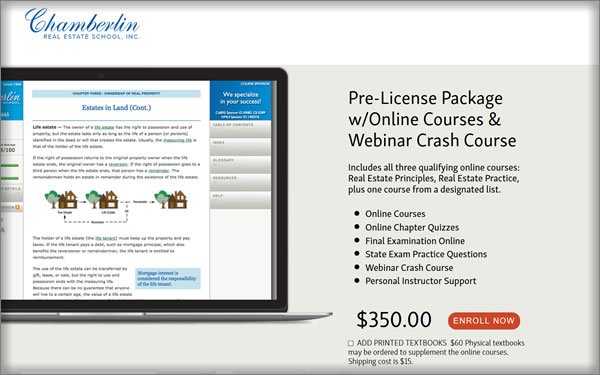 Chamberlin Real Estate School does have reasonable pricing for students. While there is only one package option it is still an affordable option.
The individual courses are priced well for those just wanting to see if this is for them or want to stretch the timeline out.
Pre-Licensing Course
The package for pre-licensing real estate courses in California through Chamberlin is $350 to enroll. This is a $76 savings over taking each of the courses separately.
Individual Course
Each individual real estate education course is priced at $89 a class. That is still affordable but will add up if taken separately.
Practice Questions
The practice questions resource that comes with the package can also be bought separately for $40. This is a great value for the program but it can be a better value when it comes with the package.
Live Crash Course Webinar
There is also the live crash course webinar that can be purchased by itself. This is a little more than the individual courses and the quiz program. The webinar is $119 when bought alone.
The pricing Chamberlin Real Estate School offers to students is competitive and affordable. Students can easily begin a new real estate career in less than a year and start making a profit.
Brokerage Courses
Chamberlin brokerage courses are also affordable. There is no package but the $89 courses do get a price break for two to five classes that are taken at once.
Renewal Courses
The renewal courses are also affordable and only cost $59 for each renewal course.
---
Pros and Cons of Chamberlin Real Estate School
The pros and cons associated with the Chamberlin Real Estate School give students something to think about. These will help students make an informed decision about their real estate education.
Pros
Long standing experience
Online self-paced learning
Affordable
Courses can be taken one at a time
Live crash course
Cons
Only serves California residents
No passing guarantee
Conclusion And Verdict
After reviewing all of the information on Chamberlin Real Estate School is it easy to come to a conclusion and a verdict that can help future real estate students in California. This school has decades of experience and has survived many market changes and time frames.
Being able to adapt to the times and different methods shows the ingenuity of the school and the owners. Many students have gone through their program and become successful real estate agents.
The proprietary online program that has been designed by the owners and two online learning giants is easy to use. Students find the program easy to navigate as well as engaging.
The pricing of the programs as well as the flexibility to take one class at a time is also appealing to students. The course and package offerings are affordable and add value to the real estate education the students receive.
The Chamberlin Real Estate School would be a good choice for students in looking to become a real estate agent in California and pursuing a career in real estate. It is a thorough and often updated program that still values good customer service even remotely.
The only thing that isn't ideal for students is that they don't offer a guarantee for students. A school that offers a guarantee is appealing for students. Chamberlin still has much to offer California students.
We conclude that the Chamberlin Real Estate School is a great value as well as a real estate school that will help prospective agents reach their goals.
---