---
ProLicense Florida is a real estate school serving students in the state of Florida, as the name suggests. This school is one of many options in Florida, and before deciding which is best for you, it's important to consider every aspect. This ProLicense Florida review provides everything you need to know, including whether or not we recommend it.
---
UPDATED: June 2023
Our Overall Rating

---
Overview Of ProLicense Florida
The school is an educational provider in Florida. They operate with the full approval of the Department of Business and Professional Regulation and the Florida Real Estate Commission. ProLicenses Florida is also committed to giving students a cutting-edge education that features courses, certificates, and practice tests and exams.
Unfortunately, the school does not have much information on its website regarding origins. As such, we have a limited understanding of when operations began. Though, according to the Better Business Bureau, the school was accredited in 2018.
Pre-licensing instructors include Marc Pare and Maria Wilson. Below is a bit more information on who you might encounter while studying at this school.
More on Marc Pare:
Marc is a real estate professional who has instructed students through multiple subjects and courses. He specializes in both real estate and community association management, helping to teach that knowledge at ProLicense. As for his personal interest in the subject matter, Marc Pare is passionate about educating individuals online and reading and traveling. Overall, Marc's goal is to guide students so that they can pass their exams on
the first go.
More on Maria Wilson:
Marias is the second real estate instructor who may lead your class sessions. Maria first joined the school in 2017 and currently serves as the Director of Real Estate Education. Not only does she spend her time in-class lecturing, but she also teaches and writes courses like real estate continuing education and pre-licensing courses. Overall, Maria's goal is to teach students via the most comprehensive and best classes in Florida.
---
In-Depth Look At ProLicense Florida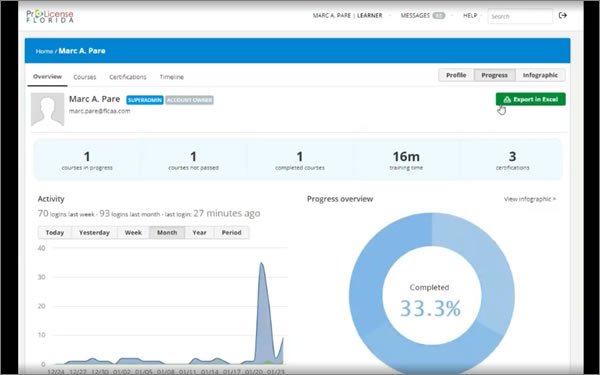 This school teaches courses in both real estate and community association managers. However, this guide will focus on pre-licensing. As such, their only course format is in an online format. Don't worry – this format still satisfies the 63-hour requirement set forth by Florida.
There are two package options for online learning, a standard or premium.
The Standard Option
This basic option is the lower cost of the two options and includes a 63-hour state-approved course, 24/7 support, and a 30-day money-back guarantee. Students will only have access to the bare minimum with little guidance.
The Premium Option
This premium option includes the Standard benefits like a state-approved course, 24/7 instructor support, and a 30-day money-back guarantee. However, it also includes a state exam simulator, exam prep flashcards, course e-book.
With both options, students are able to access a free trial before fully committing to the course. This ensures that the layout and curriculum work for each student before forcing them to commit.
As for the curriculum, the school does not post a preview for students to analyze before making a commitment. However, you can give the free trial a shot to better understand things. You can expect topics to cover important topics as required by the state like laws and regulations, ethics, and similar.
The school also includes what they describe as intuitive online exam prep. This benefit is included with course purchases and helps to prepare students for the state exam. Not only will it refresh your memory and teach new concepts, but it will also outline which sections you lack in.
Reactivations and Extensions
For both course options, students have the option to extend their access where necessary. If a student's learning time is taking longer than the initial course timeframe, they may purchase more time.
However, you will only have twelve months to do so from the time of purchase. The pricing for these extensions ranges and can be found in the section below.
ProLicense Florida Instructor Support
In all cases, for both packages, students will have access to instructors 24/7 for questions regarding the subject matter. However, it's important to keep in mind that these are online classes, so the assistance will be via an online portal, email, or similar methods.
ProLicense Florida Exam Preparation
While this option is included with the premium package, it is available for purchase independently. Included in this are practice exams and flashcards that help students to pass the real estate exam on the first go.
The school is constantly updating the exam prep content to best represent current affairs and rules. The goal of this exam prep is to mimic what will actually be on the state licensing exam when it comes time for testing.
General Course Process and ProLicense Tips for Success
ProLicense has an online blog where they published a how-to on how to successfully obtain your real estate license with the school. While it takes most people ten to twenty weeks to complete their pre-licensing work and become licensed, this real estate school works to help students be licensed in under five weeks.
In order to get students licensed quickly, the process is:
Step One – Finish and pass the pre-licensing course
Step Two – Take and submit your fingerprints to the state
Step Three – Submit an application to the state for approval
Step Four – Schedule and pass the Florida state exam
The courses at ProLicense are comprehensive, but when it comes to moving through the course quickly, this school recommends that students do not try to memorize all of their content. Instead, students should try and move through the content diligently. When it comes time for quizzes and flashcards, students will be able to touch up on areas of concern.
In Florida, students can only retake their end-of-course exam after 30 days. So, if you fail on the first go, you will need to wait a month. This is not a school-specific regulation. This is statewide. Luckily, this real estate school offers plenty of materials to study and a practice exam before the official final exam, which can be taken an unlimited amount of times.
The practice tests that ProLicense provides are essential for success and help students to pass on the first time. While other schools provide 1,000+ practice questions for studying, ProLicense chooses to only give students 300-400 questions that really hone in on what's most important.
---
ProLicense Florida Pricing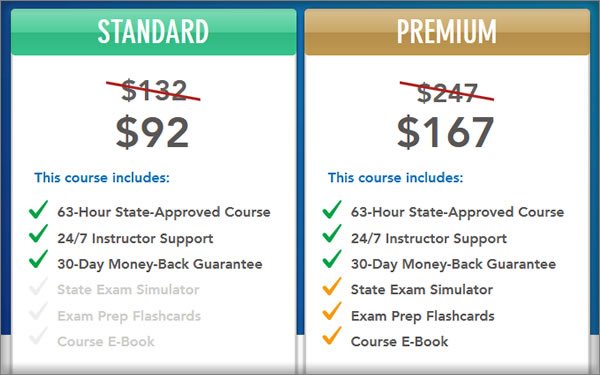 Standard Course Option – The standard option is $92. It includes the 63-hour state-approved course instructor support and a 30-day money-back guarantee.
Premium Course Option – The premium course option is $167. This cost includes the 63-hours of coursework, 24/7 instructor support, 30-day money-back guarantee, state exam simulator, exam prep flashcards, and a course e-book.
Reactivation Costs – A 30-day extension will cost $42, while a 90-day extension costs $79. If a student would like to re-enroll or restart the course, prices begin at $111 for six months.
Exam Prep Costs – The exam prep option at this school is $67. Included with this is a list of state exam questions, flashcards, four state exam simulations, and six-month access. This exam prep add-on is included with the premium package option, but for those that wish to purchase separately, it is available.
---
Pros And Cons Of Using ProLicense Florida
Pros
Pricing
The pricing is extremely affordable at ProLicense Florida. Though the offerings are limited, of those that are available, they are extremely low prices when compared to the marketplace. Capped at less than $200 when other comparable programs are upwards of $400, this program is one of the more affordable.
Exam Preparation
Included in one package is exam prep, but beyond that, students can purchase the add-on separately if they desire. So if a student is coming from another school looking for exam prep, this is a great option. If you purchase the cheaper package option upfront and need exam prep later on, it is available a la carte as well.
Great Course Layout
Many reviewers praise the course layout, which leads to easy navigation. It also allows for students to go back and touch up on areas of confusion while studying for final exams. Organizing things into smaller units are modules is a great way to keep course content tidy.
Help and Support
The website claims that students enrolled in either package option will have access to help and support via 24/7 instructor support. Despite being an online course, this is a nice benefit, so students are not completely on their own.
Free Trial
Before committing to the school, students are able to access a free trial in which they can take the course for a test drive. This is a great way to understand the course layout and contents before completely committing
30-day Money-back Guarantee
If the free trial isn't enough, you can also enroll completely, navigate the course for up to 30 days. Around that point, if you are not satisfied, you're eligible for a money-back guarantee that the school provides for pre-licensing students.
Excellent Reviews
This school is full of positive reviews from Facebook to Better Business Bureau and their own website testimonials. This speaks highly of the school's offerings from alumni and students themselves.
Flexibility
If students need flexibility, they'll love that they can access this course when and where they need to. Because everything is online and adaptable to your needs, meaning you'll be able to go at your own pace.
Honed in Practice Questions
Rather than providing students with thousands of practice questions to cover, students can study easily with a whittled-down list of questions. This allows students to spend less time sifting through options and rather focusing on what's most important.
Cons
Hard to Navigate Website
The website is hard to navigate in places and is densely littered with the same information in different places. Additionally, there are broken links and condensed sections that belong on their own respective pages rather than joined with another. Too much information in one place that is not relevant makes it hard to know what to find and where.
Only Online Course
If a student desires an in-person alternative to online learning, they are out of luck at this real estate school. Unfortunately, the school only offers online courses and no in-person, live option as an alternative. While online learning is a benefit for many, it's best when schools offer both options for those that are interested.
No FAQs About School
While a lot of important aspects for their school, like a pass guarantee, are not available when reading through the site, they also don't have a FAQ for their course offerings. Sometimes, schools won't put information like that on their website, but they'll include it in the FAQs. Unfortunately, no FAQ rounds out the issue of missing information on this site.
Conclusion And Verdict
In order to fully decide whether this is the best real estate school to attend in Florida, it's important that we consider what alumni have said about the course. Sites like the BBB, Yelp, Indeed, and Facebook are all great sites to find a ProLicense Florida Review.
When it comes to the Better Business Bureau or BBB, ProLicense is accredited and has an a+ rating. These ratings speak to the school's ability to resolve issues for students and speak to the school's business practices. Of the nearly 40 reviews left on BBB by students, there have been two complaints in the last three years.
Of the two complaints, they both spoke to the school's swiftness in response and ability to answer questions when raised. However, positive reviews far outweighed the complaints. One ProLicense Florida review praised the school's ability to help them pass after years of trying. They also praised the 30-day money-back guarantee, which helped them feel comfortable enough to achieve their desired results.
Other praise included the relevancy of course materials and the fair price, which made it accessible for a large audience. Other reviews on Facebook and Indeed showed similar positive reviews with 5 and 4.9-star ratings, respectively.
Praise on Indeed from alumni includes a great course layout allowing for easy navigation and thoroughness. Another reviewer states that they were able to complete the coursework in only two weeks, meaning an even more expedited licensing process.
Affordability is another great factor and allows more students to access the course. With that being said, the better access and first-time passing of the state exam make this option a great value, as evident in a number of reviews.
One ProLicense Florida review also mentioned that the school's organization into smaller bite size pieces was enjoyable. Topics are divided into units so that students can easily manage similar subjects. This allows for easy course navigation and makes the course easy to scan at a glimpse so that students can go back and reference trouble spots.
Final Verdict
This school is a great option for those that require an affordable option that is flexible and easily accessible. Students will be able to enjoy an online learning format and the ability to study on their schedule and on their terms. There are a few areas that can be improved, such as an easier-to-navigate website. However, for the most part, this real estate school is a great option for Florida residents, as evident by the reviews.
However, we have to give you our picks for the best choice in real estate schools. If you want to get your pre-licensing education at one of the best real estate schools in Florida, we would suggest Colibri Real Estate or AceableAgent over any other.
---
---