AceableAgent is an online school for anyone and everyone who wants to learn everything there is to know about real estate, both federally and in individual states of the U.S. The company, based in Austin, has been instrumental in helping hundreds of students earn their real estate licenses.
AceableAgent is an excellent choice for people who do not have the time to sit in on a physical real estate class. Courses are available for anyone; you can attend courses seamlessly with your mobile phone or personal computer.
With AceableAgent's platform, you can quickly grab a ten-minute course on a lunch break, or spare twenty-five minutes for another course while your kids take a nap.
AceableAgent makes online real estate education fun. While most schools will take a non-personal approach, AceableAgent tutors tailor-design real estate courses that will make complicated real estate processes simple to understand and learn.
These courses are delivered in PDF format, and there are also supporting video formats that will enhance your learning process.
AceableAgent reviews show that this trusted online real estate school is so confident in its teaching process that it offers a full refund policy.
UPDATED: October 2023
Our Overall Rating Of Aceable

Aceable Real Estate School Overview
AceableAgent doesn't just help those looking to pass their exams; they also help students start new careers.
AceableAgent has helped thousands of students successfully pass their exams with ease.
Real estate examinations are required for everyone to partake in—and pass before they can be granted the opportunity to practice in any state. Today, there are more than two million people who have a real estate license.
The staggering number, coupled with the number of people who are searching for their dream homes, makes real estate a field with diverse opportunities. AceableAgent has courses that are designed to help you get not only your real estate license but also become an outstanding realtor.
Their training guides include pre-license training courses and post-license training courses. Their pre-license training courses are created to help would-be realtors pass their license examinations. In contrast, their post-license courses will help realtors gain professional standard realtor knowledge to further develop their careers.
---
AceableAgent Reviews: Online Real Estate Course
Aceable's courses cover everything students need to pass their real estate licensing exams. Each state of the U.S. offers real estate licenses to applicants who pass the licensure examination.
For example, the California Real Estate License allows the bearers or holders to practice as a realtor in California. Getting a license from the California Department of Real Estate (DRE) involves the steps below:
Apply for real estate courses from an approved real estate school.
Apply for the real estate exam.
Get approved for the examination.
Take the exam and pass it.
AceableAgent has designed its online process to help all students study and prepare for their examinations seamlessly.
Aceable course key features:
Provision of study materials for students: AceableAgent provides study materials for students who want to take their license examination in California and other states. These study materials are comprehensive; yet simplistic. Hence, it will aid the average student in grasping the necessary knowledge for acing a real estate examination and becoming an outstanding realtor. Study materials are in pdf formats and are also supported by video formats.
Easy to understand: Aceable is new and fun. Most students who have passed through the school praise it for making real estate look, well, somewhat less drab than most other real estate schools.
With most other online real estate schools, you are predisposed to believe that passing a real estate examination is extremely tough. AceableAgent propels the mind of a student, opening the student to quickly understand the necessary knowledge and get crucial real estate information.
Seamless Online Approach: Aceable's transparent online approach to learning has endured it to most students. All learning platforms are synced; therefore, you may begin a course at home, on your PC, and proceed later on a smartphone or tablet. The system records and keeps all course progress, so you can always continue a course on an entirely different system or phone from the last progress you made.
Support: AceableAgent's support system is undeniably good. Getting a real estate license can be intimidating. The process may look complicated; however, AceableAgent has staff dedicated to answering all questions by its students.
Flexible: AceableAgent's programs are designed to fit into your lifestyle—however busy you may be.
Aceable is an online school that operates students' schedules via Aceable's convenient app. Because of their entirely-online design, it enables students to take their exams online at no extra cost in many states.
They offer courses for 13 states: Arizona, California, Colorado, Florida, Georgia, Michigan, New York, Pennsylvania, South Carolina, Tennessee, Texas, Virginia, and Washington.
If at any time a student needs help or clarification, support is available from their expert agents. Their top real estate agents are endorsed by such real estate moguls as Chris Heller.
Aceable's tests are guaranteed with their "Ace the Test" promise. Requirements for this guarantee vary by state.
With their high pass rate on TREC's exams, they are a top-tier choice for students.
AceableAgent is staffed by a team of people that love what they do. Whether this is in the form of teaching, writing, designing, or beyond, these heroes will strive to help students succeed.
---
AceableAgent Real Estate School Pricing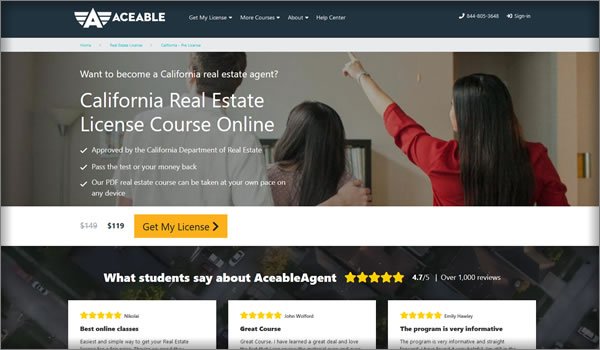 For the states that Aceable serves, they generally offer two packages. Depending on the state, these can range from $155 up to $525.
AceableAgent also offers training seminars via video. These range in pricing from $79-$247.
The great thing about getting a real estate license today is that your examination can be done online. AceableAgent prepares its students for the online process.
With their courses, students are assured of acing their examination in the first trial and bagging a license. However, before you can take an exam, you must, first, pass a course by a recognized body like AceableAgent.
Online courses to be taken before getting a license depends on the state you are applying to. All Aceable Agent courses are certified by the real estate body of the respective states.
Below are some of the popular real estate courses offered by AceableAgent:
Online Texas Aceable Course: Price: $525
Online Georgia Aceable Course: Price: $269
Online Pennsylvania Aceable Course: Price: $344
Online Michigan Aceable Course: Price: $194
Online New York Aceable Course: Price: $269
Online Virginia Aceable Course: Price: $155
Online South Carolina Aceable Course: $455
Aceable Team Model Course
Aceable's Pro-License Professional Courses are 5-hour courses for $99. The Million Dollar Real Estate Team course is created and taught by Chris Watters and Bradley Pounds. Chris and Bradley are real estate experts and well-respected industry leaders.
The video-based course leverages on the efficient and strategic method for building a brokerage using the tam model. The course completely discards the traditional brokerage model and explains how the Team Model can give more efficient and lasting results.
AceableAgent Course Outline:
Identification and implementation of the Seven Pillars of the team model.
Execution of plans to secure strategic partnerships with real estate vendors to increase lead generation.
Creation of a 30-day onboarding process that will help you effectively launch new buyer agent recruits.
Aceable Proven Path Course
The Proven Path Course is designed to help you follow real estate methods that have been proven to give success. In this course, real estate experts will teach you formula-based success methods that will enhance your career.
AceableAgent Course Outline:
Learn the proven formula for a successful career.
Learn productive methods and practices for your career.
Learn how to leverage your business successfully.
Learn how to build a pipeline of continuous and overflowing positive leads, and generate passive income within a short period and over the long run.
Aceable Listing Appointments Courses
Listing appointments courses via Aceable Agent Course are 3 hours which costs $79 apiece.
The real estate slogan: "Listers last" is accurate, and this course offers professional listing presentation class. A listing class is assuredly one of the most essential real estate courses you will find throughout your career.
AceableAgent Course Outline:
Learn the essential and critical pre-appointment step that will place you a step above your competition.
Learn how to ask the right questions, speak the language of your prospects, and understand them.
Learn how to control pricing conversation and how to react to commission discount requests.
Understand the statistics that will help you continuously outperform the market.
Aceable Real Estate Course By Jason Edward
Their course by Jason Edward will teach you how to farm neighborhoods, generate new leads, and sell more homes. This is a 3-hour course which costs $287.
Learn the concept of geographical farming
Learn and avoid the key mistakes made by most agents who try to set up a farm.
Understand the magic number used in sizing a farm.
Apply proven methods that will drive real estate listings.
---
After You've Completed The AceableAgent Real Estate Course
Once your online real estate courses are completed and you pass your examination, you will get your license from the state you applied. For example, a real estate license in California is valid for four years. In most states, your license is valid for four years, and you can renew it anytime within the four years.
In California, you will be sent a reminder by the California Department of Real Estate, 60 days before your license expiration. The notice will be addressed to the residence you applied during the application process. If you change your address, you should inform the DRE. AceableAgent will guide you through the pre-application and application process of getting your real estate license.
To be able to renew your license in many states, you will have to complete all required continuing and professional courses, submit a renewal request, and pay an additional fee to the DRE.
AceableAgent provides additional courses that will help you through your renewal process. These courses are not just created for only the purpose of passing your renewal examination, but also, they help you become a better real estate agent in whatever specific line you choose to follow.
The DRE is making electronic platforms available for getting and renewal of real estate licenses. While states like California have fully incorporated e-platforms, you may need to confirm if your state does. AceableAgent is certified and recognized by the DRE, nationally, and all continuing education courses can be taken on their platform.
Your license should be renewed at least 90 days before expiration. Why wait any longer? If one doesn't renew in time, they cannot practice as a realtor until the renewal process is begun and completed.
Your renewal status is considered to be "on-time" as long as your e-licensing transaction is marked as complete.
If the DRE does not give you your renewal before your license expires, you can continue working as a realtor until the DRE sends your renewed license or inform you that your application was insufficient.
If the latter is the case, the forms will need to be resubmitted as soon as possible.
If you do not renew your license before it expires, most states give you a grace period. AceableAgent does not advise late renewal, and that is why their tutors are hands-on in helping you through the renewal process.
Licensees have two years to complete this; however, you cannot work as a realtor. Also, you will have to complete your continuing education courses within four years from your renewal date. Late renewal fees are also higher—up to 150% higher than the normal renewal fee.
With Aceable Agent's seamless program, you will take the required online courses and take your examination.
The traditional real estate school will not fit into your busy schedule. AceableAgent helps people who have busy schedules to take online classes on their android phones, I phones, or on the web. All platforms are seamlessly integrated to allow for a satisfactory learning process.
Real estate license processes are almost the same for each state. Protocols are often different, but the processes remain the same. Thankfully, you can get your license online. AceableAgent—a DRE certified real estate school, helps students get their real estate licenses and start a wonderful career.
Investors are essential parts of a real estate business, and working with them can be rewarding—if you know just how. Mostly, investment teams work with real estate agents to gain insights from the MLS (Multiple Listing Service) in the real estate agent's expertise. Most MLS listing information is available as public data; however, when you have a license, join, and pay dues for a realtor association, you gain access to invaluable historical data that can be used to work with an investor.
States like Carolina include 60-hour pre-licensing education and 30-hour post-licensing education on real estate principles. An additional 30 hours of training in property management is required.
AceableAgent offers property management courses that will boost your real estate career and give you the cutting edge to understand property worth, property management, and property identification.
After passing the property management examination, your license allows you to oversee residential and commercial properties' maintenance and leasing. AceableAgent property management courses will give you a critical understanding of lease rates and other factors that affect property value.
Housing will always be in demand. From young couples just starting to old retirees looking to settle down, whatever the needs are, you can become an onsite agent with a license that will help people get the house of their dreams.
You will sell homes built by builders to buyers and make a profit off your commission. You can also work with a more established real estate firm and build your career.
To become an excellent outstanding agent, you need to study the builder's contract. AceableAgent courses will give you a thorough understanding of how to differentiate builder's contracts, gain the trust of homebuyers, and improve your network over time.
Buyer's agent works almost exclusively with homebuyers. Your role as a buyer's agent is intertwined with your role as an onsite agent, and Aceable Agent offers courses that will help you find home buyers, understand the needs of buyers, and help them find the perfect home.
Buyer's agents need to gain the trust of people looking to buy a home: in this instance, you are not working for a home builder; rather, you are working for someone or a group of people looking to get the perfect home.
A buyer's agent can make an enormous profit in a year, and this is because most buyers are ready to buy. Your duty will be to find the perfect home for a buyer, unlike an onsite agent who needs to sell a home (owned by a builder—or client) and present it as the perfect home to potential buyers.
With an Aceable Agent pre-licensing course, you can become an excellent buyer's agent, work with investors, and expand your network within a short period.
AceableAgent offers other courses that will help you become an excellent and professional listing agent and appraiser. The real estate market has a lot of specific fields and areas, and as you begin your career, with good guidance, you will quickly have a feel of the areas you can succeed in.
Sometimes, a real estate agent can perform three, four, or more professional tasks. You can begin your career as a listing agent, become a buyer's agent, work with investors, become an investor, establish your firm. With Aceable Agent license and continuing training, there is no limit to what you can earn or what you can do.
---
AceableAgent Pros & Cons
Pros
Their app is convenient and syncs across PC, phone, and tablet
Online exams
Ace the Test Guarantee
Extra video training to help bolster learning and provide insider knowledge
Quick and easy learning programs
Cutting edge teaching practices
Team of passionate heroes ready to help students
Very modern easy to use interface
Training is interactive and fun making learning easier
Cons
Less communication between teacher and student
Final Thoughts On AceableAgent Review
Aceable Agent reviews praise the school itself as well as the usability, convenience, and ease of their app.
We love the fact that their platform is so easy to use. The interactive learning environment makes learning so much easier and fun which in turn helps in comprehension of the material.
Our verdict is that this is one of the very best online real estate schools you can find. In fact, it's one of our top 3 choices.
---
---
$128 Off on Aceable Agent Premium Exam Packages
34 uses today
Last Used: 10 hours
Up to 30% Savings on Aceable Agent Exam Packages
36 uses today
Last Used: 17 hours