Looking for the best online real estate schools in Tennessee? We have the answers you've been looking for!
Getting your real estate license in Tennessee is a rewarding and potentially lucrative undertaking. With so many people moving from big cities into rural, less populated areas, there has never been a better time. Wherever there are homes being sold, there are real estate agents collecting commissions.
In this review of the best online real estate schools in Tennessee, we will cover every aspect of pre-licensure education. Not all real estate schools are the same; it's a good idea to know their differences. By preparing yourself, you can enroll in classes with the confidence that you have all the information.
1. Colibri Real Estate: Best Online Real Estate School In Tennessee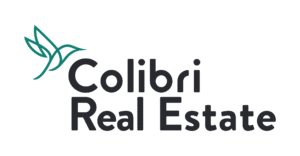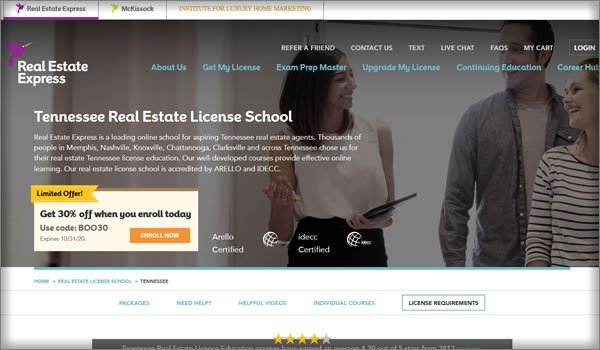 Colibri Real Estate is a national chain of online real estate courses. They service states all across the country and have taught all kinds of students. Because of this, they are incredibly accessible and open to many different learning styles.
Course Features
All of the courses at Colibri Real Estate include a 60-hour education course and a 30-hour new agent affiliate course. These courses will cover everything from real estate law to the ins and outs of the business. By breaking them up into two categories, they allow you to compartmentalize these two aspects of the industry.
Meets the 90-hour state education requirement
3 real estate eBooks
Exam prep resources with instructor support
Exam Crammer Series and 90-Day Bootcamp (Ultimate Learning only)
You also receive Tennessee approved instructor help in any Colibri Real Estate course. This kind of hands-on, localized instruction is incredibly important. If you plan on working exclusively in Tennessee, it is best to know the laws and nuances of that market.
Pros and Cons
Pro – Professional Recognition: Like many online real estate schools in Tennessee, Colibri Real Estate is accredited by national oversight. This means that you can be confident that you are getting the correct education.
Pro – Alumni Benefits: By completing the premium package, you will receive a one-year Career Development membership. This gives you access to networking opportunities you may not have access to otherwise.
Pro – Affordable Courses: With a basic package at under $200, almost anyone can afford to get their license. This low price of entry is a major benefit for students looking for a side business.
Bottom Line
Although Colibri Real Estate offers educational courses for a wide range of states, their Tennessee pre-license course is very specific to the location. Also, their platform is far better than most local real estate schools.
Colibri Real Estate: $205 Off Ultimate Learning Course
37 uses today
Last Used: 2 days
Colibri Real Estate: $182 Off Ultimate Learning Course
41 uses today
Last Used: 6 days
---
2. Aceable Agent: Online Real Estate Course in Tennessee

Unlike our top pick, Aceable Agent only provides test prep materials for a handful of states; Tennessee is one of them. And while their narrow focus means their curriculum is extremely state-specific, there's still enough emphasis on the national component to ensure you receive a well-rounded education.
Course Features
30-hour, 60-hour, and 90-hour courses
Covers national and state-specific topics
Practice Question Bank with hundreds of exam-realistic questions
Giant library of Continuing Education (CE) content
Pros and Cons
Pro – Lots of Options: You won't be forced into attending a generic class due to lack of options; there are specific courses available for the state portion, national portion, or both portions of the TN real estate exam.
Pro – Continuing Education: Aceable Agent has a CE library that covers several interesting topics. You can maintain your license while also learning about subjects like the impact of millennials on the market, or how to protect elders from scams.
Con – Limited Communication: If you want to collaborate with other students and ask questions directly to your instructors, you have to sign up for Aceable Agent's classes. Choosing one of the more affordable supplementary materials limits your ability to reach out for more help if necessary.
Bottom Line
Aceable Agent is a well-designed resource that can provide valuable education for both newcomers to the real estate industry and experienced professionals.
$128 Off on Aceable Agent Premium Exam Packages
41 uses today
Last Used: 10 hours
Up to 30% Savings on Aceable Agent Exam Packages
38 uses today
Last Used: 17 hours
---
3. The CE Shop: Tennessee Real Estate License Course Online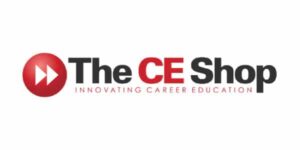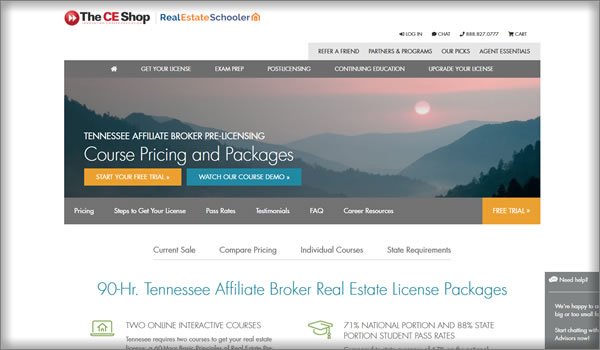 This online real estate school in Tennessee has been serving students for years. Although The CE Shop is not specifically tailored to Tennessee, their pre-license course is incredibly specific about getting your license in the state. Even with so many students, they still maintain a 96% satisfaction rate.
Course Features
The CE Shop provides several different study packages for TN real estate students. Depending on your educational preferences and needs, you may want to choose one over the other.
Lessons sorted by topic
Adaptive tech for assessment and progress tracking
Compatible with any modern PC, smartphone, or tablet
Support team accessible over phone, email, or live chat
Aside from the Associate Broker packages, all of The CE Shop's catalog will fulfill the 90 hour education requirements for online real estate courses in Tennessee. However, the premium package contains things like business building courses and practice exams.
Pros and Cons
Pro – Frequent Updates: The CE Shop keeps their curriculum up-to-date with the latest changes in real estate law. In such a dynamic industry, it is important to have the most current education. The CE Shop ensures this by maintaining close relationships with brokers and agents all over the country.
Pro – Support Available: In stark contrast to many outdated online and at-home prep courses, The CE Shop offers several ways to get in touch with your instructors and tech support if you encounter any issues. Thanks to a well-staffed department, you can expect fast and accurate responses to your concerns over phone, email, or web chat.
Con – Basic Package: The price difference in these packages is fairly inconsequential. There is only a $100 difference between the most basic package and the most comprehensive one. Because of this, you may not want to bother with the basic package if it is not that much cheaper.
Bottom Line
With the basic package coming in at $300, this is one of the more budget friendly options. For that amount of money, it is relatively low-risk to try your hand at the real estate game. Even if you don't end up becoming a full-time agent, it could still be a fulfilling endeavor!
Enjoy $117 Off on The CE Shop Real Estate
41 uses today
Last Used: 6 days
Save 40% on The CE Shop Real Estate Courses
40 uses today
Last Used: 9 hours
Get 30% on The CE Shop Continuing Education Course
33 uses today
Last Used: 5 days
30% Off on The CE Shop Pre-Licensing Education
38 uses today
Last Used: 3 days
---
4. Mbition: Online Real Estate Classes in TN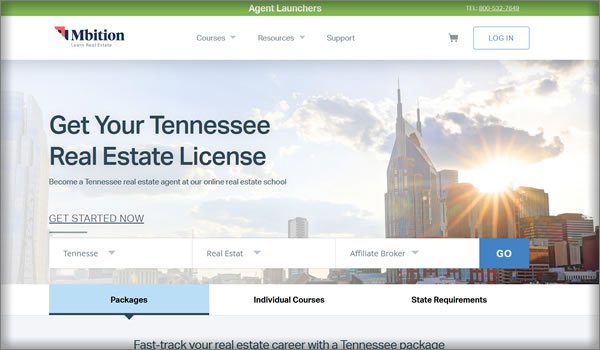 Mbition, an online real estate school in Tennessee, was originally founded as OnCourse Learning. Since changing their name, they have not shied away from their legacy as a premier online real estate school. Their legacy as Mbition holds up even if their name is changed.
Because of their experience in the field, Mbition can offer a streamlined education experience. They know what students respond to and can use that information to design their courses. Because of this, they can offer classes that are open and accessible to almost anyone.
The courses offered by Mbition cover Tennessee real estate law and best real estate practices. These are some of the most important things you can learn as a new real estate agent. This can help make the rules and regulations of your state second nature.
All of the courses offered come with a Math Master refresher course. Math is an essential skill for any real estate agent and something that many people struggle with. The fact that Mbition takes extra care with this aspect is incredibly important.
The pricing for Mbition is right down the middle as far as real estate schools in Tennessee go. The most basic package will run you just under $300. Although, this package still includes the Math Master course as well as instructor support.
The more comprehensive Platinum Package comes with a few extras relating to exam prep. At just under $500 this could be a very helpful and valuable package for nervous test takers. With only a $200 difference, it might be worth taking this more comprehensive curriculum.
One of the downsides of using Mbition is that they are relatively new as far as their brand goes. Since changing their name, some students have reported that there has been confusion with accreditation. If you do not want to risk this, you may want to go with a different real estate school in Tennessee.
---
5. Kaplan Real Estate Education: Tennessee Real Estate Classes Online

If you are looking for real estate classes in Tennessee geared toward success, Kaplan could be the one. They have helped thousands of people get their real estate licenses all over the country. They also strive to give you the best leg up possible and help jump start your career.
Kaplan prides itself on doing more than just preparing you for the real estate exam. They also want to help prepare you for being a successful business manager. This is an often-overlooked aspect of being a real estate agent, and Kaplan Real Estate Education understands its importance.
They offer two different pre-licensure packages for new real estate agents. Both of these packages will satisfy the 90 hour requirement offered by all real estate classes in Tennessee. However, they also include many more helpful features and perks.
The basic package that Kaplan offers is still fairly comprehensive. Not only do they offer basic instruction with this package, they also include intensive exam prep. The basic package also includes virtual group study sessions, which can be incredibly helpful.
Kaplan's Premium Package includes all the same things as the basic package with one added bonus. This package uses Dale Carnegie's master plan for success. This extra bit of instruction has proven itself to be very valuable to former students.
The pricing for Kaplan's courses is a little bit on the pricier side. With their most basic package costing just under $450, it is a fairly big investment. However, the Platinum Package is even more at just under $700. Only you can decide whether or not this extra cost is going to be worth it.
A downside of using Kaplan is that they're not specifically a real estate school in Tennessee. Due to their online format, they operate in many states across the country. If you would like an education experience more akin to a local college, you might want to look elsewhere. But using a school like Kaplan will give you everything you need to pass the state exam.
---
6. Tennessee Real Estate Academy: Online Real Estate License Training
Eric Kistner, the Director of Instruction at Tennessee Real Estate Academy, has been working in the business for years. He is still an active real estate agent in Tennessee and takes that experience into the classroom. Being able to benefit from those years of working in the field is a major plus.
Tennessee Real Estate Academy Is a certified distance learning center. This means that they are held up to the highest standards of online education. This is very valuable for students who want to make sure they're getting their money's worth.
Unlike other real estate schools in Tennessee, Tennessee Real Estate Academy only offers one education package. However, this package is very comprehensive and specifically designed to be easy to understand. Because of this, most students will feel very comfortable taking the courses.
The online education package that they offer can be completed in as little as four weeks. This makes them a great option for people who have full-time jobs on top of getting their real estate license. In fact, many of the features offered at Tennessee Real Estate Academy are meant for busy students.
This online education package is broken up into the two categories required by the state of Tennessee. These are the 60 hour general instruction section and the 30 hour affiliate section. Both of these sections are equally valuable and handled with the same care by Tennessee Real Estate Academy.
The price for the online education package is right in the middle of the price spectrum. At just under $300, this is a fairly affordable package that most people can afford to take. Because of this, they might be more accessible than other online real estate schools in Tennessee.
The downside of only offering this one package is that you cannot design your own education experience. Some of the other online real estate schools in Tennessee will allow you to mix and match certain elective courses. If this is important to you, you may want to look at other options.
---
7. Continual Learning Institute: Approved Real Estate Schools in Tennessee
For over 35 years, the Continual Learning Institute has been a premiere online real estate school in Tennessee. Over the course of these years, they have helped so many students achieve their real estate goals. If you are looking for that kind of experience, they could be a great option for you.
They are completely approved by the Tennessee Real Estate Commission. This partnership has allowed them to stay current and accredited since 1983. That kind of deep connection to a state and its students makes them a fantastic choice.
Unlike some of the other online real estate courses in Tennessee, they have broken up their classes into three different parts. These parts include 60 hours of basic education, exam prep, and 30 hours of affiliate education. By breaking up the courses this way, they make the whole process seem more doable.
The other nice thing about breaking up the courses in this way is that it allows you to pay separately. Many other real estate classes in Tennessee will have you pay for a package up front. In the case of Continual Learning Institute, you can pay as you go.
The first 60 hour basic education package is $375. This will include everything you need to fully understand Tennessee real estate law and best practices. Think of this as your boot camp for all aspects of selling Tennessee real estate.
The accelerated exam prep section comes in at $110. This section has proven to be incredibly valuable for those who are not as confident in test-taking. The more prepared you are, the better you will feel going into the exam.
The final 30 hour affiliate section is $185. This section will cover everything you need to know about working within a brokerage and with clients. This covers the practical aspects and day-to-day duties of an average real estate agent.
---
How to Get Your Real Estate License in Tennessee
The state of Tennessee is slightly different than other states when it comes to pre-licensure protocols. Although you are required to take 90 hours of education, they are broken up. You will take the 60 hour basic education course first, then take the real estate exam, then take the 30-hour affiliate course.
Because of this unique way of doing things, most online real estate classes in Tennessee offer these courses separately. This allows you to spread out your education and not have so much information to absorb at once. Many students find this to be very helpful.
After you have passed the exam and taken all of your required education hours, you will apply for your real estate license. In Tennessee, you can begin working independently as a real estate agent almost immediately. You do not have to sign on with a brokerage like you do in some other states.
---
Final Thoughts
Getting your real estate license can be intimidating, but can also be very rewarding. The best way to feel more comfortable is to be as informed as you can. By reading this review of the best online real estate schools in Tennessee, you already have a leg up.
The Tennessee real estate market is on the rise and opportunities are around every corner. By getting your real estate license, you can be a part of that growth. The only thing left to do is choose the school that will best suit your learning style and education needs.