---
Looking for the best online real estate schools in Georgia? We have found the best you can ever use to help you get your real estate license in Georgia.
If you live in Georgia and have decided that it is time to get your real estate license then you may be wondering what your next step is.
Starting a new career, whether it is your first career or a late in life change, knowing where to start is the hardest part.
We want to help make that easier for aspiring real estate agents in Georgia.
There are quite a few options for real estate schools in Georgia. Many of them offer flexibility to work the course into your busy schedule.
They can do this by offering online classes. However, if you want in-person options there are a few of those on the list as well.
We researched and found some of the best real estate schools in Georgia. These schools have high passing rates for the exam, offer flexibility, and affordability to students.
We want this to be a valuable resource for those starting the real estate career path. Let's dive in and start talking about these real estate schools in Georgia.
---
1. Colibri Real Estate: Best Online Real Estate School In Georgia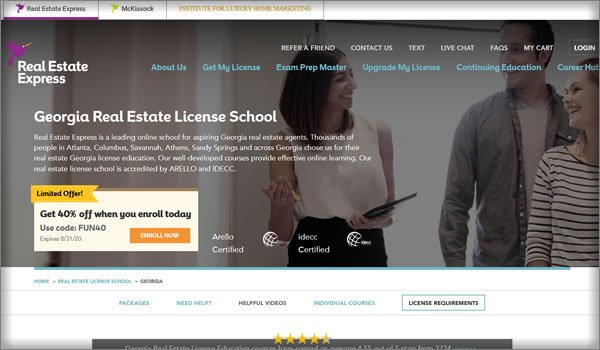 Colibri Real Estate is one of the leading real estate schools in Georgia. It helps that it is completely online.
With how busy lives are these days it is important to have flexible learning. Online programs for pre-licensure courses or even for continuing education makes learning more accessible.
This is another online program that does offer different packages. Unlike the previous online school, it has four different options rather than three.
Since there are more package options there are more people that could use their school. Budget restrictions can sometimes be the decision-maker for prospective real estate students.
Giving more options that make it affordable is a smart move for the school.
They have a basic package that is less than $150 and provides students with exactly what they need to be prepared for the test. There are no extras.
Their most popular learning package is the exam preparation plus package. It is the greatest value for your money. However, they do have a higher package than that.
They have a high passing rate that can show how well the program works. Colibri Real Estate does have a comprehensive FAQ section to offer answers to the most common questions they receive.
Colibri Real Estate: $205 Off Ultimate Learning Course
36 uses today
Last Used: 2 days
Colibri Real Estate: $182 Off Ultimate Learning Course
35 uses today
Last Used: 6 days
---
2. The CE Shop: Online Real Estate School In Georgia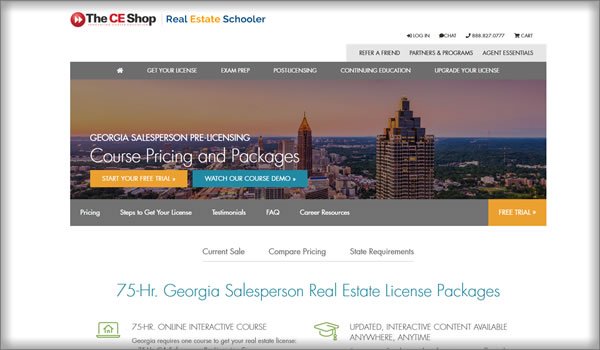 The CE Shop for Innovative Career Education is one of the most popular online real estate schools in Georgia.
This is the perfect program for busy Georgians. If you want to get your real estate license but need a flexible program that fits your lifestyle then this is the program for you.
With several options for what program you choose to get your pre-licensure hours, it can also fit into almost any budget.
Something we really love about this program is that there is a free trial. Since everyone has different preferences or learning styles it is important to be able to try the program before you commit.
Not all of the online real estate schools in Georgia offer a free trial. The CE Shop does offer three different packages for pre-licensure courses.
They have the basic package that is just what you need to meet your requirements and take the test. There is nothing wrong with this but the other packages do offer some extras.
Their most popular package is the premium package. This not only has the pre-licensure courses and business-building courses, but it also has a post-licensing package included.
The CE Shop also offers an in-between package called the value package. This is a good option but really the best value is the premium package.
Enjoy $117 Off on The CE Shop Real Estate
36 uses today
Last Used: 6 days
Save 40% on The CE Shop Real Estate Courses
40 uses today
Last Used: 9 hours
---
3. AceableAgent: Best Online Real Estate Classes In GA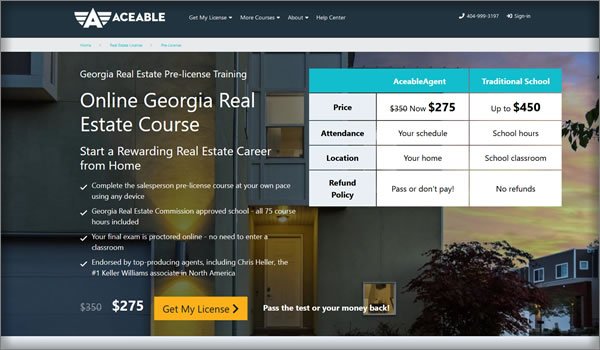 AceableAgent is one of the best online real estate schools in Georgia. There is one main reason for this.
It is very straightforward and user friendly. While it is nice to have package options and ways to get more bang for your buck, it is also nice to have ease of choice.
When you are busy and overwhelmed, one more choice might make it difficult to move forward. AceableAgent makes it easy.
They only offer one package. It is $275 and gives you what you need to become a licensed real estate agent in the state of Georgia.
One of the things that we really love about them is that they do offer a refund policy. They are so confident in their course that they will make you a deal.
If you don't pass the test on the first try then you will get a full refund. AceableAgent does have a very high success rate.
This program offers a 24/7 service. If you have any questions about the course or about the licensing requirements you can contact them any day of the week.
There are other programs that offer this but it is not as common as you would think.
When you are in a pinch and need some help with the program or you have some pressing questions, it is really frustrating when you can't get a hold of anyone.
It is equally frustrating to lose time that you could have been doing coursework because you have to wait for a weekday to ask a question.
That is why we love programs that offer round the clock support and customer service.
$128 Off on Aceable Agent Premium Exam Packages
36 uses today
Last Used: 10 hours
Up to 30% Savings on Aceable Agent Exam Packages
36 uses today
Last Used: 17 hours
---
4. Mbition: Top Real Estate Schools in Georgia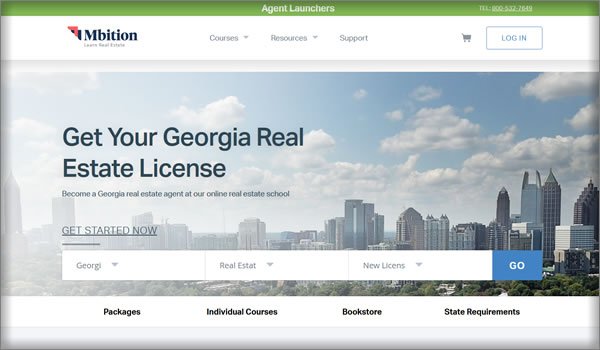 Mbition (formerly known as OnCourse Learning) is an online real estate school in Georgia that has a lot of options for students. There are package options that will let you get all you need for this journey.
But there are people that don't want to commit to a package or they just need one or two courses. Mbition offers options for those people.
It is possible with Mbition to enroll in A la Carte classes. It gives a little more flexibility for different situations and lifestyles.
If you choose to go the course by course route then you will be paying more over time.
However, there will be circumstances that need only one or two courses.
They also offer continuing education for real estate agents in Georgia. Once you get your license you will have to take more courses to keep it.
This is a service that Mbition offers to its students.
You can also choose to take the full 75-hour real estate course without making it a package.
Just make sure you look at the packages. You may need something that the package has.
Real estate schools that offer a package with the post-license course work are offering a great service.
By bundling pre and post coursework they are saving the students time and money. This is one thing we appreciate about Mbition and a few of the other programs.
---
5. Kaplan Real Estate Education: Online Real Estate Courses in GA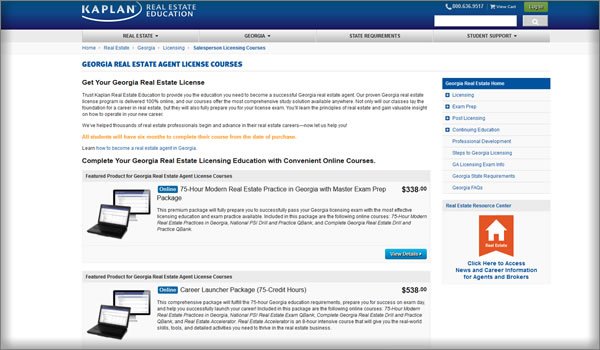 Kaplan is a very well known name in test prep. If you took any college entrance exams then you have probably heard of them.
In addition to that, they are one of the best online real estate schools in Georgia. They have a high standard of learning.
Because of this, they have a high success rate. Students that have taken this course seem to be pleased with the result and many of them pass the exam on the first try.
They do offer three different packages that offer a variety of extras. One of the package options is just the course.
That is the most cost-effective. But the most popular package is the career-launcher package. This is the highest-priced package but gives you all you need to get started as a real estate agent in Georgia.
When you look at the website you will have over 600 reviews and most of them are positive reviews.
---
6. 360Training (Agent Campus): Online Real Estate Training in GA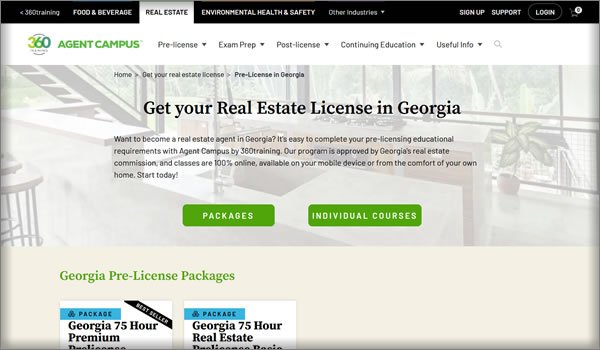 When it comes to real estate schools in Georgia, 360Training is one that is mentioned pretty often. 360Training is not exclusively a real estate school.
They actually offer a lot of different training courses and certification programs. But the real estate school is what we are interested in.
They do have a variety of options. Students are able to take individual courses or choose a package deal.
Choosing a package is a great value for your money but it will depend on what you need and what your budget is.
One reason people choose online learning is because of the flexibility. This is also true of 360Training.
Students choose this school because of how flexible they are. The way the courses are set up allows for learning to be self-paced.
You can go as fast or as slow as you want or need to go. This is a major selling point for their program.
---
7. PDH Real Estate Academy Reviews: Online Real Estate School GA
Another one of our favorite real estate schools in Georgia. They are really straight forward like one of the other schools on our list.
They only offer one option for learning the information. It is very affordable and most of the reviews are good.
PDH Real Estate Academy does allow you to take a closer look at the course through a demo video. This is a great opportunity to see how they structure the course.
Like many of the other courses, they only offer the course online. There is not an in-person option.
With how stretched we are for time, this is a good thing. Online and self-paced will fit into most lifestyles seamlessly.
However, with this type of program, the students do need to be self-motivated so they can continue on.
---
8. Real Estate School of Georgia: Real Estate School in Georgia
Real Estate School of Georgia is one of the newest real estate schools in Georgia. They officially opened its doors in the summer of 2019.
This school is an in-person real estate school. You will have to make room for it in your day to day life.
While that is also true of online classes, those tend to be self-paced. You have to follow the in-person program if you want to pass and be able to take the exam.
The good news is that if you are not located in the Griffin Georgia area, they do offer an online option.
This is a new option that they just started this year. If you want more information about online options you need to call them.
However, the website does give pricing, schedules, and more information about their in-class options.
---
9. American Real Estate University: Georgia Real Estate Courses
American Real Estate University is one of the few real estate schools in Georgia that offer the option of an in-person course or an online course.
The online course is on the ZOOM platform. It is not on-demand or self-paced like the other online options we have talked about.
These courses are typically done in person and you have to be present at the times they are having the course. This includes the Zoom version.
They are expensive and do require quite a bit of time outside of your home or away from your job or family.
There are evening options a few days a week or Saturday options that require an all-day commitment for several Saturdays.
The next class that will be having in Georgia is in Covington Georgia. If this is local and you prefer an in-person class then this might be your chance. The class starts in September and goes until November.
The training classes are done with a successful real estate agent from Georgia. This class is going to be taught by Marshall McCart.
He has been working as a real estate agent since 1995 and has been teaching since 1996.
---
Overview of Georgia Real Estate Requirements
In order to get your real estate license in Georgia, you must meet some basic requirements. We have been talking about real estate schools.
This helps meet the pre-licensure requirements. But those are just a portion of what you need to do to become a real estate agent in Georgia.
Basic Requirements
The most basic of the requirements is that you have to be 18 years old. You can't be a 16-year-old real estate agent.
With this requirement comes the requirement to have a high school diploma or a GED. You can't get a license without it.
You also need to be a legal citizen of the United States. This is mostly because you need a background check and fingerprinting.
Pre-Licensure
What we have been talking about with the real estate schools in Georgia fulfills the pre-licensure requirements.
The schools teach a course that gets you the 75-hours required to be able to test for your license.
Exam
You have to take an exam after you get the course work out of the way. It is possible and even likely to pass the first time if you are prepared.
However, some people have to retake the exam.
Apply
After you have successfully passed the exam you need to apply for your license. This is no big deal if you have completed the other steps.
It may take some time to get your license but most of the time it is pretty fast.
Post-Licensure
When you are finally licensed it is important to remember that you do need to complete some post-license coursework.
During your first year, 24 hours of post-licensure coursework are required to keep your license.