---
When looking for the best online real estate schools in South Carolina, you may get overwhelmed. The number of real estate schools in South Carolina to choose from can make it difficult to know which one to choose.
We have done some of the leg work for you. This is a guide to the best online real estate schools in South Carolina.
Reading through this will give you what you need to make an informed decision.
Working as a real estate agent in South Carolina can be an amazing career opportunity that pays well and affords you the work/life balance you have always wanted.
While many people dream of this possibility, not everyone achieves freedom from the 9-5 grind. As a real estate agent, this can be your reality.
By finding one of the many real estate schools in South Carolina, you will be able to proceed with your pre-licensing real estate classes in South Carolina.
---
1. Colibri Real Estate: Best Online Real Estate School In South Carolina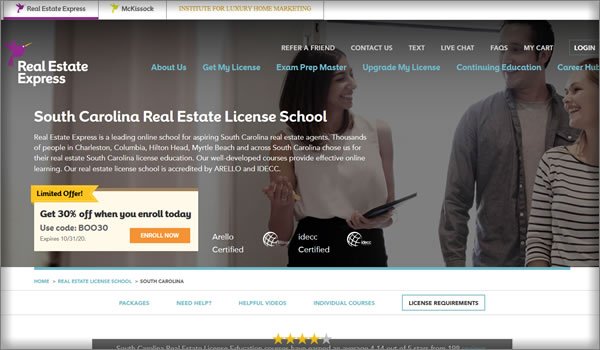 Colibri Real Estate is a recognizable name in real estate education. They have a high success rate and students are pleased with their results.
Looking at reviews and passing percentages will tell you that. They are one of the top real estate schools in South Carolina with the satisfaction rate to prove it.
Course Features
With four packages for South Carolina students to choose from, there is something for everyone.
If you aren't sure that you will launch into a real estate career full-time or still have doubts about whether or not this will work out, you may want to choose the first package. The Basics package offers everything you need to meet the state requirements, but not much else. It comes with:
Both pre-licensing and the post-licensing courses
Instructor support from state approved agents
3 eBooks on Real Estate concepts
90 hours of education in total
If you want to make sure that you are as prepared for the exam as you can be, you can choose the next package. It comes with everything in The Basics with three additions.
Exam prep course
Don't pass don't pay guarantee
Prep for success membership
Colibri Real Estate offers another two options for students. Exam Prep Plus adds a real estate dictionary as well as instructor Q&A. The last package, Ultimate Learning, has everything mentioned so far plus a printed textbook and a one-year professional membership for South Carolina students.
Pros and Cons
Pro – Instructor Feedback: I recommend enrolling in the Colibri Real Estate Exam Preparation Plus package for the instructor Q&A alone. The previous two tiers have instructor support options that can be helpful, but access to instant feedback from your teacher is one of the best ways to ensure success on your exams.
Pro – Livestreams: Speaking of instructor feedback, Colibri Real Estate also offers limited livestream courses throughout the year. These allow you to sit in on a live classroom session taught by an instructor, which offers a much more personal experience.
Pro – Boot Camp: Finally, students who don't have a lot of time or money to prepare for their exams can check out individual courses from Colibri Real Estate. In addition to a standalone pre-licensing course, there's also a 90-day boot camp that will quickly go over all the necessary concepts.
Bottom Line
Colibri Real Estate is the best option for online real estate prep in South Carolina. There are so many different options you can choose from, and all of them provide an excellent learning experience.
Colibri Real Estate: $137 Off Ultimate Learning Course
35 uses today
Last Used: 9 hours
---
2. AceableAgent: Online Real Estate Schools In South Carolina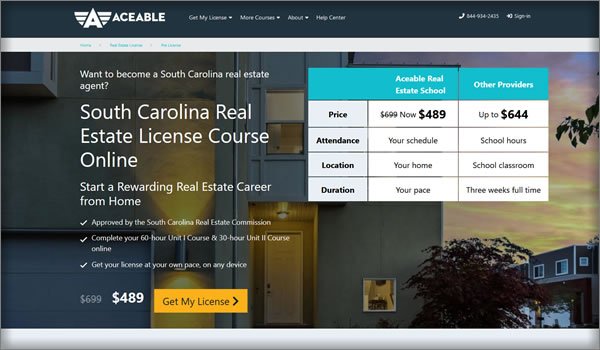 AceableAgent is a real estate school that keeps things simple. They offer a few different courses to choose from, with different choices recommended for different types of students.
Course Features
You have three options for exam prep with Aceable Agent. Their lowest priced option is called The Essentials, and it's recommended for students who prefer to study independently. For under $600, you get:
90 hours of real estate education
450+ practice questions based on the SC real estate exam
Free proctoring for the full exam
Instructor support via email
If you're looking for a little extra assistance, it only costs around $50 more to upgrade to their most popular option: Ace The Exam. Alongside everything included in The Essentials, it includes:
1,600+ extra practice questions
75 video lessons
70 audio lessons
digital flashcards
eBook on real estate exam prep
I recommend this course because it offers the best compromise between cost and study materials. However, their Ultimate Interactive course is a better fit if you prefer to study in a social environment. For under $900, this includes the Ace the Exam package, plus:
1 hour of private tutoring
5 live webinars every week
Hundreds of recorded webinars accessible any time
Weekly live Q&A on Facebook
Pros and Cons
Pro – Convenient Design: With this course, you can work where you want, when you want, and how you want. Their platform is user friendly and tech support is available via email and over the phone every weekday.
Pro – Audio Lessons: Such a small feature like audio lectures are surprisingly difficult to find in many online courses. The fact that Aceable Agent includes these with their Ace The Exam package means you can study while multitasking, which can help you save more time on exam prep.
Con – Excessive Content: If you only need to meet your hour requirement and a quick pre-exam crash course, this isn't the best choice for you. Instead, you should only consider Aceable Agent if you're willing to take a long time working through everything.
Bottom Line
This is the perfect course for students that are still working or taking care of family while preparing for their real estate exams. Thanks to a long access period and tons of extra features, you'll be in great hands with Aceable Agent!
Up to 30% Savings on Aceable Agent Premium Exam
39 uses today
Last Used: 17 hours
---
3. The CE Shop: Online Real Estate Classes In South Carolina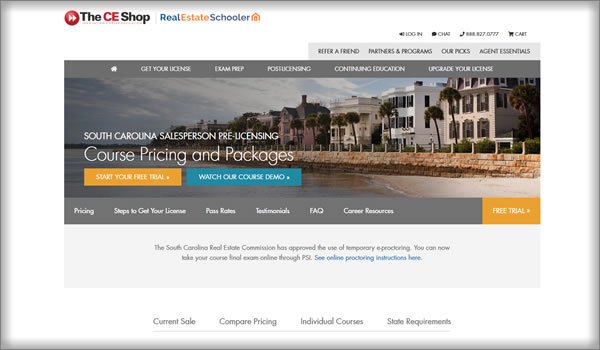 The CE Shop is one of the most well known real estate schools in South Carolina. They offer courses that provide positive results and launch students into their real estate careers.
Course Features
Much like our other top picks, The CE Shop provides different options for their students; this allows everyone to find something that works within their study preferences.
South Carolina students can choose to just do the courses for under $600, which includes all 90 hours needed to qualify for the exam. This package also includes:
Real estate business eBooks
Glossary of real estate terms
Independent Study Schedule
Digital flashcards
The next step up is called the Standard Package at a little over $650. It comes with the exam prep package and a pass guarantee, as well as an additional Exam Prep Edge course that gives you tips specific to both South Carolina and the national level.
The next packages for South Carolina students is the value package. For just under $700, it adds an instructional course to help you build a real estate business. This is the best option if you don't have a specific job lined up after becoming certified and you want to be your own boss.
The top package is the premium package and includes your first year renewal. This costs the most at a little over $750, but it's a great long-term investment in your career.
Pros and Cons
Pro – At Your Own Pace: Because this is a self-paced course, students that are really motivated to get the course done and start their career can finish in as little as three weeks. But if life gets busy and you're forced to study in short bursts, this can be managed as well.
Pro – Popular and Supportive: Students love the The CE Shop, which is shown in a 98% satisfaction rate among enrolled students  and 4.7 rating on TrustPilot. There is also support for students with both technology issues and classwork.
Con – Pass Rates: Although students who enroll in The CE Shop have higher than average pass rates for their exams, this isn't the course with the highest pass rates. This means you have a better chance of passing on your first attempt if you choose one of our top-rated courses instead.
Bottom Line
The CE Shop is a great choice if you're pressed for time. However, it's also great for established real estate professionals in South Carolina who need to continue their education in order to keep practicing!
Save $100 on The CE Shop Pre-Licensing Education
38 uses today
Last Used: 22 hours
---
4. Prep Agent: SC Real Estate School Online Review
As the name suggests, this website functions like your personal agent to help you pass your exams. You can regularly participate in live webinars with the site's founder and instructor, but you also get access to the standard catalog of practice questions, flashcards, and eBooks.
Course Features
With a large library of state-specific courses, it's clear that PrepAgent stresses a one-size-fits-all approach to education. For the lowest price, a 1-week Basic course includes a few thousand practice questions and a money-back guarantee. It's basically an accelerated bootcamp that you might want to use if you want to do multiple simulated exam rehearsals before sitting for the real thing.
However, the most popular packages included with this course are the 1-month Deluxe and 1-year Premium packages. These include:
75+ video lessons
Several hours of audio lessons
100+ page exam prep eBook
Online flashcards
Vocabulary worksheet (Premium only)
Live and pre-recorded webinars (Premium only)
Pros and Cons
Pro – Crash Course: PrepAgent's Basic package is the fastest exam prep resource on this list. Although The CE Shop can be completed in three weeks, it only takes one week to finish studying with this option.
Pro – Engaging Videos: PrepAgent's video lessons are engaging to watch with detailed animations to accompany each lesson; it's not your typical slideshow lecture. Additionally, the library of live and prerecorded webinars are equally engaging thanks to the excellent instructor.
Con – Limited Content: Compared to our top picks, there's not a whole lot of study material included with PrepAgent. You can get more audio lessons from Aceable Agent, and Colibri Real Estate offers more eBooks.
Bottom Line
PrepAgent has little to offer that differs from our top ranked courses. However, it offers a much more affordable pricing scheme for students who only need a few months to prepare for the South Carolina real estate exam.
Save 20% on Prep Agent Real Estate Courses
38 uses today
Last Used: 22 hours
---
5. CompuCram: South Carolina Real Estate Course Online
The biggest draw for this online real estate course is the way they've distilled their entire learning process into one easy-to-access online dashboard. And while that comes with some tradeoffs, over 500,000 students have been pleased with their results after using this program.
Course Features
This is a web-based service that's easily accessible on Mac, PC, Android, iPhone, or iPad. It's very affordable, but it uses the same adaptive learning technology as many online courses that cost hundreds more.
CompuCram's South Carolina real estate exam prep catalog includes:
Interactive vocabulary building exercises (fill-in-the-blank, matching)
Digital vocabulary flashcards
Pre-assessment and performance tracking
Hundreds of practice questions
Unlimited practice quizzes
National and/or state level training for both sales and broker licenses
Pros and Cons
Pro – Dirt Cheap: CompuCram's entire catalog of South Carolina real estate training resources is extremely affordable; few of their courses cost more than $100, even when you combine their state and national curriculum.
Pro – Progress Tracking: Through the use of adaptive machine learning, CompuCram will generate a prediction of your exam score that updates as you make progress in the course. This allows you to track your progress without the aid of an instructor.
Con – 90 Hours: One reason why this course is so affordable is that it doesn't provide the required education hours to sit for the South Carolina real estate exam. If that's what you're looking for, you may prefer to enroll in Colibri Real Estate or Aceable Agent instead.
Bottom Line
Check out CompuCram if you just want some extra help studying for your exam. It's nice that they offer resources for both sales and broker training, but the lack of approved education hours limits the effectiveness of this course.
---
6. Kaplan Real Estate Education: Online Real Estate Classes in SC
Preparing students for exams of all kinds is what Kaplan does. They are one of the best online real estate schools in South Carolina because of their test prep expertise.
The courses that Kaplan offers to real estate students in South Carolina are completely online. The students can work on their courses when it is convenient for them.
Along with the convenience of on-demand classes, Kaplan real estate offers a variety of packages that will suit anyone's needs and budget.
This is not unusual when it comes to real estate schools in South Carolina. Often there are different package offerings.
Kaplan has a selection of four different packages that range from pre-licensing to exam prep and post licensing.
The basic pre-licensing package is just for the 60 hours that are required for the state licensing board.
This is one of the most affordable packages. Priced at $389 it includes the essentials required to pass your exam. However, there are things that are offered in the other packages that will give you a leg up.
One of the packages has the pre-licensing plus the post-licensing course work so you are prepared for your first year of practice.
It also comes with the exam prep material as well. This package is more expensive but is worth the investment. $549 to be prepared for everything the first year will throw at you.
If you want to take it a step further then you can do the career launcher package. The only thing that is different about this package is the business course.
It gives you real world experience to launch your business. However, it is almost $800 so make sure you are ready to commit.
---
7. Hondros: Real Estate School in South Carolina
Hondros is one of the most reputable and well known real estate schools in South Carolina. They have programming and classes that serve the needs of the students.
The agents that come out of this program are ready for the real world of real estate practice due to the course work offered at Hondros College.
They have also been in the business of real estate education for 50 years. Educating a large number of real estate agents lends to their credibility.
This is a fully online and on-demand program. But that doesn't mean you will be left on your own during the course.
Hondros has top faculty that are real life practicing agents that know the ins and outs of the industry. They are available to help students and answer questions.
The Hondros pre-licensing package already includes the 30 hours of post-licensing course work as well as exam prep.
They believe that you will be successful and stay with this career so they created a package that includes everything you will need.
Because this is a fully online class, there are bound to be some technical issues. That is why they have an amazing support staff to help with any issues that may arise.
You can choose to take the 60 hours of pre-licensing separately and with no exam prep but the course alone is $550. While the package that includes everything is $780.
If you have the ability to do the package it is the better value for your time and money. However, there are separate options available if you need to space things out.
---
8. Premier School of Real Estate in South Carolina
As one of the best online real estate schools in South Carolina, the Premier School of Real Estate has a reputation that is worthy of their name.
This is a school that offers the flexibility that is needed to accommodate the busy lives of students. Because many real estate students are changing careers, they typically still have other jobs.
The way Premier School of Real Estate has set up their course, it is ideal for students that still work their "day job."
The on-demand classes and different packages to choose from give students the freedom to make the choice that is right for them.
It can also be tailored to their schedule. The first plan that students can choose from is the silver package. This package is the basic offering.
This includes the 60 hour pre-licensing course for your licensing requirements. It does also include a digital textbook as well as online support during the course.
The pricing for the silver package is $359. This is one of the more affordable options for students. There is no payment plan option so it will all be due up front.
The next option is the gold package. This package is for those that are ready to dive in and commit to this career change.
It does not only include the pre-licensing course but also the 30 hour post-licensing course as well as exam prep. New agents will have to have those post hours during the first year of working.
If you can, it is a good idea to go ahead and get the gold package so you are ready for the first year. It is one less thing you will need to think about.
This option is slightly more expensive at $419 for the package.
---
9. Fortune School of Real Estate in South Carolina
Fortune School of Real Estate is not traditionally a school that offers online courses. They chose to add these classes in response to the global pandemic.
As many would be students went to quarantine out of concern of getting COVID, Fortune responded with live instructor-led courses through Zoom.
As with the other online real estate schools in South Carolina that went online recently, the price of the course is that of an in-person course.
It is also one of the more expensive courses on our list. However, the quality of this school will be worth the price. Especially when you pass your state licensing exam.
Priced at $475 it may be cost prohibitive for some real estate students. They have added an online self-paced real estate course that is slightly less expensive, for $435.
There are a few differences between the online instructor-led courses and the online self-paced. The main difference is the schedule.
With the instructor-led course you have to be in the class when it is going on. It starts and finishes when the school has scheduled it to do so.
While the on-demand course is self-paced. There is a tuition window that you have to stay in so make sure to clarify that before enrolling.
The website doesn't mention materials or textbooks. Most courses do include a textbook in the price either as a physical copy or a digital copy.
---
10. Sea Coast Real Estate Academy: Online Real Estate Course in SC
Sea Coast Real Estate Academy is one of the many online real estate schools in South Carolina. They have a reputation for preparing their students well for the exams.
This course is set up to offer you everything you need to succeed when you take the exams. There are sections in the course that will teach you every aspect of real estate.
It covers the basic principles of real estate such as laws and government controls as well as real property. You will also learn how to price real estate properties and finance.
The class is comprehensive and will teach you about how closings and settlements work, proper set up of relationships between the agent and the brokers in addition to contracts and ethics.
When you register for this course it includes the book that you will need but if you don't live in the area and need it to be shipped then you will need to pay $25 for shipping.
The course itself is up there with the other courses as far as price goes. In total, without book shipping, is $350.
If that isn't in your budget, don't worry. Sea Coast Real Estate Academy does payments a little differently.
You can pay a deposit when you register for class of $150. There will be a second payment due before class starts of $200.
This is a great option for those that don't have the full $350 upfront. These classes are not on-demand.
There is an instructor that will be teaching life from 8:30 am to 12:30 pm. This can change from schedule to schedule.
This is a great schedule for those students who still need to work while attending real estate classes in South Carolina.
---
11. Ray James Real Estate Institute: SC Real Estate Online Classes
When it comes to online real estate classes in South Carolina, Zoom has become a popular method of having them.
The Ray James Real Estate Institute is another online school that offers online real estate classes in South Carolina via zoom.
How this course is set up allows for students to finish their required 60 hours of pre-licensing courses over eight days. While this may seem like a tough course load, it will allow you to launch your real estate career sooner.
Unlike on-demand real estate classes in South Carolina, a live class does have a schedule that you are subject to.
This has both benefits and drawbacks. While the speed is a benefit the fact that you will have to take time off of your current job to complete them is not ideal.
One large benefit to having a live class is access to an instructor. This course goes from 8:30 am to 5:30 pm. That is an adequate amount of time to ask any questions you may have.
Because of the Zoom classes, the class size is not limited. It can be a class of two or a class of 200 without missing a beat.
All of the course materials and formatting have been approved by the real estate commission of South Carolina.
The pricing on this class is reasonable but is still priced more like an in person class then an on-demand class. At $374 for tuition it is still affordable.
This is one of the real estate schools in South Carolina that offers more than pre-licensing courses. They also offer courses for aspiring brokers as well as exam prep.
---
12. Pinnacle Real Estate Academy: SC Real Estate School
Pinnacle Real Estate Academy has not always been one of the online real estate schools in South Carolina. They have become an online school out of necessity.
Due to global pandemic, they were allowed to offer online real estate courses in South Carolina. This has opened up their school to a new demographic of students.
While the course that they offer is not a true online course, the class sessions are offered on Zoom as well as in person on their campus.
Because this is not a true online course, the sessions are not on demand. They are scheduled and students must set aside time to attend them.
If you sign up as an online student then you will get a book shipped to you. This is the textbook that the course uses and exams will be based on.
The cost of the book is included in the course price. While traditional online real estate classes in South Carolina are usually less expensive than in person classes, that is not the case with this one.
Because it is basically the in-person class with Zoom sessions, the pricing is the same, $425, online or in-person.
That price does make it one of the more expensive schools on our list but you will have weekly access to a live real estate professional during class.
This can be invaluable when you are working your way through online real estate courses in South Carolina.
---
South Carolina Real Estate License Requirements
Choosing one of the real estate schools in South Carolina is the second step when it comes to getting your license. The first is to know the requirements.
Prerequisites
You have to be a citizen or legally able to be in the United States. You also have to be 18 years of age or older to start the process.
Those interested in becoming a real estate agent also need to have a high school diploma or equivalent.
If you check those boxes you can move on to the other requirements. Candidates have to have a background check and complete the pre-licensing coursework.
As well as submit the exam application and pass the licensing exam. After you pass the exam you have to take the 30 hours of coursework to be fully licensed.
To continue on, you will need a broker to sponsor you then apply for your license.