---
In this Hondros College of Real Estate review we will cover all the features of their courses. With this information, you can decide whether or not it is going to work for you. Knowing what to expect will help you be more prepared and set you up for success.
Getting your real estate license is an ambitious and potentially lucrative investment. With the housing market being so dynamic, there has never been a better time. By getting started early, you can start working in the field as quickly as possible.
Generally, you will have to complete 50 to 150 hours of education to get your real estate license. These education hours will cover everything you need to know in order to sell houses. They will also get you familiar with the terms, laws and codes relevant to your state.
Not all states have the same licensing requirements to start selling real estate. They are all different and your schooling must be specific to your state. This is why it is so important to select the right real estate school.
Hondros College of Real Estate offers classes that you can take on your own time and at your own pace. This is incredibly helpful for those who are trying to get their real estate license and also live their life. Online learning is the busy student's best friend.
---
UPDATED: October 2023
Our Overall Rating

---
Overview Of Hondros College of Real Estate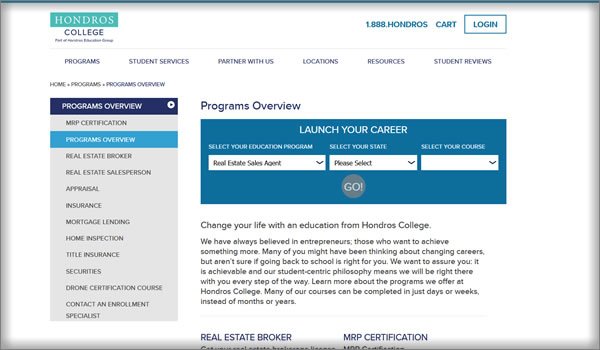 Hondros College of Real Estate was founded as part of the Hondros Group of trade colleges in 1981. Since then, they have been helping people get their certifications and licenses in many different industries. Because of this, they are uniquely qualified for the online learning environment.
While they were originally focused on test prep for different licensing exams, they soon expanded. Eventually, they were offering full real estate pre-licensure courses. These do more than just prepare you for the exam. They prepare you for your career.
As the years have gone on, they have expanded these courses to include online learning. This is perfect for real estate licenses since so many people get their license in their spare time. Hondros College of Real Estate understood this and made the move to online.
Hondros College of Real Estate offers classes both in person and online. This is where you will have to know what kind of schooling works best for you. Since you have either option open to you, it is best to consider both.
One of the major benefits of online learning is that it matches up with the scheduling of real estate agents. Real estate agents often work odd hours and can create their own schedules. If this sort of work-life balance works for you, real estate could be a good choice.
The main goal of a real estate school is to prepare you for your state's real estate exam. Hondros College of Real Estate offers test preparation that will help you be as ready as you can. They also offer prep packages that can give you an extra helping hand.
Taking your real estate courses online is a fantastic way to kickstart your life into overdrive. Many people find real estate to be an exciting career that offers new opportunities at every turn. With the real estate market being what it is, now is a great time to get in on the ground floor.
---
In-Depth Look At Hondros College of Real Estate Course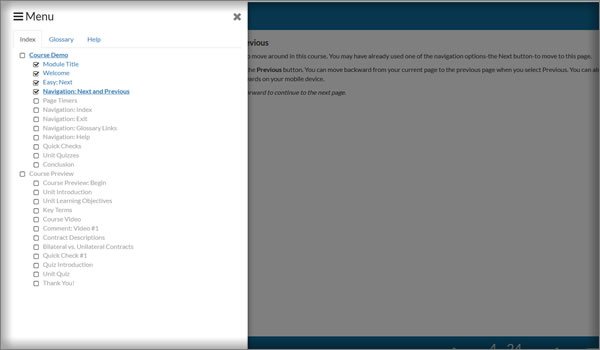 Since their founding, Hondros College of Real Estate has helped thousands of students get their licenses. Because of this, they have honed their curriculum and course content. This makes it accessible to a wide range of students and learning styles.
While Hondros College of Real Estate is known for their online courses, they also have physical locations. However, these physical locations are only in the state of Ohio. If you happen to be in that area and prefer in-person, this could be a great option.
If you are more interested in taking the classes online, there are many more options open. Hondros College of Real Estate offers classes for licenses in 33 states. Most online real estate schools only focus on a few states at a time.
You can either choose from self-guided, independent lessons or in-person online classes. This is a great choice to have for someone who is not sure which is best for them. The unique thing about Hondros College of Real Estate is that they give you the choice to mix the two.
By being able to take the self-guided and in person online courses, you can get a good idea of both. Once you figure out which one is most suited to your learning style, you can stick with that one. Many other real estate schools do not have this option.
Because they offer courses in so many states, you should be sure that you are taking the right ones. A few students have reported that they accidentally signed up for courses in the wrong state. If this happens, you could end up paying for a real estate license that you can't use.
Hondros College of Real Estate also offers courses on things like brokerage and real estate appraisal. Many other real estate schools don't offer an appraisal course. This is a unique feature that makes them a real estate one stop shop.
If it is important that your real estate school has longevity, Hondros College of Real Estate could be for you. Their experience in basically every aspect of licensure for real estate agents puts them at the top of the heap. If you live in one of the states they serve, you could keep going back for any additional education hours.
When deciding whether or not to use Hondros College of Real Estate for your license, consider your needs. Things like their instructor help and customer support might be invaluable to you. If you feel that you could benefit from a little extra support, they could be a good choice.
Hondros College of Real Estate offers regular instructor Q&As to help answer any of your questions. These are scheduled every week and open to all students. They are a great opportunity to get the benefit of some real-world experience.
They also offer 24 hour customer support. This could be a great resource for anyone who is not comfortable with the technology. Taking online courses can be a little bit intimidating, so having that at your fingertips may be a great comfort.
---
Hondros College of Real Estate Pricing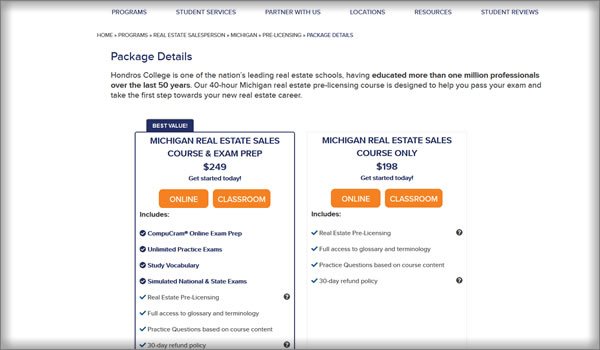 The pricing for Hondros College of Real Estate changes from state to state. However, the packages include similar features between the states and are relevant to each. Choosing one of these packages is the biggest step of the process.
Hondros offers two different class packages to choose from. Either on will satisfy the education requirements for getting your real estate license, though. Which one you choose will be based on what your needs are.
Career Start Package
Hondros College of Real Estate's more basic package is called the Career Start package. While it is the starter level, it has a lot to offer besides simple education requirements. There is a lot more available than at some of the other real estate schools.
This package will satisfy the educational requirements for the states where it is offered. These hours change from state to state and are usually between 50 and 150 hours. This is why the courses will change in price from state to state.
This package offers in class exam prep that will help you with the state real estate exam. Many people find this extra exam prep to be one of the most helpful features. If you are someone who gets nervous when taking a test, make sure you utilize this prep.
If your state requires it, Hondros College of Real Estate also offers post-licensing hours. Sometimes, states require you to take a refresher course within the first year of getting your license. If this applies to you, it will be included with your package.
One of the more interesting and potentially valuable features they offer is networking opportunities. Connecting you with potential employers is one of the more important things a trade school can do. This could be incredibly valuable if you are just starting out and don't have many connections.
With this package, you will also receive an eBook on social media for real estate agents. This is an incredibly helpful resource that will help you with the ins-and-outs of marketing. Social media is the real estate agent's most valuable tool and you need to know how to use it.
Set For Success Package
Should you choose to take the premium Set For Success Package, you will receive all the things listed above. These are included in both of the packages and both will satisfy your education requirements. This package, however, comes with a few extras.
One of the things that the Set For Success Package comes with is the CompuCram Online Exam Prep. This system has been developed over many years and is one of the best resources for test prep. It helps you get used to the type of testing that is used by the state license exam. When students use their CompuCram exam prep program, they have a first time pass rate of 86.5%!
This package also comes with membership to the alumni program. Hondros College of Real Estate offers many resources and networking opportunities for their alumni. These include things like networking seminars and free continued education courses.
If you plan on working in real estate for a long time, the alumni program may be a great choice. Networking and conferences are the bread and butter of any real estate agent. Getting to know other agents and brokers is a key step in establishing yourself.
While this package has a few extra features, it is not much more expensive. The Set For Success Package Is only $100 more than the Career Start Package. For such a small price, you receive quite a few bonuses and features that may help you be more successful.
However, before you purchase this package, you should consider if you can make the most of it. If you don't think you will utilize the conferences and networking opportunities, they may not be worth the cost. This is where knowing your work and networking style is most important.
---
Pros And Cons Of Using Hondros College of Real Estate
Pros
Longevity – Hondros College of Real Estate Has been around for almost 40 years. In that time they have been able to help so many people get their real estate license. By having such a long history, they have been able to develop their curriculum to be the most effective.
Offered in Many States – Hondros College of Real Estate operates in many states throughout the United States. Many real estate schools will only focus on about 10 states at the most. This makes Hondros College of Real Estate a great choice for a larger variety of people.
Comprehensive Support – One of the things that many people find the most valuable about Hondros College of Real Estate is the support. Their unique Q&A system is a great way for you to connect with instructors and ask questions. Not all real estate schools offer this kind of specific contact.
Small Price Difference in Packages – There is a very small price difference between the basic and deluxe course packages. This makes the deluxe package more accessible to people who might benefit from it. Cost of education is something that should always be considered.
Extensive Test Prep – The test prep that is offered by Hondros College of Real Estate is one of its best features. Many people find that the state real estate exam is their biggest source of anxiety. By having so much prep available, you can go into the test with confidence.
Networking Opportunities – Many people find that one of the barriers to entry for real estate is not having connections. The networking events and conferences available with Hondros College of Real Estate solve that problem. You will have a chance to meet with other agents and brokers and make the connections that turn into opportunities.
Cons
Prices Vary – Because Hondros College of Real Estate Operates in so many different states, the admission cost varies. The amount of education hours that you need changes depending on your state. Because of this, some states are going to be more expensive than others.
Not Everything is Offered – Hondros College of Real Estate does not offer the same courses in every state, either. Depending on your state, they may or may not offer the pre-licensure courses. Before you decide to use them, make sure that they are going to be able to certify you.
Price – While the price of the courses varies from state-to-state, they are all a little on the expensive side. For example, the pre-licensure courses for the state of Ohio are almost $1,400. This is much more expensive than some of the other, more basic real estate schools.
Primarily Focused on Ohio – Hondros College of Real Estate was originally founded in the state of Ohio and continues to be based there. Because of this, they may have a slightly better curriculum for that state. If you happen to live in another state, they may not be as well versed or have the same expertise.
Conclusion And Verdict
Overall, Hondros College of Real Estate is an incredibly well known and established real estate school. They have been teaching real estate students for many decades and their history speaks for itself. If you are looking for a historically successful real estate school, they could be a good option.
The things that they offer in their packages are incredibly useful to any level of student. The conferences and networking opportunities alone may be worth the price of admission. These are things that you usually can't buy and have to come upon on your own.
The ability to mix class types is a rare and valuable thing that they offer. It can be difficult to know which is going to best suit your learning style without trying them out. At Hondros College of Real Estate you can do this and set yourself up for success.
Even though they tend to be a little more expensive, they offer so many extras it may be worth it. Everything from the test prep to the networking opportunities is valuable to a potential real estate agent. This is the kind of value that can only come from a school that knows their chosen industry.
In this Hondros College of Real Estate review, we covered everything that they offer as well as what they don't. Only you can truly know if they are going to work for your learning style. By reading this review, you are already taking the first step towards making the right choice.
---