---
Getting your real estate license in Arizona is a rewarding and fascinating prospect. We have compiled an in-depth guide to The Forum Real Estate School to help you do just that. If you've been considering their services, this The Forum Real Estate School review will help you decide.
---
UPDATED: June 2023
Our Overall Rating

---
Overview Of The Forum Real Estate School
Teaching Style
The teaching style at The Forum Real Estate School is focused on the real estate career. They are not just trying to get you in and out the door unprepared. Many real estate schools are just certificate factories, but they are invested in your success moving forward.
Many of the instructors at The Forum Real Estate School are currently working in the real estate business. This is an important consideration when you are deciding on a real estate school. It's one thing to teach people how to be agents, but it's quite another to be working in the industry.
Because the instructors and staff are agents themselves, they are able to understand the students' needs. They know how difficult it can be to fully grasp the curriculum and all the laws and regulations. Because of this, they have a unique perspective and can give you the best possible chance at success.
They also understand how important it is to continue with your education after you are licensed. Because of this, they offer many workshops and other opportunities, which we will cover later. These resources can be incredibly valuable if you are serious about building your real estate career after you are licensed.
Curriculum
The curriculum at The Forum Real Estate School will satisfy all the necessary educational requirements. In the state of Arizona, you must complete 90 hours of real estate education before taking the state exam. The courses at The Forum Real Estate School will cover these hours and everything you need to know to pass.
The courses at The Forum Real Estate School cover things like financial instruments, foreclosure and legal descriptions. These courses are designed to help you in both the state exam as well as moving forward with your career. They are comprehensive and put together by the experienced staff at the school.
You will also learn things like appraisal and investment terminology. This will be incredibly helpful when working with others in the industry like appraisers and brokers. Knowing the best way to communicate effectively with other professionals is a surefire way to be successful.
By having a well rounded curriculum, The Forum Real Estate School is able to give you a wide perspective. This is important in any profession, but especially in real estate where knowledge is a vital tool. Knowing how a real estate transaction works from beginning to end is the best path to a profitable career.
---
In-Depth Look At The Forum Real Estate School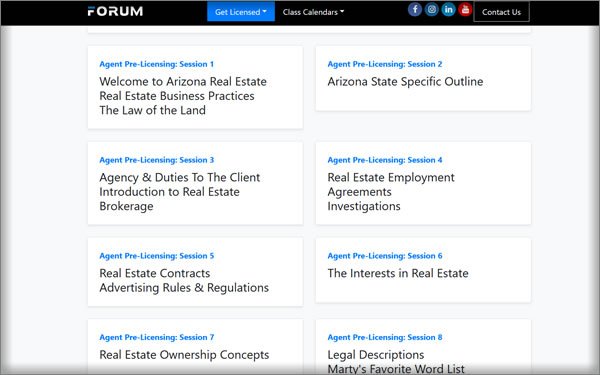 Course Options
The Forum Real Estate School offers classes in two different formats: In person and online webinar. You can choose between these two types of courses based on what your needs and schedule are. This is an incredibly valuable option to have if you are a busy student getting your license on the side.
The online, webinar style courses are perfect for students who are already working full time jobs. The Forum Real Estate School offers classes outside of their regular business hours and weekends. This makes this a great option for all kinds of students from all different walks of life.
The in-person classes are a great option as well, if you have the time and the means. You can get the benefit of working with The Forum Real Estate School's instructors in real time. This is a great way to meet face to face with them as well as with other students.
Many people feel that they get a better education if they are working with others. This means that their retention and understanding is better if they have the benefit of other people. By being able to choose between webinar style and in person classes, you have the best of both worlds.
Student Resources
One of the most helpful things that The Forum Real Estate School offers is their workshops. These workshops are open to everyone and include many continuing education courses for when your career is in full swing. If you would like to keep networking and learning after being licensed, this is a great feature.
The workshops cover many subjects such as marketing and seller communications. They are led by industry professionals that understand the things you need to know as an agent. By attending these workshops, you will be able to get a leg up over other real estate agents.
They also offer a series of podcasts and audiobooks focused on issues relating to the industry. By working through these audio supplements, you can obtain some valuable information. The fact that they are always keeping up to date in real time means that this info is also up-to-date. Knowing all the trends and fads of the business can be incredibly helpful to any new agent.
They offer labs and agent meet ups as well. These can be valuable networking opportunities for people who are trying to break into the industry. Nurturing relationships with brokers and agents is one of the best things you can do as a real estate agent.
---
The Forum Real Estate School Pricing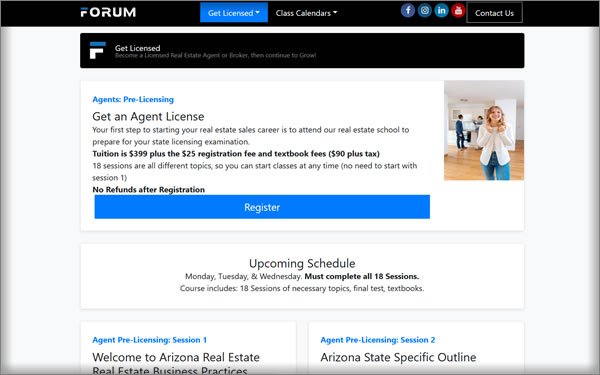 Pre-Licensing Courses
The full pre licensing course for The Forum Real Estate School is about in the middle of the price spectrum. It includes all 90 hours of real estate education that is required by the state of Arizona. This satisfies the requirements set forth by the state in order for you to take the Arizona real estate exam.
Whether you are taking the in person classes or the webinar ones, the price is the same. At $399, this is a comprehensive, but affordable, package. While it is not necessarily cheap, it is a good option for someone who is getting their license on the side.
When it comes to education, one of the largest barriers to entry is the cost. The nice thing about a professional school is that you can get an education for a smaller price tag. You do not have to take out loans or pay large tuitions like at 4-year institutions.
If you have the ability to, taking the in person courses might be a better option. Since they are the same price, you pay the same amount for a better experience. Many students feel that they retain information better in an in person type of setting.
Continuing Ed Workshops
The continuing education workshops offered by The Forum Real Estate School are a great deal. Most of them are completely free to attend. This makes them an excellent perk that they offer to anyone. You could end up networking and making connections at absolutely no cost to you.
You do not have to be a former or current student to attend these free workshops. Because of this, they could be a great choice if you are thinking about attending their pre licensing courses. You could get a feel for how they conduct their classes and what the instructors are like.
They also offer some continuing education workshops that are related to pre licensing. They offer a math review course for $35 that could be a major benefit if math is not your strong suit. Because math is such an important aspect of real estate, this could be a great option for not much money.
All of the podcasts and audiobooks are completely free as well. These could be another beneficial feature if you want to get a good idea of how The Forum Real Estate School teaches. These are also helpful since they can be sampled on your own time at your leisure.
---
Pros And Cons Of Using The Forum Real Estate School
Pros
Free Workshops – The free workshops that The Forum Real Estate School offers are perhaps their best feature. Being able to attend them online is a great way to suss out whether you want to get licensed with them. They can also offer valuable information at no additional cost that can help you in your career.
Course Options – Not everyone has the time or ability to take courses in person. Being able to choose between an in person or online course is very helpful. If you have family obligations or another job online webinars are a great option to have.
Experienced Instructors – The fact that their instructors are agents working in the field is a major plus. Because of their real world experience, they will be able to help you and answer any questions you have. Learning from people who work in the business is one of the best ways to prepare yourself.
Take Courses in Any Order – Because their courses are offered year round, you can take them whenever you like. This is great for people who like to work in their own way. If you feel like learning one aspect of the business before another, you can work that out.
Cons
No Pass or No Pay Guarantee – A lot of real estate schools offer some sort of guarantee to their students such as Colibri Real Estate. This usually means that if they do not pass the class, they do not pay tuition. However, The Forum Real Estate School does not offer this guarantee.
Less Than Comprehensive Website – The Forum Real Estate School's website leaves a little bit to be desired. There is not much information on there regarding their history or credentials. If this is important to you, you may want to look elsewhere for your real estate education.
Only Accredited in Arizona – The Forum Real Estate School only teaches students in the state of Arizona. If you are located elsewhere, you will not be able to fulfill your education requirements there. Because of this, you will want to make sure that you want to live and work in that state.
No On-Demand Courses – Many real estate schools offer on-demand courses in the form of videos and PDFs. The Forum Real Estate School does not have this option. If you are extremely busy and can't commit to a schedule, they may not be your best choice.
Conclusion And Verdict
Many former students of The Forum Real Estate School have reported a good experience. They felt that their instructors were passionate about the material and knowledgeable. They also felt that the material was well thought out and pertinent to the real estate exam.
Most former students also reported that they passed their exams the first time. This is an important thing to look for in a real estate school. The fact that this is reported in The Forum Real Estate School reviews is very encouraging.
Hopefully, by reading this The Forum Real Estate School review, you have a good idea of their style. Real estate is an incredibly rewarding and challenging industry. By picking the right school, you can set yourself up for success.
By taking the time to understand everything they have to offer, you can know if they are right for you. Depending on your schedule and commitments, they may be just what you are looking for. Only you can make that decision, but being well informed is a great start.
---