---
Home inspection is a lucrative and interesting line of work to get into for the right person. Perhaps, you have been considering using Inspection Certification Associates for your training. With this Inspection Certification Associates review, you can decide whether they will be the right professional school for you.
NOTE: We went through ICA's online course ourselves so we have first hand experience as to what this home inspection school offers. You can watch our walk-through video below to see what is inside the program.
---
UPDATED: December 2023
Our Overall Rating

---
Overview Of Inspection Certification Associates
About
Headquartered in Chicago, Inspection Certification Associates has been helping people prepare for home inspection careers for years. They want you to be as informed and knowledgeable as possible before you begin inspecting homes. Because of this, their curriculum is incredibly involved and comprehensive.
They make sure that their materials and curriculum are as up to date as they can be. Every year, they update their courses to be current with the laws and regulations in the states they operate in. This ensures that you will be getting the most relevant information and training for home inspection in your area.
Inspection Certification Associates understands what it's like to be a home inspector in the field. The school is staffed by people who have been working and teaching in the industry for many years. They try to take that real world knowledge and impart it to you as best as they can.
They also provide you with the tools and materials for marketing your home inspection business. This aspect of your education is just as important as getting certified to do inspections. By including this in their curriculum, they help set you up for success in starting your own business.
Experience
Inspection Certification Associates is experienced in all aspects of home and residential inspections. Their staff has been working in the industry for many combined years and are eager to pass that knowledge along. By using them for your home inspector certification, you get the benefit of that combined expertise.
Inspection Certification Associates offers 24/7 support for any questions you may have as you go through your courses. Having the benefit of their experience at your fingertips is a useful tool for anyone getting certified. Whether you are taking their classes online or in-person, this is a beneficial feature.
They also have experience and offer courses in different aspects of home inspection. This includes things like mold detection and radon detection. These are useful certifications to have as a home inspector. They can be included as extras in your business and can be extra sources of income.
Since Inspection Certification Associates has this experience, they can offer things like HUD approved inspection forms. They know what needs to be included in this paperwork and can make sure that you are in compliance. By working with a professional school that knows what needs to be included, you can be sure you are prepared.
Teaching Style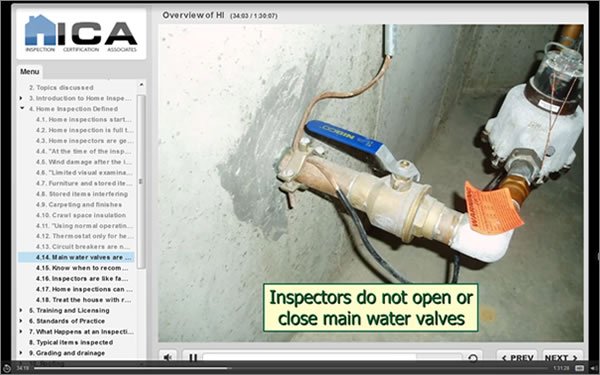 The teaching style at Inspection Certification Associates is based on a detail oriented approach. They want to make sure that you have every aspect of home inspection covered in your courses. The style of teaching is module based and goes through everything you would need to know as a home inspector.
With this detail oriented approach, they are able to pass on a complicated subject to their students. They also try to keep the information concise and to the point as they are teaching it. This helps you retain the necessary parts of the curriculum and not be put off by anything you don't need.
ICA also takes a very visual approach to their material by using a lot of pictures and most of their curriculum is video based. Having video based lessons makes learning much easier. Home inspection is a visual job and you will have to rely on your knowledge of visual cues. By taking this visual approach, you can learn to identify problem areas as you move forward in your career.
They also like to try and present the material in a way that is entertaining and positive. Since there is so much to absorb in the courses, they understand that keeping it engaging is very important. By adopting this philosophy, they are able to present this complex material in a way that is easy to understand.
---
In-Depth Look At Inspection Certification Associates
Instructors
The instructors for the in-person courses at Inspection Certification Associates are all inspectors themselves. This allows them to pass on their real world expertise and give you a good idea of how the job is. By learning from actual home inspectors, you can understand what the day to day is like.
They will also be able to tell you the best ways to deal with customers and clients as a business owner. This is an often overlooked aspect of many home inspection schools, but its importance can't be understated. The instructors at ICA know how to deal with clients and can help you navigate customer service.
Many of the instructors for Inspection Certification Associates own their own inspection businesses. They are presidents and founders of companies that have been inspecting homes all over the country. This allows them to pass on their knowledge of what it is like to own and run a business.
They have also been on several governing bodies and certification boards throughout the country. Because of this, they are able to impart to you all of the things you need to know to get certified. Having this information will be crucial to getting your certifications and accreditations as an inspector.
Inspection Certification Associates Course Options
At ICA, you can choose between in-person courses and online, self guided courses. Being able to pick between these two options is incredibly valuable to students. Not everyone has the resources or time to be able to go to a classroom every single week.
Their self guided online courses are done through videos that are narrated by experienced instructors. Through this format, you can still get the benefit of learning from someone who has expert level knowledge. Even if you can't get to a physical location, you can still get the right kind of instruction.
They also offer in-person courses in nine different states throughout the country. If you happen to live and want to work in one of these states, you could consider this option. Being in a physical location is good for some but most students today like their online training.
With the in-person option, you can also choose to have lifetime access to the online courses as well. Being able to access these courses can prove to be incredibly helpful should you need a refresher. Not all professional schools will allow you to do this, so it is a great feature to have as a student.
Inspection Certification Associates Student Resources
Inspection Certification Associates offers a many different extra features for their current and former students alike. These extras are made to help you as you progress in your home inspection career as well as when you're learning. Taking advantage of these resources is a good idea for anyone hoping to get ahead.
One of the resources they offer is a demo of the courses that you can try before enrolling. This can be incredibly helpful if you are trying to decide on whether they are right for you. By trying it out and seeing if you like the format, you can have a good idea of what it is like.
They also offer a course comparison section on their website that shows how they stack up. They include the features and extras as well as curriculum and compare it to other inspection schools. This can be very helpful when choosing whether they will be able to offer everything you need.
Bonus Features
On top of the amazing content offered by ICA, you also will get several bonuses not offered by other home inspection schools.
When you sign up, you get free home inspection software to help you once you start working as an inspector. This software includes helpful features like voice notes and organizational tools. These can be used to present your inspection findings to clients in a clean, organized manner. Buying this kind of software separately can run over $700.
The course content of ICA will give you everything you need to become a home inspector but they also give you 15 bonus courses for free as part of your membership. These bonus courses will be invaluable to you as they cover many things you will need to know when you start your career. Here is a partial list of some of the bonus courses you will receive as a student:
Commercial Property Inspection
Radon Inspection
Wood Destroying Organisms
Well Water Testing and Inspection Course
Irrigation and Sprinkler System Inspection
Mold Inspection
Smart Home Inspection
and several more.
---
Inspection Certification Associates Pricing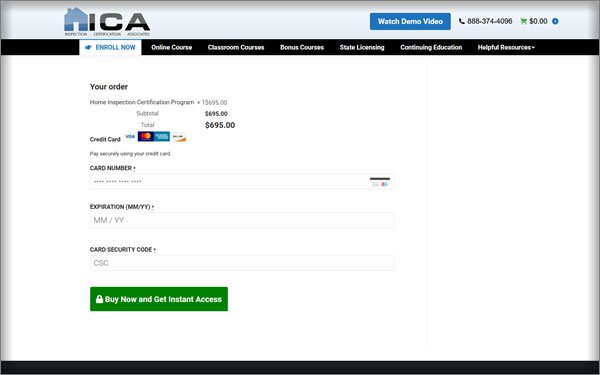 Online Course
The online course at Inspection Certification Associates is a comprehensive collection of videos and PDFs. It will cover all of the curriculum that is covered in the classroom courses, but can be done at home. This is a perfect solution if you are getting your certification in your spare time.
The online course comes in at $695 for everything and you get access to it for life. This means that no matter what point of your career you are in, you can always go back. Many students find this to be incredibly helpful and enlightening, even when they are already working.
The online course also includes access to their mold and radon detection courses. These can be valuable extras that you can offer to your clients, which can be incredibly lucrative. By offering these extras, you can be a one stop shop for your home inspection clients.
The online course is narrated by Inspection Certification Associates' experienced instructors. Even though you do not get the dynamic quality of an in-person class experience, it is close. You still get the valuable knowledge and expertise of a real, working home inspector. If you can't make it to in-person courses, this is the next best thing.
Classroom Courses
The classroom courses that are offered by Inspection Certification Associates are available in 9 different states across the country. Because there are different certification requirements in different states, they are all slightly different. However, the core information is the same, as is the quality of the education and courses.
The classroom courses vary in price between $1,300 and $2,000 for the entire course. Depending on where you live, they will be priced differently due to the varying requirements state to state. However, the range is fairly small despite these differences, and only changes by a few hundred dollars.
The in-person classes also include access to the online course's material and videos. Because of this, it is a valuable package to have should you want to go back and have a refresher. Many students feel that this is a great feature and that it is very helpful, even as they are working.
The in-person classroom courses are also great for people who are not self-starters. The material for home inspection can be very dense, so in-person can be helpful. Being in a classroom with other students and a face to face instructor helps you retain the information.
---
Pros And Cons Of Using Inspection Certification Associates
Pros
Great Learning Platform – ICA's content is delivered through a state of the art online learning platform. The interface is so easy to use it makes learning much easier. Since the course is self-paced you can take the course at your own convenience.
Video Based Course – The whole course is video based which makes learning fun and interactive. Some schools use text based learning whereas ICA's content is done through the use of video which helps to retain information.
Access to Both Course Types – The fact that if you sign up for in-person courses, you also get access to online is a great feature. People learn in all kinds of ways, and it is not always easy to know which will be best. If you have money to invest in this package, it can be helpful as you make your way to a career.
24/7 Support – No matter which course package you decide to take, they offer round the clock support. You can call or e-mail and there will always be someone on the line to help you with any questions. This can be incredibly beneficial, especially if you are taking the online course package.
Radon and Mold Inspection Included – These two types of inspections are very important to have as you start your business. Many customers want these inspections done and are willing to pay for them from a profession. By including them in their curriculum, you can make your inspection business that much more lucrative.
Bonus Content – ICA offers more for your money than any other home inspector training program. You will receive free home inspection report software, bonuses courses, and 700 exam prep questions for your state. There is no other home inspection training that offers so much for the price.
Cons
No Networking Opportunities – Many professional schools offer sanctioned networking opportunities for students. These are great places to make connections in industries and get to know people who can help you. Inspection Certification Associates does not offer any such opportunities, so you will have to make your own connections.
No Guarantees – Some professional schools will offer pass or no pay guarantees to their students. If you do not pass their course, you will not have to pay the tuition that is required of students. However, they do not offer this kind of guarantee. The fact is, most home inspection schools do not offer a guarantee.
Conclusion And Verdict
Most students who got their home inspection certification from ICA felt that they got a good value. They felt that their instructors were knowledgeable and that they had their best interests in mind. This is an important thing to look for in any professional school that helps you in your career.
In the Inspection Certification Associates reviews online, students also liked their instructors' attitudes. They felt that they were humorous and engaging, despite the complicated material and curriculum. Because of this, they paid more attention to the details and did better in their careers later on.
We love the fact that this course is video based, interactive, and offers so much for your money. Since the course is self-paced, you can take it on your own schedule without worrying about conflicts with your daily life.
Inspection Certification Associates is our top choice for home inspection education. If you want the most for your money and the best home inspection training available, we highly recommend them.
Home inspection is not an easy subject, but by reading this Inspection Certification Associates review, you're on the right track. Knowing everything there is to know about a school before going there is crucial. Hopefully you feel that you know enough about it to make an informed decision.
By reading this review, you have already begun the process of getting your certification. You can now move forward in your exciting new career and get the skills necessary to make it happen. The only thing left to do is enroll and get started on your new business venture.
---
---