---
Choosing a training program for your educational needs to become a home inspector can be challenging. This Professional Home Inspection Institute Review looks at all of the aspects of the program to help you make an informed decision.
---
UPDATED: December 2023
Our Overall Rating

---
Overview of Professional Home Inspection Institute
Professional Home Inspection Institute is an offshoot of a parent company called Be Online, Inc. Be Online, Inc started 20 years ago and was one of the first to create an online training school.
Professional Home Inspection Institute is one of the many professional online training programs launched from Be Online, Inc. The parent company is not a corporate entity and is actually a private company based in South Dakota.
The website is clear about how long Be Online Inc has been in business but it is unclear how long Professional Home Inspection Institute has been up and running. The website does talk about how many students they have helped start new careers.
On the landing page of the website, it claims that they have helped more than 25,000 students become qualified home inspectors. Their students are from the United States and Canada. The program they offer is flexible and is tailored to the different states and countries they serve.
This is a nationally recognized home inspection school with an informative website. The site does have a plethora of information for their students and prospective students but it could use some updating.
While the information is up to date and accurate, the look of the website does give an outdated look and may turn students away if they don't dig deeper. Also, the information on the website could be organized better.
The information is all there but it takes a lot of digging around and reading to make sure you find what you are looking for. Having more bite-sized and easily digestible sections would make the website more user-friendly and attractive.
Professional Home Inspection Institute Credentials
We didn't see any awards that Professional Home Inspection Institute has won but they do have a large number of credentials and certifications.
Two of the more notable credentials is the Better Business Bureau Membership and the Veterans Administration Approved Classroom Training.
The Veterans Administration program provides a great opportunity for veterans to get financial assistance. This gives them the chance to start a new career after they have left the service.
The Better Business Bureau Accreditation offers students a way to keep the business accountable. Professional Home Inspection Institute is also a member of the North American Home Inspector's Association as well as the American Society of Home Inspectors.
There is a long list of credentials and certifications from the national level to the individual state levels. These are all found on their website but would be a long list for our Professional Home Inspection Institute Review.
---
In-Depth Look at Professional Home Inspection Institute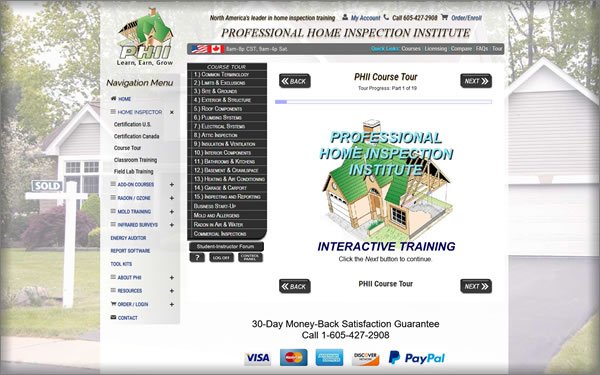 Professional Home Inspection Institute offers online, classroom, and field training for future home inspectors. Each of the courses they offer is tailored to the state program.
The online course is set up for optimal learning for the students. But it isn't just online. When students sign up for the online course they also get materials to facilitate off-line learning.
It is not a hybrid course, but it does offer more flexibility and options for different learning styles. The offline materials are included in the price of the online course.
There is a course tour for the online version. We were expecting this to be more like a video demo or other in-depth look at the course. However, it was more like a slideshow.
It does give prospective students an idea of what the interface and dashboard will look like but the overall tour was unimpressive. It is a 19-page slide show.
One thing we did like about the online course tour was that they show students what topics will be covered in the basic home inspection course.
Topics Covered in Professional Home Inspection Institute Basic Online Course
There are 15 topics covered in the basic online course. There are also four bonus topics to help launch into the advanced course or your career or both.
Students will see topics such as:
Roofing Components
Sites and Grounds
Commonly Used Terminology
Limits and Exclusions
Plumbing Systems
Attic Inspections
Kitchens and Bathrooms
Air Conditioning and Heating
Inspection Reports
Ventilation
Insulation
Electrical Systems
Garages and Carports
Starting Your Business
Mold
Radon
Commercial Inspections
These topics are the foundation of becoming a seasoned home inspector. They will address many of the issues and situations that home inspectors come across daily in their careers.
The basic course is made up of 20 lessons and can be done relatively quickly depending on the student. The fastest time frame is one to two weeks to completion of the basic course. It takes 90 hours to finish the course.
What is Included?
With the purchase of the online course for your state there are bonuses that Professional Home Inspection Institute offers students. One of the best things they include with the package is the advanced course.
The advanced course is 36 hours in addition to the 90 hours required to complete the basic course. Bundling these together motivates students to continue with their education.
Topics covered in the advanced course build on what the basic course has covered.
Chimney and Roof
Pools
Irrigation
Fireplace
Ethics
How to Operate a Business
Cooling Issues
Exterior
Some of the topics that will be covered in the advanced course are the same topics in the basic course. However, they will be covered in more detail.
All of the students also receive, free with tuition, software for reporting. This software typically costs $399 but PHII students receive it free.
Having a good software program for inspecting and reporting can save new and old inspectors time in their business. It adds to their efficiency so they can inspect more homes and grow their business.
Along with the advanced course and the reporting software, students also get a business website to help launch their new careers. In the advanced course, one thing that is addressed is how to market your new business.
It is a benefit that the Professional Home Inspection Institute not only gives you a business website but they also teach you how to use it effectively.
Professional Home Inspection Institute wants to help connect students with professional associations as well as they go into their new careers. Every student who completes the course will get an AHI membership worth $199.
Professional Home Inspection Institute Classroom Option
Professional Home Inspection Institute does have a classroom option. This is not as convenient for many students due to the location. The school is located in the institute's home state of South Dakota.
There are no satellite offices or opportunities to franchise in your state. If a student needs to take the live class, they will need to travel to South Dakota. There are states that do not allow online training for home inspectors.
There are dates available already for students ready to register. However, they will need to make sure they take care of lodging needs and transportation.
The in-person courses are more expensive than the online options but we will address that in a later section of this review.
Classroom materials will be made available online before the in-person course starts. This does give students the advantage of prior learning.
In addition to the classroom and online courses they also offer field training. This offering is for online students only. Students in the classroom setting have this type of training built into their program.
This is a training that is offered on the third Saturday of every other month. The spaces do fill up quickly so it is best to reserve a spot in advance.
The training is a one-day event but students will still need lodging and transportation. Field training takes place at the home office in South Dakota like the live classes.
Most of the field training does happen in South Dakota but the institute will host in other states for an additional cost. The training in South Dakota is free to students but in other states, there is a nominal fee to cover costs.
Field training is not required to become a home inspector in most states. However, it is a positive hands-on experience before officially becoming a home inspector.
States Professional Home Inspection Institute Serves
In one capacity or the other, Professional Home Inspection Institute serves all states. There are some states that do not allow online education for their home inspectors. However, students from those states can come and attend live classes.
This institute serves all 50 states as well as Canada. They have a long reach in the world of home inspection education.
Professional Home Inspection Institute Guarantee
Often there are no guarantees with home inspection education. That is not the case with Professional Home Inspection Institute. They do offer their students a guarantee.
The website says that they offer a 30-day money-back guarantee. We could not find any information on the website that explains the stipulations that come with this guarantee.
At the bottom of the webpage, it says that the guarantee is unconditional. It would be helpful to have more information about that on the website. Since the program can take as little as a week or two, do students have to complete the course or fail an exam?
That is one thing we don't like about the website, the lack of information about the guarantee. We would encourage potential students to ask about the guarantee before enrolling.
Professional Home Inspection Institute Support
The website doesn't explicitly say anything about the support they offer students. There are contact numbers and email addresses as well as a contact form. However, that is all we found on the website.
Having online courses with no mention of technical support or even instructor support is concerning. Support is essential for online programs. They may have it, but it is not stated on the website.
---
Professional Home Inspection Institute Pricing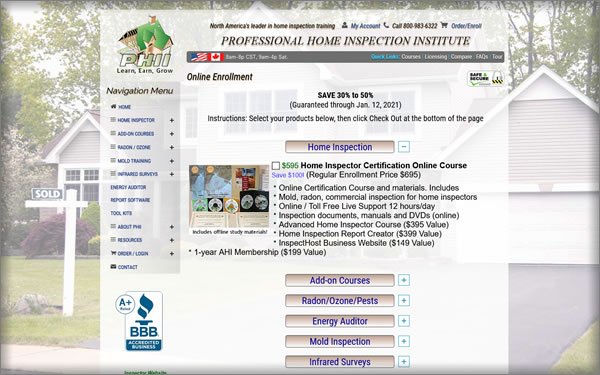 Pricing varies with Professional Home Inspection Institute. There are several variables that will make a difference with pricing.
Online pricing is all of the same as far as we can tell. Each program is priced at $595 right now but it is on sale. The course is typically $695.
The in-person program is more expensive and does vary by state. Most states are priced at $1995 but there are a few exceptions.
There are five states that are more expensive and require different time frames for classes. Maryland and Massachusetts are nine days and cost $2995 for the program.
Arkansas and West Virginia are also $2995 but are 10-day programs while New York shares this price but requires 12 days.
The field training is free for online students.
---
Pros and Cons of Using Professional Home Inspection Institute
At this point in the Professional Home Inspection Institute review, we are going to condense the information down into a simple pros and cons list.
Pros
Online and In-person options
Serve every state
Bonuses such as advanced course, professional memberships, and software
Lifetime access to the program
Live field training
Cons
No information about the guarantee
The website could be updated
No support information
The in-person course can only be taken at the school in South Dakota
Conclusion And Verdict
Professional Home Inspection Institute has been in business for years and has experience behind them. They were one of the first home inspection schools to offer a fully online program. This gives students confidence in their program.
However, we wanted to see the website more modern and up to date. It gives a very outdated impression. The information on the website seems to be accurate but it needs a new look.
They do offer a 30-day money-back guarantee but the website doesn't give any information about what that means. The bottom of the website says it is unconditional and a student only needs to be unsatisfied.
We would have liked to see the guarantee addressed better and more in-depth. Another thing that was missing was any indication of the level of support they offer their online students.
We do like that they serve every state and give students lifetime access to the program information.
Professional Home Inspection Institute has helped more than 25000 students reach their goals of becoming home inspectors in the United States and Canada. This speaks for itself.
Even with the things we would like to see changed, Professional Home Inspection Institute has many benefits to offer students from North America.
Verdict
If you are looking for a home inspection school that has the experience behind it then this might be the school for you. We would recommend asking questions about the support and guarantee before enrolling.
Once these questions are answered to your satisfaction, Professional Home Inspection Institute will set you on the right path. With a money-back guarantee, starting with this school is not risky.
Even though we like this school, take a look at Inspection Certification Associates, they're our top choice for home inspection schools.
---