---
ProEducate is a real estate school offering services in pre-licensing coursework and much more. When looking for an online real estate school option, then this school may be a perfect choice. We've gathered all of the information you need to know about this real estate school in this ProEducate review.
---
UPDATED: October 2023
Our Overall Rating

---
Overview Of ProEducate
This school provides real estate services in a number of areas, including mortgage pre-licensing, real estate pre and post-licensing, real estate continuing education, mortgage continuing education, Louisiana responsible vendor training, and professional development programs in multiple fields.
The school prides itself on offering effective and easy-to-use services, helping students to learn. Regardless of whether you have experience in the field and are looking to strengthen or if you're a newcomer, ProEducate is committed to helping students achieve the best results. The school has been operating since 1988, providing an education for thousands in the last thirty years.
Since that point, the school has gone on to be approved by ARELLO, or Association of Real Estate License Law Officials and REEA, Real Estate Educators Association. As a completely online distance learning option, the school is catered toward making remote learning easy and successful. If a student is looking for in-person classroom learning, this is not the school for them as they strictly offer online solutions. Unfortunately, there isn't too much information about the school itself on the website, but there is plenty to know about the school's Director.
Roy L. Ponthier Jr. leads the school as its Director, and he is very qualified to do so, bringing unique perspectives and experience to the school. Knowing a bit more about the leaders of a real estate school provides insight into the thoroughness and what information you might be privy to during your time enrolled. Director Roy's titles include Ph.D., Ed.D, CDEI, and DREI, and he is a licensed real estate broker in Louisiana as well as a certified real estate and appraisal instructor.
Roy holds a B.S. degree obtained at the Southeastern Louisiana College, while his graduate education was done at Tulane University, where he earned an M.S. and Ph.D. degree. At the University of New Orleans, Roy earned an M.Ed and an Ed.D. distinction. Specifically speaking to his real estate education, Roy is well versed in that area as well. Roy is a Certified Distance Education Instructor as deemed by the International Distance Education Certification Center. Roy is also noted as a Distinguished Real Estate Instructor, also known as DREI, by the Real Estate Educators Association.
The Director has also been part of the faculty at three different universities in addition to teaching real estate law classes at Loyola University Law School. In total, Roy has taught over 63,000 students in the real estate profession! Other important designations include his membership in the Real Estate Educators Association, the South-Central Educators Group, and Louisiana Mortgage Bankers Association. All of these memberships and clubs that Roy is a part of directly correlate to the knowledge that he transfers to the school and that then transfers to students.
---
In-Depth Look At ProEducate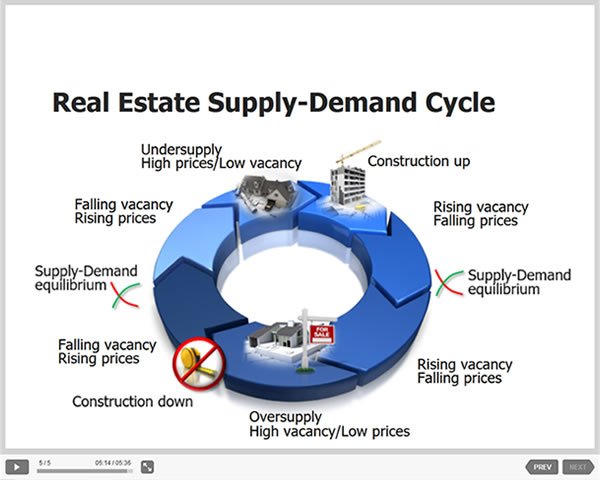 ProEducate offers courses in a select few states, primarily focusing on Louisiana as this is where the school was founded. On the website, students can navigate to their state's page, and there is a breakdown of how to obtain licensing in each state.
Keep in mind that the school offers many different education pathways, and some courses may be available in one state while another is not. It can be tricky to narrow down what is available in each state and may require a little extra effort sifting through drop-down menus on the website.
States that offer pre-licensing coursework include: Louisiana, Arkansas, California, Florida, Georgia, Iowa, Kansas, Michigan, Mississippi, Missouri, New York, Oklahoma, Pennsylvania, Tennessee, Texas, Virginia, Washington, Wisconsin.
For the purpose of this review, we will focus on ProEducate's home state Louisiana, but keep in mind that pre-licensing courses are available in the before mentioned states at the time of this review. As mentioned in an earlier section, this school's courses are exclusively available online. This means that a general level of service and offerings are available across the board with slight variation due to state-specific requirements.
Bite-Size Courses
When it comes to the coursework outline, students may choose between an all-in-one package that is either text-based or one that includes PowerPoint and audio. Students may also choose whether they want to break down their courses into individual sections that are more affordable and manageable.
For example, Louisiana offers their pre-licensing in two sections that can be purchased at two separate times. The first is a 30-hour Louisiana Law for Sales Pre-Licensing, text-based format. This one section covers the state's license law, real estate rules and regulations, and Louisiana's civil code where relevant to real estate. This bite-sized course is ARELLO and LREC certified and can satisfy part of the pre-licensing coursework or even continuing education requirements.
Audio and PowerPoint Course
As for complete pre-licensing education, students may choose between the text-based or PowerPoint and audio version of the course, both of which require self-reliance. The PowerPoint and audio option allows students to embellish their text. Also included in this package are graphics and animation to help guide students toward understanding.
The benefits of the course are over 400 pages of an eBook catered to state principles, titled "Principles of Real Estate Practice." Students will also receive a complete review of real estate math, study skills and test-taking skills review, and a printable glossary of real estate terms. Lastly, included in the purchase is a list of resources to supplement students' studies and access to a certified instructor via email for questions and concerns.
All in all, this course covers all necessary information as required by Louisiana for licensure. Topics are grouped together into a 60-hour national and 30-hour Louisiana law section.
Text-based Course Option
This alternate course is completely self-paced and up to the student to read materials in order to have an understanding before the licensing exam. Benefits of the text-based course include easy access whenever and wherever necessary across all devices. All information is available readily for students to access immediately and dive into according to their own time frame. Though, students need to be careful because there are set access periods upon purchase.
Included in this 90-hour package is an eBook on the Principles of Real Estate Practice with over 400 pages, review of real estate math, study skills and test-taking skills review, printable real estate glossary, resources, and supplemental studying, and access to an instructor for questions.
---
ProEducate Pricing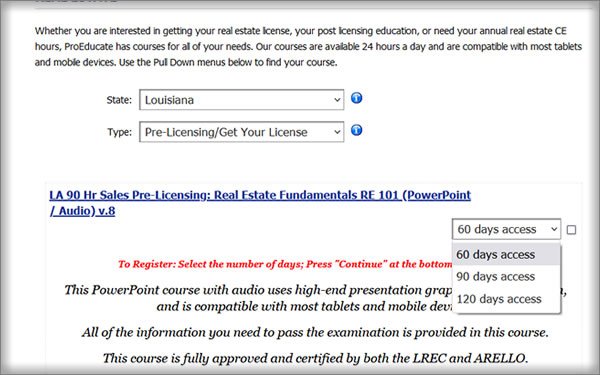 Full Audio and PowerPoint Course Price:
The prices at this real estate school are broken down by the length of access. For 60 day access, it costs $100 for 90-day access, it is $115, and for 120-day access, it is $125. Students will need to calculate how much time they can dedicate to their studies and figure how long it will take to complete the course before selecting an option. This amount is part of a promotion and is lower than average.
Full Text-Based Course Price:
Prices for the text-based course are similar to the audio and PowerPoint course and rely on days of access for pricing. According to their current pricing special, 60-day access is $100, 90 days access is $115, and 120-day access is $125.
30-Hour Text-Based Portion
The price for this course is higher than the other complete courses because they are encouraging students to purchase all at once. The cost for 90-day access to this 30-hour course is $195. For 180 days of access, double the timeline, the price is $295. This is not a great deal given this course fulfills half the requirements and is only text-based with no video or audio accompaniment.
---
Pros And Cons Of Using ProEducate
Pros of ProEducate
Affordability
The school's pricing is hard to beat. Though we focused on Louisiana for most of this review, prices are very affordable across the board. When compared to other courses on the market, it is difficult to find anything nearly as low as this school's coursework.
Course Demos
Students are able to take a test run of the course method they choose before purchasing. All you will need to do is turn on your speakers and visit the webpage. There, you are able to run through a normal day of coursework.
Course Flexibility
Students have the option to choose between a text-based or audio and PowerPoint. Students can adjust depending on what they need, though the prices are the same at the time of writing this review. Though the more options, the better, this minimum of two different course formats is a plus.
A Different Pricing Model
It is not often that schools price their course based on days of access instead of something like inclusions or bonuses. Because the courses are priced based on how long a student can access, it allows for students on a budget to choose what works for them even more accordingly.
Available in Multiple States
While some smaller schools only offer courses in one state, this one has options in multiple states, which may make it easier for reciprocity. Access across the board also contributes to the school's ability to be flexible and accommodating.
Well-Qualified Director and School
Both Director Roy Ponthier, Jr. and the school itself have all the necessary qualifications and certifications to provide services in each respective state. This means students will receive an education on par with the state's predetermined guidelines.
Cons of ProEducate
Lack of Reviews
While this doesn't discredit anything that the school offers, it certainly doesn't help and may leave many opting for an option with plenty of reviews for their pre-licensing work. Despite the school being led by someone with plenty of experience in the real estate profession, who has helped thousands, it is peculiar that so few reviews exist.
Contact Methods
If a student wants to contact this school, they will need to submit an online form or call a 1-800 number. However, the team is only available during the weekdays and normal business hours. Given that coursework is self-paced, the limited support is not great.
Outdated Website of ProEducate
The ProEducate website is very outdated and difficult to navigate in some places. Students may find it difficult to find what they're looking for, especially if trying to decide whether this is the school for them. When it comes down to it, students, especially young professionals, are on the hunt for the newest technology that is intuitive and attractive. The outdated website may mean the difference between a student selecting this real estate school or another.
No Livestreaming or In-Person Options
While this real estate school offers courses online that are text-based or PowerPoint and audio-driven, students don't have the option of any sort of interactive class. There are no classroom-based learning options and thus no livestreaming ones. If a student thrives in an interactive environment, choosing another school may be the best option for them.
Limited Refund Policy
Students will only have the ability to request a refund if they have completed less than 25% of their course and if it has been less than 48 hours since registering. If a student reached out to a school within these parameters, they are still only entitled to a 75% refund. Most students do not make it far enough in 2 days to judge whether or not they like a course and if they do and it's more than 25%, they're out of luck. This extremely limited policy will only benefit a few students.
Conclusion And Verdict
An important aspect of this ProEducate review is to check other sources for what alumni have to say about this school and their experience. This provides unique insight into individual perspectives of the school across the board. Unfortunately, this real estate school does not have many reviews across the internet. Typically we verify user experiences via sites like Yelp, Indeed, TrustPilot, and similar, but this school only has reviews available on Indeed. Very few reviews, to be clear.
According to the four reviews on Indeed, this real estate school rates 4.5 stars. One student stated that they liked the flexible class hours, affordability, instructors, positive environments, and helpful career services. More specifically, they stated that they liked the self-paced courses, which are an ideal choice for anyone who can motivate themselves to complete their coursework. Another favorable component of the coursework is that each section has quizzes to help students recap what they've learned.
Other reviewers highlight other programs that this school offered, some of which were not relevant to the state's pre-licensing coursework. Additionally, the school is not Better Business Bureau certified, which means the school does not have the bureau's accreditation for its business practices. With the lack of reviews and BBB accreditation, it's difficult to distinguish what claims are made by the school and what has actually been proven to be true.
Final Verdict
Given all of the information we've accumulated when writing this review and information that is absent, we recommend students process with caution when selecting this real estate school as their school of choice. Because there is no social proof of the school's services and because the school is limited in its offerings, it's important that students consider what they're looking for thoroughly before making a decision.
This ProEducate review rounded up some of the most pertinent information regarding the school's offerings, but it's important that you take time to research everything for yourself, including taking advantage of the online course demo.
This is not our top pick for Louisiana real estate schools or for any other state the school services, but if you're looking for an affordable option, ProEducate may be a good choice for you.
We do however prefer Colibri Real Estate or The CE Shop as better options than ProEducate.
---
---