---
A real estate license has the potential to change your life for the better. With this North Carolina School Of Real Estate review, you can decide if they can help. North Carolina School Of Real Estate has many options and could be your ticket into the world of real estate.
---
UPDATED: December 2023
Our Overall Rating

---
Overview Of North Carolina School Of Real Estate
History
North Carolina School of Real Estate was formed by Greg White after working in the business for many years. He wanted to provide students with the kind of education that he was not able to get himself. This gave him the passion and the drive to create an accessible and worthwhile curriculum for all kinds of students.
Since its inception, Carolina School of Real Estate has been helping all kinds of students get licensed. There is a booming real estate industry in the state of North Carolina and many people are trying to capitalize. If you want to be a part of this market, North Carolina School of Real Estate is a good choice.
Greg White started working in the business in 1992 in the Winston-Salem area. Because of this, he knew exactly what students needed in order to get started in the state. He was able to shape his school's style into something that would be helpful and committed to students' success.
When he started the school, Greg wanted to assemble a team that would be incredibly skilled and experienced. He recognized the need for a school that was all encompassing and sought out well rounded instructors. He continues that tradition to this day and works with instructors that have proven success in the field.
Experience
North Carolina School of Real Estate is able to boast of over 60 combined years in the real estate business. This means that they can provide you with competent and worthwhile instruction at every possible level. You are not only going to want instructors experienced in education, but in the real estate business.
By benefiting from this experience, you can take what you learn and apply it to your career moving forward. The years of combined expertise translate into an education that is both well rounded and incredibly comprehensive. Because of this, you can pack a lot of knowledge into a relatively small amount of time.
Due to their experience, North Carolina School of Real Estate can give you an idea of what the job is like. Since so many of their instructors have worked as agents, they can tell you what to expect as a new agent. This information is invaluable to someone who is just getting started and may not know what to expect.
Their experience also results in a good understanding of how the North Carolina market works. Real estate markets are incredibly fluid and dynamic and are always changing as the years go by. North Carolina Real Estate School's instructors have seen trends come and go and know how to weather them.
Teaching Style
The teaching style at Carolina School of Real Estate is based on the passion and expertise of the instructors. It is meant to get you excited about the idea of becoming a real estate agent and what the future holds. Because of this, it is a great choice for people who are coming into the industry for the first time.
The style is also meant to be engaging and participatory. As a student, they expect you to ask questions and be present with the entire class and the material. In general, this makes for a better experience for everyone involved. Students who participate are almost always more invested in the curriculum.
They also like to keep the classes as light and entertaining as possible. This helps students feel more comfortable in the courses themselves and do better as a result. Many real estate students are coming into education after a lapse in enrollment and this is very helpful.
North Carolina School of Real Estate's instructors also work hard to make the material simple. The curriculum for a real estate license is incredibly theoretical and can be difficult to grasp. Because of this, they work hard to draw from real world experience and provide examples that are easy to follow.
---
In-Depth Look At North Carolina School Of Real Estate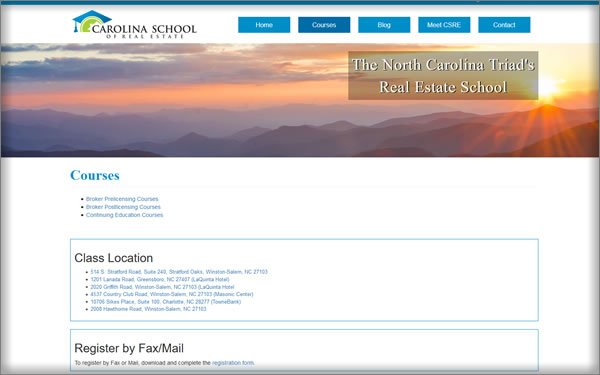 North Carolina School Of Real Estate Instructors
The instructors at North Carolina School of Real Estate have a lot to offer their students. They have all worked in the business in some capacity and have years of real world experience. This gives them the ability to pass that knowledge on to you as a student and a new agent.
Many of the instructors have not only worked in real estate but also in education. Because of this, they have the ability and know how to teach as well as they sell real estate. Not all real estate school instructors have this kind of dual skill set available to them.
Many of the instructors have also worked on different commissions related to the field of real estate. Sitting on boards and governing bodies like the North Carolina Real Estate Commission is a valuable experience. This allows them to have firsthand knowledge on things like real estate law and practice in the state.
Some of the instructors are also authors of textbooks that are used for real estate education. Seeing as some of them literally wrote the book on the subject, this is incredibly valuable to a student. You will be able to benefit from their extensive proficiency in the subject matter.
Course Options
The broker pre-licensing courses offered by North Carolina School of Real Estate are all done online. They are done in a webinar style format where you will be with other students and meet at a specific time. Because of this, they are able to provide you with a class room style experience at home in your own space.
Being able to complete your real estate education in a classroom style webinar is incredibly beneficial. Many people find that they retain the information better when they are working with other students. This allows them to assess their progress and get a more well rounded understanding of the material.
You can choose from a variety of instructors with which to take your courses as well. The instructors are staggered with the course dates. This allows you to research the instructor and take their course if you so desire.
The courses can either be taken in 8 hour chunks on the weekends or in 2 hour chunks during the week. This gives you the option to take the courses however you see fit and how it will fit with your schedule. For example, if you have a job during the week, the weekend classes may be a better choice for you.
North Carolina School Of Real Estate Student Resources
One of the downsides of North Carolina School of Real Estate is that they do not offer many student resources. Many real estate schools will offer career networking opportunities with local brokerages. Without these networking opportunities, it may be difficult to make the connections you need.
Since they do not offer these opportunities, you will have to find your own ways to network. The business of real estate is all about connections and having to make them on your own can be a challenge. If you feel that you need a more structured networking process, you may want to look elsewhere.
North Carolina School of Real Estate does have a small blog on their website, though. There are a couple of articles that detail what it's like to be a realtor and what the day to day entails. However, it is not very comprehensive and could use some more content in order to be helpful.
If you are just looking for a bare bones real estate school experience, they could be a good choice. They do not have the kind of resources and career placement that other schools have. If you would like to take advantage of these things, another real estate school might be best for you.
---
North Carolina School Of Real Estate Pricing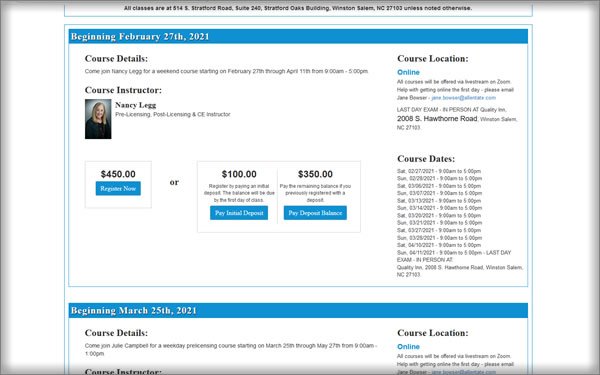 Pre-Licensing
The pre-licensing course at North Carolina Real Estate School will run $450 total. This covers the 75 required education hours you need for the state of North Carolina. This will be everything you need in order to pass the state and national real estate exam.
At $450, this course is right around the middle of the spectrum for real estate schools in the United States. Since the required hours are a little bit more than in other states, this is a relatively good deal. The cost per hour is quite a bit less than it is in other parts of the country.
One of the nice things about North Carolina School of Real Estate is how they schedule tuition. You can pay a $100 deposit up front in order to reserve your spot in the class. After that, you can pay the remainder on the first day of class. This is a good feature for people who might not have the full tuition up front.
This cost of tuition includes your textbook as well as the instruction itself. This is a great feature since many people find the cost of textbooks to be incredibly prohibitive. Having the textbook is also a great way to retain information and have a reference for the future.
Cram Course
They also offer a Cram Course taught by their instructor, Julie Campbell. For just $75, you can take this Cram Course before you take the real estate exam. This can be a great way to freshen up on the material before taking the text.
Many people find the real estate exam to be the most anxiety inducing aspect of getting their real estate license. If you are someone who is nervous taking tests, this could be a great option for you. They will go over everything in a 4 hour course and give you a refresher that could be very valuable.
By taking this Cram Course, you can be as prepared as you possibly can be for the real estate exam. People who have done this exam preparation are much more confident when the time comes to take the test. This almost always results in a better score on the exam and a higher pass rate.
At such a low price, the Cram Course is almost certainly worth the money. This course is a lot like hiring a private tutor at a much lower price. It can help you go into the exam feeling like everything is fresh in your mind and at the forefront.
---
Pros And Cons Of Using North Carolina School Of Real Estate
Pros
Experienced Instructors – The instructors at North Carolina School of Real Estate are experienced in both education and real estate. This combination of skills makes them a great choice if you want that kind of expertise. It allows them to be as effective as they can be in imparting their knowledge to you.
Low Price – In the grand scheme of real estate schools, North Carolina School of Real Estate is incredibly affordable. For less than $600, you can be fully licensed to practice real estate in the state of North Carolina. This is a very affordable prospect for almost anyone.
Cram Course – The Cram Course is a valuable feature for someone who may not be as confident in their test taking skills as they could be. By taking this extra course, you can give yourself a leg up when test time comes. At its low price, it is certainly worth taking.
Cons
No Student Resources – The fact that North Carolina School of Real Estate doesn't have any student resources is a major drawback. Many other real estate schools in North Carolina offer them and they can be a big help. If you would like to benefit from these resources like career help and networking, you may want to look elsewhere.
No Pass or No Pay Guarantee – Some of the larger, national chains of real estate schools such as Colibri Real Estate offer a pass or no pay guarantee. This gives you the assurance that if you don't pass, you don't pay tuition. If you would like this guarantee, one of the bigger schools may be a better option for you.
Not Self-Paced – These courses are taken in a live webinar style and are scheduled at certain times. This means you must fit this into your schedule rather than being on-demand and self-paced like online real estate schools.
Conclusion And Verdict
All in all, North Carolina School of Real Estate is a bare bones, but affordable real estate school. They have everything you will need in order to get your real estate license without much else. If you feel that you don't need much extra help or resources, they are a good option.
Many of their former students felt that they got their money's worth from the courses. The instructors are friendly and knowledgeable and have a personal interest in their success. For many people, this is the best part about attending the school.
In this North Carolina Real Estate School review, we covered everything they have to offer. If you feel like you just need to satisfy your education hours with high quality instructors, they will suffice. However, if you would like extra help with career placement, another school may be best.
When choosing a real estate school, it is important that they suit your needs as a student. North Carolina School of Real Estate is a great choice for self motivated students and future realtors. If this sounds like you, they could be a good option for obtaining your real estate license.
---