---
In this AYPORealEstate review, we will cover every aspect of what they provide. This includes things like course material, curriculum and package options. By understanding everything that AYPORealEstate offers, you can pick the best course package for you.
Getting a real estate license is an exciting and possibly lucrative process. There are many steps and the requirements can change depending on your state. Because of this, it is very important that you get your education at a quality real estate school.
One of the nice things about getting your real estate license is that it can usually be done online. Real estate is an incredibly varied and diverse industry. This means that it attracts people from all walks of life. This is why many real estate schools offer courses online.
If you are someone who is looking for some extra income, a real estate license could be for you. How many real estate agents use the job as a second income. The industry's open schedule and flexible hours are very attractive for that reason.
Real estate is also potentially a very lucrative business. Real estate market is in constant flux and agents are there to pick up the commissions. This makes it perfect for those who don't want a cap on their income.
AYPORealEstate is a real estate school that allows you to complete your education hours completely online. This is incredibly helpful and is only propped up by the fact that they are a premiere real estate school.
They offer classes that complete requirements for each state. This is an important distinction since the real estate requirements vary from state-to-state. Make sure that any real estate courses you purchase will be accredited where you live.
UPDATED: October 2023
Our Overall Rating

---
Overview Of AYPORealEstate
AYPORealEstate has courses available for people looking to get their license for the first time and those continuing their education. You often have to take more courses if you want to open up your own real estate brokerage. If this is your goal, AYPORealEstate can help.
AYPO stands for "at your own pace." This says it all about the company and lets you know that they can work with you and your schedule. Many times, the only thing preventing people from improving their lives is a schedule that is inflexible.
The company's headquarters are located in Gold Hill, Oregon. However, they operate all across the United States and offer classes for every area. They know the requirements necessary so they will provide you with the proper course work.
The coursework at AYPORealEstate is thorough and will prepare you for your career in the field. Their main goal is to provide you with the education that will set you up for success.This is why they have individual packages for each state.
Real estate is just one of the industries that AYPORealEstate provides education in. They also offer courses for HVAC repair and other trade-type industries. However, they are mostly known for their real estate classes.
AYPORealEstate offers their courses as on demand, independent lessons. Because of this, they are a great option if you consider yourself an independent learner. Knowing how you learn best is one of the most important things to know about yourself going into this process.
---
In-Depth Look At AYPORealEstate Course
AYPORealEstateHas a huge variety of classes and packages for all areas of the country. This categorization makes it easy to choose which experience is going to work best for you. Simply look at the packages offered and see which ones suit you best.
These course packages range from incredibly basic to in-depth and prep focused. If you are someone who needs a lot of prep and help with studying, you may want a premium package. This is going to be one of the areas where it's most important for you to know your learning style.
Basic Packages
The basic packages for AYPORealEstate usually consist of the minimum hours needed. This means that the course will cover everything necessary but nothing else. If you are already well-versed or are getting a second license in another state, this could be for you.
A basic educational package from AYPORealEstate will have a curriculum that covers everything you need to know. Things like real estate law in your state, closings and best practices will all be part of the course.
The real estate law aspect of the curriculum is why you need to take the correct course for your state. Real estate law varies from state-to-state and the course will be different in Michigan than it will be in Oregon.
Some of the other things like best practices will also be different from state to state. There are rules that govern how you can do business as a real estate agent. It is important that you can be confident that you are learning the correct laws.
Premium Packages
AYPORealEstate's premium packages have quite a bit more to offer. They include things like hard copy textbooks and practice tests. Hard copy textbooks may seem unnecessary, but many students report that it is very helpful.
The hard copy textbooks are usually printed out with a PDF. This makes them accessible and cheaper than if you had to buy a hardbound book. In this way, AYPORealEstate is going to be much cheaper than a real estate class at a junior college.
Few States
One thing you should look out for is which state you want to work in. AYPORealEstate only offers classes for:
If you are not planning on working in these states, they will not be able to offer classes that will help you.
Former students have reported that they have accidentally signed up for courses in the wrong state. It is very important that you check to make sure you are getting the right courses for the right jurisdiction. If you don't, you could end up paying for and taking classes that will not count toward your license.
No Pass Guarantee
AYPORealEstate does not offer any sort of guarantee that you will pass the state real estate exam. Many online real estate schools offer a pass or no pay guarantee. This means that if you don't pass the state exam, you don't pay your course fees. AYPORealEstate, unfortunately, does not offer this option.
Continuing Education
AYPORealEstate also offers continued education courses. These are much shorter and usually consist of about eight hours of education. In these courses, AYPORealEstate will cover everything you need whether you are renewing your license or expanding it.
---
AYPORealEstate Pricing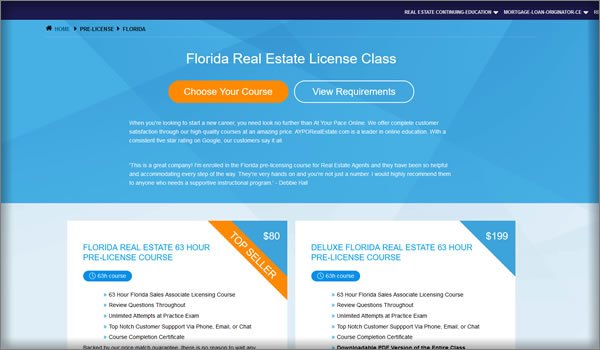 The pricing packages for AYPORealEstate are varied and open to all budgets. Depending on your state, a basic package could run you as low as $199. For that kind of money, you could easily get your real estate license in your spare time.
Many times, people don't go back to school or get an accreditation because of the money. However, with AYPORealEstate you have many options that can fit your budget. These low prices make real estate accessible to almost everyone.
If you are doing your continuing education courses, these are even cheaper. Some of the continuing education courses at AYPORealEstate run as low as $19. That is next to nothing for a license renewal or brokerage education. Considering that in some states you have to renew every year, the low price is a plus.
Some of the premium packages that AYPORealEstate offers can be a little bit on the pricey side. For example, their deluxe package comes in at over $400. However, that price includes many practice tests and more material to help you prep.
If you are someone who likes the most amount of preparation possible, one of these premium packages could be for you. The extra help is incredibly valuable if you are not confident taking exams or tend to get nervous.
Even though the more deluxe packages can come with a heftier price tag, they also come with benefits. Simulated exams, hard copy textbooks and customer service through phone calls make these packages worth it. If you need the help, it will always be worth it to spend a little extra money.
---
Pros And Cons Of Using AYPORealEstate
Pros
Longevity – AYPORealEstate has been around for many years. They have adapted their education system to work for many industries. This means that they will be accessible, affordable and user-friendly for all types of people.
Price – Compared to other online real estate schools, AYPORealEstate is relatively affordable. Their prices for basic packages are significantly lower than at other organizations. Because of this, AYPORealEstate courses are much more readily available and easier to attend.
Package Variety – The different types of packages that AYPORealEstate offers are varied. you can really pick out which things you need the most and take the package that fits. This makes choosing your courses and setting your budget much easier.
Mobile Classes – AYPORealEstate Offers classes through a mobile app. This makes them perfect for students on the go or people who have to work other jobs. You can work on your real estate license anywhere and get through the whole process faster.
Cheap CE – Continued education courses are a regular expense for any real estate agent. However, if you get your continuing education through AYPORealEstate their prices are very low. This will save you money in the long run and keep your start-up costs as an agent down.
Flexible Scheduling – Since AYPORealEstate does not offer in person instruction, all their courses are self-guided. While this could be a downside for some, for others it could be a blessing. Many people prefer to work on their education hours on their own time. This is especially true if real estate is a second career.
Great Response Times – We contacted this school for help and they responded within 19 minutes! This is an amazing response time and means they are there to support you.
Cons:
Lack of States – AYPORealEstate does not offer courses for every state in the United States. They only operate in states and their courses will not be valid elsewhere.However, they will not tell you if the state you're in will not accept the courses. You have to know this for yourself.
No In-Person Option – Many people prefer to do their online real estate courses in a simulated classroom type environment. AYPORealEstate does not offer this option. All of their courses are done independently. If you are someone who needs in-person instruction, you should look elsewhere.
No Support for Basic Packages – If you end up taking one of the basic packages, you will not have access to customer support. This means you'll be on your own if you come across any problems or can't figure something out. If you think you may need a little extra help it may be best to get one of the deluxe packages.
No Hard Copy Text for Basic Packages – Having a hard copy of your textbook will make studying and retain information easier. Many studies have shown that reading a text on a screen is not nearly as effective as it is on paper. If you are someone who can't necessarily afford the deluxe packages, this could be a down side.
No Pass or No Pay Guarantee – The pass or no pay guarantee is one of the most important things to look for in a real estate school. The fact that AYPORealEstate does not offer it means that they are more geared toward already experienced students. If you're nervous about not passing the exam, you may want to find a school that offers this guarantee.
Conclusion And Verdict
There are a great deal of online real estate schools in the world. However, they are not all created equal and you should know the difference between them. You should also know what you need in a school.
If you think you would benefit from in-person instruction or one-on-one learning, AYPORealEstate might not work for you. They are quite focused on independent instruction and students studying for themselves. They offer very little support in that area.
However, if you feel that you are already sufficiently prepared, their basic packages have an attractive price. You can also get through the courses as quickly as you want by doing them independently. You are not beholden to a class schedule.
This open schedule makes AYPORealEstate perfect people getting into a second career. Busy students often can't make time to take an in-person course. Luckily, AYPORealEstate is around to pick up that slack.
All in all, AYPORealEstate is a good, bare bones online real estate school. If you live in the states that they operate and are accredited in, they are an excellent choice. They are not going to be as good of a choice for those who need in-depth education.
---