---
Becoming a realtor in Texas requires you to get a license. In order to obtain that license, you need to have a certain amount of pre-licensure coursework and to do this you will want one of the best online real estate schools in Texas.
There are several ways to get this coursework completed. One of those ways is through an online real estate school.
We have done some research and put together a list of the best online real estate schools in Texas. These schools are great passing rates and will help prepare you for your exam.
If you are looking for online Texas real estate courses keep reading for our suggestions.
Real estate schools in Texas can be in person or online. If you don't have the time or are not close to a brick and mortar school, online real estate schools in Texas are a great option.
There are more online options than what we listed but these are the top seven that we recommend. They each have high passing rates and students are satisfied with these online Texas real estate courses.
---
1. Colibri Real Estate: Best Online Real Estate School In Texas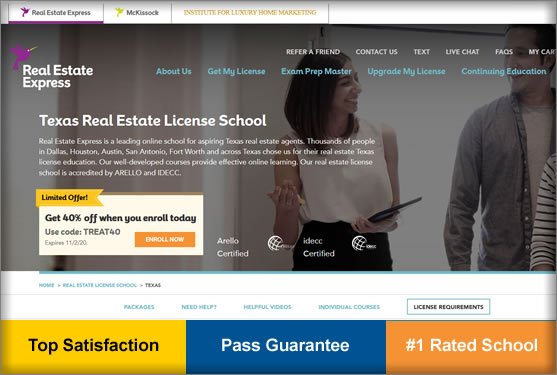 Colibri Real Estate is the top online real estate school in Texas. If you choose this option for your pre-licensure coursework, there are several advantages.
Course Features
In addition to individual classes that can help you get your hours, Colibri Real Estate also offer exam prep packages. These packages are great if you want a jumpstart to your career.
Here are some of the features included with this course:
3 eBooks covering real estate topics
90 hours of state-approved education
End-of-chapter quizzes and practice exams
1 year of post-licensing professional development
Pass guarantee
This real estate school in Texas also offers continuing education and license upgrading. Online real estate schools in Texas need to be accredited; Colibri Real Estate is accredited by ARELLO and IDECC.
You can move forward with coursework through this online school with full confidence. This is because they have a 4.5-star rating and thousands of shining reviews.
Pros and Cons
Pro – Proctor Included: Did you know that you need to supply a proctor for your real estate exam? Each of these packages include online exam proctoring, so that's one less thing for you to worry about.
Pro – Live Instruction: One of the best things about this course is the live training that is part of it. This is typically a weekly event online, and it allows you to get fast answers to your exam-related questions.
Pro – Affordable: A helpful attribute of Colibri Real Estate is the ability to split the course price into three payments. Taking the financial strain off of the students will help them focus on learning.
Bottom Line
The course work is up to date and will prepare you nicely for the exam you need to take. These reasons make it one of our top picks for online real estate schools in Texas!
(READ OUR COLIBRI REAL ESTATE REVIEW)
Colibri Real Estate: $137 Off Ultimate Learning Course
33 uses today
Last Used: 9 hours
---
2. Aceable Agent: Online Real Estate Schools In Texas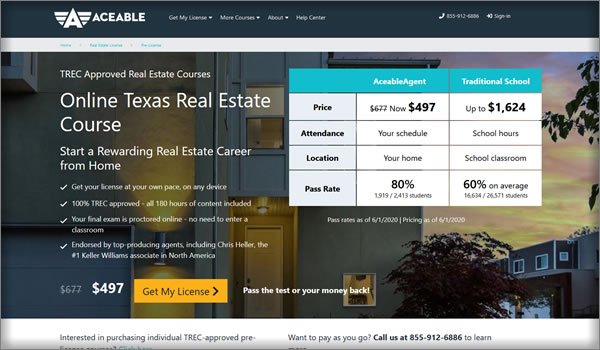 Aceable Agent is one of the most highly recommended and best online real estate schools in Texas. In fact, the only reason it is not higher on our list than Colibri Real Estate is that they don't offer a variety of packages.
They do, however, offer individual courses in addition to the full online real estate course. With that being said, the course is affordable.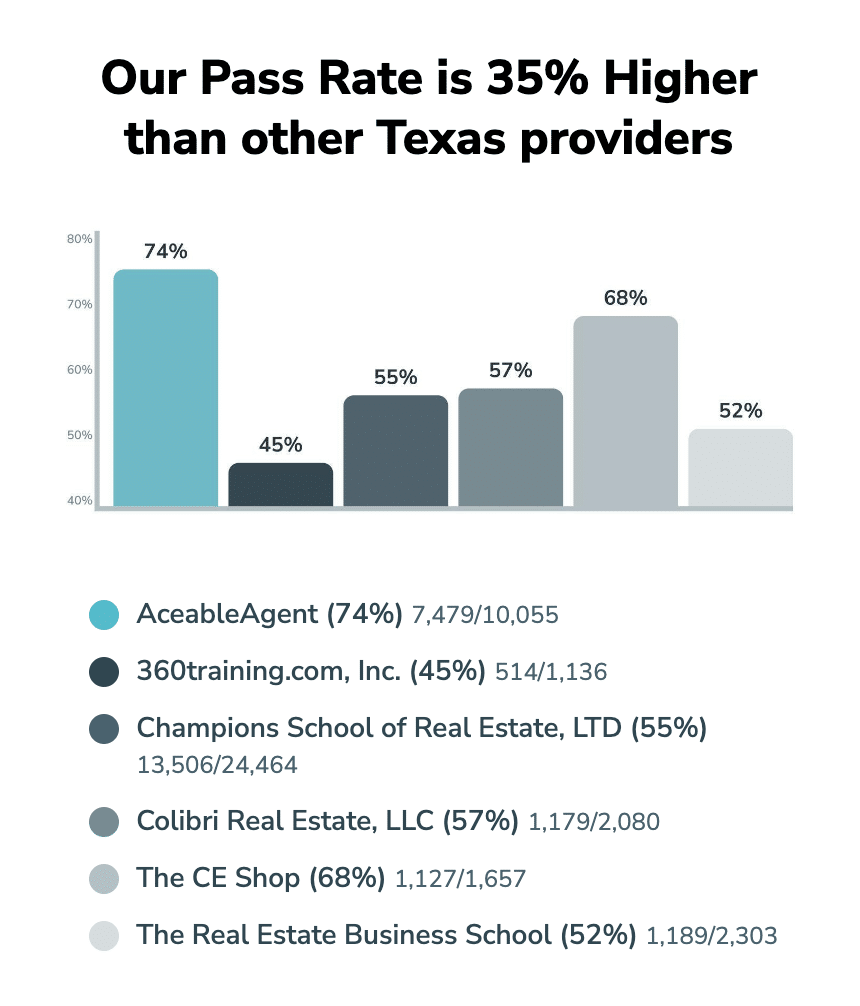 Course Features
But some programs are not as user-friendly as this program is. That is one of the things that makes it one of the top online real estate schools in Texas.
Similar to the above online course, this one does offer continuing education as well. This is just made better by the fact that they have an 80% pass rate.
Some other features of this course are:
4+ practice exams
75 video lessons
70 audio lessons
2,500+ practice questions
Exam prep eBooks
Tutoring and live webinars (Ultimate course only)
Pros and Cons
Pro – Stress-Free Structure: Learning with Aceable Agent is easily managed. It's structured so you can easily arrange each study session around the rest of life, mostly because it's an online program.
Pro – Local Support: Aceable Agent is actually based in Texas and offers payment options to help with tuition. All of these things add to the appeal.
Con – Communication: Although you can reach out to your instructor when enrolled in any Aceable Agent package, it can take days to receive a response. Your best bet is to enroll in their most expensive Ultimate Interactive course, which may be out of your price range.
Bottom Line
Although not as impressive as our top pick, Aceable Agent is a very, very close second. Check them out if you like to study for your exams at your own pace.
Up to 30% Savings on Aceable Agent Premium Exam
35 uses today
Last Used: 17 hours
---
3. The CE Shop: Texas Real Estate Classes Online Review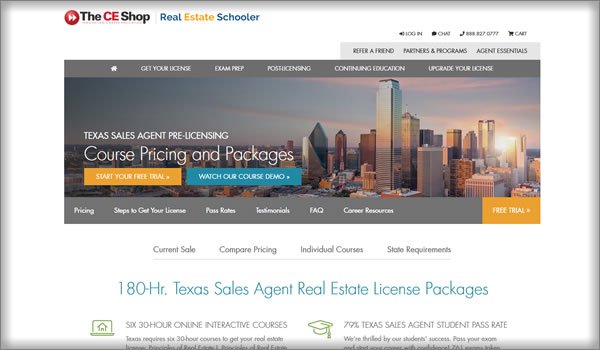 Of all the online real estate schools in Texas, we recommended The CE Shop as one of our top choices. Not only does this course come with the 180 hours of education you will need to get your real estate license in Texas, but they have  some of the highest student pass rates in the industry.
Course Features
Meets Texas real estate hour requirement
Business eBooks with real estate term glossary
Digital flashcards
Interactive practice questions (not just multiple choice)
High pass rates
Pros and Cons
Pro – Likely to Pass: At the time of this writing, The CE Shop has a 76.11% pass rate; they're right at the top of the charts! This doesn't guarantee a passing grade, but your chances are much higher if you use this course to study. You can see pass rates here.
Pro – Accelerated Learning: With The CE Shop, you can meet all the qualifications and sit for the Texas real estate exam in as little as five weeks. This is long enough to avoid feeling stressful, like a cram session, but it's also not so long that you forget or lose interest towards the end.
Con – Mobile Support: Although you can access The CE Shop on your tablet or smartphone, there's no dedicated app for any mobile platform. This means that Android or iOS devices may terminate support, making it harder to study from newer models of these devices.
Bottom Line
While not the cheapest online real estate course in Texas, The CE Shop does offer one of the best most comprehensive courses on the market.
Save $100 on The CE Shop Pre-Licensing Education
33 uses today
Last Used: 22 hours
---
4. Prep Agent: Best Real Estate School in Texas
Despite mostly being an online-only independent study course, Prep Agent has a lot of personality that makes it a popular choice for many aspiring professionals. They offer state-specific courses and a flexible subscription model that make it a great fit for students on a tight budget or who don't have much time to prepare.
Course Details
Week, month, or year-long subscription
75 exam prep videos and 70 audio lessons
Interactive vocabulary practice and online flashcards
100+ page exam prep eBook
Live webinars 5 times a week (Premium Only)
Pros and Cons
Pro – Custom Exams: Prepagent allows you to design exams that focus on specific study areas during their course.
Pro – Explainer Videos: Well made video lessons are designed to engage you and improve knowledge retention.
Con – No Final Review: This course doesn't come with any form of final review. So if you're interested in some last minute prep before the exam, you will need to make it yourself.
Bottom Line
Prepagent's course is an excellent way to prepare for your real estate exam. Their material will teach you everything you need to know in no time!
Save 20% on Prep Agent Real Estate Courses
35 uses today
Last Used: 22 hours
---
5. CompuCram: Texas Online Real Estate Course Review

This is a great fit for independent study if you're a self-motivated student. It's designed to be easily accessed on any computer, tablet, or phone; additionally, the use of adaptive learning technology means you can keep track of your progress and know exactly when you're ready to take the exam.
Course Features
Vocabulary building exercises
State-specific and national packages
Pre-assessment, progress tracking, and exam readiness indicator
6-month access period
Money-back guarantee
Pros and Cons
Pro – Mobile Friendly: Compucram's course has an easy to navigate mobile dashboard. Thanks to that, it's easy to take your learning on the go.
Pro – Readiness Indicator: All of your progress is logged as you work through the course to show you exactly when you're ready to pass your exam.
Con – Self Study Only: Students interested in live learning will need to look elsewhere for that type of course.
Bottom Line
Compucram offers an effective and easy to approach study experience.
---
6. Mbition: Real Estate License Texas Schools Online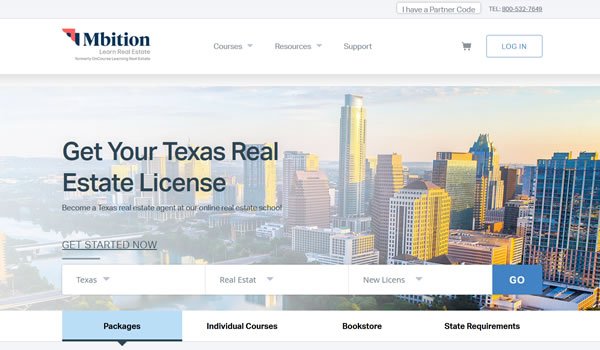 OnCourse Learning through Mbition has online real estate schools in Texas as well as other states. To make sure that you are getting the coursework you need for a Texas license, you will need to look at the Texas package.
They do offer individual courses but as we said in a previous section, the packages are a great value. One of the advantages of online courses or in-person real estate schools in Texas is the price.
With the options that OnCourse Learning offers you will be able to find an affordable option that fits your budget. But when choosing take what they offer with each package into consideration.
You can also trust the coursework and support you receive because this online school is accredited by ARELLO.
When you are preparing to take any exam practice makes perfect. The ability to recall information you learn is a practiced skill.
With this online school, you do get access to as many practice tests as you want to attempt. This makes the school a solid choice for those preparing for the exam.
---
7. Kaplan Real Estate Education: Texas Real Estate License School Reviews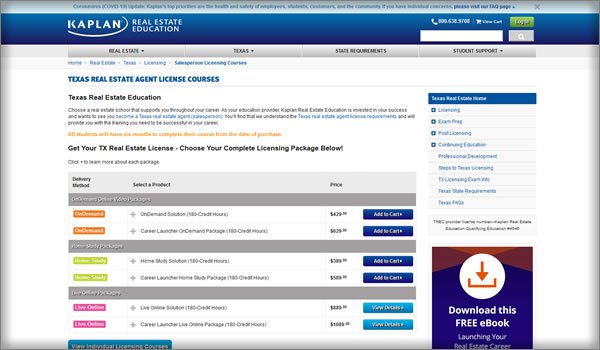 Kaplan is a well-known name throughout the world of test prep. It is likely that you have heard of Kaplan if you took any kind of college entrance exam. They excel at test prep and boast high passing rates.
But how are they with real estate? They maintain their good reputation with this kind of coursework and test prep as well.
They offer help with licensing, exam prep, post-licensing, and continuing education. If you are pleased with the exam prep or licensing courses then you might think about going back for any future learning needs.
Not only does Kaplan offer on-demand licensing courses that can be done anytime within the six months after purchase, but they also offer two other options.
You can choose live online classes to complete your coursework. This means you have to be available when the classes are in session. If you can't commit to that then this path is not for you.
Another option that not many other real estate schools in Texas offer is the textbook homestudy approach. You have to be a self-starter for this method. They do outline the course and offer a live study group with this option.
All of the options that this accredited online real estate school offers will be beneficial to learning. The variety of options is what put this school on our list. They are a little bit more expensive so keep that in mind.
(READ OUR COMPLETE KAPLAN REAL ESTATE SCHOOL REVIEW)
---
8. AYPORealEstate: Online Real Estate School in Texas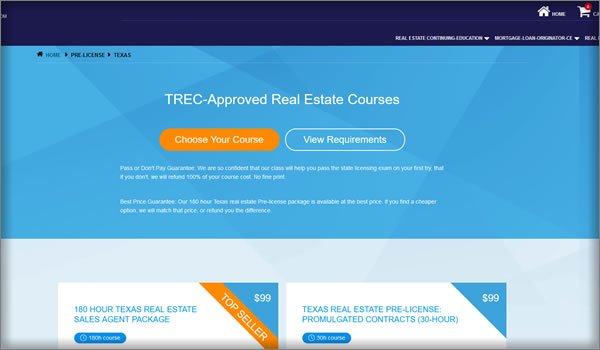 AYPORealEstate is one of the real estate schools in Texas that is approved by the Texas Real Estate Commission. They offer a variety of courses and packages to help prepare you for your licensing exam.
They do offer a full course including online proctoring for your exam that has received four out of five stars from students.
When looking at the reviews the most satisfied students left information about what they liked and didn't like. Those that left the least amount of stars did not write anything.
One person that gave four stars said that the course was great and he felt prepared but they could use some quality control to smooth out the rough edges.
In addition to pre-licensure coursework, they also offer continuing education.
---
Other Texas Real Estate Schools That Offer Online Training
The real estate schools below are all located in Texas and most have online classes. These schools made our list because they responded to our contact request.
Academy of Real Estate
Champions School of Real Estate
Learn Texas Real Estate Online
Onward School Of Real Estate
REALTOR® Academy
The Real Estate Business School
The Real Estate Business School of Salado
---
Real Estate License Requirements in Texas
Now that we have talked about real estate schools in Texas we can talk about how you can get a license. There are certain things that must be done to complete your license requirements.
Even if you finish all of that coursework you still have to pass the exam and do a number of other things. This all needs to happen before you start selling houses.
We are going to talk about each step with some detail but this is mostly to get you started on the right foot.
Texas Real Estate Education
The first step to becoming a real estate agent in Texas is to find a school that will work for you. We talked about the top online programs in Texas but there are in-person options as well.
No matter which school you choose they need to be accredited and meet all of the requirements. The number of hours of coursework you do also matters.
You can't even sit for your exam until you have done 180 hours of coursework. The coursework will cover a required six areas of study. These have to be covered before the exam.
You do not have to have a college education to enroll in this coursework or become a realtor. This is something that can be started right out of high school or as a change of careers.
Age and Residency
There are age and residency requirements that must be met to obtain your license and to even sit for the exam.
You will not be able to take your exams if you do not meet these standards.
In order to take the exam and become a licensed real estate agent, you have to be at least 18 years of age. Because there are legal documents and contracts involved a minor can not execute a home sale.
As far as residency goes you have to be in the country legally. That doesn't mean you have to be an official citizen of the country but you do have to be allowed to work legally.
Security Measures
Because selling real estate requires you to go into homes and businesses there have to measures to protect you and the client. A real estate agent that can't pass a background check isn't an agent people will want.
After you pass your exam and before you are officially licensed you will have to undergo fingerprinting. This can not be avoided.
Even if you have had fingerprinting in the past year for something else you will have to be fingerprinted again. There is not a shared database for fingerprints.
You will also be required to pass a full background check. If these two things do not come back clear then you will not be getting your license.
Pass Your Exam
This is a big one. In order to get a license in the state of Texas to sell real estate, you have to pass the exam.
The exam is scheduled after you have completed the 180 hours of pre-licensure coursework. There are 100 questions and the test is usually computer-based.
If you fail the exam you can retake it within a calendar year. You do have to pay for the exam each time you take it.
You can take the test three times. If you do not pass the exam on the third attempt there is still hope.
You can take the test again after you have completed a 30-hour refresher course. However, the passing rates of most of the schools on our list prove that the courses and prep work.
If you put in the time you are more likely to pass the first time.
Find a Broker
You probably think that once you pass that test and receive your license that you are done. But that is not the case.
While you may be licensed you need to find a broker that is willing to sponsor you. This will allow some extra training for you.
Learning under an experienced real estate agent turned broker will always be a benefit. However, even once you have learned more, you still have to work under a broker.
After a certain amount of time you can take the courses and exams to be a broker if you want to work for yourself.
Start Selling
That is it. You are ready to sell houses and build a flexible work-life. Once you have taken the 180 hours of pre-licensure coursework, passed the exam, completed the security measures, and found a broker you are a real estate agent.
If you feel that you need more help getting started you can take more courses through some of the schools. But if you have a good sponsor, they will guide you.
---
Final Thoughts on the Best Real Estate Schools in Texas
Becoming a real estate agent in Texas does require some education and an exam. But this doesn't need to become a worry.
There are top quality real estate schools that have online courses to help you prepare. We have highlighted what we consider the top six online real estate schools in Texas to give you a place to start.
With high passing rates and quality material, you will be prepared to be a top realtor.