---
Here's your guide to helping you find the 3 best online real estate schools in Maryland. These three are the best to help you get your pre-license education.
Getting a real estate license in Maryland is a big decision no matter who you are. There is always a little bit of risk involved with putting yourself out there for a new venture. Luckily, there are many real estate schools that will help you along the way and put you on the right path.
In this article, we have reviewed the best real estate schools in Maryland. Not all of them are the same and some will be more suited to your learning style than others. By understanding these distinctions, you can find real estate classes in Maryland that will give you your best shot at success.
---
1. Colibri Real Estate: Best Online Real Estate School In Maryland
The video below will give you a comprehensive look at the Colibri Real Estate program:
Colibri Real Estate has established themselves as one of the most popular real estate schools in Maryland. Their courses have been used by thousands of students to prepare them for the Maryland real estate exam. They are time-tested and have the experience necessary to get you ready for your career.
Colibri Real Estate has been around since 1996. Throughout this time, they have developed their curriculum to appeal to all kinds of students. Because of this, they are able to offer some of the most accessible online real estate courses in Maryland.
One of the best things about Colibri Real Estate is that their instructors are already working in the business. Many of the instructors are real estate professionals or real estate textbook authors. This kind of experience is unparalleled in the world of Maryland real estate schools.
Taking your real estate classes at Colibri Real Estate is a good idea if you are a self-starter. Their classes are self-guided and can be done on your own schedule. The on-demand lessons are designed to work for a wide variety of learning styles.
While the classes at Colibri Real Estate are designed to be taken independently, there are other options. Many of their course packages include instructor-led webinars. These can be incredibly helpful if you prefer an in-person learning experience.
The Basic Package at Colibri Real Estate contains the 60 education hours needed to fulfill the state requirements. If you are the kind of person who doesn't need a whole lot of extra help, this could be your best choice. Priced at just over $100, this is a great deal for someone who is getting their license in their spare time.
They also offer two packages that include some extra exam prep. These could be very helpful if you are slightly nervous about taking the exam. The Exam Prep Plus Package also includes a state-approved instructor Q&A.
If you want the best possible preparation for your career, the Ultimate Learning Package might be your best choice. This package includes not only the 60 hours of required education, it also has a year-long Career Development Membership. This membership is incredibly valuable if you are not starting out with a lot of contacts in the business.
---
2. The CE Shop: Online Real Estate Class Review In Maryland
The video below will provide an in-depth walk-through of The CE Shop:
The CE Shop Is well-versed in the online real estate education game. They have been working with students for years on their online platform. Because of this, they have perfected their approach and developed the most effective curriculum possible.
Because of this deep well of experience, The CE Shop has been able to boast some incredibly high exam pass rates. They claim that their students have a pass rate of 71% or more. With that kind of success rate, it's obvious why they have continued to be successful and consistent.
The 71% success rate is compared to the state average of 58%. This means that you have a much better chance of passing the state exam by getting your education hours at The CE Shop. Because of this, you can feel more confident going into the exam than someone who may have gone to another online real estate school in Maryland.
On top of these high exam pass rates, they also have some of the highest satisfaction rates of all the real estate schools in Maryland. They are able to maintain a 96% student satisfaction rate. This means that almost all of their students feel that the classes were informative as well as worth the price of admission.
The CE Shop offers many different education packages for you to choose from. This is great for people who know what their learning styles are and what they need in order to pass. Having these options could end up saving you time and money in the long run.
The most basic package available will consist of the education hours only. This package will satisfy the requirements and will not give you any sort of extra preparation. If you already feel comfortable with Maryland real estate laws and practices, this may be the package for you.
The standard package contains all the same courses but also includes a pass or no pay guarantee. This guarantee means that if you do not pass the class, you don't have to pay the tuition. This could be the extra peace of mind that could make all the difference for some people.
The Value Package contains everything that you would get with any other real estate classes in Maryland. However, it also contains a Business Building course that could be invaluable for first-time agents. Getting your license is only one step in building a real estate business. This course could be very helpful for the right person.
The CE Shop's Premium Package comes with a 13-hour Maryland-specific continuing education course. This will set you up for everything you might need to not only get your license but also to grow your career.
---
3. Elite Learning Academy: Best Real Estate Classes In MD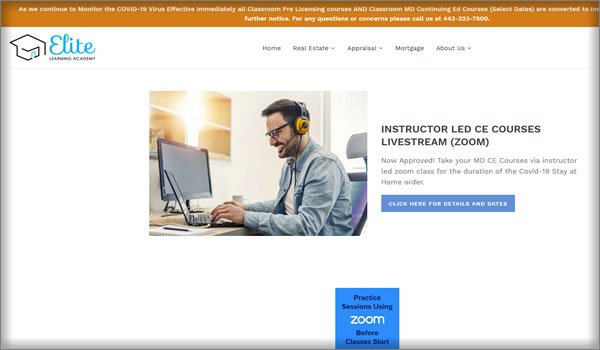 Elite Learning Academy has been around since 2006 and has since become a premier real estate school in Maryland. They specialize in pre-licensing courses and are focused on students who are new to the business. Because of this, they could be a great choice if you are relatively unfamiliar with the industry.
They are also focused on providing an interesting curriculum for their students. Other online real estate classes in Maryland are just trying to get the information across. The instructors at Elite Learning Academy try to make the courses entertaining and exciting to be a part of. Many students feel that this approach helps them learn and retain the information.
One of the best features of the Elite Learning Academy is that their courses are designed by online learning professionals. They have teamed up with the CE Shop to provide their own curriculum in a time-tested format. This means that their online portal is easy to navigate and understand.
They also offer instructor-led webinars if self-guided lessons aren't for you. The instructors at Elite Learning Academy have been working in the business for years and are eager to pass on that experience. If you feel like you could benefit from this in-person type of instruction, they might have what you're looking for.
Unlike many other online real estate classes in Maryland, Elite Learning Academy provides hard copies of the course materials. Should you choose to take the self-guided lessons, you will also have access to their massive digital library. If you are the type of learner who can benefit from a large amount of reading material, this could be a great option for you.
The premium package offered by Elite Learning Academy comes in at just under $500. While this is one of the more expensive online real estate courses in Maryland, it comes with some useful extras. One of these is a 15-hour Maryland-specific Career Builder course.
By participating in the Maryland Career Builder course, you can be prepared to work in the state. Learning the ins-and-outs of the market you plan on working in is one of the most important things a real estate agent can do. Not all real estate markets are the same and it's important to know the individual subtleties.
---
How to Get Your Maryland Real Estate License
To get your real estate license, there are a few steps that you must take. You must complete 60 hours of real estate classes in Maryland and pass the course's final exam. This will ensure that you are as prepared and knowledgeable as you can be before moving on to the next steps.
Once you have passed your real estate classes in Maryland, you must then pass the state real estate exam. This exam will include everything that was covered in your courses. While it is an incredibly important step, if you have done your due diligence, you should have no issues.
After you have passed the Maryland state real estate exam, you must then find a brokerage to sign on with. You will work with this brokerage to get established and learn all of the best real estate practices. After this, you must apply online for your Maryland state real estate license.
---
Final Thoughts
Becoming a real estate agent can be a lucrative venture. By reading this review of the best online real estate schools in Maryland, you have already begun the first step. By being informed and prepared, you can set yourself up for success.