---
In this review, we will cover the best online real estate schools in Alabama. Before beginning, you should be aware of your scheduling availability and learning style. This will help you choose your best option and find a real estate school in Alabama that works for you.
Attending online real estate courses in Alabama could be an incredibly lucrative decision. With such a booming real estate market, Alabama is ripe for the picking. By getting your real estate license, you could be there to reap the benefits.
Many people do not have the time or the ability to attend real estate classes in person. Luckily, there are a great many online real estate schools in Alabama. Through these schools, you can get licensed and begin working as an agent.
In the last five years, Alabama home prices have gone up 22.25%. A rise in home prices also means a rise in commissions for real estate agents. Now is a great time to get in on the ground floor and begin getting a cut of those commissions.
With the advent of many work-from-home options, people are moving into rural areas like the South in droves. Cities are becoming more cost-prohibitive and suburban areas are looking more attractive. New growth brings new opportunities to those of us who are the most enterprising.
---
1. Colibri Real Estate: Best Online Real Estate School In Alabama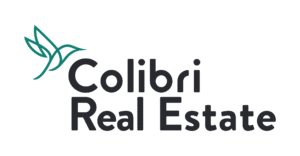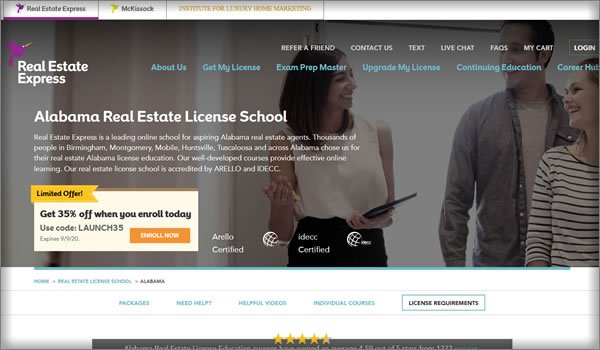 If you want a personalized experience for your real estate classes in Alabama, Colibri Real Estate is a good choice. Some of the packages offer instructor Q&A days where you can ask personalized questions. These can be incredibly helpful if you have specific issues with the curriculum.
Course Features
The starting packages offered from this site include the full 60 hours of education required to sit for the Alabama real estate exam. They also offer extra courses, ranging from exam prep materials to guides on starting a career. If you want to save time preparing for your exam, they even offer a 90-day boot camp for extra preparation.
Colibri Real Estate offers the following features:
Real estate eBooks, textbooks, and vocabulary guides
Support from an Alabama real estate professional
Live Q&A with your instructor
Exam prep course and live exam cram series
30 hours of post-licensing education
1 year of professional development membership
Pros and Cons
Pro – Success Guaranteed: Colibri Real Estate guarantees that you do not have to pay for your classes if you do not pass the exam. This can be a very reassuring feature for people who are not very confident in tests.
Pro – Bootcamp Gets Results: This boot camp can be helpful no matter what stage of the process you are at. Refreshers are always good and intensive classes can be incredibly enlightening.
Con – Post-License: One of the downsides of Colibri Real Estate is that they do not offer any sort of post licensure extras. For comparison, some real estate schools in Alabama offer things like brokerage placement.
Bottom Line
For the best online study materials, go to Colibri Real Estate. They have the most affordable and effective combination of pre-licensing and post-licensing instruction to help you succeed as a real estate agent in Alabama.
Colibri Real Estate: $135 Off Ultimate Learning Course
33 uses today
Last Used: 2 hours
---
2. The CE Shop: Online Real Estate Classes In Alabama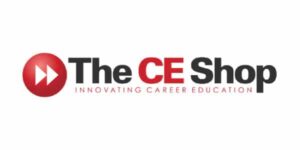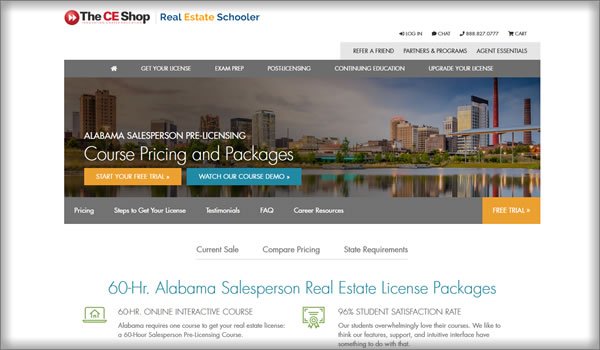 The CE Shop has been helping people get their real estate license in Alabama for years. and is our number one pick for the best online real estate schools in Alabama. They report a 96% student satisfaction rate, which means that a great deal of their students end up passing and becoming agents.
Course Features
The content that makes up The CE Shop's curriculum is interactive and updated with the latest Alabama real estate regulations. Alabama real estate law tends to be dynamic and changes with time. By knowing that their curriculum is up-to-date, you can be confident that you are learning the most current information.
National and state-specific curriculum
Digital flashcards
Real estate terms glossary
Post-licensing career resources
Business building course (Value or Premium only)
Pros and Cons
Pro – Post-Licensing: The CE Shop specializes in providing continuing education for real estate professionals, which is why they also offer helpful resources in their exam prep courses for after you've earned your license.
Pro – Fast Paced: The CE Shop's coursework is designed so that you can finish it in as little as two weeks. Since Alabama only requires 60 hours of education, this is completely doable. If you are trying to get your license as quickly as possible, this could be the best choice for you.
Con – Not Localized: The only downside of The CE Shop's curriculum is that they are not based solely in Alabama. They have a wide-ranging network and teach real estate law throughout the country. If you are looking for a localized experience, this may not be your best option.
Bottom Line
The CE Shop is not just a great way to pass your real estate licensing exam. It's also a fantastic resource for post-licensing education in order to achieve success in your new career.
---
3. Prep Agent: Alabama Real Estate Schools Online

Whether you're interested in attending live webinars or you just need to cram for your exam in a few weeks, Prep Agent has resources that can meet your needs.
Course Features
75 video lessons
70+ audio lessons
Digital flashcards and interactive vocabulary worksheets
100+ page exam prep eBook
5+ weekly live webinars (Premium only)
Pros and Cons
Pro – Relevant Material: Since Prep Agent hosts weekly livestreams, the educational content included with this course is consistent with the latest developments in the real estate industry. You can learn more about the specifics of the Alabama housing market this way.
Pro – Subscription: Instead of paying several hundred dollars for a gigantic prep course, Prep Agent allows you to pay based on how long you want to study. If you only need a week to prepare, you can pay less than a full year of access, although you would miss out on some of the best features.
Con – Quality, not Quantity: Other than the live webinars, the rest of Prep Agent's library of study materials is pretty small. If you're looking for a larger volume of educational materials, Colibri Real Estate or The CE Shop would be a better fit.
Bottom Line
Check out Prep Agent if you want to know more about the latest developments in real estate. Otherwise, this is a decent pick if you like audio lectures and want to improve your vocabulary.
---
4. Mbition: Alabama Real Estate Course Online Review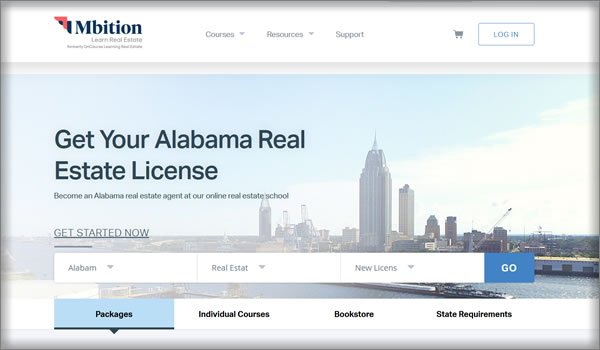 Mbition is one of the leading names in online real estate classes in Alabama. They offer a huge variety of courses for people getting their license for the first time or taking refreshers. Because of this, they could be good for a wide range of students.
Mbition (formerly OnCourse Learning) offers one of the largest electronic libraries available for real estate in Alabama. This library alone is worth the price of the packages. Having access to that information is valuable to a new agent as well as a seasoned one.
They are also one of the least expensive real estate schools in Alabama. Their basic package runs just under $300 which is on the lower end of the price spectrum. Because of this, they could be a good option for somebody looking at real estate as a second career.
The downside of Mbition is that they do not offer any sort of in-person instructor experience. This could be a challenge for people who are not as independently minded. Knowing exactly what kind of learning style works for you will help you navigate this situation.
---
5. Kaplan Real Estate Education: Online Real Estate School in Alabama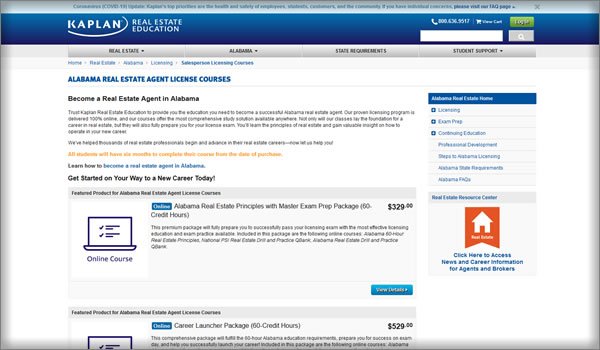 Kaplan offers two kinds of packages for their real estate classes. Their basic package offers the standard education needed to satisfy the requirements. Their Career Builder package has many other extras like the Real Estate Accelerator course. These can be very helpful in jump starting your career.
One of the nice things about using Kaplan real estate school as your online real estate school in Alabama is the schedule. They allow you to take your classes up to six months after signing up. What this means is you have that period of time to get them finished.
If you are someone who likes to work at your own pace, this could be a good option. Their flexibility with the schedule makes it easy to soak in the information. By taking more time, the material can become second nature.
One of the downsides of Kaplan is the price. Their basic package is more expensive than the premium packages of some of the other online real estate courses in Alabama. Because of this, they could be less accessible to some people.
---
5. AYPORealEstate: Alabama Real Estate License Course Review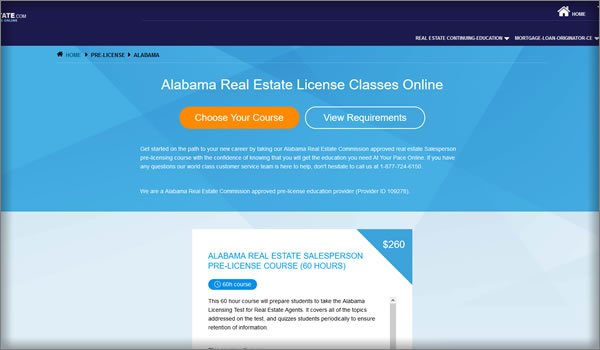 AYPORealEstate takes pride in how much It prepares its students. They use a constant stream of quizzes and exams to make sure you are retaining as much information as possible. While some might find this difficult, it is the best way to prepare you for the exam.
They also cover things in their curriculum like agency relationships and customer relations. These things might not seem like they need to be taught at first glance. However, they can be incredibly helpful when you are just starting out.
AYPORealEstate is specific to the region of the southeastern United States. This specificity is important when learning real estate ins and outs. When learning things like customer relations, knowing a bit about the area is always a good idea.
One of the downsides of AYPORealEstate as a real estate school in Alabama is its simplicity. It does not offer any of the extra courses available at some of the other schools. Because of this, you may want to invest in some extra courses elsewhere.
---
6. Martin & Fellows Real Estate School in Alabama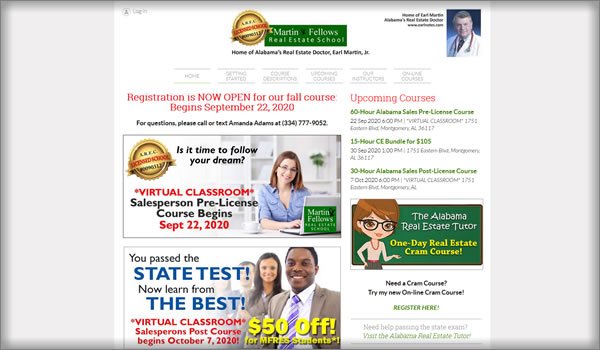 Martin & Fellows Real Estate School is designed for the overachiever. With a comprehensive curriculum, you are bound to become incredibly familiar with the material. In order to pass the course, you must pass their final exam with an 85%.
This focus on academics makes Martin & Fellows Real Estate School a good option if you are that type of learner. If you thrive in a challenging environment, this could give you what you need. If you do not though, you may do better elsewhere.
Martin & Fellows Real Estate School offers classes taught by an in-person instructor. This is one of the reasons why their curriculum is so focused on high scores. With the extra help afforded by an in-person instructor, you are much more likely to do better on the exam.
---
7. Barnes School of Real Estate in Alabama Review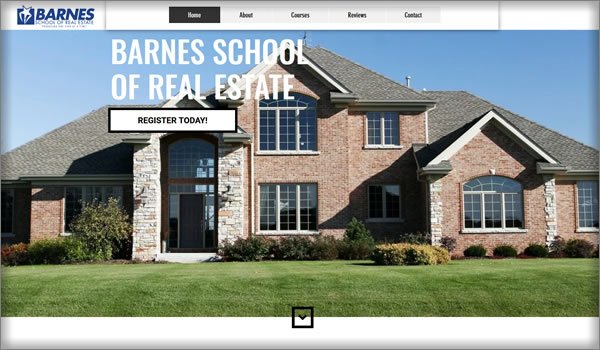 Barnes School of Real Estate is another real estate school in Alabama that offers in-person instruction. This can be a pro or con depending on what type of learner you are. Independently minded learners might do better with self-guided lessons.
If you are comfortable with the in-person aspect of the courses, this could be a good option. Their courses run for 2 weeks and are intensive and thorough. By attending all of them and giving 100% effort, you should do fine.
One downside here is the price. The 2 week intensive course runs at $399 which may be worth it since it is so short. If you need to get through your coursework quickly and have the money, this could be a great opportunity.
The downside to this real estate school is that they do not offer an online course so we no longer recommend them.
---
Real Estate License Requirements in Alabama
One of the unique things about becoming a real estate agent in Alabama is a high school education requirement. Many other states do not require that you have a high school diploma or equivalent. However, in Alabama you must have this before you can complete your real estate course work.
You must also be 19 years of age. Many states only require you to be 18, so this is another requirement to be mindful of.
The required education for getting your real estate license in Alabama is 60 hours. This is a relatively short amount of time compared to some other states. For some other states, the requirement is over 160 hours.
After you have completed your real estate coursework you must complete the Alabama State real estate exam. This exam must be completed and passed within six months of finishing your schooling. Otherwise, you have to retake the course.
After passing the exam, you must apply for your real estate license. This includes passing a criminal background check. This background check protects not only you, but also any clients or brokers you may be working with.
Once you receive your real estate license, you must sign on with a brokerage. A brokerage is a collection of agents working under the same umbrella. This brokerage will help you learn the business and train you in the best practices.
---
Why Become a Real Estate Agent in Alabama?
Many people become real estate agents for a wide variety of reasons. It can be a lucrative full-time job or a rewarding side hustle. Because of this versatility, it attracts a large swath of people.
Becoming a real estate agent can not only be lucrative, it can also be flexible. It is absolutely possible to make a living as a real estate agent working mostly nights and weekends. Because of this flexibility, many people get their license to work on the side.
---
Final Thoughts on the Best Alabama Real Estate Schools
If you are somebody who enjoys working with people and likes houses, this could be your dream job. It is perfect for people who are outgoing and like seeing people through big moments in their lives. Buying a house is one of the most stressful times in someone's life, and you can help them through it.
By understanding the commitment and work that will have to be expended, you can successfully get a real estate license in Alabama. Everybody has different requirements, learning styles and goals. Reading this review is a great first step on the path to working as a real estate agent in Alabama.