---
There are many real estate schools in Alabama and not all are that good. If you're here you're looking to learn more about Martin & Fellows Real Estate School. We delve in-depth into this real estate school's background, courses and more in this Martin & Fellows Real Estate School review.
So before you join this school and take any of their courses, be sure to read everything we have uncovered through our extensive research.
UPDATED: November 2022
Our Overall Rating

---
Overview Of Martin & Fellows Real Estate School
Martin & Fellows Real Estate School review is a real estate school located in Montgomery Alabama and was started in 2007.
The main instructor at this real estate school is Earl L. Martin Jr. who is also known as Alabama's Real Estate Doctor.
Earl has over 30 years in the commercial as well as residential real estate space. This gives him a wealth of real estate knowledge he can share with his students.
He is also a member of the Alabama Real Estate Commission advisory committee, as well as professional designations such as being an ABR (Accredited Buyers Agent), C-REP (Commercial Real Estate Professional), ASR (Accredited Sellers Agent), SRES (Seniors Real Estate Specialist) and a CDEI (Certified Distance Education Instructor).
Earl is currently a member if these organizations:
Ohio and Lorain County Association of REALTORS®
and a former president of the Georgia Chapter of the International IABC-GA (Association of Business Communicators).
A second instructor is Amanda Adams. She teaches the Alabama 60 hour pre-licensing class as well as the Alabama real estate cram course.
---
In-Depth Look At Martin & Fellows Real Estate School Course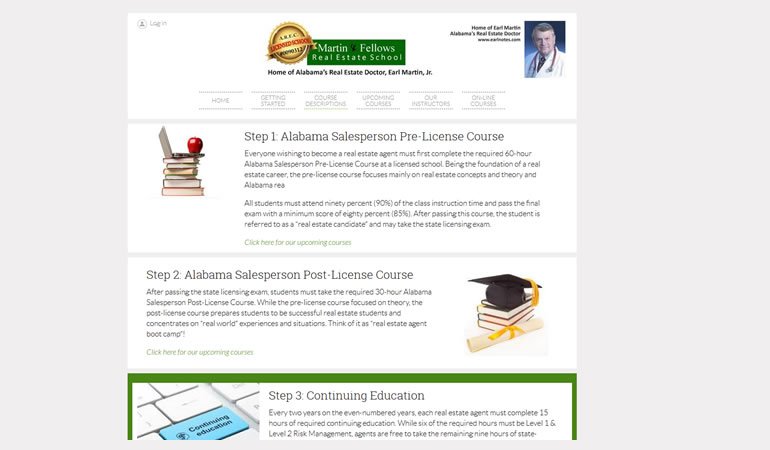 The Martin & Fellows Real Estate School has several course offerings for potential students.
Their main course is the 60 Hour Salesperson Pre-licensing Course which is a course designed to satisfy and meet the 60 hours requirement to get a real license in Alabama.
The pre-license course is typically taught in a classroom setting at their Montgomery, AL location but because of Covid 19, it's currently being taught via live webinar.
All students must have access to high speed internet and have a laptop, tablet or a computer. Using a smartphone will not work to take this course.
The course is taught by Amanda Adams and meets online on Tuesdays and Thursday from 6 pm to 9:30 pm including two Saturday classes that meet online from 9 am to 12 noon.
The pre-license course is done online via a live webinar feed where everyone meets at the times specified using the webinar platform specified by the school.
The Martin & Fellows Real Estate School also offers a 15 hour continuing education bundle and a post-licence class but we will not get into detail about those here.
The online courses offered by Martin & Fellows Real Estate School which are self paced courses are all done through a third party real estate school called Career Academy of Real Estate.
From what we can tell Martin & Fellows Real Estate School does not offer any type of passing guarantee.
They do have support if you should have questions. You can ask questions of your instructor via email or phone.
This real school does have decent pass rates above industry average at 61.7%. While this is not amazing, it's better than some other real estate school in the state.
---
Martin & Fellows Real Estate School Pricing
The 60 hour Alabama Salesperson Pre-licensing Course is $379 at the time of this writing. You have the option to pay in full or to pay a $99 deposit and pay the balance by the date shown on their website.
This is very comparable to most other real estate schools in Alabama.
The 15 hour continuing education course is $105 while the post-licensing course is $199.
---
Pros And Cons Of Using Martin & Fellows Real Estate School
In this section of our Martin & Fellows Real Estate School review we will look at the pros and cons of signing up for this school's courses.
Pros
If you should get Earl L. Martin Jr as you instructor you have an experienced agent with over 30 years of experience.
Offer a live webinar classroom setting which is more convenient.
Decent student pass rates at 61.7%.
Cons
It does not appear that Earl L. Martin Jr is teaching a course at this time.
No self paced online courses are done directly by this school.
Need a better updated website as theirs is a bit confusing and using older technology.
Horrible response times.
Conclusion And Verdict
As part of our research to compile this review of the Martin & Fellows Real Estate School, we read the information on their website as well as reached out to the school to get information directly from them.
Unfortunately our requests for information from this real estate school were met with no response at all. This means we have to detract from our overall rating because the response times are so bad.
The strong point of this real estate school is that they have an experienced instructor in Earl L. Martin Jr. The problem is we could not see where he was teaching any of the courses.
We do love the fact that they use the live webinar technology to teach courses. This is more convenient and in today's environment, a bit safer for some.
Self paced online courses are really the growing trend because they allow anyone to take real estate courses from the convenience of their home as well as on their own schedule.
However, we do not like the fact that a third party provider is used for self paced online courses by Martin & Fellows Real Estate School.
While we love to see real estate schools using online courses, we like to see that the courses are being taught by the same instructors that are teaching the main courses offered by the school.
We do see that Martin & Fellows Real Estate School is one of the many real estate schools that are using third party providers to teach their online classes. This is a growing trend among these smaller real estate schools. Rather than invest money into their own online system, they refer people to other online providers.
If you want to take an self paced online course to get your Alabama real estate license, there are better options you can discover here.
We hope this review has helped you to discover more about Martin & Fellows Real Estate School.
While it does appear to be a decent school, their dated confusing website and horrible response times means we cannot give this school or full recommendation at this time.
---