---
American Dream Real Estate School is a Colorado-based school offering uniquely state-catered instruction for students. American Dream is one of many real estate school options in Colorado and nationally for online learning, so you will want to carefully consider the best choice before settling on one. This American Dream Real Estate School review shown below is everything you need to know about this school and whether it is the best option for you.
---
UPDATED: November 2022
Our Overall Rating

---
Overview Of American Dream Real Estate School
This school provides education options across the country in an online learning format. It also uniquely serves Colorado students who desire an in-person learning option. As such, the school is owned and operated by American Dream Real Estate School, LLC, which is in Colorado.
Regardless of the format, rest assured that the team teaching is well-qualified and offers unique insight into the market. Unfortunately, the school does not offer a breakdown of their instructors' accolades like their competitors, but they're still highly praised by the school.
The school offers multiple educational pathways, including continuing education, but for the purpose of this review, we will focus on pre-licensing.
The school's mission statement is listed on their website and touches on their want to create a reliable and accurate online course for students to navigate easily. Their operation is all in the hopes of creating the next wave of successful real estate agents and entrepreneurs.
They are also dedicated to creating symbiotic relationships for students that develop into "win-win-win" scenarios between agents, brokers, and industry leaders as all benefit from American Dream Real Estate School's model.
This is done by catering to all backgrounds and accommodating all interested in their courses. Regardless of if it's a broker's entity, company, or the average hopeful agent, the school prides itself on being a dynamic, adaptable program.
Unfortunately, the school does not offer many details in the way of origins and operations on its website. For example, aside from the claim of educating thousands of Colorado students, we're unsure just how many students have been educated as a whole. This makes it harder for students to understand what makes the school unique and credible and, when compared to competitors, may cost the school a sale.
---
In-Depth Look At American Dream Real Estate School
American Dream Real Estate School offers learning options in all 50 states, a major accomplishment. Though the school is especially focused on Colorado realtors and training the next wave of professionals in the state they operate out of, that is not the only course offering.
However, the only state in which American Dream offers pre-licensing coursework is Colorado. The rest of the states have access to American Dream's continuing education course options via the school's secondary site, Thrive Real Estate Education.
Colorado Program
All American Dream Real Estate instructors and courses are approved by multiple Colorado entities. The list includes the Colorado Division of Private Occupational Schools and the Colorado Real Estate Commission.
The school claims to have educated thousands of students through its Colorado programs. Not only via pre-licensing coursework but also continuing education and professional development options.
The pre-licensing course is an online format that includes a weekly tutoring option, over a hundred videos in an online video library, materials on the most up-to-date rules and regulations for the state, comprehensive exam prep, and more.
Much of the benefit when it comes to this school is the ability to study when and wherever you need to. It is self-paced and easily accessible online, so students can learn as they go without worrying about lugging textbooks around and make class time.
However, students are not completely on their own. There are instructors accessible in multiple formats to answer any questions or concerns. In addition to weekly question sessions, students can chat with professors via video recordings, phone, and email.
The 168 hours of required course hours are divided into sections as follows:
Real Estate Law and Practice (48 hours)
Colorado Contracts and Regulations (48 hours)
Trust Accounts and Record Keeping (8 hours)
Current Legal Issues (8 hours)
Real Estate Closings (24 hours)
Practical Applications (32 hours)
Other State Course Options
To reiterate, this real estate school does not offer pre-licensing coursework in any other state besides Colorado. If you're looking for pre-licensing classes in order to become licensed in your state, American Dream School is not the option for you.
However, if a student is looking to develop their professional career or satisfy continuing education requirements, this school's umbrella company, Thrive, can be a great choice. Courses to develop your career will depend on the state you're licensed in.
Examples include:
Common Mistakes Made by Real Estate Rookies and the Rest of Us
Finance Basics "Know Your Numbers"
Multiple Offers, Escalation Clauses, and Hot Markets
Recognizing Discrimination in Fair Housing
Safety for Brokers While Showing Properties and Staging
Short Sales for Success
Sound Practices for the Preparation and Presentation of Effective Contracts
Valuation, Marketing, Negotiation, and Closing the Sale
You may also find recommendations on the Thrive site for third-party online educators, but it depends on the state. For example, the Florida Thrive page has a section for Magnolia School of Real Estate's pre-license course and one-day prep course.
Exam Prep
There are no exam preparation add-ons for Colorado students. Instead, the courses are designed to be comprehensive and all-encompassing. Since there is only one package option for the school's licensing choice, you'll have exam prep included by default.
---
American Dream Real Estate School Pricing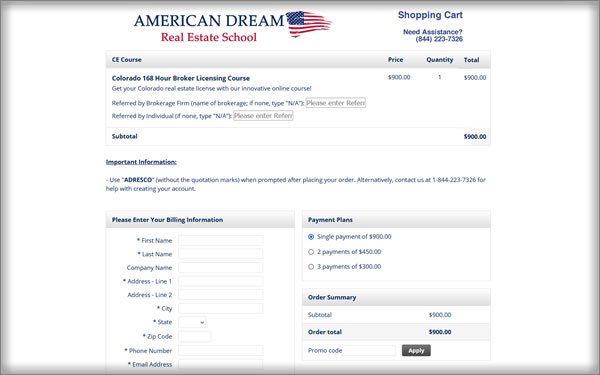 Required textbooks must be purchased separately. Despite being required, it is not included in the price of the course. Instead, you will need to pay $135 in addition to the base course fee in order to receive the necessary materials.
The actual Colorado pre-licensing course itself is typically $900, though, at the time of writing this, the cost is reduced by $200 and is $700.
If you choose to study through a third-party pre-licensing recommendation, the prices will vary significantly depending on the state and school. Since these third-party courses are not offered directly by American Dream Real Estate School, this review will not break down those schools and will instead focus on Colorado's online learning.
---
Pros And Cons Of Using American Dream Real Estate School
Pros
Payment Plan
If you're having trouble paying for your course here, you'll have access to a payment plan when checking out. There, you can choose whether you divide payment into two or three installments. This is a great benefit for students who do not have the money upfront for such a heft investment
Versatile Course Format
This real estate school's courses can be accessed in multiple modes, including tablet and mobile devices. Students will appreciate the flexibility as they can study on any device, anywhere that they have access to the internet.
Colorado Owned and Operated
Students will enjoy a unique education from the perspective of the Colorado instructors and approved. National schools that offer flexible online learning won't be able to offer the great benefit as it cannot be replicated.
Flexible Online Learning
Rather than being tied down to specific times and places, this school offers flexible online learning options. Students can enjoy access 24/7, allowing them to study at a pace that works best for them.
Updated Materials
Materials are updated at a yearly minimum to ensure only the most up-to-date information is being shared and absorbed by students. This is both on a national and local level. The goal is to make sure students constantly have access to the newest and best information to make practicing ready.
Large Alumni Pool
Since the school's opening in 2005, they have worked together to educate thousands of professionals' careers.
Schoolwide Commitment to Preparing Entrepreneurs
Passing the licensing exam is an important part of any real estate education. However, in addition to the goal of helping students pass, this school is also interested in helping new professionals be the best they can be so that they can work in harmony with brokerages and other companies. In other words, the education is not just to satisfy requirements but to also make sure students are ready to take on their careers.
Refund Policy
Students are entitled to a refund so long as they cancel within three days of purchase or before the commencement of classes. In either of those cases, they are eligible for a full refund so long as a refund fee upward of $150 is paid. An entire refund table and eligibility for pricing are available on the website to analyze.
Comprehensive Exam Prep
Included in your pre-licensing purchase are extensive exam preparation materials. Students will have access to test preps, practice exams, and more. Not to mention a massive video library and the opportunity to engage instructors in conversation on difficult concepts to ensure that you are exam-ready!
Cons
Only Colorado Pre-licensing
The only pre-licensing course this school offers is for the state of California. At this time, the other states are limited to continuing education courses. So, only Colorado students can experience the pre-licensing options that this school has to offer.
No Textbook Inclusion
Despite there being required materials for the courses that students need to operate successfully, they are not included in the overall price of the course. Most competitors, especially ones with equally high prices, will, at the very least, include required materials in the price.
No Response
We tried to contact this real estate school but we never received a response. This is not a good sign for those wondering if they will have help if needed. They do have support supposedly built into the online learning model where Colorado students can speak with their instructors in whatever way works best for them. From email to live chats, students are supposed to be able to ask instructors questions. However, they did not respond to our questions.
Pricing
The single course option for this school is a standard $900 fee. Though at the time of writing this, it is discounted to $700, we'll stick with the default, traditional price. This price is far above the market average, especially for not being live. Sure, the school does offer weekly options for live interaction, but it is not enough to warrant the steep price point.
Unsecured Site
An important aspect of a real estate school is a secured site where students can input data and not have an issue. Secured sites ensure that a student's information is protected against malicious intent that might harm a student studying at the school.
Confusing Offerings
At first glance, this school and the website can be difficult to navigate. It takes some digging to understand what is available and to whom. While the website says that it is for everyone, the truth is that the continuing and bonus education options are for everyone. Pre-licensing is only available to Colorado students.
Conclusion And Verdict
It's important to look at American Dream Real Estate School reviews from alumni to have a better idea of what works and does not. To help determine, we take a look at reviews on sites like Facebook and Indeed to get a better idea of whether this school is the best choice for students.
According to Indeed, the school has few reviews that total only slightly below five stars. Alumni praised the school's quick and efficient way of educating students and helping to prepare them thoroughly for the exam. This is so evident that many said they were able to pass on the first attempt at the licensing exam in Colorado.
Additional praise is given for the flexibility and challenging nature of the courses that helped prepare them for the exam. One reviewer said, "many people that went to other schools said their school was much easier, but they struggled with the test."
On Facebook, the school also has a 5-star rating that offers similar praises. Any and all complaints primarily consisted of the high prices. As mentioned above, the prices are much higher than the market average, especially for an online learning option. This creates a barrier for many potential students who cannot afford the high price point.
While there are payment plan options that can help divide the steep cost, students may not be able to afford the cost anyway.
The school does run a Groupon special to help discount the cost of their licensing program. There are high ratings from purchasers on that website as well, and if a student can purchase a Groupon to help lower the cost of tuition, more may be able to access the course.
Final Verdict
There are a few reservations we have when it comes to this American Dream Real Estate School Review. Two major problems include the pricing and the unsecured website. The pricing is a barrier for students who want access to the school but can't afford it, even with the payment plan.
On the other hand, the unsecured site means that students are vulnerable when navigating the online real estate school space. A secured site is a simple way to protect users, especially with something as personal as schooling.
Aside from these two issues, the school offers a great opportunity for Colorado students to learn in a fun, engaging way. We hope that moving forward, the unsecured site issue can be resolved and that coupons continue to be available for use by students.
In conclusion of this American Dream Real Estate School review, we only recommend this school for those that can benefit from the program as a whole, despite these issues.
However, we prefer Colibri Real Estate or AceableAgent since they are our top two choices for best real estate schools in Colorado. These two schools offer much more and have amazing track records.
---
---