Preparing to take the real estate licensing exam can be a daunting task for many students. However, PrepAgent claims to make the study and exam taking process easy and effective. In this PrepAgent review we are going to find out if there is truth to that claim.
NOTE: We have actually accessed PrepAgent and gone through it ourselves. You can be assured this review is from an actual user.
---
UPDATED: December 2023
Our Overall Rating

---
Overview of Prep Agent
PrepAgent is an online program and resource center that claims to help students effectively prepare to pass their state real estate exam on the first try. This is not a pre-licensing course of any kind.
Students who are apprehensive about taking the real estate exam or feel like they need more help are the PrepAgent target market.
What PrepAgent Does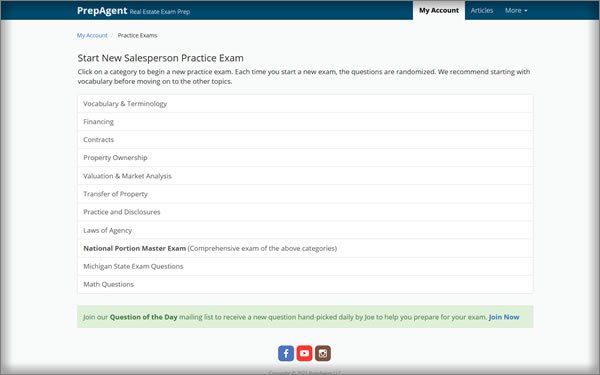 PrepAgent is exactly what their names say. They prepare future real estate agents to take the real estate exam. They do this through online learning through a few different methods.
The program utilizes articles, practice exam questions, and live or recorded webinars. During the live webinars attendees can actually chat with the instructors and other students. This offers more support and allows questions to be answered in real time.
There are various members of the PrepAgent staff who teach the webinars but many of them are taught by the website proclaimed "real estate expert," Joe Juter.
This is not all they do. There are a number of services they provide. In addition to the exam prep packages, PrepAgent also offers private tutoring for students who feel like they need more help.
PrepAgent has two instructors who are available for private tutoring sessions. Both of them charge the same amount per hour, $75. If you want to schedule multiple sessions then that is possible but they do require that they are broken up and not consecutive.
Scheduling is very easy but it is clear on the website that there will be no refunds if less than a 48 hour notice of cancellation is given by the student.
In addition to the above services, there are more informal resources as well. The website has test taking tips that anyone has access to. They don't have to be students of PrepAgent.
There are also "Question of the Day" emails. This is a free subscription that sends real estate exam questions and answers directly to your email everyday.
PrepAgent also has an article database that is bursting with real estate information to help with the exam. This is accessible to anyone, students or otherwise.
How and When PrepAgent Started
We wanted to find out more about the PrepAgent backstory but the website didn't offer us much. In fact, there is nothing about how it started or how long they have been in business on the website.
There is a dashboard link on the bottom of the page that says "About" but nothing happens when the link is clicked. It just goes to the top of the page.
But there are some things that we do know from the website as well as a quick web search. We know who the founder and primary instructor is. Joe Juter is the founder and still the main person running videos and webinars.
PrepAgent has hired more instructors but Joe is still very hands-on with the business.
After a quick web search, we still don't know when PrepAgent was actually founded. But we did find PrepAgent YouTube videos that date back to 2014. PrepAgent could have started earlier but they have been helping students pass their state exams for at least six years.
We would have liked to see an "About" page on the website to give prospective students some background on the company.
---
In-Depth Look at PrepAgent
The video below will give you a complete walk-through of PrepAgent and what it has to offer to help you pass your state exam.
PrepAgent is in the business of preparing real estate students to take the real estate exam. They are not a company that offers anything other than exam prep. However, they do have partners that they recommend for pre-licensing courses if you need that.
Students of PrepAgent need to have taken or currently be taking the pre-licensing course for their state. Enrolling in exam prep before taking the pre-licensing course is inefficient and will not be helpful.
If you aren't sure if PrepAgent is for you, then you can try a free practice exam before you sign up. This will give you an idea of what to expect from the program.
But they are so confident in their program that, regardless of the package you choose, they offer a 100% money back guarantee. You don't have to prove that you didn't pass and the only stipulation is that the request comes within 120 of enrollment.
This is a very different guarantee than we usually see. Typically there are very strict stipulations but with PrepAgent it is if you are unsatisfied for any reason at all.
With that being said, they do have a high satisfaction rate among students as they have a less than 2% refund rate.
What States Does PrepAgent Serve?
The great thing about PrepAgent is that they serve all of the states. Their program is set up to be able to help students from any state. Many of the exams are set up in the same way with similar questions.
However, the content can be different state to state. They can customize the program for the students' particular state laws and information.
How Does the Exam Prep Program Work?
The beauty of this program is that it is pretty straightforward. It has been designed to be interactive, user friendly, and provide options for different time frames and budgets.
The first step is to choose a package. There are three different packages to choose from. These are tailored to the state as well as to the type of exam, broker or agent.
Packages Offered
The packages are priced based not only on what they offer but also on how long you want access to them.
Basic
The first option is the basic package. This is a package that would be great for last minute studying and cramming. It is the least expensive package, which we will talk about later.
Students who choose this package still get the money back guarantee but only have access to the national and state-specific questions for one week. There are no live webinars with this option.
It is simply access to practice questions to help keep the information fresh on your mind before your exam. Students who don't need that much help but would feel better with extra exam prep would do well with this package.
Deluxe
The second package offered is the deluxe package. It offers students quite a few more resources for only a small price increase. Students also have access to the information for a longer period of time.
In addition to what the basic package has there are four extra features. Students have one month of access with this package for extended prep time.
The additional features include 75 exam prep videos, audio lessons, online flashcards that are interactive in nature, and the exam prep digital book. These add to the effectiveness of the course.
The extra resources in the deluxe package are definitely an added value and they are all designed to be accessed anywhere. Whether you are on your laptop, desktop, or smartphone it is possible to prepare for your exam.
Premium
The final package is by far the best value offered by PrepAgent. However, it will depend on what the students need and the time frame for taking the exam.
The premium package is the most comprehensive package offered. It has everything the deluxe package has with three more resources.
There is an interactive vocabulary list that is formatted as a worksheet. This is the package that gives students access to live webinars as well as the full library of recorded webinars.
The premium package gives students access to all of the resources for a full year. This is a package that is great for advanced preparation or taken concurrently with your pre-licensing courses.
Upgrading Packages
Oftentimes it isn't possible to upgrade a package after the purchase. However, PrepAgent makes things easy in this department. That is one of the things in the PrepAgent review that we like.
If you start taking the basic course but decide in a few days that you need more time or resources then you can contact them and upgrade your package. This will give you immediate access to the extra resources.
It isn't clear on the website if you just pay the difference or need to pay the full price of the new package. That is a question that should be asked before signing up for any package.
---
PrepAgent Pricing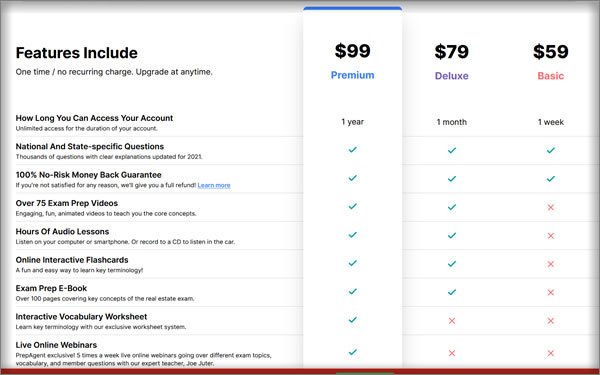 The pricing for prep agents is affordable and adds value to the course of your choice. They have three different packages because they want to meet the needs of different students and budgets.
They also know that students have already invested in pre-licensing courses as well as exam fees. Making their exam prep courses affordable and effective has made them an attractive option.
The basic package is the most affordable option as $59 for a week of access for exam prep questions for your state and national exam.
The deluxe package that we have talked about already is the middle of the road option and is $79. This gives you a month of access and extra features.
The top package, which is the more well equipped and a popular package is still under $100. This package with all of its resources is only $99 and gives you one year of complete access to everything.
Prep Agent Discounts
Save Up to 80% on PrepAgent Real Estate Courses
33 uses today
Expires in 2 days
Last Used: 1 days
Get Free Exam on PrepAgent Real Estate Courses
36 uses today
Expires in 2 days
Last Used: 11 days
100% Money-Back Guarantee on PrepAgent Real Estate Course
34 uses today
Expires in 2 days
Last Used: 11 days
Sale – PrepAgent Real Estate Courses Now $63
40 uses today
Expires in 1 day
Last Used: 11 days
Promo – PrepAgent Real Estate Courses For Only $79
39 uses today
Expires in 1 day
Last Used: 11 days
Deal – PrepAgent Real Estate Course Now $47
35 uses today
Expires in 1 day
Last Used: 11 days
PrepAgent Real Estate Offer- Finance Crash Course For Only
38 uses today
Expires in 1 day
Last Used: 11 days
PrepAgent Real Estate Business Planning for Agents As low
39 uses today
Expires in 1 day
Last Used: 11 days
Get the PrepAgent Real Estate California Exam Crash Course
35 uses today
Expires in 1 day
Last Used: 11 days
---
Pros and Cons of Using PrepAgent
Part of this PrepAgent review is looking at the pros and cons of the program and the company. We have looked in-depth at this program and are now ready to break it down to a pros and cons list.
Pros
Affordable
User-friendly
Interactive
Support
Plenty of resources available
Tailored to each state
Money back guarantee
Great exam prep options
Response times very good for support
Cons
Doesn't give specific information about upgrading
Conclusion And Verdict
After looking at all of the ins and outs of PrepAgent as well as doing a separate internet search for reviews and background, it is time to conclude this PrepAgent review. There are many things that we like and a few things that they can do better.
What We Like
We love how affordable this program is. Becoming a real estate agent can be expensive in the beginning. Between pre-licensing courses, exam fees, and exam prep it can be quite the investment.
PrepAgent doesn't want to add to that stress so they made their courses financial accessible for different budgets. We also like how user-friendly their website and program seems to be. Other than two pieces of information we wanted, we were able to navigate around easily.
They have designed their courses to be interactive to aid in learning and information retention. From interactive webinars to flashcards, and exam prep questions the courses and resources are designed for all types of learners.
The support offered by PrepAgent during live webinars and throughout the courses gives students the confidence they need to conquer the exam.
They don't claim to have 24 hour support but they do say they will get back to students ASAP when they use the contact form.
On the contact page they do have a list of common issues and questions along with the answers. They encourage students to check that list first.
Something else we like is that they have plentiful resources available for free on their website. You don't have to be a student to access certain videos, articles, and other things like the question of the day, email, and free practice exam.
They are so confident in their program that they offer free resources.
One thing they take pride in, and it seems to be working, is how they can tailor a program to each of the 50 states. This is something that not many programs do. Often they will serve either one state or several different states but rarely all of them.
The last thing we like about this program is their money back guarantee. There are typically stipulations but not with PrepAgent. The only thing they ask is that you request a refund within 120 days of your enrollment.
If students are unsatisfied for any reason they can request a refund and they don't have to prove that they failed the exam. Even if they pass but didn't like something about the course they can get a refund.
What We Don't Like
The list of what we don't like is much shorter than the list of things we like. The most glaring issues are with the website. While it is an attractive and user friendly website, it is a bit slow at times.
The "About" page is non-existent and there is no information about why, how, or when they started. We like to see background information on the website.
They also say that the packages can be upgraded at any time but it doesn't say how to do that or give any specifics. We would like to see detailed information about the upgrade process. Right now students have to contact the company to find out how to upgrade.
Verdict
This is a great program for extra exam prep for the real estate licensing exam for all 50 states. Students are typically satisfied and they have a low refund rate. It would be beneficial for any student who needs more exam prep help.
This is our top pick for real estate exam prep and we highly recommend it. We think overall it has more content and exam prep than CompuCram.
Save Up to 80% on PrepAgent Real Estate Courses
40 uses today
Expires in 2 days
Last Used: 1 days
Get Free Exam on PrepAgent Real Estate Courses
40 uses today
Expires in 2 days
Last Used: 11 days
100% Money-Back Guarantee on PrepAgent Real Estate Course
33 uses today
Expires in 2 days
Last Used: 11 days
Sale – PrepAgent Real Estate Courses Now $63
39 uses today
Expires in 1 day
Last Used: 11 days
Promo – PrepAgent Real Estate Courses For Only $79
40 uses today
Expires in 1 day
Last Used: 11 days
Deal – PrepAgent Real Estate Course Now $47
40 uses today
Last Used: 11 days
PrepAgent Real Estate Offer- Finance Crash Course For Only
40 uses today
Last Used: 11 days
PrepAgent Real Estate Business Planning for Agents As low
33 uses today
Last Used: 11 days
Get the PrepAgent Real Estate California Exam Crash Course
39 uses today
Last Used: 11 days
---