---
If you live in Colorado and have been thinking about using Colorado Real Estate School to complete your pre-licensing education then you want to keep reading. This Colorado Real Estate School review takes an in-depth look at the programs offered at this school.
---
UPDATED: October 2023
Our Overall Rating

---
Overview of Colorado Real Estate School
The Colorado Real Estate School is a school that is dedicated to taking full advantage of advancing technology. They have chosen this route because they believe it will offer the greatest benefits to their students.
The founder, Jon Farnlof, comes from an IT background and has utilized this experience to build a functional online course. It is not clear when the school started.
The website only states how many years the founder has been in the real estate business. It also talks about his background in education.
Most of the education background is in real estate education. This serves the school well as they continue to develop the program.
It is impossible to guess how many students they have helped get a real estate license in Colorado. The website doesn't give numbers and because we don't know how long they have been a school it is impossible to guess.
However, there do seem to be rather good reviews from past students, and the website claims to have a high passing rate but doesn't specify a number. They do say that passing rates can be inaccurate depending on how the school sets up their final exam.
They don't have a huge catalog of course offerings yet but are still developing the continuing education courses they want to offer. Currently, they have pre-licensing courses, exam prep courses, some continuing education, and community association manager courses.
The Colorado Real Estate School is a member of the Better Business Bureau and enjoys an A+ rating. They can also be found on two different social media outlets for more up to date information.
Facebook is updated more often than the website, even though the website is currently updated. Twitter, however, has not had any new activity since 2019, so this may not be a reliable source of information.
---
In-Depth Look at Colorado Real Estate School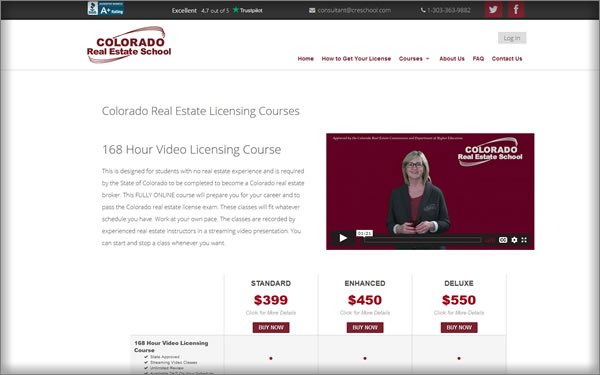 The courses that are offered at Colorado Real Estate School are specially designed by the founded to be user friendly and lightning fast. The courses are only offered online.
Colorado Real Estate School was created by the founder because he saw a gap in online education in Colorado. There were schools that didn't offer any online courses, and according to the founder, those who did weren't doing it.
With his background in computers and IT, the founder wanted to start the first online real estate school of its kind in Colorado. There are course options even for those not going into the real estate industry.
Colorado Real Estate School does offer a course for people who run an HOA for a neighborhood or other community managers. There is also an exam prep course.
Course Information
There are five-course types students can take from Colorado Real Estate School. Most of the courses are created for those pursuing a real estate career in Colorado. But one type, of course, is created for community managers.
Real Estate Licensing Courses
The real estate licensing course offer through Colorado Real Estate School will be the main focus of this Colorado Real Estate School review. Since this is their main offering. However, we will still review the other courses offered.
This is a 168-hour course that is offered fully online. These are not live videos and can be done on the student's schedule.
This adds to the appeal of the course. Students are typically busy or working other jobs and are drawn to the flexibility offered by on-demand classes.
One thing that is unique about this course is the way the technology is set up. Since the founder/owner of the Colorado Real Estate School has extensive experience in technology he was able to build this course to his specification.
He knew speed was important for video streaming courses. Developing the speed needed to give students the best possible experience with classes was the focus of the process.
Along with the way they have used and designed technology for this course, Colorado Real Estate School has also sourced the best content and instructors for the course as well.
There is a time limit for enrollment. While this is self-paced to a point, students must take at least four weeks but can't exceed 10 months.
A certain enrollment time frame is not unusual. However, the 10-month time frame is not usual. What is typically seen is six or 12 months.
Because the videos are recorded, students do have the option to review any of the content they didn't understand or need to review. This is something that is valuable and makes passing the final exam and state exam slightly easier.
Unlimited access to the information in the course is a positive attribute.
Real Estate Licensing Course Support
Depending on the school, there may or may not be solid support from instructors. This is also true of tech support.
The Colorado Real Estate School does both fairly well. Neither one of the support services is offered 24/7 but they tend to be responsive.
The instructor support is offered in a few ways depending on which package the student chooses. The first two package options offer instructor support via email or scheduled webinars.
This is in place of a scheduled office visit, which is not done with online schools. The top package, which we will talk about more in the pricing section, offers the option of telephone support in addition to email and webinars.
It is unclear how they assign teachers to the students for support. Since the videos are streaming there are no live instructors.
This is not outlined on the website. It is impossible to know whether students have one specific advisor or they get a different instructor each time.
It would be helpful if the website was clear about how this support process worked.
Tech support is not 24/7 as we mentioned above but it is a streamlined process. To contact technical support you simply fill out the contact form that is found on the menu.
Mark that you need technical support and they will get back to you in approximately 24 hours if it is during the week. Getting help on the weekends is harder.
Not having 24/7 technical support for an on demand program is not ideal. This is a major drawback for this school.
Real Estate Exam Prep Course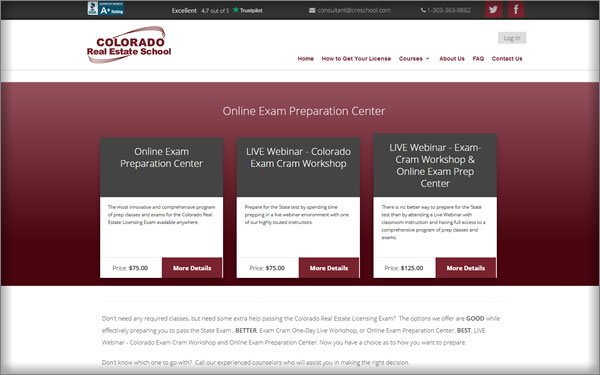 There are three different options for exam prep courses through Colorado Real Estate School. The first option is the Online Exam Prep Center.
This is an online database of exam prep classes and practice exams designed by Colorado Real Estate School. Students who are enrolled in this get unlimited access to these resources from any device.
This prep center covers things such as math, definitions, and practice for the national exam. This is a valuable resource to help students pass the national exam the first time.
There is also a live webinar crash course that is offered. This is a course that is scheduled and must be attended at the designated time. It is a one day course and is only offered once a month.
The live cram session is hosted by one of the staff instructors. These instructors are active in the real estate field and are capable of teaching the test strategies and key areas of the exam.
Students can also choose a package that includes both of the exam prep options for optimal results.
Pre-licensing students are eligible for a discount on the live sessions. They do have to call the school to receive this code.
Real Estate Continuing Education Courses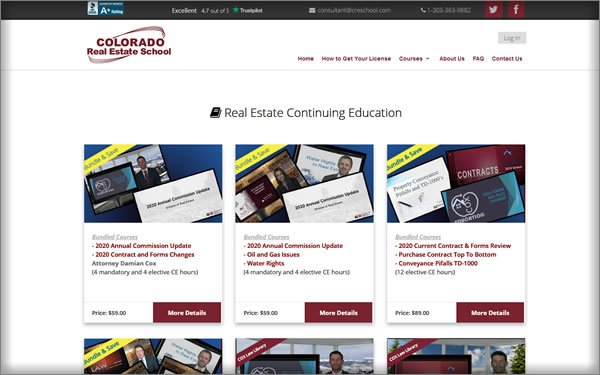 Colorado Real Estate School does offer a decent catalog of continuing education courses for licensed agents.
All agents in Colorado have to have continuing education courses during the first year as well as throughout their careers.
This real estate school is planning to expand their continuing education offerings in the future. Currently many of the continuing education courses can be bundled for ease of study and to make sure all of the credit hours are received.
Some of the continuing education courses focus mainly on the legal aspects of real estate. They have a special section on their website for these courses.
Community Associations Manager Course
This is a different type of course that we have not seen offered at any other real estate school. The Community Associations Manager Course is rather pricey and does not have any credit involved.
It is simply an informational course about how to run an association such as an HOA well. There are many reasons for taking a course such as this, but it may not be pertinent to their mission of educating future real estate agents.
---
Colorado Real Estate School Pricing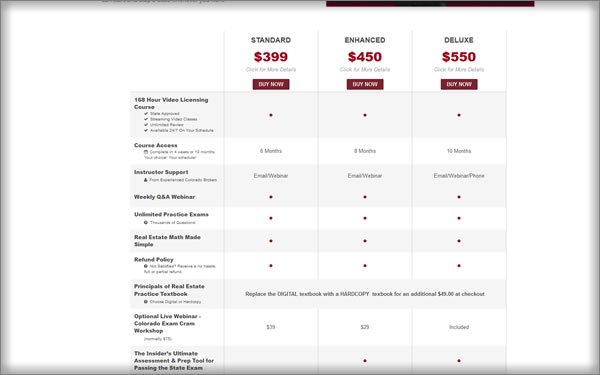 Because there are so many different types of courses and packages offered across the board, the prices vary widely.
What a student pays will depend on what the student needs and chooses for their educational needs.
Packages Offered
The real estate licensing courses come in three different packages. These packages offer varying features which affect the pricing.
The gap in pricing between the first level and the second level is not large. However, the gap between the second level and the third level is a $100 difference.
All of the packages include what is needed to be successful in the course and the exam, however the higher packages offer bonus features and incentives.
Standard
The standard package is priced at $399. This course comes with instructor support via email and webinar. Students also get unlimited reviews.
One thing that is great about this package, and all of the packages, is that there is a weekly questions and answers webinar.
This is incredibly helpful for students who are struggling with certain concepts or need some general help.
This package does have the shortest course access. With the standard package students have to complete the whole course within six months.
Math is important in a real estate career so Colorado Real Estate School does include a math course in all of their packages. They also include a refund policy.
All of the packages come with a digital textbook. A paper textbook can be purchased for $49 plus shipping for those who prefer a hardcopy.
Students who choose this package can choose to take the exam cram workshop for only $39 rather than the normal $75.
Enhanced
The Enhanced package is $51 more ringing up at $450. It comes with everything the Standard package has plus some helpful bonus features.
There is an extra exam prep tool in this package as well as a course that introduces students to commercial real estate.
The exam cram workshop is even more discounted for students choosing the Enhanced package. It is only $29.
Deluxe
The top package, and the most expensive package, is the Deluxe. This is $550 and only has two extra features.
The exam cram workshop is included with this package for no additional cost and there is a pass incentive.
The pass incentive means that if a student passes the state exam on the first try within four months of finishing the course, Colorado Real Estate School will refund the exam fee.
This is a $44 value. The website claims that they refund often due to the success of their students.
This seems like a great deal but keep in mind the price is $100 higher than the mid level package. This price difference pays for most of the exam cram workshops plus the pass incentive.
The Enhanced package seems like the better value in the long run.
Refund Policy
The Colorado Real Estate School does have a refund policy. It is detailed on the website but the key things to know are that within three days of enrollment a full refund can be granted.
There will be no refund if 75% of the course has been done. There are in between levels of refund depending on the percentage of the course completed.
---
Pros and Cons of Using Colorado Real Estate School
Any school can look great on a website but there will always be pros and cons for any school.
Pros
Refund Policy
On-demand
Exam prep options
Live Q&A webinars
Instructor support
Cons
Support is not 24/7
Don't state success rate
Expensive Packages
Conclusion And Verdict
In this Colorado Real Estate School Review we have dug deep into the programs offered. There are great things about this program and the reviews are overall positive.
They are responsive and do have an active Facebook presence for up to date information.
We do like that they have a refund policy and a pass incentive available to some students. But we don't like that the support is not 24/7. Especially the tech support.
A fully online program needs to have support all of the time for students studying during odd hours. They are also vague about their success rate.
Also, the real estate licensing packages can get expensive. The basic package is affordable at only $399 but the highest package becomes far less affordable.
Overall, the school is quality and has satisfied students and a user-friendly platform. We would just like to see more accessible support and lower prices.
It is possible for students to be successful using this program as long as they are self-motivated.
We suggest reviewing our guide on the best real estate schools in Colorado to get even more information.
---