---
Pan School of Real Estate, or PSRE is a comprehensive online real estate school serving North Carolina. With endless options for your undergrad education, it's important to understand each before making a decision. This Pan School of Real Estate review will provide insight into who PSRE serves, and whether it is a viable choice for your real estate education.
---
UPDATED: October 2023
Our Overall Rating

---
Overview Of Pan School Of Real Estate
Pan School of Real Estate offers pre-licensing coursework, post-licensing coursework, and continuing education requirements. For the purpose of this review, we will focus on the school's pre-licensing coursework. This real estate school prides itself on providing North Carolina real estate professionals with a relaxed, fun learning environment, while adhering to state standards. With its unique structure and small core team, the school works hard to keep students engaged while preparing them to be the new wave of real estate professionals on the North Carolina real estate market.
Currently, Travis Everette, a decorated and licensed North Carolina Broker leads the school and its operations. He brings unique local experiences to the table with work done in the residential, property management, and commercial sector. In 2017, Travis was named North Carolina Instructor of the year and runs a successful YouTube channel teaching students across the country. Travis is also a born and raised North Carolina resident, which means students can expect unique insight into the local market from an expert who has interacted with it for decades.
Joining Director Travis Everette are five other instructors, all with individual experiences and knowledge to bring to the classroom via anecdotes. Originally opened in 2011, this real estate school has served North Carolina students for ten years and has helped thousands of students realize their dreams. Pan School of Real Estate is also highly praised for its licensing exam performance.
---
In-Depth Look At Pan School Of Real Estate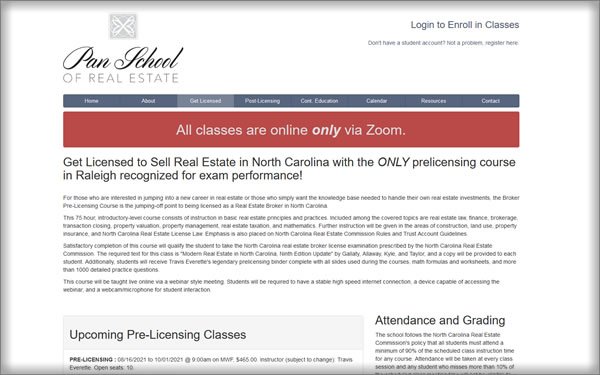 As previously mentioned, this real estate school offers pre-licensing, post-licensing, and continuing education coursework, all of which are requirements in North Carolina. However, for those hoping to become real estate agents, the pre-licensing coursework is most important as it creates a foundation for you to continue practicing real estate.
At Pan School of Real Estate, both online and in-person classes are conducted. Though, at the time of writing this review, the school has switched to a solely online Zoom model due to the coronavirus. When it comes to choosing a time and days of the week for your coursework, PSRE is extremely flexible. The courses are offered in batches with a set beginning and end date, times, instructor, and days of the week.
For example, the school is currently offering a complete pre-licensing course from 8/16-10/01 at 9 am every Monday, Wednesday, and Friday. When you select that option, you will be logging onto a Zoom meeting for a webinar type class in which you interact with fellow students and the instructor.
If you require flexible scheduling, Pan School of Real Estate does offer different times for classes that can work with most schedules. Another option is a course that meets at 9bam on Saturday and Sundays, perfect for working people or those with families.
As for the coursework itself, you can expect the school to follow North Carolina requirements closely. When studying to become a real estate agent in North Carolina, you are becoming a licensed broker by default. So, the coursework is extremely comprehensive, but you can expect all necessary topics to be covered here. Topics include property taxes, environmental hazards, contracts, financing, real estate valuation, and adherence to the North Carolina Real Estate License Law, and commission rules.
The school also offers individual classes for those looking to brush up on skills, or who want to learn a new in-depth aspect of real estate.
Pan School of Real Estate's pre-licensing coursework is titled The Real Estate Broker Prelicense Course and it consists of an introduction to real estate principles, practice courses and exams, and brokerage law analysis. With your purchase of the course you are given a textbook and will be expected to attend all meetings at the predetermined time.
The school defines their course objectives as providing students with the foundational knowledge and skills needed to represent all parties in a transaction safely and to prepare students for the final state exam. Both of these preparations are done via coursework, quizzes, homework and in-class assignments, book studying and you must meet attendance requirements.
Because this real estate school is offered online in a live webinar setting, you can expect consistent support. While other school's courses may offer self-paced online learning, which many find helpful, this is a great live option for those that thrive on interaction. You will want to be sure you select a time and day that works for you consistently as the schedule is set far in advance.
---
Pan School Of Real Estate Pricing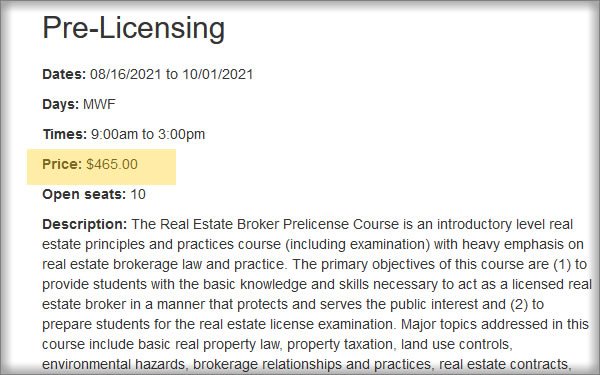 Pricing is a very important part of deciding which school to choose when there are so many options, especially in North Carolina. When it comes to PSRE, pricing is average for a live or in-person offering.
One of the school's pre-licensing courses offered via Zoom is listed at $465. For this price, students can expect all of the coursework required by the state of North Carolina to go on to the state licensing exam. This includes the mandatory 75-hours of instruction mandated by the state. You will be taught coursework regarding both federal laws and policies as well as state-wide ones to ensure you have a rounded understanding of what it means to be a real estate agent.
Unfortunately, there are no package tiers or varying offerings that cater to different students. Instead, the school is modeled as a one size fits all approach. However, you're able to directly interact with the instructor should anything come up that you don't understand. Before deciding to enroll in Pan Real Estate School, it's important to consider whether this course offering model will be able to give you the best results.
Textbooks are included in the price of the course, but exam preparation is not and there does not appear to be a pass guarantee like many other schools offer.
The school also runs specials and discounts occasionally to help the cost for students. Though, at the time of writing this review, there are no discounts for the pre-licensing coursework, only the post-licensing and continuing education requirements. It seems that PSRE is aimed at retaining students rather than bringing in new ones with shiny discounts. There is a general military discount offering 25% off of all coursework at PSRE, so if you're a veteran or active military personal or family, you may be eligible for a discount.
---
Pros And Cons Of Using Pan School Of Real Estate
Pros
Excellent Instructor Support
With a core team of instructors and small class sizes, students can expect comprehensive instructor support when enrolled at this institution. The school even goes as far as to limit how many students are allowed in a class to help maintain small sessions that thrive on interaction. If there are any questions or concerns, you will be able to bring them up in class rather than relying on an online support system.
Pass Rates
Pan Real Estate boasts high pre-licensing course rates in North Carolina. More specifically, it is deemed one of the only pre-licensing courses in Raleigh to be recognized for exam performance. This is a great reassurance that the school's teachings are thorough enough to deem high pass rates.
Comprehensive Course Plan
Pan's coursework is uniquely laid out on their website for prospective students to see before deciding on purchasing with them. Because of this, we can see everything that the school does and does not offer. To help give students a comprehensive education, they offer students mock practice quizzes, open book examinations and more to help students feel ready for the "real" thing.
No Entrance Requirements
There are no requirements that must be met before enrolling at Pan Real Estate School. This means prospective students do not need to worry about a high school diploma or GED. They will also not need to have a certain residency requirement. Instead, the school recommends all students have basic math and reading skills in order to keep up with exam demands.
Cons
No Package Tier Offerings
Unfortunately, this real estate school does not offer multiple tier options which means students cannot select a price, or package, that is best catered to their needs. We prefer schools that allow students the flexibility to choose depending on their needs, and Pan's one offering does not give student's that freedom.
No Pass Guarantee
While the school might have high pass rates, it does not offer a pass guarantee like many of its competitors. When schools include these guarantees in their coursework packages, it acts as an insurance policy should any student not pass their state licensing exam on the first attempt.
On-Site Final Exam
Despite completing your coursework online, you will be required to meet in person for the final exam testing. This may be a hindrance to some who live outside of Raleigh. Though, it may not be an issue for most at all. Just be sure to consider if traveling to a physical location for test day is viable for you and your situation before enrolling at PSRE.
Attendance Requirement
When enrolling at Pan and many other North Carolina real estate schools, there is an attendance requirement stating that you must be present for 90% of all classes. If you happen to miss more than 10% of the classes then you will not pass the class. Also, if you miss your class for whatever reason, you're missing hours of important knowledge that you cannot go back and make up.
No On Demand Options
This real estate institution offers in-person or live options for learning, not on-demand and self-paced courses. Because of this, students will need to be available for every class session and if they miss one, it will be their responsibility to cover the missed information. The course is not self-paced which means that your schedule will need to be adjusted to the school's rather than the other way around. This non-flexibility may be a major detriment to some.
Lack of Exam Prep Add-On
Many real estate schools offer their students a comprehensive exam prep add-on that allows them to crash study before the official licensing exam. However, this real estate school does not offer that benefit and instead forces students to look elsewhere for any comprehensive exam prep needs.
---
Conclusion And Verdict
While Pan School of Real Estate has many things to offer and a few detriments, it's always important to consider what students have to say about the school. On Facebook, Pan received glowing reviews from each of the students who reviewed the course. Yelp offers similar praises with alumni citing many different things to love about the school, unique to them and their needs.
Few truths were universal, like, Pan provides students with an education that helps them to pass the class exam and their state licensing exam on the first try. Many also praise Director Travis and other instructors for their ability to make class light and humorous via personal stories. True to its founding principles, the Pan school appears to aim at turning everyday materials into fun, engaging lessons.
Like any institution, Pan also received a few complaints. Some cited the website as outdated and difficult to navigate, which is a bit true. Compared to other, newer cites, this real estate institution's interface is outdated, though, it is manageable.
Pan School of Real Estate is not a BBB accredited institution. This means that it has not scored the Better Business Bureau's stamp of approval for making a good faith effort to resolve customer issues. However, it has not received any major complaints begging the Better Business Bureau's attention either.
All in all, based on Pan School of Real Estate reviews and our own findings, we are confident in recommending this real estate school to any North Carolina Student with access. Between the school's compliance with state requirements and the ability to keep coursework light and engaging while preparing students, this is a decent real estate institution and possibly an option.
We do wish that they offered flexible options in tandem with their regular live sessions, such as prerecorded lectures organized into an online learning format. We also would like to see more options for course tiers so that students can choose what works best for them. Some may require additional services while others are fine without them. Regardless, it is best for all parties to offer them so that this real estate school can be a one stop shop.
In the end, if you're looking for a North Carolina real estate school, Pan School of Real Estate may be an option. Just be sure to consider time constraints and exam prep options.
Even though we think Pan School of Real Estate may be a good choice, we prefer The CE Shop over all other North Carolina real estate schools.
---