---
Becoming a real estate agent can be an extremely stressful process and one that requires a great support system to get you through. With so many real estate schools across the country, there are more options than ever, and thus, it's more important than ever to select a well-qualified institution that is committed to your well-being. This includes both an excellent education that helps you to pass your state exam but also prepares you to be a fantastic agent in the future. To help Florida residents narrow down their options, we've compiled this Climer School of Real Estate review, a Gold Coast Schools division serving Florida.
Educating Florida residents and hopeful agents for over 20 years, this real estate school is one that you will come across in your search for Florida pre-licensing coursework. With a variety of learning formats, a growing number of enrollees, and an extensive curriculum, there is plenty to consider when it comes to this real estate school, but luckily we've rounded up the most important for you. Between the Climer School of Real Estate reviews and curriculum, this is a comprehensive review of Climer.
---
UPDATED: October 2023
Our Overall Rating

---
Overview Of Climer School of Real Estate
Climer School of Real Estate is a Florida-based school serving local residents and preparing them for their real estate careers. Originating in 1988, Climer has grown from a small network to a larger, more widespread real estate school. This growth is partially due to the merging of Climer with Gold Coast Schools, one of Florida's most popular higher education schools. This comes after the original school leader, Andy Brown, passed away. With this acquisition, the real estate school quickly rose in availability and popularity, soon becoming one of Florida's front-running real estate institutions. Great for any student, Climer offers services ranging in coursework, but more importantly, in multiple modes making it available to more people that require flexibility.
While this Climer School of Real Estate review is for the pre-licensing coursework for hopeful real estate agents, it is important to mention that Climer School of Real Estate also offers coursework for every need. From continuing professionals to brokers, Climer has you covered. Taught by qualified real estate professionals with years of experience and a concentration on curriculum development, students are sure to receive a quality education from a team dedicated to success. However, as one of the smaller chains in the state and country, for that matter, there are a few causes for concern when selecting this school to be your go-to, which will also be discussed below.
With multiple package options depending on your learning needs, you will find something that works best for you at this Florida real estate school. With thousands of successful agents and many more years of success to come, it's easy to see why Climer may be the Florida real estate school for you. However, to ensure that it is the best choice, let's take a closer look at the school and how it functions.
In-Depth Look at Climer School of Real Estate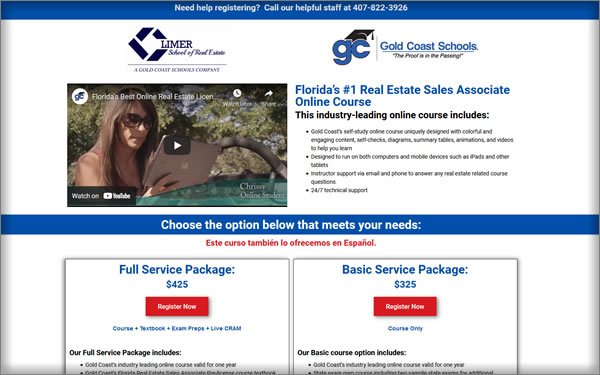 Climer School of Real Estate and its umbrella company, Gold Coast, are focused on a mutual core, important idea. They focus on success as it relates to their students and they use that as a guide for every business decision they make. Whether it be the quality of education, instructors, curriculum development, customer service, or related issues, everything is done with the idea of their student's success at the forefront. This means that the schools are continually changing and adapting their coursework and practices to model what works best for them. Regardless of Climer's specific path to getting you there, expect a state-approved course that fulfills the 63-hour required pre-licensing coursework from the state of Florida.
When attending this real estate school, there are multiple options for studying that vary between what works best for you as an individual. There is something for every student with a live, instructor-led in-person classroom, live stream, or online self-paced coursework. This is great news for anyone who needs a modified learning environment and gives a glimpse into the school's ability to be flexible and responsive to student needs. Regardless of which option you choose, expect many benefits like all-day access to the live-streamed courses, 24/7 access to work for the completely online package, self-paced learning models, and real-time help. Gold Coast also boasts a high passing rate for Florida pre-license courses, state approved and FREC compliant coursework, and excellent support for exam prep and placement after graduation.
As for the coursework itself, you can expect it to cover all necessary topics, including national and Florida-specific topics. In addition, issues such as equal and fair housing laws as well as Florida's unique real estate codes like environmental and tax laws will also be discussed as they pertain to a functioning real estate agent. To help aid in this learning, expect there to be practice exams, interactive scenarios, and classroom involvement if choosing the live streaming in-person version to help cement these teachings. All in all, Climer's curriculum is designed to prepare agents for a thorough education on all topics pertaining to being a great agent.
Course Structure Example
One of the most important aspects for any real estate school is to be sure the coursework is designed to work with you, not against you. The course schedule is left up to your instructor as they set the pace and narrow down what's necessary for students when it comes to the live stream and in-person teachings. However, when it comes to the completely online and self-paced coursework, you can expect the following:
access to the course for up to one year
exam preparation
a textbook
commonly asked questions and answers
exam prep
an exam-cram weekend
limited instructor support
That package is known as the basic, and when you upgrade to the full-service package, you can also expect a live cramming date before the actual real estate exam, access to live streams so that you might build a hybrid course structure, practice tests, and more.
The state of Florida only requires 63 hours of pre-licensing coursework to become licensed, but you may find that the extra time dedicated to studying is well worth it in the end to make you a great agent.
Upon completing all coursework, students may include their final course exam, which must be completed and passed before going for the state licensing exam. Thus, the Climer real estate final exam will need to be passed with a score of 75% or higher before you're eligible for a certificate of completion and to take the state exam.
Support
We believe that support is one of the most important components of any online real estate school. Because there are so many options, it's vital that the school you choose understands that and provides a place for questions, concerns, and readily available help. While Climer School of Real Estate does offer their address for mailing, an email for questions, and a phone number, there is no online contact form to fill out or a live chat option.
Whenever you have a product that is completely online, such as Climer's online live streaming or completely self-paced curriculum, the school should be providing equal support for their students should anything go wrong. For example, if a student cannot access their coursework because of technical difficulty, they may wait days for an old-fashioned method of response to get back to them, rather than it being instantaneous like many other competitors. While this may not be a dealbreaker for some, or even most, it's important to keep in mind that you leave enough time for questions and understand that any issues that arise could take days to solve.
Locations
As Climer School of Real Estate has continued to expand, so have its locations. Below is a list of the places you may consider making your way to for live classes.
CELEBRATION Campus – 1390 Celebration Blvd, Celebration, FL 34747
CLERMONT Campus – 1200 Oakley Seaver Dr, Clermont, Florida, 34711
CORAL SPRINGS Campus – 1999 N University Dr, Coral Springs, Florida, 33071
DELAND Campus – 2683 S Woodland Blvd, Deland, Florida, 32720
DOWNTOWN ORLANDO Campus – 536 W Church St, Orlando, Florida, 32805
FT. LAUDERDALE-WESTON Campus – 2117 N Commerce Pkwy, Fort Lauderdale, Florida, 33326
GAINESVILLE Campus – 7584 NW 4th Blvd, Gainesville, Florida, 32607
KEY WEST Campus – 3132 Northside Drive, Key West, FL 33040
KISSIMMEE/HUNTERS CREEK Campus – 3222 Hilldale Lane, Kissimmee, FL 34741
LAKE NONA Campus – 9161 Narcoossee Rd, Orlando, Florida, 32827
LIGHTHOUSE POINT Campus – 2034 E Sample Rd, Pompano Beach, Florida, 33064
MARCO ISLAND Campus – 830 Bald Eagle Dr, Marco Island, Florida, 34145
MT DORA Campus – 18097 US Highway 441, Mount Dora, Florida, 32757
NAPLES Campus – 879 Vanderbilt Beach Rd, Naples, Florida, 34108
NEW SMYRNA BEACH Campus – 505 Canal St New Smyrna Beach, FL 32168
OCALA Campus – 4869 SW 60th Ave, Ocala, Florida, 34474
ORLANDO Main Campus – 5104 N. Orange Blossom Trl, Orlando, Florida, 32810
OVIEDO Campus – 59 Alafaya Woods Blvd, Oviedo, Florida, 32765
PENSACOLA Campus – 4300 Bayou Blvd, Pensacola, FL 32503
STUART Campus – 2384 NW Federal Hwy, Stuart, FL 34994
THE VILLAGES Campus – 3990 E SR 44, Wildwood, FL 34884
VENICE Campus – 1790 East Venice Ave Venice Fl 34292
WATERFORD LAKES Campus – 12301 Lake Underhill Rd, Orlando, Florida, 32828
WEST PALM BEACH Campus – 1801 Centrepark Dr E, West Palm Beach, Florida, 33401
Climer School of Real Estate Pricing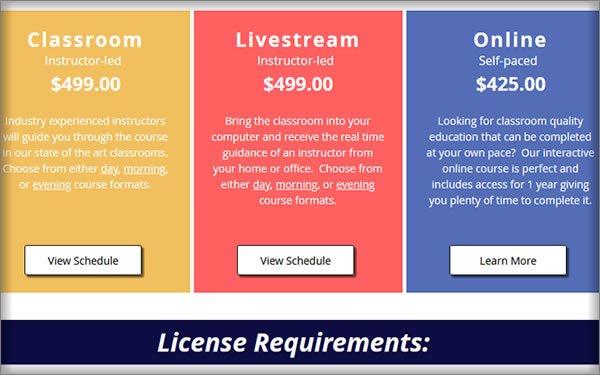 As previously mentioned, there are multiple packages for this real estate school, and naturally, they vary in price. Though all in the same numerical ballpark, the cheapest course is the online, self-paced courses at $425. This is because it offers the least amount of interaction and guidance. Scaling up from there, the live stream and classroom Climer courses are each $499. If you're wondering why the prices are the same for these two, it is simply because the live stream course is a simultaneously streamed course, and you're experiencing things just as you would if you were there, in person, or vice versa. For Florida's 63-hour credit requirement, this cost is not astronomical.
In addition to coursework, you will find that your textbook is included with your package purchase. The only other costs you may want to consider when purchasing your coursework is how much help you believe you will need to pass the state licensing exam.
If you are buying Climer's weekend CRAM review course, you will be receiving a loaded study preparation just before the exam. You'll be able to choose whether the prep is done online or in a classroom. It's important to note that pre-licensing students have this cost included in their packages, but for anyone looking for a one-off study session at Climer School of Real Estate, they will need to pay $199. The school also offers online preparation that varies in price but includes a mock exam, practice questions, and flashcards for studying. Depending on the thoroughness of the package, it can range from $90 down to $40.
Pros And Cons of Studying at Climer
Now that we understand this real estate school and its offerings. It's essential to weigh the pros and cons before selecting a choice. While Climer offers some great potential for future real estate agents, there are a few issues that threaten a student's ability to do well.
Pros
Flexible Course Offerings
This Florida-based school offers both online and in-person coursework, which is major in today's technological world. With so many agents beginning careers later in life or juggling a job or family simultaneously, access to a course in multiple forms is extremely helpful for interested students.
Locations Across Florida
Climer School of Real Estate has continued growth across the state, and because of this, instructors are ready to help you in multiple locations. Whether inland, on the coast, or somewhere different, this school has you covered for everything you need in a location that is easiest for you.
Cons
Much More Expensive
First, Climer's packages are fairly limited and with this, the pricing is much higher than comparable Florida real estate schools. Beginning at just over $400 and going upward toward $500, these courses are much higher priced than AceableAgent or Colibri Real Estate.
Growing Pains
As Climer School of Real Estate continues to settle into a new normal whilst merging with Gold Coast, there has been and will continue to be side effects of the growth. Though not exclusively a problem for this school as many institutions face difficulties during merging, it is important to mention it for students who may prefer something more stable.
Chat Limitations
We prefer when schools offer chat modes available across the website for both technical and course-related questions. However, Climer offers a very limited contact system, which does not include live chat. With so many schools, especially online ones, offering advanced chat options, the fact that Climer only features old contact methods is disappointing.
Conclusion And Verdict
Now that all aspects of Climer School of Real Estate have been rounded up, it's time to decide whether this Florida real estate school is one that we would recommend. To do so, we like to gather other student's perspectives on the courses, schools, and what they offer. When it comes to Climer School of Real Estate reviews, they are a bit scattered. Climer, and Gold Coast, for that matter, don't rank particularly well in reviews on the Better Business Bureau. Of the few reviews, the school is rated poorly. However, the school does do well on several less informal sites, such as Yelp.
Students praise the pre-licensing coursework and on-site classes, instructors' personalities, teaching methods, and passing rates as major reasons for loving the school. Additionally, complaints consist of individual issues rather than universal and all-around issues with the coursework. Things like not allowing students to bring their phones or allowing them to bring dinner to class were complaints made by students that all detracted from their well-being or ability to learn swiftly and effectively. I don't feel as though these reviews are necessarily worth mentioning as they are extremely specific scenarios that don't speak to the school's overall quality.
We feel the cost of Climer's pre-license real estate course is much too high. When you compare them with Florida schools such as AceableAgent or Colibri Real Estate, they are almost double the price!
As this school continues to iron out some kinks in their merging with Gold Coast Schools and healing after the loss of its creator, there is some expected turbulence. However, we are confident in the school's ability to keep moving forward and foster a strong environment for entertaining and teaching students across the state.
Florida residents have enjoyed their coursework and found success in studying at Climer School of Real Estate across the board. Because of this, we do say that Climer can be a good school for some on their quest to become a real estate agent in Florida.
That being said, because of the cost of this real estate school, we would suggest using AceableAgent or Colibri Real Estate as better alternatives.
---