If you are looking for a real estate school to advance your career in the real estate industry there are many options out there. One of those options is the Keller Williams Real Estate School. In this Keller Williams Real Estate School review we are going to take an in-depth look at the programs offered to students.
---
UPDATED: December 2023
Our Overall Rating

---
Overview of Keller Williams Real Estate School
While the school shares the names of the Keller Williams real estate firms, it is not owned and operated exclusively by Keller Williams. This school functions much like the firms across the country as in it is more like a franchise.
There are Keller Williams Real Estate Schools throughout the state of California as well as one other school in another state. However, it started in the San Diego area.
The Keller Williams Real Estate School was born from a need that the owner found throughout her career. The owner, Tessa Sims, was the owner of the top Keller Williams firm in San Diego. She was so successful as a real estate agent and firm owner that it quickly became the largest firm in her area.
However, based on the website, she kept running into the same problem. New agents didn't know what to do after their education. There was always a question of what the students and new agents should do next to advance their careers.
After a partnership with a school that Tessa Sims hoped would be successful ended with the same issues, she decided to open her own school.
The idea behind starting a school was to fully equip the students not only for the exam but for their careers. Originally the school started as a partnership.
The website says that after the school was in session for four years Tessa Sims took full ownership of the school and left her real estate practice. However, it is unclear who owned the other part of the school.
When Was Keller Williams Real Estate School Founded?
The Keller Williams Real Estate School was founded in 2013 after a partnership with a real estate school that still didn't meet the needs of students and new real estate agents.
It appears that Tessa Sims was not the full owner for the first four years. She continued to own and operate her individual Keller Williams real estate firm during that time. It wasn't after the rapid growth of the first four years that she took full ownership.
The number of students who have gone through their comprehensive program since 2013 is impressive. This is especially due to the fact that the program is not fully online.
2235 students have completed the program and successfully launched their careers through the Keller Williams Real Estate School.
Awards
The website does not state if there have been any awards given to the Keller Williams Real Estate School. This is not unusual and we would not expect to see a long list of awards.
Many real estate schools consider student success the true measuring stick of their programs.
Free Class/Trial
One thing that we like about the Keller Williams Real Estate School is something they call "Be Our Guest." This is the equivalent to a free trial.
For students considering Keller Williams Real Estate School, the program invites them to be a student for a day. This gives them a real look into how the school functions.
The classes that are available for prospective students to sit in on are only part of the group study program. This is the signature program of the school and will be looked at in-depth in the next section.
There is also a virtual look at the school called "Career Day." This is not just a look at the Keller Williams Real Estate School but at the real estate career itself.
Individuals who are considering taking the leap into the real estate industry will find this live webinar helpful. Active real estate agents will be there to answer questions and give attendees an inside look at what it is really like to be an agent.
---
In-Depth Look at Keller Williams Real Estate School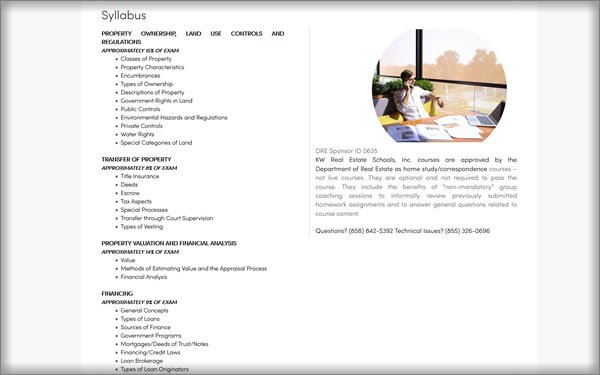 For this Keller Williams Real Estate School review we are going to focus mainly on their two options for salesperson education and licensing. We will mention some of the other programs they have but these are their flagship programs.
States Served
Currently the Keller Williams Real Estate School has locations in two states. Most of the school locations are throughout the state of California.
There is one school location in the state of Michigan. It is unclear if the school will continue to branch out and expand.
Group Study Pre-licensing Program
The original program the owner of the school designed is the Group Study Pre-licensing program. They designed this program to meet all of the needs of the students from start to finish as well as giving them the next steps for their career.
This program has combined the best of both worlds when it comes to online and in-class learning. With this course program students get physical textbooks and materials as well as online content and programming.
There is also a weekly two-hour session in-person. They don't call this a class they call it a coaching session. This is a time every week that is set aside for students to get questions answered and content clarified.
The coaching session is only available to the group study students, not the fast track students. Something that is unique about this group study program is how they design the course to work.
While other programs with in-person components start and end at a certain time, this program does not. It is more like a constant loop.
New students can get started with the program at any time without a long wait time for the next session. They will simply pick up where the course is at the moment and continue for twelve weeks. This will ensure that all material is covered.
What the Group Study Program Includes
This group study course includes features that are beneficial to students throughout their education. Tuition covers the two textbooks that are included as well as online resources such as quizzes, exams, and state practice questions.
The Keller Williams Real Estate School group study also includes a one day prep class. There are two different ways you can take this class. It can be in-person or an online webinar.
When it comes to the textbooks students also get a choice of the format. If a student prefers physical books then they can get those or they can choose digital for greater convenience.
What the Group Study Program Covers
The group study program covers all of the topics that you will see on the state licensing exam. This includes topics such as property ownership, transfer of property, financing, valuations, agency laws, contracts, and real estate practice.
This is not an exhaustive list but the website has a full syllabus outlining the sections and subtopics that will be covered.
Pre-Licensing Fast Track Program
Keller Williams Real Estate School has another option for students when it comes to pre-licensing education. They offer a fast track program for students wanting the option of working at their own pace.
With the group study program students have to take 12 weeks to complete the program. But with the fast track program you are in charge of your schedule and pace. They designed this program with flexibility in mind.
It is perfect for self-motivated learners who can manage their time well. The designers also wanted an option that worked well for students still working in a full-time career while completing their real estate education.
While the format of the fast track course is different, the content is not. This fully online and self-paced program still covers everything that will need to be known for the licensing exam.
According to the website students would complete this program in as little as 54 days.
Keller Williams Real Estate School Additional Services
In addition to the Pre-licensing course programs Keller Williams Real Estate School has other resources and courses. One of these resources are the tutoring services the school offers.
As a student, if you feel like you need some extra one of one help with the course information you can sign up for tutoring.
Tutoring services can only be purchased in packages of six sessions. Tutoring is designed to focus on the areas students are struggling with.
The best thing about these tutoring sessions is that students can choose their instructor when they sign up. That way they don't end up with a different instructor each time they go in for tutoring.
While the school does offer full course options such as group study and fast track, they do offer the classes individually as well. It is convenient that they offer this for students who would like to take courses one at a time.
However, it is not financially beneficial to take the courses this way in the long run. You will end up paying far more for individual courses then you would for the group study or fast track programs.
Keller Williams Real Estate School also has a broker licensing course for agents ready to take their career to the next level. The brokerage course is an online only program.
This is convenient because people studying to become a broker will likely be working as real estate agents. The course requirements are not as much as the salesperson licensing program but the website goes over all of the state requirements.
There are eight courses required. Five of these courses can not be changed but three of them can be chosen from a list of electives.
---
Keller Williams Real Estate School Pricing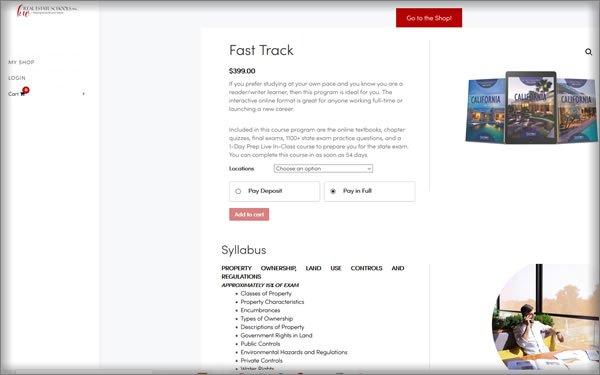 There is no one size fits all when it comes to the pricing of the Keller Williams Real Estate School. The prices are fully based on the course and the format. Let's start with the pre-licensing courses.
Even though the courses have the same content the pricing is different. The group study course is more expensive than the fast track course mostly due to overhead.
For students wanting to sign up for the group study program they need to be prepared to make an investment of $599. This, in our opinion, is still an affordable option for all they offer to students with this format.
The more budget-friendly option is the fast track mode. This format is $399 which saves you $200 from the group study option. Just keep in mind there is coaching or instructor support when you go with fast track.
The tutoring service we mentioned in the previous section will run students $240 for six hours of one on one instruction and help.
For students pursuing a broker's license they can expect to pay $350 for a fully online program.
While these prices are affordable, they may be out of budget for some people. But the good news is, the Keller Williams Real Estate School does allow a deposit for the group study option. This gives students three months to pay for their course.
The payment plan is also available for the fast track program as well as the brokerage licensing program. It is not available for individual courses, tutoring, or the one-day prep webinar.
---
Pros and Cons of Using Keller Williams Real Estate School
Adding a concise pros and cons list this Keller Williams Real Estate Review puts together all that we have said above. This will aid you in your decision.
Pros
Flexible options
Start to finish step by step guidance
Payment plans
Years of experience
Working agents as instructors
Loop set up for group study program
User-friendly website
Cons
No instructor support for fast track option
Conclusion And Verdict
The Keller Williams Real Estate School has a stunning reputation. Even their online Keller Williams Real Estate reviews were unanimously positive.
Students mostly wrote about the instructors, the ease of the online program, and the professionalism of the school. It was difficult to find any negative feedback. In fact, we didn't find any.
With that being said, it was difficult for us to come up with any cons to this real estate school. They have a 30 day refund policy but we didn't find the stipulations for that. There is also no guarantee if students don't pass the exam the first time.
Our biggest con was the lake of support for the online program. There is some tech support but they keep normal hours. However, we did not run into any mention of issues with the online program.
Reviewers only said how easy it was to use.
We loved the flexible options students get with how to take their courses. Whether you want to take the classes one at a time, pursue the online option, or take the flagship group study course, it is fully up to you.
You will get the same content to prepare you for the state licensing exam. There are also payment plans for some of the programs, which is a bonus. Not many real estate schools offer payment plans.
This added financial flexibility makes the decision to take real estate education courses easy.
Verdict
As far as we are concerned, there is no reason why you shouldn't take real estate pre-licensing courses from Keller Williams Real Estate School. California students have a bright future ahead of them with this real estate school.
---
---