In this article, we will review the best online real estate schools in Arizona. We will cover aspects like price, scheduling and curriculum. With this information, you can decide which one will work best for your way of life.
With so many things happening in the economy, there has never been a better time to try something new. This could be a new career, a new hobby or a new entry into education. It is never too late to study a new trade.
Unfortunately, education can be cost prohibitive and take up a lot of time. It is not always possible for people to go back to a four-year college and get a degree. Luckily, there is a solution for those who still want to seek out new opportunities.
A real estate license is a great choice for someone who wants a change but doesn't have extra time. A license can be obtained online through various web-based real estate schools that fit all kinds of schedules and budgets. Because of this, it is a great time to start the process.
The real estate market in Arizona has been on the rise for years. Since 2011, housing prices are up 145% and 17.8% since two years ago. This means there is plenty of growth to take advantage of as an agent.
The following are the best online Arizona real estate courses that you can find.
1. Aceable Agent: Best Online Real Estate School in Arizona

Any student enrolled in this course immediately gains access to a wide range of study materials. That way they can pick and choose the study methods that suit them best. Anyone can access video lectures, audio courses, textbooks, and other self study materials. Plus, this course has an option to add in a sizable amount of live classroom content. This includes weekly Q&A sessions and live webinars.
Anyone enrolling in this course has 3 different options when signing up. The first is to take the essentials plan for $531. Doing so grants you access to 300 practice problems and a 90 hour video course. However, you can also sign up for the $700 deluxe plan. This adds in audio lessons, and additional 1700 practice questions, and bonus study materials. Lastly, you have the option to try out the premium plan for $893. This tier includes a wide range of live learning opportunities.
Aceable Agent Features
75 Video Lessons

70 Audio Lessons

1,700+ Practice Problems

Real Estate Ebook

Live Webinars
Pros and Cons
Pro – Virtual Flashcards: Aceable Agent provides flashcards and other bonus materials, so students can reinforce what they've learned in each lesson.
Pro – Self Paced: Students of this course can complete the materials at any pace they're comfortable with without any time limits.
Pro – State Specific Content: Students are able to learn before state specific and nationwide real estate concepts. Doing so ensures that you have a complete understanding of real estate before your exam.
Bottom Line
Aceable Agent has you covered no matter what your learning style may be. Simply sign up for the course tier that best suits your needs!
Up to 20% Savings on Aceable Agent Exam Packages
41 uses today
Last Used: 11 hours
---
2. The CE Shop: Online Real Estate Schools In Arizona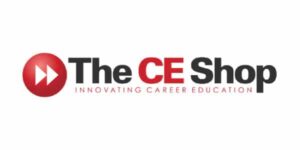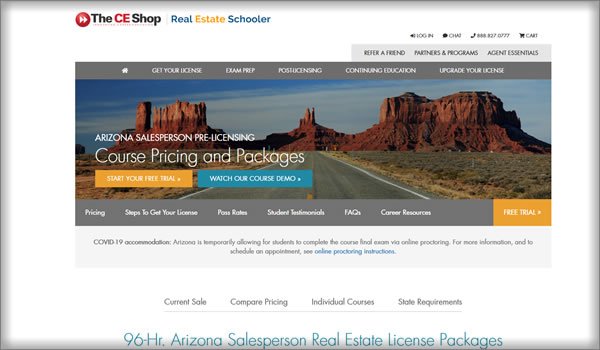 The CE Shop works with industry experts to curate content specific to Arizona. With this knowledge, you can be sure that you are getting up-to-date information. This is incredibly important when going to take the final licensing exam.
Their Premium Package offers a 6-hour Arizona contract writing course. This could be incredibly helpful since contract laws change on a state-by-state basis. By having access to this course, you can be sure your contracts are protected.
As far as online real estate courses in Arizona are concerned, The CE Shop is on the pricier side. The Premium Package is over $550 but they compared to other schools they do have very good programs. Depending on how prepared you want to be, this extra money could be worth spending. All prices are subject to change.
The CE Shop has built its own platform to teach online classes and it has made things very convenient. LEAP, their online learning solution uses real-world scenarios and interactive content. With this tool, you can learn everything you need to know.
The video below will give you an overview of The CE Shop's Programs:
The CE Shop offers very comprehensive courses but you may not need all of them. Depending on your experience, you might only need the basic education hours to get your license. In this case, The CE Shop might not be your best choice.
---
3. Arizona School Of Real Estate: Online Real Estate Course Review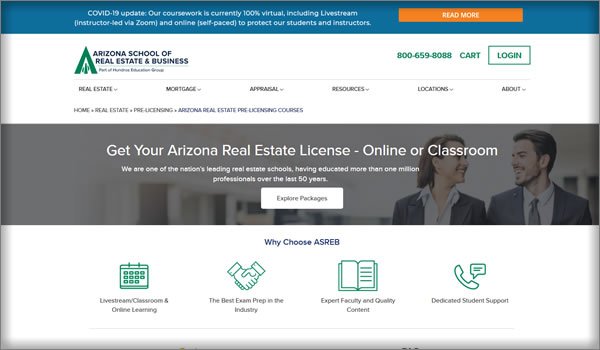 The Arizona School of Real Estate And Business (ASREB) has been around for many years. In fact, they started in 1969 so they are one of the oldest real estate schools in Arizona on our list.
This school is part of the Hondros Education Group which is a provider of educational solutions under eight different brands.
The Arizona School of Real Estate And Business offers three pre-licensing packages to help you get your real estate license in Arizona.
Basic Package
The Basic Package gives you the 90 hours of the required education by the state of Arizona as well as and invitation to their career expo and a choice of live streaming classroom or online classes. The cost of this package is $335 at the time of this writing.
The Career Start
The Career Start package offers everything you get in the Basic Package plus you get access to their course on real estate contract writing. This course costs $359 at the time of this writing.
Set For Success
The last package is the Set For Success program. This offers everything that you get in the previous two packages plus CompuCram® (the proprietary exam prep) and the VocabCrammer® flascards. The cost of this package at the time we wrote this is $419.
The Arizona School of Real Estate And Business has a very high pass rate of over 72% as can be seen on the Arizona Department of Real Estate website here.
---
4. Hogan School of Real Estate: Online Real Estate Schools In AZ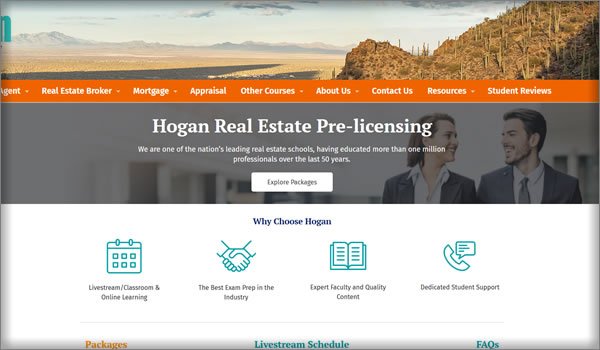 The Hogan School of Real Estate was founded in 1973. This makes it one of the oldest online real estate schools in Arizona. That wealth of experience is invaluable when it comes to getting your license and being prepared for the exam.
Hogan is partnered with the Arizona School of Real Estate and Business in Scottsdale. This local connection makes them a great choice for those who want to understand the market. As any successful agent will tell you, knowing your demographic is key.
This is one of the least expensive options for online real estate classes in Arizona. With a basic package under $400, you can start your career without a lot of capital. This makes them a great choice for those looking to sell on the side.
Another interesting feature of Hogan School of Real Estate is their financing option. By teaming up with PayPal, they offer 6-month financing on tuition. This is an incredibly useful feature for those who don't have a whole lot of money to start with.
Unlike some of the best online real estate schools in Arizona, Hogan does not offer a pass guarantee. They claim to prep you so your odds of passing the exam are high, but this may not be enough. If you are worried about losing money by not passing the exam, they may not be a good choice.
---
5. American Realty Academy: Arizona Real Estate School in Phoenix
The founders of American Realty Academy have a combined four decades of experience. All of that experience has been gained in and around Arizona. This makes them a great choice if you want to have a local focus as an agent.
American Realty Academy is located in Phoenix and emphasizes a personal touch with their courses. Out of all the online real estate schools in Arizona, they are the most focused on human interaction. Seeing as real estate is all about relationships, this is a major selling point.
This online real estate school in Arizona has basic plans for low prices. At under $400, their basic package still has everything you will need to pass your exam. Combined with their personal service, this could be a great deal for an absolute beginner.
The thing that makes American Realty Company stand out is their service. They have emails you can write to, phone numbers you can call and even a location you can go to. If you are stuck on something, there are many ways to reach out and get help.
If you are just getting your license for the piece of paper, they might not be for you. If you are confident and just need to get the education hours, you won't need that personal touch. You could find a much more basic package for less money.
---
6. The Real Estate Resource Center: AZ Real Estate Classes Online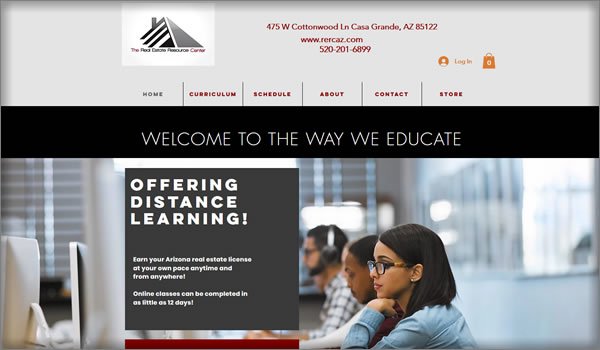 If you are concerned with the details, The Real Estate Resource Center could be for you. Their curriculum is intensive and covers every single aspect of Arizona real estate. Of all the online real estate schools in Arizona, they are the most thorough.
The Real Estate Resource Center operates only in Arizona. This is extremely beneficial when combined with their completist attitude towards curriculum. If you want to make sure that you are an expert in Arizona real estate, they are a good choice.
This is the most expensive out of all the online real estate schools in Arizona. This is due to their extensive texts and 28 intensive sessions. The cost of admission is reflected in their information and preparation for the license exam.
The major selling point of The Real Estate Resource Center is its curriculum. It covers everything from Arizona water law to agency and land use law. The attention to detail with what you are learning is essential to becoming an expert.
This might be a very good option if you are looking to start your own brokerage one day. A broker manages many agents and must be incredibly knowledgeable. By going through this intensive education, you will be ready for that next step.
The biggest downside of The Real Estate Resource Center is the price and the impersonal touch. It is run by just one person, Tina Cramp, and is mostly automated. This means they might not be the best choice if you think you may need a lot of help.
---
7. Raise The Bar Real Estate School Scottsdale, AZ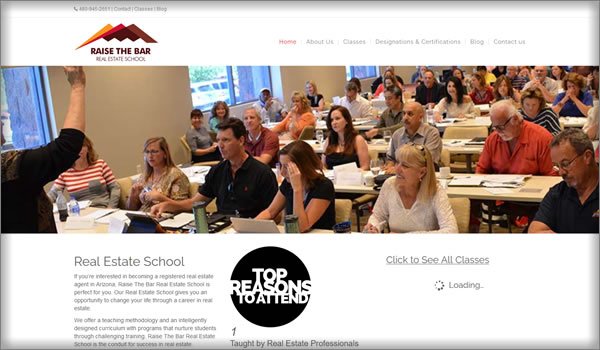 Raise The Bar Real Estate School has been based in Scottsdale, Arizona for 50 years. They have developed a program to help you be successful in the Arizona area. Most other online real estate schools in Arizona don't have that kind of local history.
Raise The Bar teaches all of their classes through Zoom for an in-person feel. This could be a major plus for anyone who feels they learn better that way. Often, people need the motivation of working with a group.
For an experience that is so close to an actual classroom, the price is fairly low. The entire 6-week course is under $500. Most online real estate schools in Arizona don't offer such an authentic feel with their courses.
One of the best features of Raise The Bar is their broker matching. After you finish your courses, you must work under a broker as an agent. This can usually be difficult, but they will help you get hired on somewhere after you pass your exam.
One of the downsides of Raise The Bar's style is that it won't be for everyone. Some people like to learn at their own pace and their classroom style of teaching won't support that. If you are an independent learner, they might not be the best choice for you.
---
8. OnlineEd: Real Estate Course Review Online
OnlineEd is a vocational school offering all kinds of training opportunities in many industries. They have been administering online real estate courses since 1998. With that many years in the business, they have everything covered to get you prepared.
Due to their experience, OnlineEd is able to provide detailed courses that cover topics specific to Arizona. They have classes related to Transaction Coordinating Training that pertain to Arizona law. This will be very useful once you have finished getting your license.
As far as price goes, OnlineEd sits right in the middle. With just one pre-license training course for $425, you get everything you need to fulfill your requirements. This is really the most important thing when looking for online real estate schools in Arizona.
While they only offer one package for the pre-licensure courses, they have many supplemental courses. Classes like Personal Safety on the Job and Accredited Luxury Home Specialist will all come in handy. Being armed with as much information as you can is crucial in the real estate business.
Due to their extensive post-licensure courses, OnlineEd is a great choice for established agents. However, if you are new to the business and looking for guidance, their courses may not be the best. You may be better off looking for real estate schools in Arizona that teach more fundamentals.
---
How to Become a Real Estate Agent in Arizona
Becoming a real estate agent in Arizona is not difficult, but you must follow the proper steps. By carefully gathering your materials and making sure you have everything in order, you can be prepared. When the time comes to turn everything into the state, you don't want to be left with something undone.
First, you will take your pre-licensure courses at one of the online real estate schools in Arizona. There, you will learn the basics of the business and laws and policies specific to the state. You must complete 96 hours of education and pass a final course exam.
After you complete your education, you must register and complete the required documents to take the Arizona Real Estate Exam. This could take weeks and requires fingerprinting and a background check. It is important that you take care of it as soon as possible.
Then, you will take the Arizona Real Estate Exam. You must receive a score of 70 or higher to pass. After passing, you must apply for your license and hire on with a Designated Broker. After completing all of that, you will be licensed to sell real estate in the state of Arizona.
Why Become a Real Estate Agent in Arizona?
There are many reasons to become a real estate agent in Arizona. People from all walks of life get into the business for a wide variety of reasons. If you think about why you really want to do it, you will find aspects that you can love.
If you are someone who is outgoing and likes dealing with people, real estate is a good choice. Real estate agents get to interact with all kinds of clients and charisma goes a long way in sales. This would be a perfect career for someone with an outgoing personality.
Real estate agents also have a tremendous amount of autonomy. If you already have a full-time career, it is absolutely possible to sell real estate on the side. Be aware though, real estate is a competitive business and requires a lot of work and attention to succeed.
Becoming Licensed for Real Estate Investing
Another big reason to take online real estate courses in Arizona is if you are an investor. By obtaining your real estate license, you have a lot more control in your investments. Instead of paying a realtor a commission, you can keep the profits yourself.
By becoming a licensed real estate agent, you also protect yourself. You can keep all of your investments under one figurative roof and keep track of everything yourself. This allows you to have more control over who is buying your investment properties.
---
Final Thoughts on the Best Real Estate Schools in Arizona
With housing going for a premium in metropolitan areas, now is a great time for real estate in Arizona. If you have the drive and the motivation, there are a lot of opportunities for agents. With such a quick turnaround time, a real estate license is within close reach.
For the past few years, job growth in Arizona has been vigorous. With new jobs come new homes and new commercial real estate opportunities. Whether you are an aspiring real estate agent or an investor looking to expand, now is the time.
With many options for online real estate courses in Arizona, there is no excuse to not get in on it. Finding classes that fit your goals and schedule is simple and the cost is low compared to other continued education. By reading this review and setting those goals, you are already on your way.